When the craving for a fully loaded potato strikes, learn what to serve with baked potatoes so you can make a full meal out of it! Whether you like your potato on the side or as the main course, there are plenty of delicious dishes that will pair with it perfectly!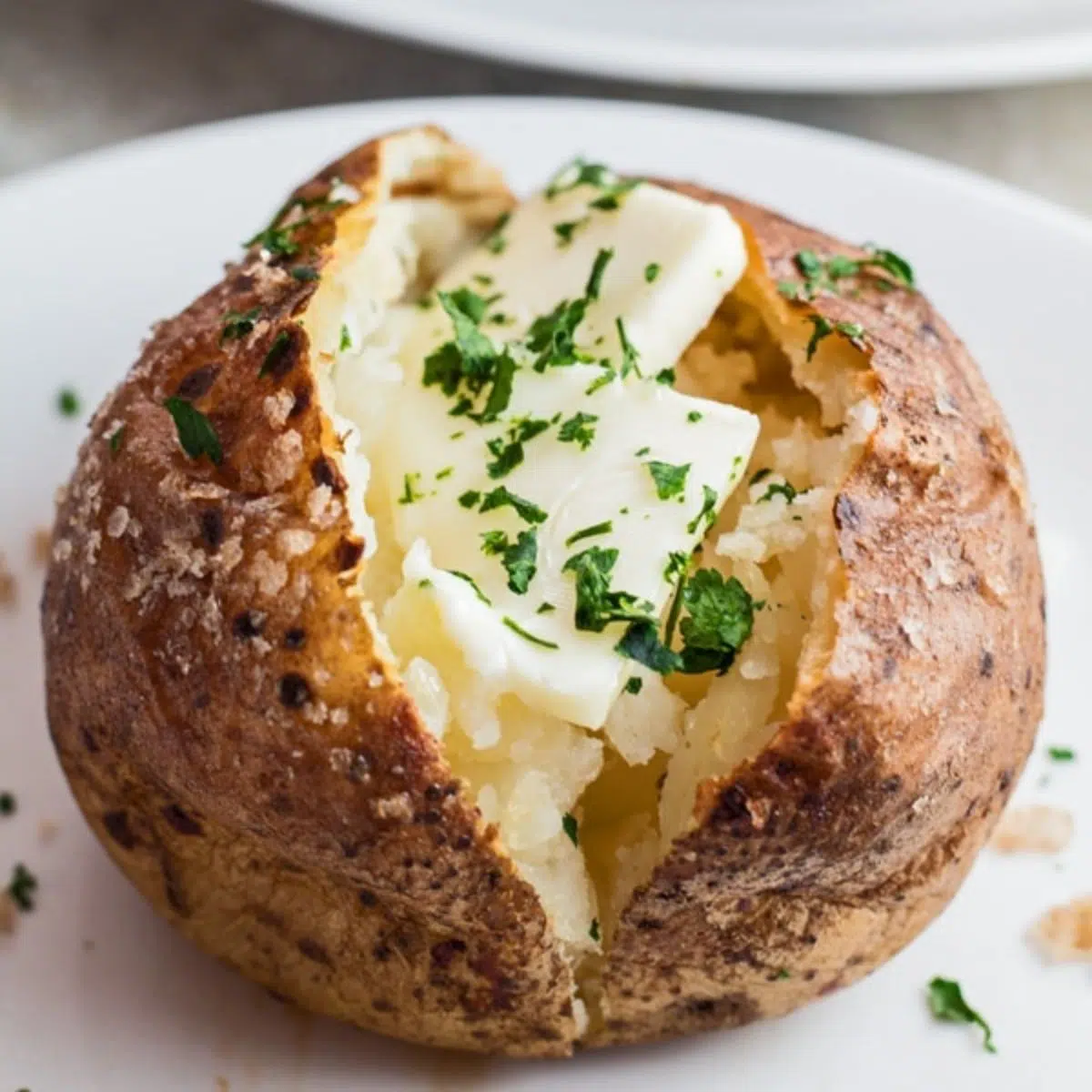 A list of easy side dishes and delicious entrees that all compliment baked potatoes!
If the craving for a fully loaded potato strikes, learn what to serve with baked potatoes so you can make a full meal!
It's hard to beat a perfectly baked potato. The skin is deliciously salty, and when you cut into it, you'll find a soft, fluffy interior.
Jump to:
A spoonful of butter or sour cream is all you need to make this dish a culinary marvel. However, it's likely that you're wondering about what else you can serve with baked potatoes.
As great as potatoes are on their own, there are countless other foods that can be served alongside them. Here is a list of dishes that we love serving with baked potatoes!
1. BBQ Meatloaf
Whether you're hosting a party or a get-together, BBQ meatloaf is a crowd-pleaser. In addition to the well-known meatloaf flavors, the BBQ glaze adds a nice tangy note.
The taste of BBQ meatloaf will always bring back fond memories of our grandmother's cooking. With a loaded potato, this dish will bring back all of those warm and cozy memories we cherish so much.
2. Pan Seared T-Bone Steak
Delicious steak seasoning, grilled to perfection, and basted with garlic herb butter make pan-seared T-Bone steaks so tender and juicy. Your favorite steakhouse sides go perfectly with these juicy steaks, which would of course include a potato!
Infused with fragrant butter, these T-Bone steaks are juicy, tender, and melt in your mouth delicious. But, of course, the best way to impress someone is with a delicious, home-cooked meal, and this is one of our favorite steak dishes to serve!
3. Boneless Country Style Pork Ribs
If you're looking for a dish that's both delicious and easy to make, this one is for you. First, slow cook it and wait for the flavor to infuse.
The pork is always fork-tender and perfectly crisp on the outside, making it ideal for any occasion. But, of course, with a potato on the side, you can't go wrong.
4. Shake N Bake Chicken
Shake and bake chicken gets a scrumptious boost with a breadcrumb coating packed full of flavor. It's a family favorite, and we often make it during the week because it works so well with a wide variety of delicious foods.
Shake, and Bake Chicken is a go-to recipe for us because it's quick and easy while still being yummy. Best of all, it goes well with practically anything!
5. Southern Coleslaw
Southern coleslaw is another favorite of ours, and we enjoy pairing it with a wide variety of foods. The combination of tangy flavor and crunchiness makes for a satisfying side dish.
It goes well with various entrees, like steak, chicken, or a large baked potato. It's worth a try!
6. Smoked Beef Roast
We can't get enough of smoked beef roast, especially at summer barbecues! The aroma is absolutely enticing, and the flavor is unmatched.
Beef roast is a versatile dish that everyone always enjoys eating. That doesn't surprise us because we are equally obsessed with this wonderful dish.
Serve it with your favorite mouthwatering side dishes, and everyone will be begging for more.
7. Baked Huli Huli Chicken
Baked Huli Huli Chicken will take you and your loved ones to Hawaii. This chicken is loaded with flavor from its one-of-a-kind Huli Huli sauce.
This delicious baked chicken is wildly popular in Hawaii, and for good reason. Serve it up with a loaded potato for a meal everyone will remember.
8. Smoked Pork Roast
Smoking a roast slowly allows the fat to render as the low heat breaks down and softens the connective tissue that can sometimes make roasts tough.
The classic pot roast is transformed when smoked, and everyone will be blown away by how tender and tasty it is. Serve your smoked pot roast with baked potatoes for a hearty and satisfying meal.
9. Pan-Seared Salmon
Easy to make and delightful to eat, pan-seared salmon has a golden-crisp outside. This is why you often see salmon is often served in high-end restaurants.
You don't need any special cooking equipment to make this at home, and it will still turn out beautiful and very tasty. Salmon goes with many sides, potatoes included.
10. Baked Beans With Ground Beef and Bacon
It's hard to go wrong with these delicious baked beans with ground beef and bacon. Everyone will agree that this is lightyears better than the canned stuff when you serve it at your next barbecue or party.
They go well with any typical BBQ sides, and they're appropriate for any celebration.
11. Texas Chili
Smoky and meaty, Texas Chili is a typical hearty chili ideal for tailgating, cookouts, and slow-cooking. If you're looking for a way to feed a large group of hungry people, Texas Chili is the answer. Add a side of baked potatoes for a complete meal.
The dish is simple to prepare and surprisingly filling. Texas chili is full of tender meat, hot chiles, with all your favorite toppings.
This no-bean chili is quick and easy to cook, and it makes for the most comforting meal of the week.
12. Beef Bourguignon
Meaty and delicious, Beef Bourguignon is one of the most popular dishes in the world. It's an elegant stew made with soft chunks of beef and full of rich, deep flavor that's known as "boeuf bourguignon" in French.
Slow-cooking this hearty stew is essential for its warm, delicious flavor, so give it a try!
13. Pan-Seared Duck Breast
This pan-seared duck breast is excellent for a romantic meal for two or any night you want to wow your family and friends. Searing seasoned duck breasts until golden brown, crispy, and oh-so-tender is all it takes.
If you want to impress guests even further, serve some delicious baked potatoes loaded with their favorite toppings!
14. Caesar Salad
There are countless salads to choose from, but this one is one of the most popular. A Caesar salad is light, fresh, and pairs perfectly with heavy carbs like potatoes.
With minimal ingredients in the salad itself, you will have plenty of time to whip up some homemade dressing!
15. Baked Pork Steaks
Baked pork steaks are an easy and mouthwatering dish that the whole family will enjoy! A scrumptious savory seasoning is sprinkled on top before they are roasted to tender perfection.
You can't go wrong with pork steaks baked in the oven. The steaks are juicy and bursting with flavor, perfect for dinner with a loaded potato!
Use these suggestions when you're in the mood for some baked potatoes in the future! Baked potatoes are one of the most satisfying foods on the planet and they work as a delectable side dish or even a main course!
We would love to hear from you! Let us know what your favorite dish to serve with baked potatoes by leaving a comment below.
📖 Recipe Card