These summer family dinner ideas include all the best recipes to share with your loved ones while school is out for the summertime! From grilled meats to fuss-free crockpot meals, each dish will have your family rushing to the dinner table! Who knows, you may find a new family favorite recipe!
Best Summer Family Dinner Recipes
The long days of summer mean you have a little more time on your hands to whip up some new and unique family dinner recipes. Not to mention, it's the perfect time to fire up your grill or smoker!
Below are a few of my favorite summer family dinner ideas that have always been a hit with my own family, so yours is sure to love them too! You could also choose a few of my summer vegetable side dishes to round out the meal!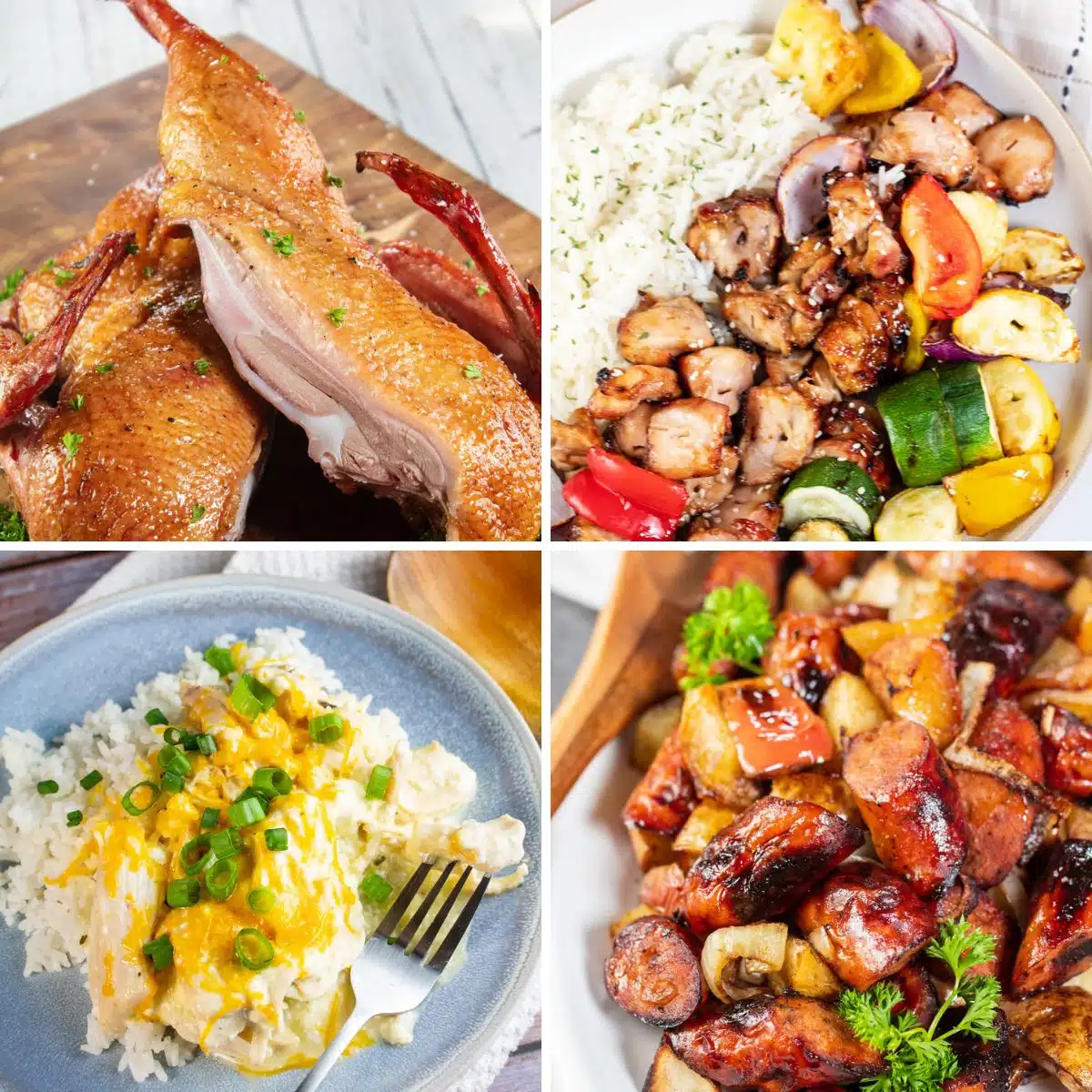 Jump to:
1. Smoked Duck
For most people, duck isn't a frequent dinner option which means any time it is served feels like a special occasion! This smoked duck is spatchcocked, so every bit of the meat is exposed to the smoke. The skin crisps up golden brown, and the flavor is out of this world!
2. BBQ Shrimp
This 10-minute BBQ shrimp is perfect for summertime backyard barbecues! You can use your favorite bottle of BBQ sauce or give my sweet and smokey honey BBQ sauce a try!
3. Chicken Teriyaki Skewers
Your family will love these grilled bites of chicken coated in sticky teriyaki sauce! You can always grill some veggies alongside the meat or add them to your chicken skewers to make it a full meal.
4. Slow Cooker Goulash
This easy crockpot recipe for macaroni noodles with seasoned ground beef is a fuss-free family favorite you can set and forget until dinnertime. It's a super easy dinner option for summertime, but honestly, it's delicious any time of year!
5. Grilled Baby Back Ribs
Nothing says summertime like some fall-off-the-bone tender grilled baby back ribs! These perfectly caramelized ribs are super easy to prepare with just a handful of ingredients, including a bottle of your favorite BBQ sauce.
6. Million Dollar Spaghetti Casserole
This ultra meaty and cheesy spaghetti bake is a highly requested dinner at my house. Pair it with some easy air fryer garlic bread for a new spin on spaghetti night!
7. Steak Stir Fry
This 30-minute steak stir fry is loaded with tender-crisp veggies and my delicious homemade stir-fry sauce. It's a great way to use up any extra summer vegetables you may have lying around, too!
8. Creamy Smoked Salmon Pasta
If your family loves seafood, they'll be head over heels for this creamy smoked salmon pasta! Best of all, it only takes about 15 minutes to prepare from start to finish!
>>>>See all of my recipes HERE<<<<
9. Pineapple Chicken
This sweet and savory pineapple chicken has plenty of tropical flavors reminiscent of summertime! It's delicious over white rice, hibachi noodles, or even inside lettuce wraps.
10. Mexican Lasagna
Mexican lasagna is a flavorful twist on classic lasagna made with layers of corn tortillas instead of pasta. It also features plenty of seasoned ground beef, cheese, beans, green chiles, and tomatoes!
11. Chicken Bacon Risotto
Chicken bacon risotto is pure comfort food full of cheesy goodness, tender chicken, and smokey bacon. It's rich and indulgent without being overly heavy, making it a great meal to enjoy with your family this summer!
12. Slow Cooker Beef Cheek Tacos
These beef cheek tacos are the perfect way to elevate your Taco Tuesdays! Your crockpot does all the hard work, and the result is tender, perfectly seasoned barbacoa that makes for an incredible street taco.
13. Slow Cooker Ranch Chicken
Ranch chicken is a cheesy and creamy mixture of tender ranch-seasoned chicken that can be served on rice, potatoes, noodles, and more! It's easy to prepare and always a hit with kids and parents alike!
14. Taco Stuffed Shells
If you can't choose between Mexican or Italian cuisine, why not have both? These stuffed pasta shells are filled to the brim with a flavorful mixture of taco-seasoned ground beef, tomatoes, salsa, and cheese!
15. Chicken Sausage with Apples, Onions, and Potatoes
Tossing chicken sausage, fresh apples, onions, and potatoes onto one sheet pan and baking it in the oven is one of the easiest summertime dinners! Better yet, it means there is only one dish to wash!
Tips For Choosing Summer Family Dinners
Here are a few great tips and tricks to consider when planning your summer family dinners. Also, consider the summer temperatures where you live; some summers are more pleasant than others!
Use seasonal produce: When choosing fresh fruits and vegetables, opt for ones that are in season during the summertime. These fruits and veggies are more flavorful and affordable during this time of year.
Fire up the grill: Whether you're hanging by the pool or enjoying a meal on the back patio, grilled meals are the perfect way to enjoy the summer weather. You can experiment with different marinades and grilling techniques to find a flavor your family loves!
Explore international cuisines: While the kids are out of school, it's the perfect time to introduce them to new cultures and flavors! Try out some new-to-you recipes, such as Mediterranean, Thai, or Mexican cuisine!
Make it interactive: Family dinners where everyone can customize their own meal are always a hit! Burger bars, hot dog bars, and taco bars are a great way to get the kids engaged in dinnertime.
Plan for outdoor dining: Warm summer evenings are a great time to enjoy a backyard picnic, barbecue in the park, or dinner on the beach! Plan your meal around how easy it will be to transport and serve at your desired location.
I hope your family enjoys these summer dinner recipes as much as mine does! Let me know how everything turns out by dropping a comment below!
📋 Recipe