Here's what to serve with asparagus so that you can make the most out of this delicious springtime vegetable! From grilled meats to creamy risotto, there are plenty of tasty options to choose from! If you're an asparagus fanatic, you've come to the right place!
What Goes With Asparagus
Asparagus is an incredibly versatile and delicious vegetable that is just as at home in a gourmet restaurant as it is at the family dinner table. If you have a bundle of asparagus on hand and wonder what to make with it, you can't go wrong with any of these recipes!
From hearty roasts to creamy mac and cheese, I've gathered all my very favorite recipes to pair with asparagus in one place! It truly is a vegetable that can be dressed up or down as needed to fit the occasion.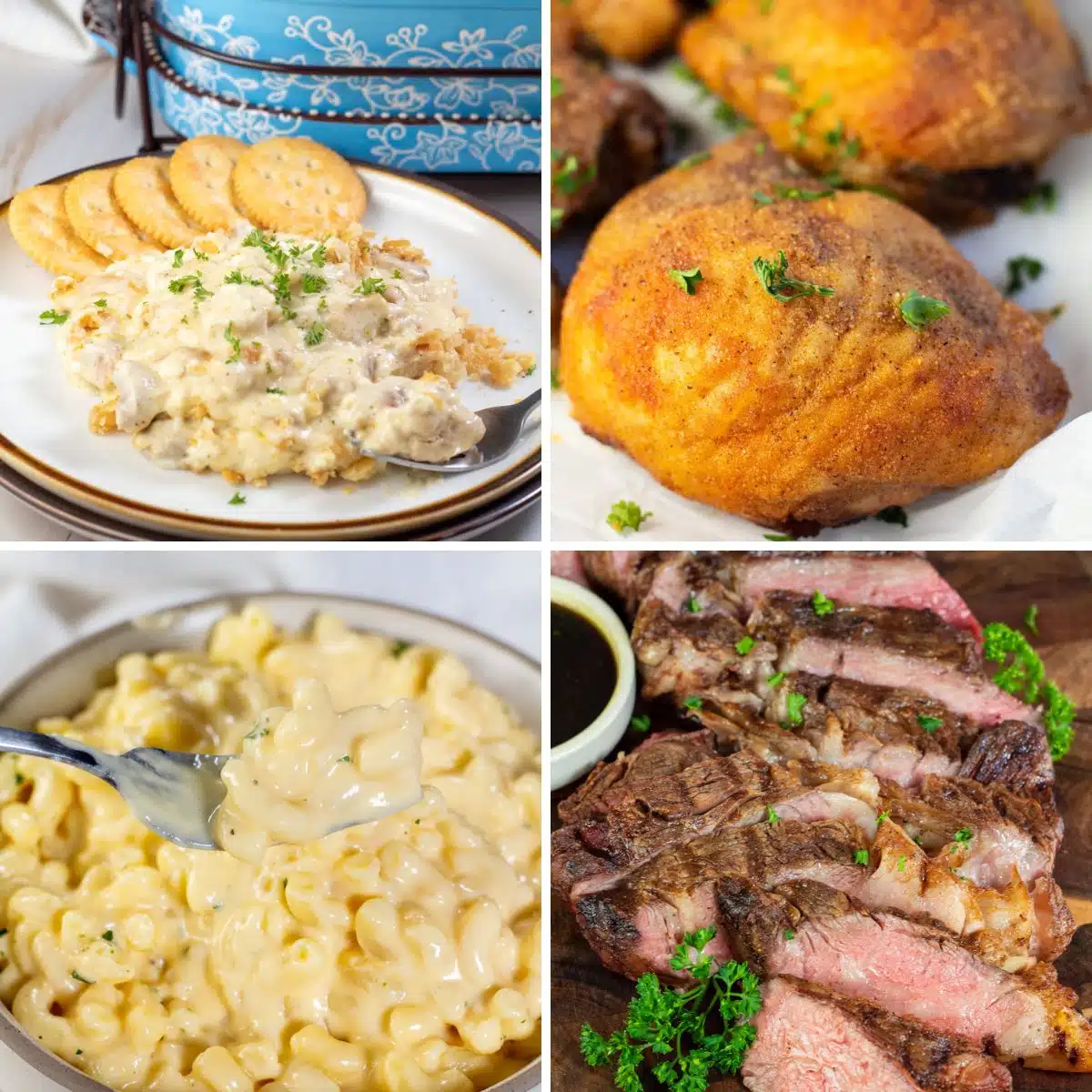 Jump to:
Before you get cooking, be sure to check out my post dedicated to how to cook asparagus! Try topping it with some velvety cheese sauce for an extra flavorful veggie side dish!
1. Grilled Chuck Roast
This succulent grilled chuck roast is tender and perfectly seasoned. It will pair well with asparagus in any form, but my personal favorite is to throw it on the grill with the meat!
2. Sour Cream Mac & Cheese
The ultra-rich and creamy flavor of this mac and cheese is the perfect way to balance out the earthy and slightly bitter taste of asparagus. Sour cream adds a slight tanginess to the mac and cheese that complements the flavors beautifully!
3. Cream of Mushroom Pork Chops
This 30-minute pork chop recipe features a rich and creamy mushroom sauce made with cream of mushroom soup! A side of asparagus adds a lovely pop of color to the plate and perfectly completes the meal.
4. Million Dollar Chicken Casserole
For family dinners, this million-dollar chicken casserole is always a great choice. It has a crispy Ritz cracker topping you'll adore, and some asparagus is a great way to incorporate extra veggies!
5. Air Fryer Shake & Bake Chicken
This shake & bake chicken is just like the version you remember as a kid, but so much easier (and quicker) to make! The crispy coating is a family favorite and always a hit with the kids.
6. Chicken Bacon Risotto
Chicken bacon risotto is creamy like most risotto but with the added savory flavors of tender chicken and salty bacon! It tastes like Southern comfort in a bowl! A side of tender green asparagus is the perfect way to add some vegetables to your meal.
7. Baked Boneless Short Ribs
These baked boneless short ribs are so delightfully tender and easy to prepare. They only require 3 ingredients to make, so they are a great fuss-free dinner option to pair with your asparagus.
8. Creamy Seafood Pasta
Seafood lovers will obsess over this decadent seafood pasta that couldn't be easier to make. It's ready in only 30 minutes, and a quick side of asparagus will round out the meal beautifully!
>>>>See all of my recipes HERE<<<<
9. Ranch Pork Chops
Pork chops of any kind can be paired with asparagus, but these ranch pork chops are a personal favorite! They only require a little olive oil, a packet of dry ranch mix, a few simple seasonings, and about 30 minutes of time.
10. Poached Lobster Tails
Poached lobster tails are an elegant entree that is perfect for special occasions! They only take about 20 minutes to prepare, and the buttery flavor will complement the asparagus wonderfully.
11. Pork Picnic Roast
This melt-in-your-mouth tender pork roast is made with just 3 ingredients! The oven does all of the hard work, so all you have to worry about is whipping up your asparagus.
12. Baked Boneless Chicken Thighs
Baked boneless chicken thighs are a timeless recipe that you can make over and over again. Experiment with different seasonings on the chicken and the asparagus to find your favorite flavor combinations!
13. Parmesan Orzo
If you're looking for a vegetarian option to pair with asparagus, this Parmesan orzo never disappoints! You could also try my delicious lemon asparagus orzo that has the asparagus mixed right in!
14. Roast Capon
Capon is a juicy and richly flavorful bird with a more delicate flavor than chicken, making it wonderful for special occasions! Like chicken, the crispy skin and succulent meat of roasted capon taste fabulous with asparagus.
15. Hamburger Hashbrown Casserole
With a hearty dinner like this hamburger hashbrown casserole, it's nice to offer a lighter side dish like asparagus. This casserole is always a hit with kids and adults alike!
Tips For Choosing What To Serve With Asparagus
When choosing how to prepare your asparagus and what to serve alongside it, there are a few key things to keep in mind. Seasonings, sauces, and the cooking method you choose can make all the difference!
Complement with Protein: Asparagus is a great way to add some green vegetables to your plate, and nothing pairs better with green veggies than protein. It pairs well with many different proteins, including chicken, beef, seafood, pork, and even tofu.
Balanced Flavors: If your main dish is quite rich or heavy, the fresh, somewhat bitter taste of asparagus can provide a nice balance. For example, a creamy pasta dish or a juicy steak would go great with some simply prepared asparagus.
Cooking Method: I like to cook my asparagus using the same method as the main course when possible. For instance, grilled meats taste great with grilled asparagus. You can roast, air-fry, bake, saute, and pan-fry asparagus!
Seasoning: Consider the flavors used in your main course. For example, if your main course has a lemony flavor, add some fresh lemon zest to your asparagus!
Sauce Pairings: There are many sauces that taste wonderful on asparagus, from cheese sauce to hollandaise or a balsamic vinegar reduction! If your main course includes a sauce, consider how the flavors will marry (or use no sauce on the asparagus at all)!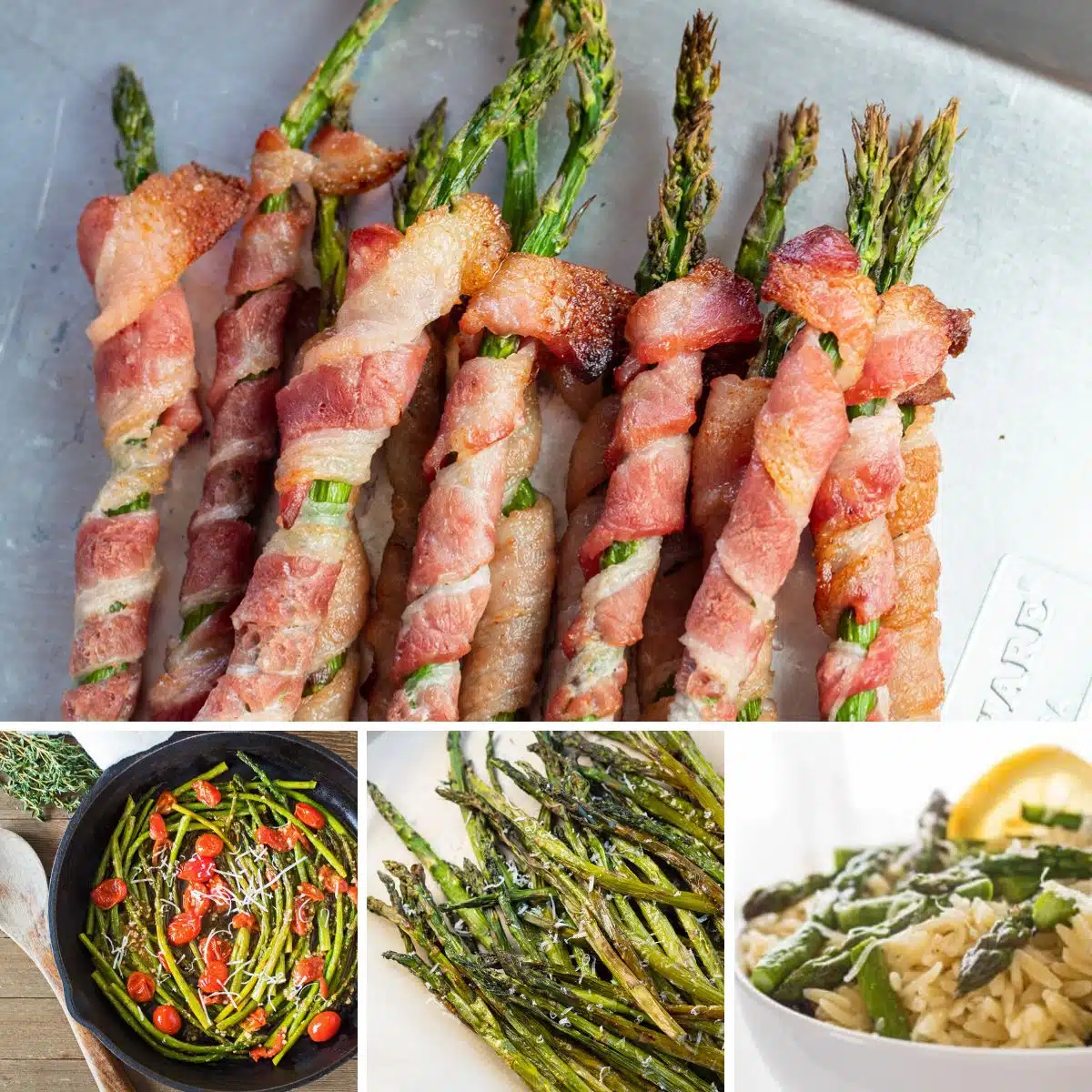 📋 Recipe