There are literally tons of great stir fried dishes to try, so I've picked out the very best stir fry recipes that anyone can make at home! Whether you like shrimp, chicken, or beef, I have a savory stir-fry that the whole family will love!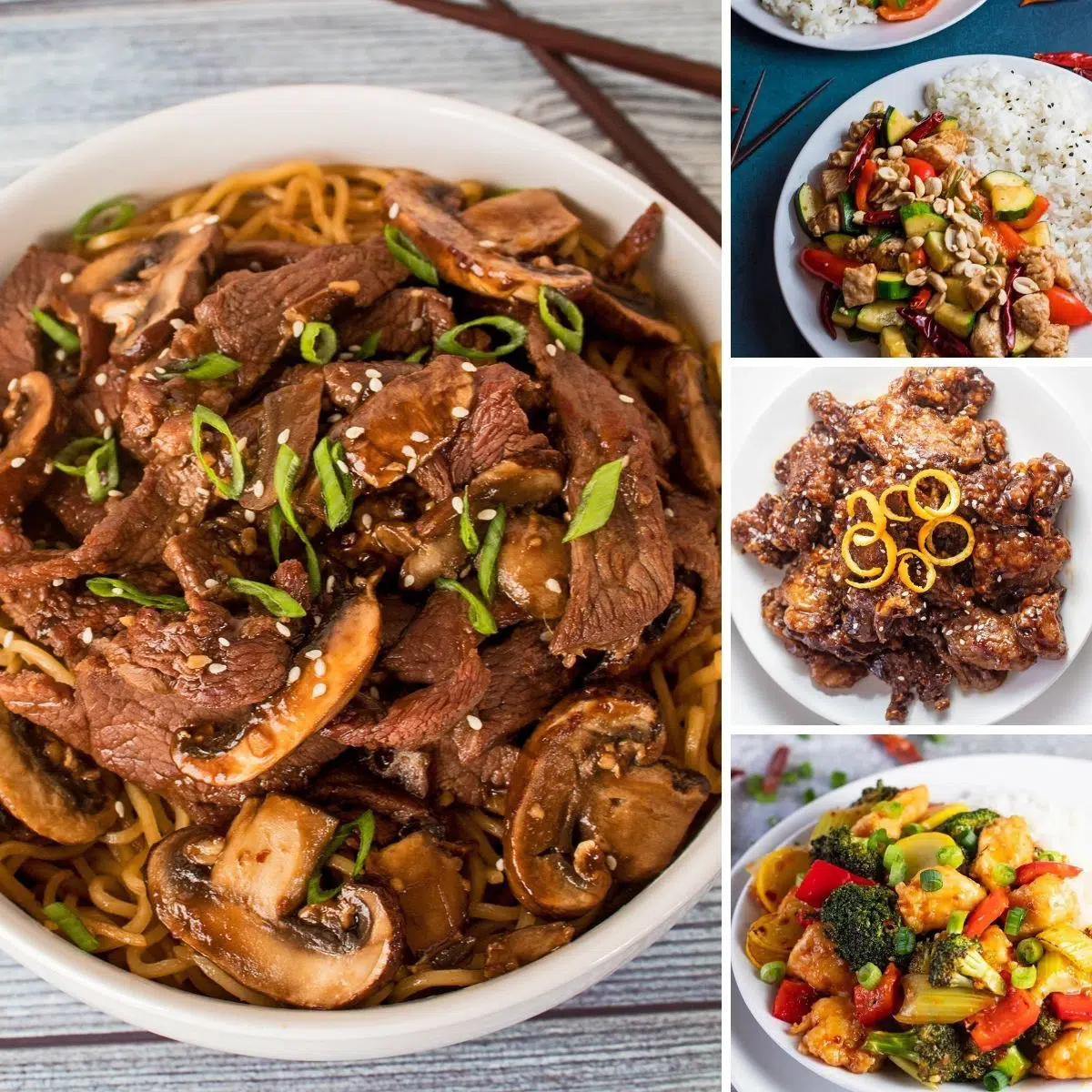 Great tasting stir-fry recipes that are quick, easy, and full of umami flavor!
Who doesn't love a good stir-fry? The great thing about a stir-fry is how easy and customizable they are.
They are like a blank canvas waiting to be painted. Any combination of vegetables, proteins, different sauces, and spices are up for grabs. That means you can have a different stir-fry every night for a month if you wanted to!
Jump to:
Use the empty wok as your blank canvas and paint the stir-fry of your food lover dreams! And if you don't have a wok, don't' worry, a nice hot skillet will do just fine
I've rounded up some of the best stir-fry recipes. Use the recipes as-is for a delicious meal or a guide to creating your own masterpiece!
1. Easy Vegetable Stir-Fry
This quite literally is the easiest stir-fry of your dreams. A medley of vegetables including bell peppers, mushrooms, and snow peas are cooked in a sweet sauce.
Using sesame seed oil, garlic, soy sauce, and a few other staples, you've got a delicious veggie meal in under 30 minutes. Perfect for a quick, delicious weeknight meal.
2. Chicken Stir-Fry
This stir-fry is a classic. Chicken and vegetables in a tasty sauce. Most stir-fries are somewhat healthy and this one is no exception. With a good chicken stir-fry, you don't have to sacrifice taste for healthy eating.
The sauce includes a tasty mix of honey, soy sauce, and chicken broth with some crushed red pepper flakes. With its mix of veggies, ginger, and garlic, this is one stir-fry you'll want to have on repeat!
3. Easy Beef Stir-Fry
An alternative to the chicken stir-fry above, this easy beef stir-fry is just as flavorful.
This recipe has a twist as it utilizes noodles in its recipes. The noodles add another layer of flavor and texture to the dish.
4. Honey Garlic Chicken Stir-Fry
As its name suggests, this stir-fry is for those honey & garlic lovers. It's sweet with a hint of tang to it.
While you can use any vegetables you like, this recipe is best with broccoli and carrots for a filling and hearty stir-fry.
5. Sesame Shrimp Stir-Fry with Spinach
Where are all my shrimp lovers at? This stir-fry is for you! This recipe comes together quickly and is an easy meal to throw together if you have the ingredients on hand and don't have a lot of time.
With the chili-garlic sauce, tamari, and ginger in it, this stir-fry is packed with flavor and nutrients. Serve with brown rice for a quality restaurant meal at home.
6. Orange Chicken
No need to go to a restaurant to get this favorite dish when you can easily make it at home! With this copycat orange chicken stir fry, dinner will be on the table in 30 minutes.
With garlic, orange juice, and bit of sugar, this dish gives you the taste you love without having to leave the house.
7. Sweet and Sour Chicken
Another classic restaurant favorite you can make at home. It's sweet, it's sour, and it is delicious!
With the pineapple, garlic, onion, and some homemade sweet and sour sauce, you can understand how it's as incredible as it is. Don't walk, run to make this classic stir-fry tonight, you won't be disappointed.
8. Beef and Broccoli Stir-Fry
Let's face it. We love a good stir-fry! That's why so many of these recipes are classics and on restaurant menus everywhere.
This beef and broccoli stir-fry recipe is no different. This classic dish is an easy, quick meal to whip any night of the week.
9. Honey Sriracha Chicken Stir-Fry
Who loves a little spice in their life? This one is for you! It's sweet. It's spicy. It's full of flavor.
The honey and sriracha aren't the only stars in this dish. The minced garlic and crushed red pepper flakes give it that extra love that makes this recipe a favorite.
10. Teriyaki Beef Stir-Fry
We love teriyaki flavor in our house and although most times it is used on chicken, it's just as good with beef. In this recipe, you make your own teriyaki sauce, no cans or jars here!
You can taste the homemade difference in this teriyaki beef stir-fry. With maple syrup, rice vinegar, ginger, and garlic, this sauce is the star of the show.
11. Teriyaki Chicken Stir Fry
Similar to the beef teriyaki discussed above, this chicken teriyaki is so delicious that it still deserves its own paragraph.
Full of tender veggies like sugar snap peas, zucchini, bell pepper, and carrots, this stir-fry is well-rounded. Serve it on some rice or noodles for an easy, filling dinner!
12. Cashew Chicken Stir-Fry
I can't lie. Of all the stir-fry recipes out in the world, this is my absolute favorite. I love the crunch of the cashews, the tangy sauce, and vegetables.
The great thing about making this at home is controlling the spice level. I love it spicy so I add more spice than others prefer. Regardless of your spice level, this is one of our favorite dishes on repeat in our house.
13. Kung Pao Shrimp Stir-Fry
This dish is on virtually every single Chinese restaurant's menu. The hoisin sauce, dry sherry, and brown sugar lend to this kung pao shrimp stir-fry's signature flavor.
The crushed red pepper gives it a little kick, and the ginger adds to the flavor profile.
14. Honey Mustard Chicken Stir-Fry
Honey mustard fans rejoice! This stir-fry is for you. In this recipe, you make your own honey mustard with Dijon mustard, honey, and soy sauce.
It's sweet, tangy, and full of that honey mustard flavor that goes so well with chicken.
15. Prime Rib Mongolian Beef Stir-Fry
This recipe is another classic that we made even better by using prime rib! Perfect for using up leftovers, prime rib Mongolian beef stir-fry is fully of savory Mongolian beef sauce that really sets it apart from the rest of this list.
Debatably, the best thing about this Mongolian beef stir-fry is that you can make it in 15 minutes or less.
16. Mango Chicken Stir-Fry
This mango chicken stir-fry is bright and flavorful. Using mango, red onion, red bell pepper, and snow peas it is full of layered flavor.
The sauce is a nice mix of ginger, honey, and garlic with a secret ingredient you'll have to read the recipe to see. This is a great recipe when you want to mix your stir-fry tastes up.
17. Chicken with Garlic Sauce
Chicken with garlic sauce is a tasty stir-fry that is quick and easy to throw together.
Tender wok-fried chunks of chicken are partnered with crisp veggies in this healthy stir-fry that is sure to be enjoyed by the whole family!
18. Shrimp with Garlic Sauce
In 20 minutes flat you can whip up some flavorful shrimp with garlic sauce. Though it shares the same name as the chicken stir-fry above, but it includes a completely different slew of veggies to love!
Eat it as-is for a delicious low-carb meal, or serve it over rice or pasta to make it more hearty.
19. Beef with Garlic Sauce
Rounding out our trio of garlic stir-frys, we saved the best for last. Beef with garlic sauce is full of delicious umami flavor!
This stir-fry heavily features mushrooms, so if you are a family of mushroom lover's, this would be perfect for you.
20. Hunan Beef
Hunan beef involves thinly slice steak that is stir fried with an array of veggies in none other than savory Hunan sauce.
This recipe is wonderful because it tastes delicious with most vegetables, so you can always substitute things you have on hand!
21. Hunan Shrimp
This Hunan shrimp is hot, spicy, and covered in savory Hunan sauce! I love to serve this shrimp over rice, but it's equally as delicious on its own!
Best of all, it only takes 20 minutes to make!
22. Hunan Chicken
Hunan chicken is a stir-fry with just enough kick. It's not overpowering, but you know it's there.
Pair some lightly coated and fried chicken with colorful sauteed veggies and you have a dinner to remember.
23. Kung Pao Chicken
This Panda Express copycat earned its spot on this list. Marinated chicken that is stir-fried with zucchini, bell pepper, and an amazing ginger and garlic sauce.
Peanuts are tossed in after cooking for a crunch you can't resist! In fact, all of our Panda Express copycats are delicious!
There you have it, the best of the best! Let us know which stir-fry recipe is your favorite in the comments below!
📖 Recipe Card