Learn how to make quesadillas the right way so that they turn out perfectly crispy and delicious every single time! In this guide, we will go over some tips and tricks for making the perfect quesadilla, including ingredient ideas, cooking techniques, and serving suggestions. With these easy instructions, you'll be able to create mouth-watering quesadillas that are sure to be a hit with your family and friends!
How To Make The Best Quesadillas
Quesadillas are a crowd-pleasing Mexican recipe that is easy to make and perfect for just about any occasion. Whether you are cooking for a family dinner, hosting a party, or just craving a quick snack, quesadillas are always a great option!
But not all quesadillas are created equal - to make the best quesadillas, you need to follow a few key steps. In this post, I'll guide you through the process of making the perfect quesadillas that are crispy, cheesy, and packed with flavor!
Jump to:
Tips For Making The Best Quesadillas
Before you bust out the tortillas, there are a few useful tips to know when making a quesadilla. Keep these 6 things in mind, and your quesadillas will be crispy, cheesy, and delicious every time!
1. Don't Use Wet Fillings
Wet fillings will always lead to a soggy quesadilla. Salsa, sour cream, hot sauce, and queso are all delicious with quesadillas, but they are best served on the side for dipping.
2. Use Plenty Of Cheese
This is particularly helpful if you're like me and like to use two tortillas rather than folding them in half (most of the time, both ways are delicious). The cheese acts like the glue holding the tortillas and fillings together. Plus, who doesn't love extra gooey melted cheese?
3. Don't Overfill Your Quesadilla
It's hard not to pile on the toppings, but try to keep it reasonable. Depending on how many ingredients you have, it's best to keep them to about 1 ounce each for folded quesadillas and 2 ounces if you use two tortillas. You put too much, and your quesadilla will be very hard to flip.
4. Add Fresh Veggies Last
If you want your veggies to keep a nice crunch, don't add them until just before you fold your tortilla (or place the second tortilla on top) and flip. This goes for pickled peppers, pico de Gallo, corn, or chiles, too.
5. Wait To Flip
You may be excited to get this quesadilla onto your plate, but don't rush the process. It's all about getting the tortilla nice and crispy so it can hold the toppings without falling apart or getting soggy. Wait until the tortilla is golden brown, and when in doubt, lift an edge with your spatula to check.
6. Pair With The Right Sauces & Sides
Once your quesadilla is ready to enjoy, all you have to worry about is what to serve with it! Quesadillas are crispy, warm, and cheesy. They pair well with cool condiments like red salsa (green salsa is tasty, too!), sour cream, or guacamole. That's not to say some melted queso wouldn't be delicious, though!
>>>>See all of my recipes HERE<<<<
Best Quesadilla Cheeses
The most popular cheeses for quesadillas are Oaxaca, asadero, manchego, and Chihuahua cheese, as well as cheddar and Monterey Jack. Cheddar and Monterey Jack are common choices for American quesadillas; they melt well and are pretty darn tasty, too.
However, if authenticity is your goal, a Mexican cheese like Oaxaca or Chihuahua is more typical of what you would get in Mexico.
These are just a few of the best melting cheeses for quesadillas! You can always mix and match types of cheese to create your ideal blend of flavors.
Best Quesadilla Meats
When it comes to protein, you have plenty of options to choose from! If you're a fan of beef, chicken, pork, or shrimp, you'll be happy to know they all taste delicious in a quesadilla. You can even enjoy breakfast quesadillas with eggs and bacon or sausage!
If you are feeling beef quesadillas, you could try steak quesadillas, ground beef quesadillas, fajita quesadillas, or even prime rib quesadillas!
Chicken quesadillas are best with either shredded chicken or grilled chicken cut into strips, diced, or chopped.
For pork quesadillas, typically pulled pork is used. Another option would be to use ground pork with a little taco seasoning! Strips of pork chops or other cuts of pork may be tougher to chew and aren't ideal for quesadillas.
For a seafood quesadilla, shrimp is your best option. You can quickly make some shrimp in the air fryer or cook them in a skillet before adding them to your quesadilla. Crab meat or lobster meat would also work well, but it's best to avoid using fish.
Best Quesadilla Fillings
What determines the 'best' fillings is all about the combination of flavors you have going on in your quesadilla. Think about your cheese, your protein, and even what dipping sauces you'd like to use, then add the fillings that will complement your plan.
Here are just a few suggestions for tasty quesadilla fillings, not including the meat and cheese:
Refried Beans
Pickled or Fresh Jalapenos
Avocado
Spinach
Diced Tomatoes
Cilantro
Garlic
Sauteed or Roasted Vegetables (vegetarian quesadilla)
Diced Chiles
How To Make Quesadillas
There are two ways to make perfect quesadillas - on the stovetop or in the air fryer. Regardless of which method you use, there are a few things you'll need to do before you get started.
Pick your tortilla. Some people swear that flour tortillas are a must for quesadillas, while others say corn is more authentic. I like both! Pick your preferred tortillas to get started.
Prepare your fillings. Quesadillas cook quickly, so you want your protein cooked, cheese shredded, and other toppings in arm's reach and ready to go!
Stovetop Method
Heat the pan. Add ½ tablespoon of olive oil to a skillet over medium to medium-high heat. (If working in batches, add more oil between quesadillas as needed).
Assemble the quesadilla. Put 1 tortilla down in the pan, followed by the shredded cheese, meat, and other fillings. If folding your tortilla, put the ingredients on one half only. Otherwise, place the second tortilla on top and press down gently with your spatula.
Cook and flip. Cook for 3-4 minutes until the tortilla is golden brown and the cheese has melted. If using one tortilla, then fold it in half and flip it over. If using 2, carefully flip the entire quesadilla. Cook the opposite side until equally golden and crispy.
Slice and serve. Remove your quesadilla from the pan and slice it into wedges if desired. Serve immediately while hot.
Air Fryer Method
Assemble the quesadillas. Grab a tortilla and add your desired filling ingredients, starting with cheese. Either fold it in half or top it with a second tortilla.
Air fry. Place the quesadilla in your air fryer basket and cook at 350°F (175°C) for 5 minutes.
Flip. Open your air fryer and carefully flip the quesadilla to the opposite side. Close the basket and cook for 3-5 minutes more.
Slice and serve. Remove your quesadilla from the air fryer (careful, it will be hot), and slice it into wedges if desired. Serve right away.
*Remember not to crowd the air fryer basket, or your tortillas may not get crispy! Work in batches if needed.
What To Serve With Quesadillas
To make a complete meal with quesadillas, it's a good idea to serve some complementary dishes on the side. You can never go wrong with rice and beans, but you certainly aren't limited to those two options! Give some of these recipes a try:
There are so many delicious recipes that can be served with quesadillas! For a full list of my favorites, check out this post on what to serve with quesadillas!
😋 More Mexican Recipes
Do you love a recipe you tried? Please leave a 5-star 🌟rating in the recipe card below and/or a review in the comments section further down the page.
Stay in touch with me through social media @ Pinterest, Facebook, Instagram, or Twitter! Subscribe to the newsletter today (no spam, I promise)! Don't forget to tag me when you try one of my recipes!
📋 Recipe
Print Recipe
Leave A Comment
Love This Recipe?
Click On A Star To Rate It!
How To Make Quesadillas: Steak Quesadillas (+More Useful Tips & Tricks!)
Learn how to make quesadillas the right way so that they turn out perfectly crispy and delicious every single time! In this guide, we will go over some tips and tricks for making the perfect quesadilla, including ingredient ideas, cooking techniques, and serving suggestions. With these easy instructions, you'll be able to create mouth-watering quesadillas that are sure to be a hit with your family and friends!
Pin Recipe
Share on Facebook
Ingredients
1

tablespoon

olive oil

(extra virgin)

1

lb

skirt steak

(or flank steak, diced into bite-sized pieces)

1

tablespoon

beef taco seasoning

8

large

flour tortillas

1

cup

Mexican cheese blend

(shredded)
Instructions
Heat 1 tablespoon of olive oil in a large skillet over medium-high heat.

Add the diced steak and beef taco seasoning to the hot skillet and toss to fully coat the steak. Cook the steak until all sides are nicely browned, then transfer to a plate or cutting board and wipe out your pan.

1 lb skirt steak,

1 tablespoon beef taco seasoning

Add a little more olive oil to the pan and place one tortilla in the center. Top the tortilla with ¼ of the diced steak and ¼ of the shredded cheese then place a second tortilla on top and use your spatula to gently press it down.

8 large flour tortillas,

1 cup Mexican cheese blend

Cook your steak quesadilla until the tortillas have browned and the cheese is melted inside (about 3-4 minutes per side). Repeat this same process with each quesadilla.

Slice each quesadilla into wedges if desired and serve immediately.
Equipment You May Need
Notes
If you'd like to add some veggies, saute some sliced bell peppers and onions before assembling your quesadillas!
For spicier quesadillas, you can add a pinch of crushed red pepper flakes to the beef taco seasoning.
I prefer using 2 tortillas for my quesadillas, but you could also use 1 tortilla and fold it in half after adding the steak and cheese (you will want to use ⅛ of the meat and cheese per tortilla). 
To store: Let the quesadillas cool then place them in an airtight container and refrigerate them for up to 4 days. You can also place them in a heavy-duty freezer bag with the air squeezed out and freeze them for up to 3 months.
To reheat: For the crispiest quesadillas, reheat them in the air fryer at 350°F (175°C) for 3-4 minutes. You can also reheat them in the oven at 350°F (175°C) for about 10 minutes. Microwave reheating is possible, but the quesadillas won't retain their crispness. Simply place stacked quesadilla slices on a plate and heat in 30-second increments until warmed to your satisfaction.
Nutrition
Calories:
445
kcal
(22%)
|
Carbohydrates:
30
g
(10%)
|
Protein:
36
g
(72%)
|
Fat:
19
g
(29%)
|
Saturated Fat:
8
g
(50%)
|
Polyunsaturated Fat:
2
g
|
Monounsaturated Fat:
7
g
|
Trans Fat:
0.01
g
|
Cholesterol:
99
mg
(33%)
|
Sodium:
794
mg
(35%)
|
Potassium:
518
mg
(15%)
|
Fiber:
2
g
(8%)
|
Sugar:
3
g
(3%)
|
Vitamin A:
277
IU
(6%)
|
Vitamin C:
2
mg
(2%)
|
Calcium:
278
mg
(28%)
|
Iron:
3
mg
(17%)
easy dinners, how to make quesadillas, quesadilla recipes, skirt steak recipes, steak quesadillas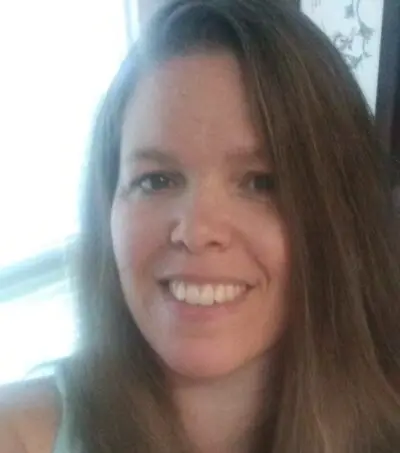 Angela is an at home chef that developed a passion for all things cooking and baking at a young age in her Grandma's kitchen. After many years in the food service industry, she now enjoys sharing all of her family favorite recipes and creating tasty dinner and amazing dessert recipes here at Bake It With Love!