These cold side dishes include refreshing salads, tasty quick breads, fruity side dishes, and chilled desserts! They are great for backyard BBQs, cookouts, picnics, and everything in between! If you're looking for a way to beat the heat this summer, you've come to the right place!
Best Cold Side Dishes For Hot Summer Months
As the temperatures soar during the hottest months of the year, it's time to turn to meals you can make without spending hours in the kitchen. This list of the best cold side dishes to serve during the summer offers the perfect solution, as they require little to no cooking at all!
Whether you are hosting a barbecue or having a pool day with friends, you can ensure that everyone will stay cooled and refreshed with any of these recipes. There are so many options to choose from, so keep reading for some new fun side dish ideas!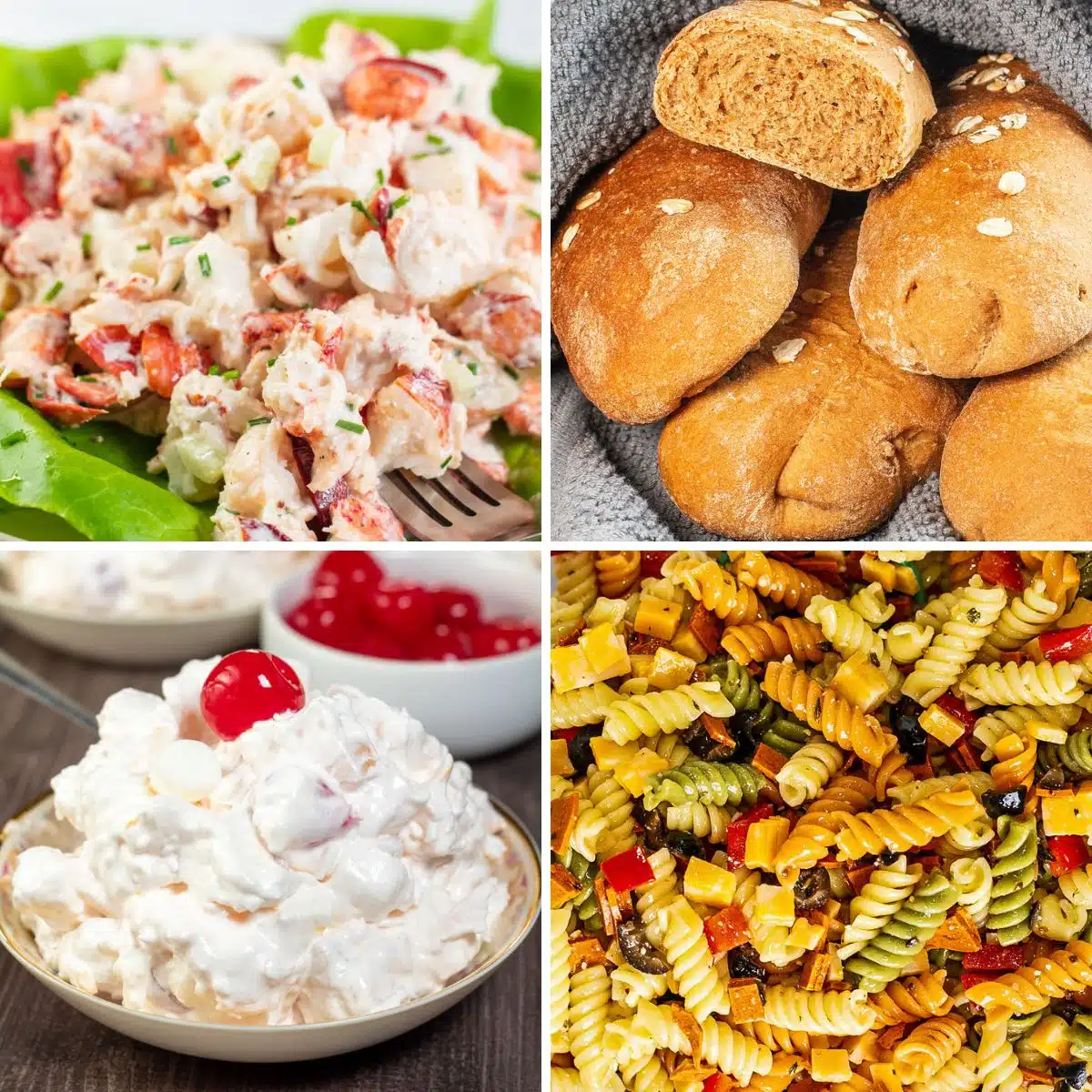 Jump to:
For more summer inspiration, check out my pages dedicated to my favorite summer vegetable side dishes and summer lunch ideas!
Salads
I love preparing fresh salads to enjoy on hot summer days, especially ones that require minimal prep and cooking time! All of these options are easy to make and offer tons of delicious flavors.
1. Lobster Salad
This lobster salad recipe is perfect for serving on hot summer days because it's creamy, cool, and refreshing! It's made with an amazingly tasty combination of lobster meat, celery, chives, lemon juice, and mayonnaise.
You can enjoy it straight from the bowl with crackers or use it to make delicious lobster rolls! Either way, it's a side dish that will impress and satisfy any seafood lover in your life.
2. Caesar Salad
A classic Caesar salad is another refreshing side dish that's incredibly simple to prepare for summertime gatherings. My recipe is full of crispy Romaine lettuce, crunchy croutons, Parmesan cheese, and a delicious Caesar dressing to tie it all together!
3. Broccolini Slaw
This broccolini slaw has the perfect balance of texture, crispiness, and tangy flavor! It only takes a few simple ingredients and 10 minutes to make, plus there's no cooking required.
4. Pasta Salad with Italian Dressing
If you're looking for a flavorful side dish that you can prepare ahead of time, my easy pasta salad is just the thing! All you have to do is cook your favorite variety of short pasta and combine it with chopped veggies, pepperoni, cheese, and Italian dressing!
5. Chicken Salad With Grapes
This chicken salad recipe is a quick and easy side dish perfect for picnics, pool parties, and potlucks! My family loves when I mix in some grapes for added bursts of sweetness that tastes delightfully with savory chicken.
6. Potato Salad
A summertime meal wouldn't be complete without a side of potato salad! My simple recipe incorporates classic potato salad flavors, however, you can easily customize it to fit your family's preferred tastes!
7. Southern Coleslaw
This Southern coleslaw is the perfect cold side dish to make when you are in a time crunch! You can easily prep the veggies ahead of time or even make your coleslaw up to 2 days before you're ready to serve.
8. Greek Pasta Salad
This Greek pasta salad is another excellent side dish to make last minute as it only requires 15 minutes to throw together! It's packed full of tangy and refreshing flavors that everyone will enjoy no matter their age.
9. Asian Cucumber Salad
If you love chilled salads in the summer heat as much as I do, then my easy Asian cucumber salad is sure to be a hit! It's loaded with refreshing flavors from fresh ginger, garlic, and green onions that are all tossed in a sesame soy sauce vinegarette dressing!
10. Wedge Salad
A classic wedge salad is a quick and easy side dish that will pair well with your favorite grilled meats or BBQ dishes! My easy version is made with fresh lettuce, tangy tomatoes, salty bacon, blue cheese crumbles, and a blue cheese dressing made from scratch!
11. Caprese Salad
Hot summer months call for refreshing side dishes to cool you off and a fresh caprese salad will do exactly that! This super quick recipe consists of fresh tomato slices, mozzarella, and basil topped with a balsamic vinaigrette and olive oil mixture!
>>>>See all of my recipes HERE<<<<
12. Hawaiian Macaroni Salad
As soon as the weather starts to heat up, my family always requests that I make my rich and tangy Hawaiian macaroni salad! It's a cool, creamy side dish that features noodles tossed in a dressing of mayo, vinegar, carrots, celery, onion, and more!
Breads
A quick bread recipe is another great side dish option to keep your family full and satisfied without keeping your oven on for hours.
13. Cheesecake Factory Brown Bread
This restaurant-style copycat bread recipe is absolutely beginner-friendly and equally delicious! It turns out soft and savory with just the right amount of sweetness every time.
14. Flatbread (No Yeast)
When it comes to making bread, it doesn't get much easier than my flatbread recipe that's made without yeast! It's quick to cook on your stovetop and especially delicious paired with my homemade tzatziki sauce or hummus!
15. Yellow Squash Bread
If you're looking for a new way to use your excess summer squash, then this yellow squash bread recipe is the answer you've been needing! It's a super easy quick bread that turns out incredibly moist, sweet, and delicious!
16. Sour Cream Cornbread
This sour cream cornbread is an excellent side dish for any summertime gathering with your friends and family! Adding sour cream ensures that your cornbread has a soft and buttery center that never drys out.
17. Pretzels
These pretzels are a fantastic treat to share with a group of friends at a summer party! They're ready to serve in under an hour and taste extra delicious with a variety of your favorite dipping sauces!
Check out my cheese dip, honey mustard, or ranch dressing recipes if you are needing some easy dipping sauce ideas!
Fruit Desserts
Nothing screams summertime like the fresh flavors of fruit desserts! All of these recipes are incredibly easy and quick to whip up.
18. Fresh Mango Salsa
My fresh mango salsa is an incredibly light and refreshing side dish that has the perfect balance of sweet and spicy flavors! Whether you choose to serve it with homemade tortilla chips or as a garnish for tacos, everyone will be addicted to this salsa!
19. Ambrosia Salad
Ambrosia salad is a vibrant and delicious fruit dessert that's easy to whip up for your next pool party or family barbecue! This tasty version combines mandarin oranges, maraschino cherries, pineapple tidbits, coconut flakes, and mini marshmallows with a sweet and tangy sauce!
20. Creamy Grape Salad
If you've never made a creamy grape salad before, get ready to be impressed with how inexpensive, easy, and delicious this recipe is! All you have to do is toss a few pounds of grapes in a sweet and creamy sauce, then let it chill in the fridge for at least an hour!
21. Fruit Cocktail Salad
This simple recipe is a great way to transform your favorite summer fruits into a fabulous dessert that everyone will love! Whether you choose to use canned or fresh fruit, you'll yield delicious results every time.
Tips For Choosing The Best Cold Side Dishes For Summer
If you are trying to find the perfect cold side dishes to bring to your summer gatherings, here are a few things to remember. You'll want to consider sides that you can prepare in advance and fill with fresh ingredients!
Prepare in Advance: Choose recipes you can prepare ahead of time and store in the refrigerator. This will save you time and effort when serving meals during hot days.
Keep a Cooler Handy: Keep a cooler handy for outdoor events in the summertime so that you can keep your side dishes fresh.
No-Cook or Minimal Cooking: Steer clear of recipes that require a lot of cooking or heat in the kitchen. Concentrate on dishes like dips, salads, or fruit desserts.
Light and Fresh Ingredients: Opt for dishes that feature light and fresh ingredients like leafy greens, cucumbers, tomatoes, bell peppers, and herbs. These ingredients provide hydration and a burst of flavor.
Seasonal Produce: Summertime is especially a great time to embrace the abundance of seasonal fruit and vegetables. Think about preparing dishes that have watermelon, berries, peaches, and vegetables like zucchini, corn, and avocado.
Tangy and Zesty Flavors: Eating foods with tangy and zesty flavors can be very refreshing while it's hot outside. Try adding vinegar-based dressings, citrus fruits, or pickled elements to your dishes.
These are just a few of my favorite cold side dish recipes to serve during the hot summer months! Let me know if you have any questions or have a favorite recipe you like to serve at summertime gatherings in the comments below!
📋 Recipe