My cast iron skillet recipes feature seared meats, potato dishes, flavorful chicken, and even fluffy cornbread! These restaurant-quality dishes are full of rich and decadent flavors, all from the comfort of your kitchen! Of course, these cast iron skillet recipes are great for any day of the week because they are all easy to make!
The Best Cast Iron Skillet Recipes
My cast iron skillet is one of my favorite things to use in the kitchen. If for some reason, you don't already own a cast iron skillet, you need to get one!
It heats food evenly, stays hot, is practically indestructible, and can be transferred from the stove to the oven! This list of my favorite cast iron skillet recipes shows exactly how much the cast iron skillet is capable of!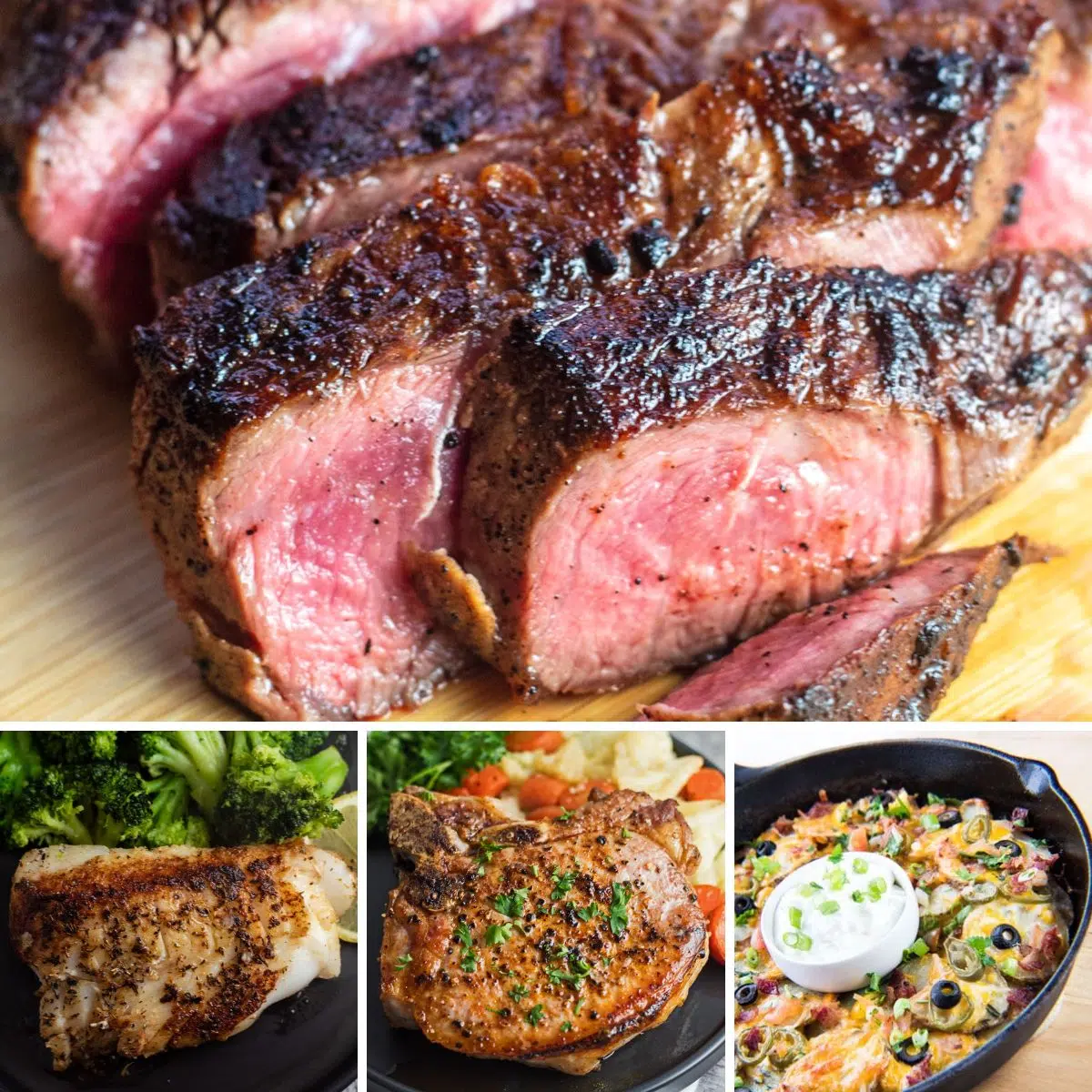 Jump to:
1. Cast Iron Skillet Garlic Herb Focaccia Bread
This delicious and fluffy garlic bread is one of my absolute favorite cast iron skillet recipes because it involves no kneading and can even be prepared the night before!
2. Dutch Baby Pancakes
These Dutch babies are easy to make and incredibly addicting! They are puffy, fluffy, and perfect for so many different things!
3. Pan Seared Flat Iron Steak
My flat iron steaks are incredibly tender, flavorful, and seared to perfection in a cast iron skillet!
4. Cast Iron Pork Chops
The cast iron skillet gives these pork chops a delicious, golden, caramelization!
5. Skillet Brown Sugar Glazed Carrots
This veggie side dish is sweet, savory, and completely irresistible! They are great for any day of the week and are kid-approved!
6. Cast Iron Herb Roasted Chicken
My herb-roasted chicken is completely effortless, yet tastes as if you spent hours in the kitchen!
7. Duck Fat Fried Potatoes
If you love fried potatoes, this recipe will be your new favorite! The duck fat adds an extra rich and savory flavor to the crispy potatoes!
8. Seared Ahi Tuna Steaks
Ahi tuna sears quickly in a cast iron skillet and the golden-brown sesame seed crust is to die for!
9. Veal Scallopini
This quick meal includes tender veal strips, angel hair pasta, and a homemade piccata sauce that is pure perfection!
10. Pan Seared Hanger Steak
My pan-seared hanger steak is tender, juicy, and full of flavor! Not to mention, it'll be ready to enjoy in less than an hour!
11. Pan Seared Filet Mignon
This sophisticated and romantic dish features a perfectly seared, juicy filet mignon that will make anyone feel extra special!
12. Mushroom Swiss Chicken
My mushroom Swiss chicken is perfect for a last-minute dinner as it only needs 30 minutes to make! It's the perfect cast iron skillet recipe for weekday family dinners!
13. Chicken Marsala
This classic dish features perfectly cooked chicken that is coated in a rich and flavorful marsala sauce!
14. Pan Seared Lamb Leg Steak
If you've never made lamb before, now is the time to try it! This recipe is easy to make and tastes amazing!
15. Creamed Corn Cornbread
It's time to ditch to boxed cornbread mix and get ready to enjoy this sweet and fluffy homemade cornbread! This super moist cornbread is a recipe that's just always that touch better when baked in cast iron!
16. Pan Seared Lamb Shoulder Chops
With a crispy, golden outside and a tender and juicy inside- these lamb shoulder chops are the perfect quick dinner!
17. Pan Seared Lamb Chops
It's time to add some variety to your weekly dinners with these rich and juicy lamb chops!
18. Baked Avocado Chicken
Creamy, cheesy, and insanely delicious- this baked avocado chicken is a perfect weekday dinner!
19. Pan Seared Cowboy Ribeye Steak
This cowboy ribeye steak is perfectly crusted, juicy, and covered in delicious garlic butter! It is the king of cast iron skillet recipes!
20. Southern Fried Corn
Sauteed onions, garlic butter, corn, and perfectly crisp bacon make up this delectable side dish!
21. Fried Cabbage
The bacon in this dish makes this fried cabbage a savory and satisfying comfort food!
22. Wagyu Ribeye Steak
Wagyu ribeye is known for being incredibly tender and flavorful with rich marbling that melts away when cooked perfectly!
23. Tacos de Birria
A crispy shell stuffed with slow-cooked goat, melty cheese, and loads of spices- what else could you ask for?
24. Blackened Cod
If you're in the mood for a delicious, flavorful seafood dinner, try out this tender cod covered in an incredible blend of spices!
25. Duck Confit
Duck confit is melt-in-your-mouth tender with a nicely seared, crispy skin that will wow all of your guests!
26. Pan Seared Pork Chops
These caramelized, juicy pork chops are ready in only 15 minutes so you can make them any day of the week!
27. Pan Seared Scallops
These scallops are beautifully golden, extremely tender, and only take 10 minutes to make! It's a great cast iron skillet recipe for when you need a last-minute date night dinner!
28. Fondant Potatoes
Potatoes are perfectly seared before being cooked in butter and then broth to achieve this perfect potato side dish!
29. Ground Beef Taco Meat
This recipe is here to take your typical taco meat to the next level! Add all of your favorite taco toppings and you're ready to eat!
30. Irish Nachos
There are no chips in these nachos! Thinly sliced potatoes are layered with cheese, bacon, and jalapenos, and then baked in the oven!
I hope this list of my favorite cast iron skillet recipes gave you some ideas on what to make using your favorite kitchen pan! Leave a comment down below and let me know which item you are most excited to try out!
📋 Recipe