Best canned green bean recipes: the perfect way to use up those lonely cans of green beans sitting in your pantry! From soups and casseroles to side dishes and more, there are many ways to make a wonderful meal with green beans from a can. They're a great ingredient for making quick and easy family dinners!
Best Recipes With Canned Green Beans
I feel like just about everyone has a few stray cans of greened beans in their pantry they've forgotten about. Well, now's the perfect time to bust them out!
I gathered up a few easy family dinners and delicious side dishes that are made even better by incorporating canned green beans!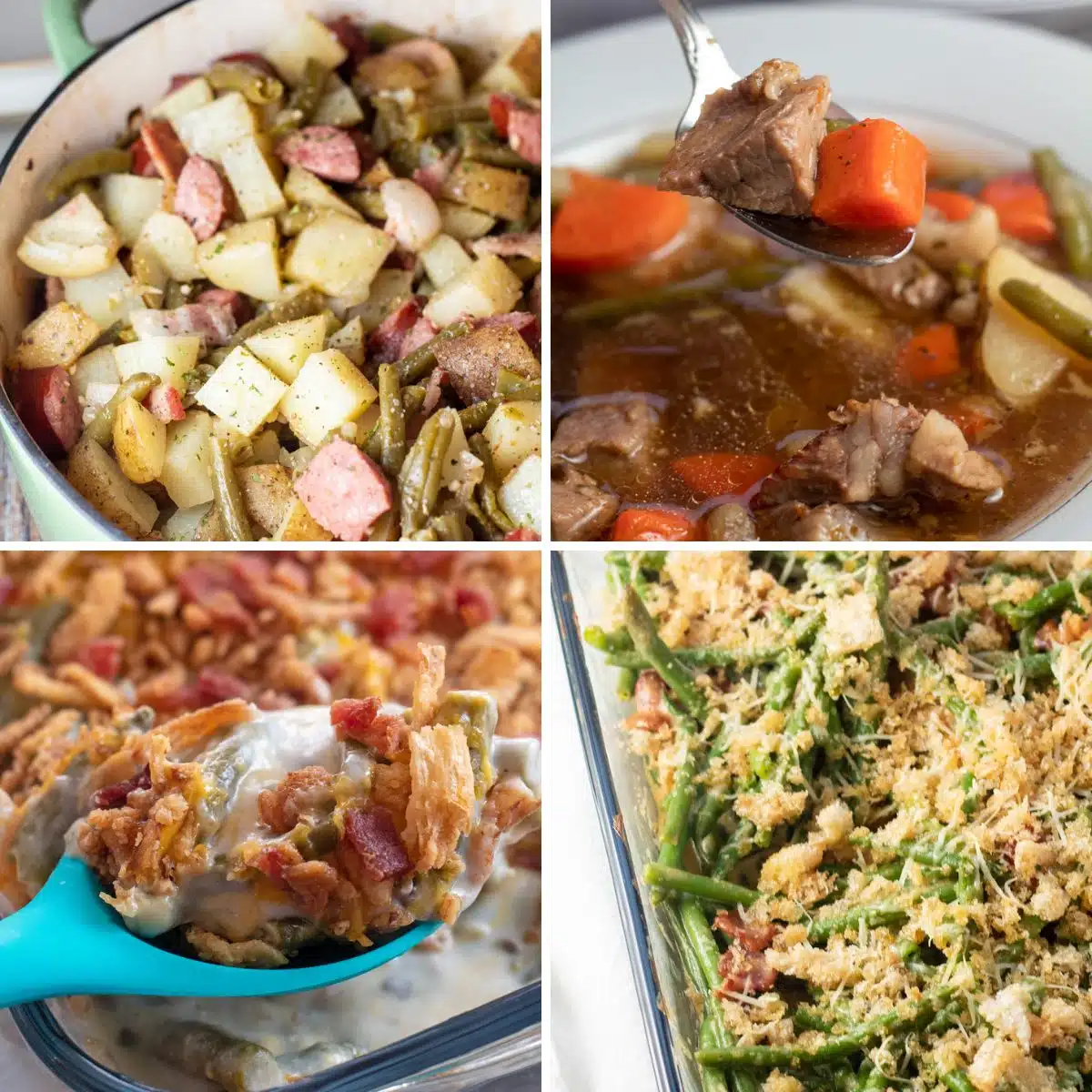 Jump to:
1. Campbell's Green Bean Casserole
I grew up on Campbell's green bean casserole made with canned green beans, so this was the first recipe to come to mind. When I made it again, it was just as delicious as I remembered and so easy!
Make sure you stop by my page on how to make green bean casserole for useful tips and tricks!
2. Vegetable Beef Soup
Canned green beans make an excellent addition to any soup with vegetables! Add the rinsed and drained canned green beans to this soup near the end of cooking time because they are already tender.
3. Chicken Pot Pie
You can add peas to chicken pot pie, so why not green beans? I like to leave out the peas entirely when adding green beans, but they do taste great together, so it's totally up to you!
4. Green Bean Potato Sausage Casserole
This casserole has everything you need for a satisfying dinner. There are tender potatoes, savory sausage, and green beans round out the meal as your green vegetable!
5. Crockpot Green Beans and Potatoes
Toss some canned green beans and red potatoes in your slow cooker for an easy and delicious side dish that will pair well with any protein. Plus, you can add ham or bacon for even more flavor!
6. Bacon Cheddar Green Bean Casserole
This green bean casserole is less traditional than Campbell's recipe above but just as delicious! The sharp cheddar cheese and bacon turn your canned green beans into pure comfort food.
7. Green Bean Casserole With Bacon
This keto-friendly green bean casserole can be made with fresh, frozen, or canned green beans. The 'bread crumb' topping is actually made with pork rinds, so it's perfectly crunchy and delicious while still being low-carb!
8. Prime Rib Soup
Whenever I have leftover prime rib on hand (especially after the holidays), I have to make this delicious beef and vegetable soup. It's rich and hearty, with lots of tender vegetables to enjoy, so no one will notice that the green beans came from a can.
>>>>See all of my recipes HERE<<<<
9. Pasta e Fagioli
If you've ever tried Olive Garden's signature pasta e fagioli recipe, you know how warm, comforting, and delicious it is! It's chock full of sausage, pasta, beans, and veggies (green beans included), all in a rich tomato broth.
10. Chicken Noodle Soup
Green beans make an excellent addition to chicken noodle soup if you're looking to bulk it up a little bit. Just toss the canned green beans in about 10 minutes before your soup is ready to heat them through.
11. Hamburger Pie Casserole
Hamburger pie casserole is a one-dish dinner, meaning you won't need any side dishes! It features seasoned ground beef, green beans, onion, and cheese baked in a rich tomato sauce with a creamy garlic mashed potato topping!
12. Chicken Stuffing Casserole
Green beans are right at home on a Thanksgiving plate next to the stuffing, and they taste just as amazing when baked together in a casserole! This recipe calls for frozen mixed vegetables, but you can definitely toss in some rinsed canned green beans, too.
13. Ritz Chicken Casserole
This creamy, cheesy chicken casserole with a crunchy Ritz cracker topping is a family-favorite recipe that is great with added green beans! Best of all, it's on the table and ready to eat in just about 30 minutes.
💭 Tips For Cooking With Canned Green Beans
When using canned green beans, there are a few things you'll need to do that don't always apply to fresh or frozen green beans. Here are a few tips to help you get the best results when cooking with canned green beans:
Drain and Rinse: Before using canned green beans, you should dump them in a colander and rinse them with cool, running water. This removes up to 41% of the excess sodium!
Seasoning: Season your green beans with salt and pepper to taste. For added flavor, try other seasonings like garlic powder, onion powder, paprika, or crushed red pepper flakes for a little kick!
Cooking Time: Canned green beans are already cooked, so they don't need much time to heat through. Cooking them for 5-10 minutes is usually sufficient. Overcooking canned green beans can make them mushy.
Add Freshness: Ingredients like chopped tomatoes, bell peppers, or a squeeze of lemon juice add freshness and flavor to canned green beans.
Casserole: Canned green beans are perfect for casseroles! They are already tender, so all you have to do is toss them in the mix.
Overall, canned green beans are a versatile and delicious ingredient that is beneficial to keep on hand. Let me know about your favorite ways to use canned green beans in the comments below!
📋 Recipe