Here's what to serve with trout so you can complement this incredibly delicious fish main course with the best sides! From oven-roasted potatoes to caprese salad, you will find an easy and tasty recipe that everyone in your family will enjoy! Keep reading to find the perfect side to round out your amazing fish dinner!
Best Side Dishes To Serve With Trout
Trout is an incredibly delicious fish with a mild and nutty flavor that pairs well with a large variety of side dishes! I've gathered a list of the best recipes to complete your fish dinner and make it an unforgettable meal to share with the family.
Whether you are serving trout as a weeknight dinner or as a special occasion meal, all of these sides are incredibly easy to make and require minimal effort. From Instant Pot au gratin potatoes to grilled corn on the cob, you will be able to find a side that everyone will love!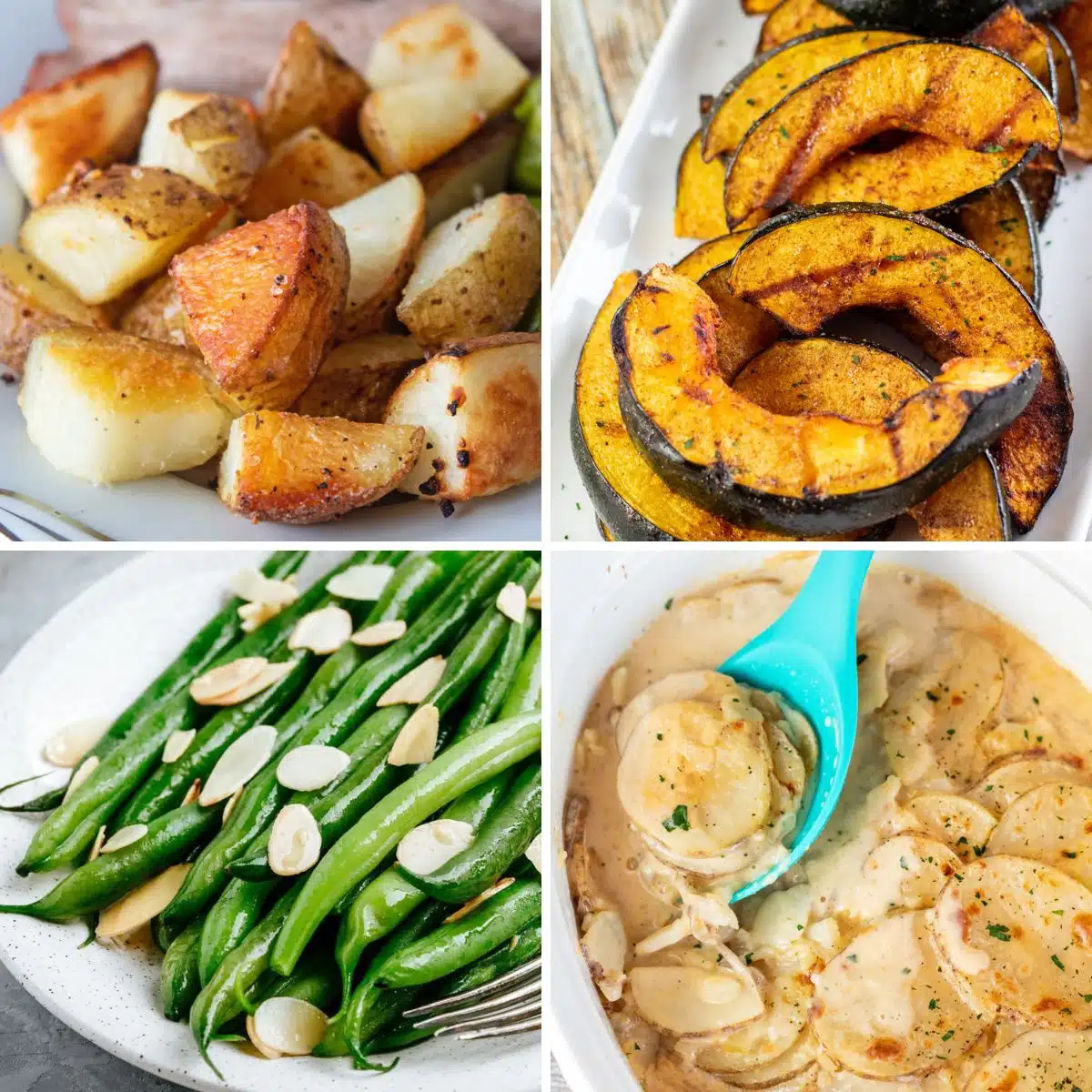 Jump to:
Want More Recipes? Enter your email below and we'll send them straight to your inbox!
Make sure to check out my delicious baked steelhead trout recipe the next time you have trout on the menu! You can even pair it with this tasty lemon butter sauce!
1. Green Beans Almondine
Green beans almondine is a simple French-inspired vegetable dish that features green beans tossed with butter, garlic, salt, pepper, and sliced almonds! In just 20 minutes you can make an elegant side that will pair exceptionally well with your trout dinner.
You can also try my roasted green beans, sauteed green beans, or garlic green beans with bacon!
2. Potato Salad
A side of potato salad can be easily whipped up in a pinch and customized to suit your preferred tastes! This recipe has all of the classic ingredients that you already know and love in potato salad, but you can always add in your favorite mix-ins!
Plus, it only takes 15 minutes of prep work and cooking time.
3. Roasted Vegetable Medley
A roasted vegetable medley is the perfect mixture of veggies that brings amazing flavor to your fish lunch or dinner! You can roast them until they become tender or cook them a little longer to get a caramelized crust.
The mixture is made of brussel sprouts, parsnips, beets, carrots, and minced garlic! These vegetables will also pair well with your favorite chicken, beef, or pork recipes too.
4. Zucchini Fritters
Zucchini fritters are crispy and delicious cakes made by combining grated zucchini with flour, savory seasonings, Parmesan cheese, minced garlic, and an egg. You can whip these up to enjoy as a tasty appetizer while your trout is cooking or as a side dish to serve with!
Try a tasty condiment to dip your fritters in like my Cajun dipping sauce or homemade blue cheese dressing recipes!
5. Lemon Asparagus Orzo
Lemon asparagus orzo is a refreshingly light side that pairs incredibly well with chicken and fish! Tender pieces of asparagus are mixed in with orzo pasta and a lemon garlic sauce to make a perfect combination of flavors and textures.
Even though there are so many different ways to use orzo pasta, I especially love when it is flavored with lemon juice!
6. Instant Pot Long Grain White Rice
Cooking rice in the Instant Pot is not only incredibly easy and convenient, but it also comes out perfectly tender every time! When you are looking for a simple and practically hands-off side to serve alongside your fish, this recipe is a must-try!
My Instant Pot basmati rice, jasmine rice, or cilantro-lime rice would be delicious too!
7. Oven Roasted Potatoes
When in doubt, make a batch of these easy and delicious oven-roasted potatoes! This recipe only requires a handful of simple ingredients that you might even have in your kitchen already.
I used onion powder, garlic powder, salt, and pepper to season the potatoes. However, they're so versatile that you can use any of your favorite seasoning blends!
8. Mushroom Risotto
You don't need to have the skills of Gordan Ramsey to make an impressive mushroom risotto that tastes just like the one featured on his show Hell's Kitchen. In fact, this recipe has light prep work and will be ready to serve in under 35 minutes!
Check out my article that covers all of the tips and tricks on how to make a perfect risotto!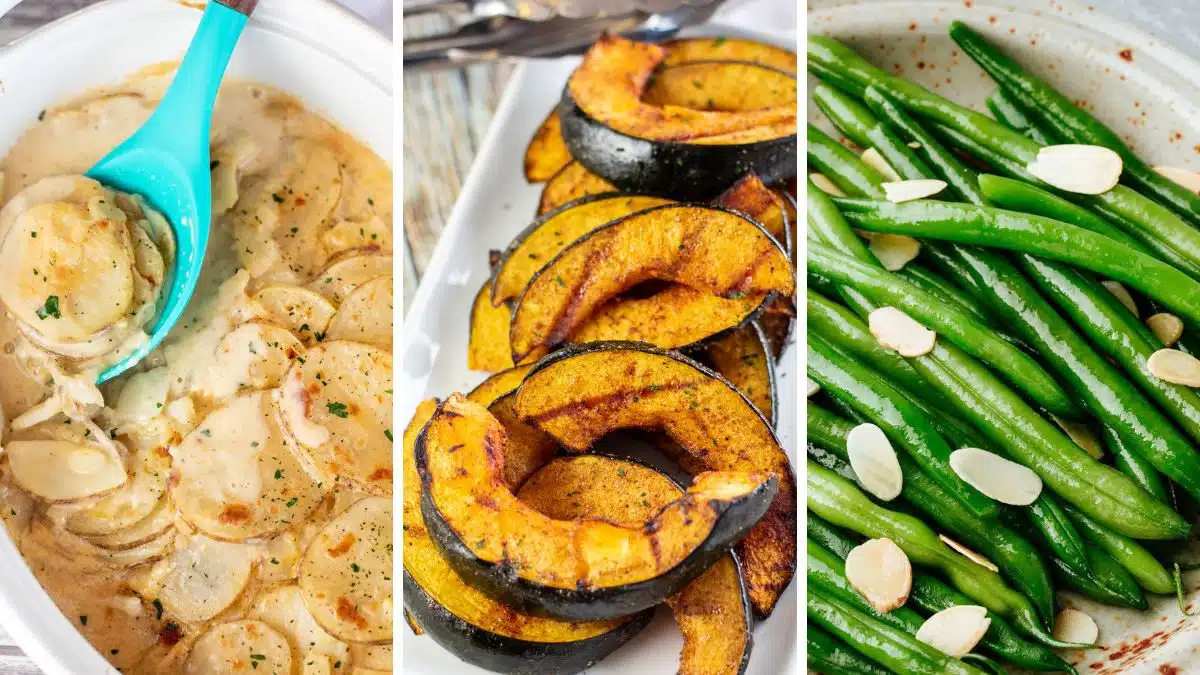 9. Caprese Salad
The fresh tomatoes, basil, balsamic vinegar, olive oil, and mozzarella in this caprese salad bring a fantastic combination of refreshing flavors that will complement the mild and nutty taste of trout! It's an easy side dish that pairs well with many different dishes other than Italian food!
10. Sauteed Asparagus And Cherry Tomatoes
This sauteed asparagus and cherry tomatoes recipe is an easy way to whip up a deliciously tangy vegetable dish! The cherry tomatoes cook down to create a sauce that elevates the asparagus in an incredibly refreshing way.
Say goodbye to the typical steamed asparagus side dish and hello to your new favorite way of cooking this vegetable!
11. Instant Pot Au Gratin Potatoes
If you love creamy and cheesy potatoes, then this recipe is for you! Au gratin potatoes are so incredibly quick and easy to cook in the Instant Pot. You'll have plenty of extra time to focus on your main course and other sides!
>>>>See all of my recipes HERE<<<<
12. Grilled Corn On The Cob
This grilled corn on the cob has a perfect combination of sweet and smokey flavors that everyone will love! Smother the corn with melted garlic butter right before serving and everyone will be asking for seconds.
You can also try my creamed corn, smoked corn on the cob, and Southern fried corn if you regularly serve corn as your vegetable side dish!
13. Pan Fried Sweet Potatoes
Pan-fried sweet potatoes are always a tasty addition to any dinner! These are cooked to perfection with minimal ingredients, plus they only take 10 minutes to make!
14. Grilled Acorn Squash
Grilled acorn squash is a nutritious vegetable side dish that you can prepare sweet or savory! This recipe is perfect to make when you are firing up your grill to cook some grilled trout!
15. Ranch Roasted Potatoes
This effortless 3-ingredient recipe is packed full of mouth-watering flavor! All you have to do is toss some potato wedges with extra virgin olive oil and a Hidden Valley Ranch packet then roast them until they turn golden brown! It's a simple side dish, yet extra flavorful!
Now that you have some great recipes to serve with your trout dinner, which one are you most excited to make first? Leave me a comment down below to let me know!
🐟 Tasty Fish Recipes
📋 Recipe