What is hominy: A complete guide with tips, tricks, and information about hominy and the various ways you can use it in cooking! I cover what hominy tastes like, how it's made, and a few tasty recipes to try! Keep reading to learn everything there is to know about this unique type of corn!
How is Hominy Made?
Hominy is a type of corn that has been treated with an alkali solution, such as lye or lime, to remove the hull and germ, resulting in a softer and larger grain.
This process called nixtamalization, not only changes the texture and appearance of the corn but also enhances its nutritional value by making the nutrients more available to the body.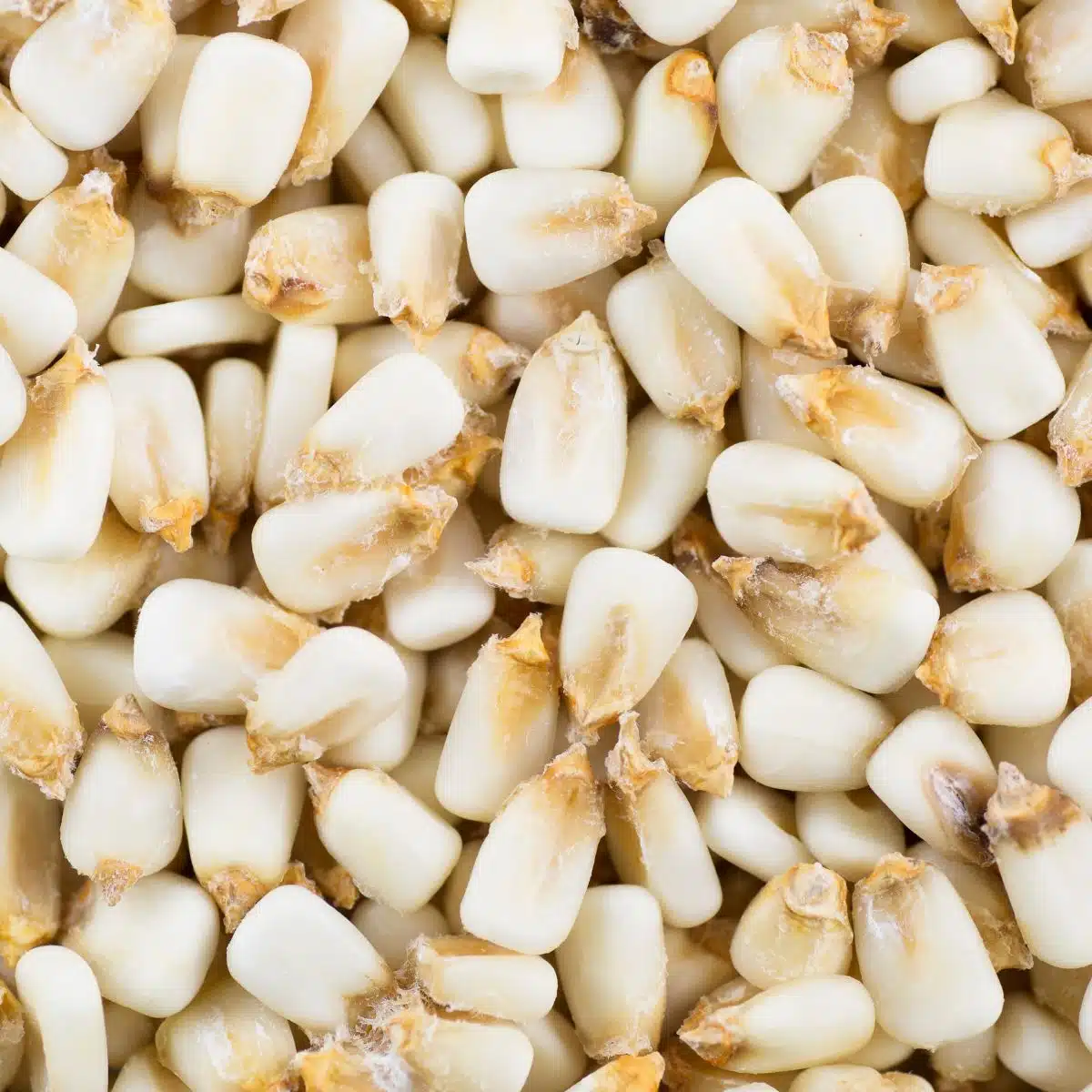 Jump to:
Want More Recipes? Enter your email below and we'll send them straight to your inbox!
What Is Hominy Corn
Hominy is a staple food in many cultures, particularly in Latin America and the southern United States, where it is used to make a variety of dishes, such as pozole, grits, and hominy stew.
Hominy can be sold in cans, dried or fresh form, and is often used as a base for soups, stews, and casseroles. It has a slightly nutty and sweet flavor and can be cooked in a variety of ways depending on the desired recipe.
Varieties
Hominy can come in three different colors depending on the color of the corn that it comes from:
White - This type is the most commonly used in soups. It also contains slightly more calcium and copper than yellow.
Yellow - Yellow is the sweetest type and contains more Vitamin A. It's used to make cornmeal, cornflakes, corn tortillas, and other types of grain products.
Blue - Blue is most commonly used to make corn tortillas or tortilla chips.
What Does It Taste Like
Since hominy is derived from corn, it naturally has a moderately sweet and earthy flavor. Nevertheless, during the nixtamalization process, a nutty flavor comes through. Hominy develops a distinctive, slightly chewy texture and a mildly nutty, corn-like flavor as a result of this process.
How To Cook It
There are a few methods to use when cooking hominy, it all comes down to what type is needed to make your recipe. When cooking dried hominy, you will have to rinse and soak it overnight as you would cooking dried beans or legumes. Canned hominy is ready to cook and serve right away with some salt, pepper, and butter.
Dried Hominy
When using dried hominy, you have to prepare it by rinsing and soaking it before it's ready to cook. You will need a large pot, a colander, and a measuring cup. Follow this easy method to prepare dried hominy:
Rinse the dried hominy in cold water, and remove any debris or discolored kernels.
In a large pot, pour water in until you reach 2-3 inches above it. Cover with a lid and allow it to soak overnight.
Drain the hominy in a colander and add it back into the pot. Add in fresh water, then bring it to a boil. Reduce the heat and allow the hominy to simmer for about 90 minutes to an hour. Drain and serve, or use it in your favorite recipe.
Canned Hominy
Canned hominy is incredibly quick and easy to prepare since it is already prepped and cooked before it's stored in the can! All you need is a medium-sized saucepan or frying pan and any ingredient you want to season it with. Here is a simple way to cook it:
Drain the canned hominy.
Pour it into a saucepan and any other ingredients you choose to flavor it like butter, salt, or pepper.
Heat on the stove top over medium-high heat until it's heated through and starts to bubble.
You can also saute it in butter with vegetables in a frying pan for about 5 minutes!
Recipes That Use Hominy
Hominy can be used to make a variety of dishes! It can be prepared the same way as canned corn, or you can even mix it into corn-based meals like succotash. You can also cook it in broth to serve as a side dish just like polenta.
Additionally, hominy can be used as a thickening agent in soups, casseroles, and stews, and as a baking ingredient in recipes like cornbread, muffins, and quick bread!
The most popular meal made with hominy is the traditional Mexican soup called posole. This dish consists of canned hominy, meat (typically pork), and sliced vegetables including cabbage, radishes, and avocado.
Also, in Hispanic cuisine, hominy is ground to make masa which is then used as dough to cook tamales, corn tortillas, and tortilla chips!
In the Southern United States, it is often served as a breakfast food (as grits), where it is boiled with butter and served with salt, pepper, and sometimes sugar!
Hominy grits are available in fine, medium, and coarse grinds. You will often see hominy in cornmeal, cornflakes, and other grain-based products as well.
>>>>See all of my recipes HERE<<<<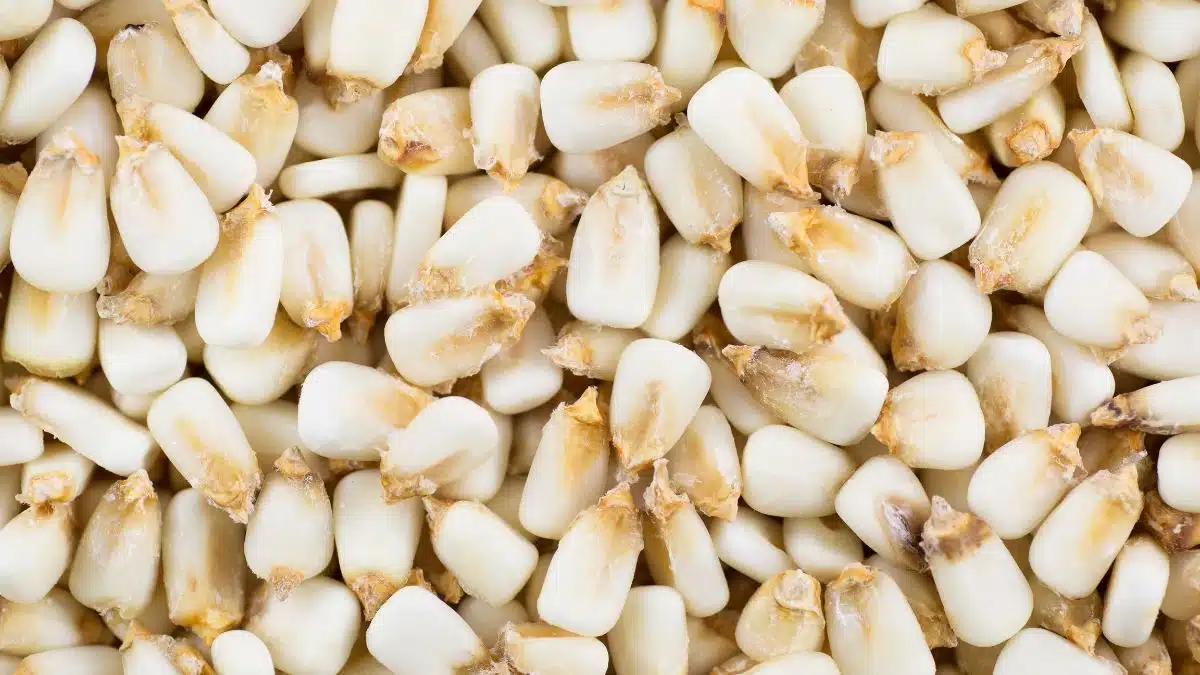 Corn vs Hominy
Corn and hominy are related, but they are not the same thing! Hominy is made from dried corn kernels that have been treated with an alkali solution, while corn is the raw, unprocessed version of the same kernels.
Hominy is larger, chewier, and more flavorful than corn! It has a distinct flavor that is known to be fancier compared to raw corn and the texture is soft, fluffy, and pillow-like. When cooked, it can triple the size of a regular corn kernel!
Hominy is also easier to digest than corn due to the nixtamalization process which removes the outer hull and germ of the corn kernel, making it more digestible and nutrient-dense.
Where To Buy
Hominy is widely available in grocery stores and Latin American or Mexican food stores. It can be purchased dried or already cooked in a can. You can find it in the canned vegetable section or in the Hispanic food section.
If you can't find it in your local supermarkets, you can purchase it online through Amazon as well.
Storing
After you have finished cooking hominy, you can store it in an airtight container or in a covered bowl in the refrigerator for up to one week. Alternatively, you can freeze it in a freezer-safe sealed container for up to 3 months.
Hominy reheats well in the microwave in a microwave-safe dish. Alternatively, you can reheat it in a medium-sized saucepan on the stove top over medium-high heat.
More Helpful Food Guides
Now you know everything about this amazing grain that has many uses in different meals! Have you cooked it before, if so, what is your favorite recipe? Leave a comment down below to let me know!
📋 Recipe
Print Recipe
Leave A Comment
Love This Recipe?
Click On A Star To Rate It!
What Is Hominy: Succotash with Butter Beans & Bacon (A Complete Guide To This Amazing Corn Ingredient!)
What is hominy: A complete guide with tips, tricks, and information about hominy and the various ways you can use it in cooking! I cover what hominy tastes like, how it's made, and a few tasty recipes to try! Keep reading to learn everything there is to know about this unique type of corn!
Pin Recipe
Share on Facebook
Ingredients
3

slices

bacon

(chopped)

2

tablespoon

butter

(optional)

½

cup

yellow onion

(chopped, or use white onion)

½

cup

red bell pepper

(diced)

1

teaspoon

garlic

(minced)

½

teaspoon

dried oregano

½

teaspoon

paprika

¼

teaspoon

each, salt & pepper

(to taste)

15

oz

butter beans

(1 15 ounce can of lima beans, drained)

15

oz

sweet corn

(1 15 ounce can of yellow corn, drained)
Instructions
Add the chopped bacon slices to a large skillet or non-stick frying pan and then set your stove to medium-high heat. Cook the bacon until just starting to crisp. *Drain off excess bacon grease before adding butter and vegetables.

Melt the butter until it begins to bubble then add the onion and bell pepper and saute until tender, about 5-7 minutes.

2 tablespoon butter,

½ cup yellow onion,

½ cup red bell pepper

Once the onion and peppers are tender and fragrant, add the minced garlic and saute for an additional 30 seconds. Stir in the seasoning (salt, pepper, paprika, and oregano) then add the butter beans and corn.

1 teaspoon garlic,

½ teaspoon dried oregano,

¼ teaspoon each, salt & pepper,

15 oz butter beans,

15 oz sweet corn,

½ teaspoon paprika

Stir to combine, then cover and reduce heat to low. Cook on low for 3-5 minutes until fully heated then remove from heat and serve immediately.
Equipment You May Need
Notes
2 cups of canned, drained hominy can be added to this succotash recipe.
Nutrition
Calories:
192
kcal
(10%)
|
Carbohydrates:
32
g
(11%)
|
Protein:
8
g
(16%)
|
Fat:
5
g
(8%)
|
Saturated Fat:
3
g
(19%)
|
Polyunsaturated Fat:
1
g
|
Monounsaturated Fat:
1
g
|
Trans Fat:
1
g
|
Cholesterol:
10
mg
(3%)
|
Sodium:
134
mg
(6%)
|
Potassium:
562
mg
(16%)
|
Fiber:
7
g
(29%)
|
Sugar:
6
g
(7%)
|
Vitamin A:
695
IU
(14%)
|
Vitamin C:
21
mg
(25%)
|
Calcium:
22
mg
(2%)
|
Iron:
2
mg
(11%)
a guide to hominy and its uses, corn vs hominy, how to cook with hominy, Succotash, What Is Hominy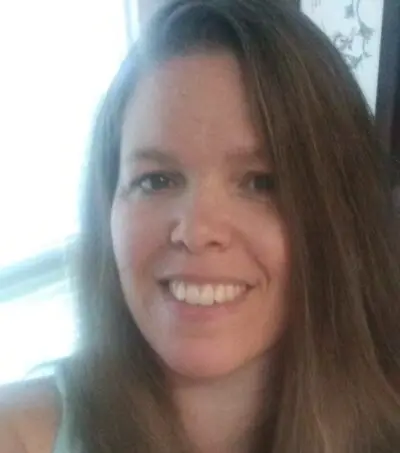 Angela is an at home chef that developed a passion for all things cooking and baking at a young age in her Grandma's kitchen. After many years in the food service industry, she now enjoys sharing all of her family favorite recipes and creating tasty dinner and amazing dessert recipes here at Bake It With Love!