These red velvet Valentine's Day treats include all of the best red velvet desserts for celebrating with the one you love! From cakes to cupcakes, cookies, and more, this list has something for every taste. Make this Valentine's Day one to remember with these tasty homemade red velvet treats!
Best Red Velvet Desserts For Valentine's Day
Not only does the vibrant color of red velvet cake match the Valentine's Day theme, but it makes for some of the most decadent desserts! From cakes to cookies, everything tastes better when made with red velvet.
These indulgent dessert recipes are perfect for sharing with your special someone. However, there are also a few tasty treats that would be fun to make with the kids so that everyone can get in on the celebration!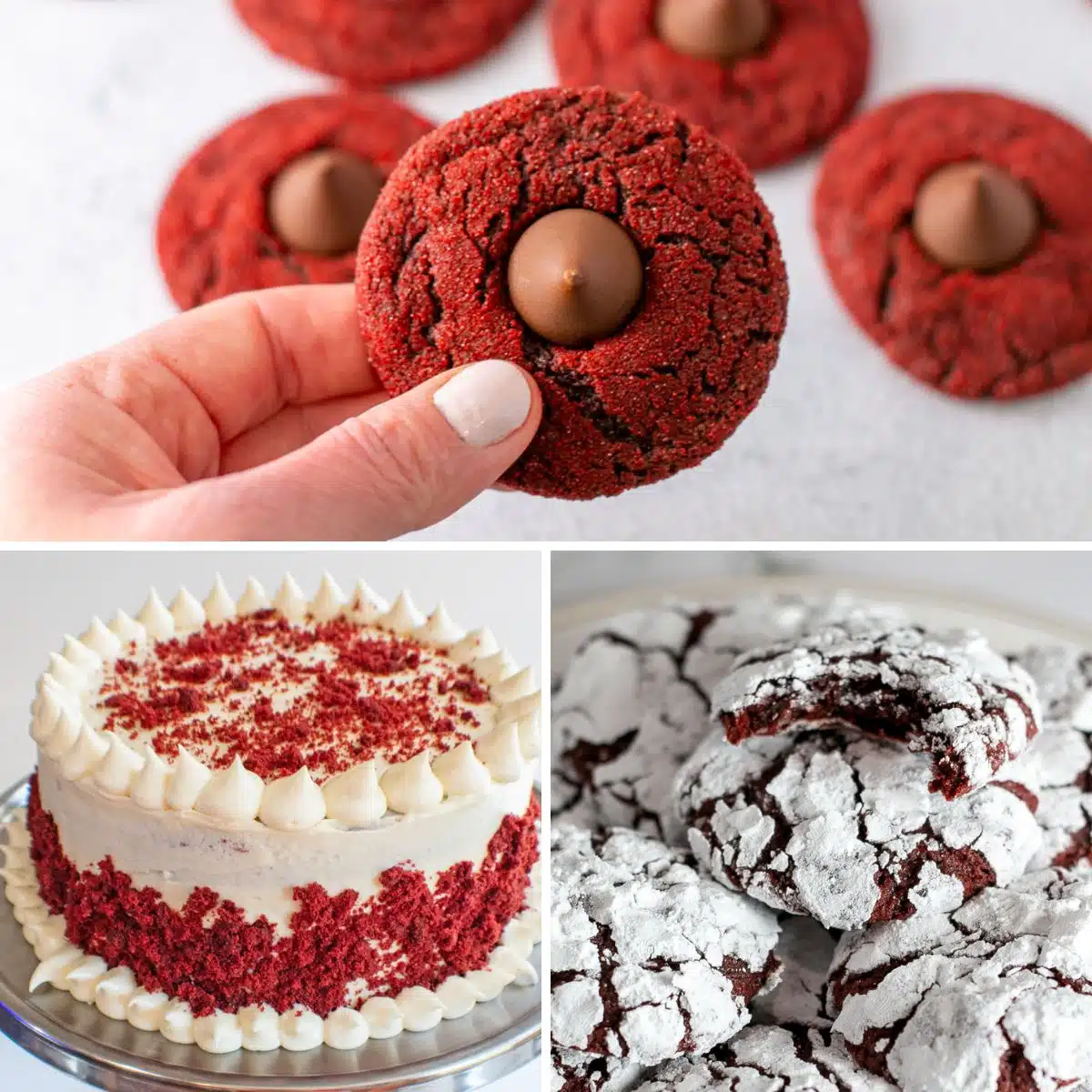 Jump to:
Want More Recipes? Enter your email below and we'll send them straight to your inbox!
Be sure to check out all of my Valentine's Day desserts for more fun and festive holiday treats!
1. Red Velvet Crinkle Cookies
These red velvet crinkle cookies are filled with rich cocoa flavor and they practically decorate themselves! The cracks in the powder sugar coating give you a peak at the beautiful red cookie underneath.
2. Red Velvet Blossoms
I put a red velvet twist on the classic peanut butter blossom cookies! These soft and chewy cookies are a decadent treat and the chocolate Hershey's kiss on top makes them even better!
3. Red Velvet Mug Cake
This red velvet mug cake is the perfect Valentine's Day dessert if you are flying solo. Or, if you don't have the time to whip up a full-blown dessert, you can make one for you and your sweetheart.
It's sweet and rich, plus it only takes a few minutes in the microwave!
4. Red Velvet Cake with Cream Cheese Frosting
The classic recipe that everyone thinks of when they hear red velvet cake. The moist cake is coated in a sweet and slightly tangy cream cheese frosting that will have you licking your plate!
5. Red Velvet Cinnamon Rolls
Get your Valentine's Day started off right with some homemade red velvet cinnamon rolls! They are filled with the classic cinnamon sugar combination and topped off with a decadent cream cheese icing.
6. Red Velvet Sugar Cookie Bars
These tasty de sert bars combine the chewy deliciousness of sugar cookies with the rich flavor of red velvet. Top them off with cream cheese frosting for an easy Valentine's Day treat!
7. Red Velvet Fudge
It doesn't get more indulgent then this rich red velvet fudge. It's extremely easy to make with a box of red velvet cake mix. Top them off with cute Valentine's sprinkles for a fun and festive dessert!
8. Red Velvet Poke Cake
This easy red velvet poke cake only requires 5 ingredients and turns out totally delicious every time. The frosting is a light whipped frosting that is wonderfully creamy and hard to resist!
9. Red Velvet Cupcakes
If you don't want to commit to a full cake, cupcakes are the next best thing! These delightfully moist red velvet cupcakes with fluffy cream cheese frosting will have you savoring every bite.
10. Red Velvet Cheesecake
If cheesecake is the way to your loved one's heart, this red velvet cheesecake will blow their mind. It's like a classic cheesecake, except adorned with flavorful swirls of red velvet goodness.
11. Red Velvet Puppy Chow
This delectable red velvet puppy chow is always a hit with the kids! Chex cereal, red velvet cake mix, and pink, red, & white M&M's make it the perfect sweet snack for Valentine's Day.
12. Red Velvet Cherry Cake Roll
The secret ingredient to this red velvet cherry cake roll is cherry Coke-a-cola! It makes the cake ultra-moist with just a hint of cherry flavor.
On the inside, there is a velvety cream cheese frosting swirl that complements the rich cake perfectly.
13. Red Velvet Chocolate Chip Cookies
As if classic chocolate chip cookies couldn't get any better, these red velvet cake cookies combine the best of both desserts! The cookies are soft and chewy with a rich cocoa flavor and melted chocolate chips in every bite.
14. Red Velvet Popcorn
Gourmet popcorn is all the rage and once you try this sweet red velvet popcorn you will see why! It's a great snack for enjoying a movie with the family at the end of a perfect Valentine's Day.
15. Red Velvet Hot Chocolate
Bring your Valentine's Day to a close with a warm mug of red velvet hot chocolate! It's even more delicious with a swirl of whipped cream to finish it all off. Oh, and you only need 5 ingredients to make it!
Any of these red velvet Valentine's Day treats will make this Valentine's Day the best on yet! Which recipes do you want to try? Let me know in the comments below!
>>>>See all of my recipes HERE<<<<
🍰 More Delicious Desserts
*Be sure to see the free printable recipe card below for ingredients, exact amounts & instructions with tips!*
📋 Recipe