These Italian sausage recipes are perfect for any occasion, and there's a wide variety of ways to turn this tasty meat into a family dinner! Whether you're looking to make meatballs or different cooking methods for your Italian sausage links, this list has it all! I've even included some delicious Italian-inspired pasta dishes to try!
Best Italian Sausage Recipes
If you're wondering what to do with the Italian sausage that's in your fridge, you might be surprised by how many tasty options you have. Of course, you can always stick to serving links on a bun or use the ground version to toss in pasta, but you're certainly not limited to these options!
In this collection, I've gathered the best Italian recipes for when you are looking for some diversity! From hearty casseroles and soups to flavorful Italian dishes, you're sure to find a recipe that your family will enjoy!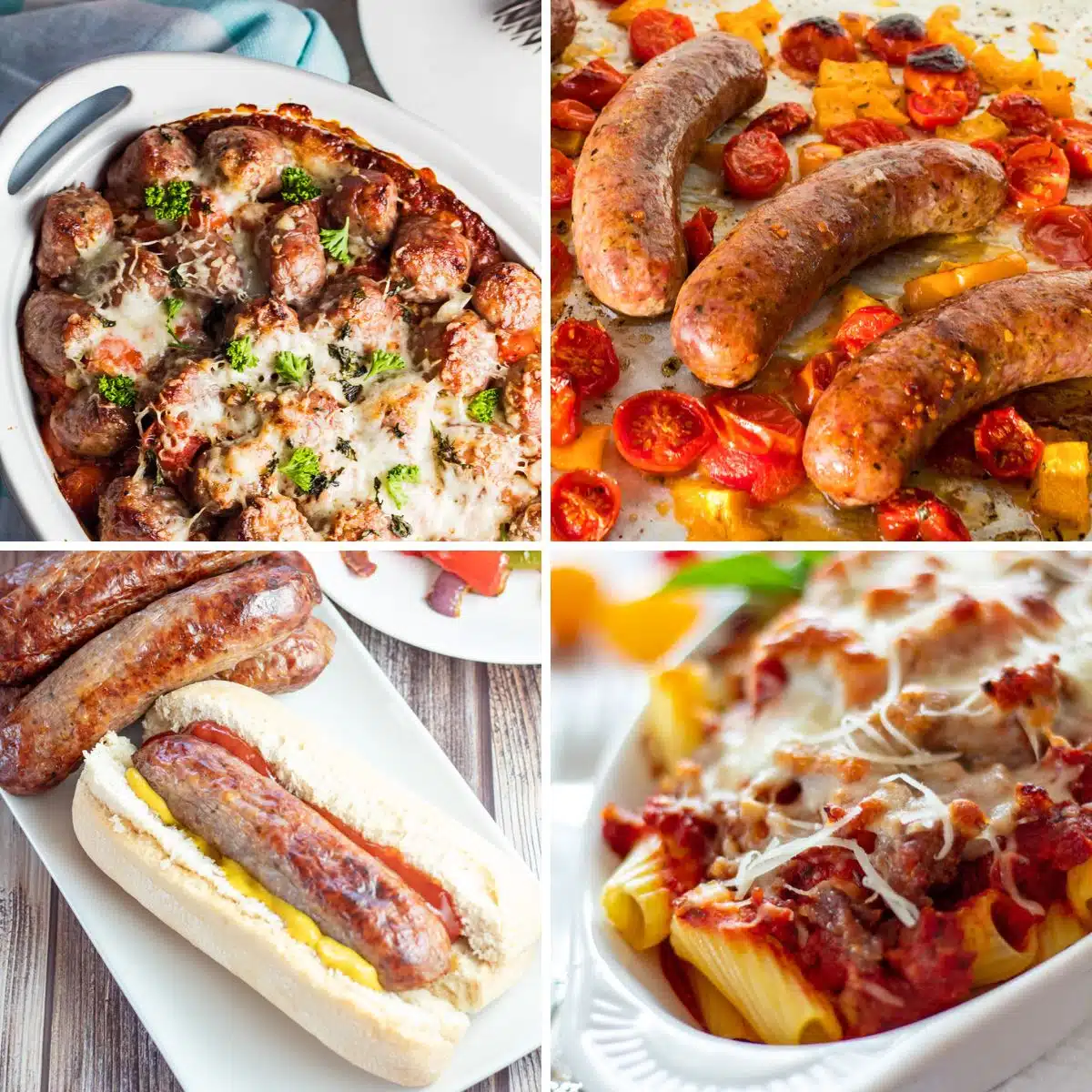 Jump to:
Complete your meal with a few of my favorite side dishes to serve with Italian sausage! Here is my complete guide on how to cook Italian sausage if you have any questions!
1. Air Fryer Italian Sausage
This easy 14-minute recipe results in perfectly cooked Italian sausage links with minimal effort! They make a great family dinner for any night of the week and always turn out just right.
2. Stuffed Italian Sausages
If you're looking for a recipe that has all of the traditional flavors of Italy, these stuffed Italian sausages won't disappoint! Italian sausages are cut open, filled with cream cheese, Parmesan cheese, and Italian seasoning, then baked to perfection over marinara sauce!
3. Smoked Italian Sausages
The next time you are planning on using your smoker, these smoked Italian sausages are a must-try! Whether you serve them on buns or pair them with pasta, salad, or soup, you're in for an unforgettable family dinner!
4. Air Fryer Sausage & Peppers
This 30-minute meal is extremely easy-to-make, versatile, and full of incredible flavor! All you have to do is wash and chop the bell peppers and onion, season them, then the air fryer takes over.
5. Sausage Dogs
Italian sausage links would be a great alternative to use in my easy sausage dogs recipe! You could load them up with peppers and onions, or any of your favorite sausage toppings or condiments.
6. Italian Sausage Bake
If you're in the mood for a hearty casserole dish, this Italian sausage bake only requires 5 ingredients and a total of 45 minutes to make! It freezes beautifully and is suitable for any weekday meal.
7. Baked Italian Sausages
Another great way to cook up your Italian sausages is to bake them. This recipe is a one-pan meal that can be made in countless ways with tons of different vegetables!
>>>>See all of my recipes HERE<<<<
8. Oven-Baked Mac and Cheese With Smoked Sausage and Broccoli
I can't think of a better way to describe this dish than comforting, satisfying, and incredibly creamy! It's truly a family favorite and one of my go-to recipes when I have sausage in the fridge.
9. Baked Italian Meatballs
Having a reliable meatball recipe in your back pocket is an absolute must! These baked Italian meatballs can be dressed up or down and will satisfy your family any time you serve them.
Try them as an alternative to ground beef meatballs in my incredibly delicious baked spaghetti and meatballs recipe!
10. Baked Rigatoni
If you're a fan of comfort food as much as I am, then my baked rigatoni is sure to be a hit! It's saucy, cheesy, totally delicious, and always enjoyed by kids and adults alike!
11. Air Fryer Meatballs
Whenever you are scrambling for time on busy weeknights, it's time to rely on your trusted air fryer! Simply combine breadcrumbs, an egg, milk, minced garlic, seasoning, and ground Italian sausage to make the easiest meatballs ever.
12. Million Dollar Spaghetti Casserole
Another satisfying and crowd-pleasing main dish made with Italian sausage is my Million dollar spaghetti casserole! Just like the name, it tastes like a million bucks and takes ordinary spaghetti to the next level.
13. Pasta e Fagioli Soup
If you've ever had Pasta e Fagioli soup at Olive Garden and loved it, then you have to try my homemade take on it! This version is quick to prepare and perfect for bringing your family some comfort.
14. Italian Sausage Soup
This Italian sausage soup is loaded with orzo pasta, tender vegetables, herbs, and garlic! It's ready on the table in just 50 minutes from start to finish.
15. Homemade Italian Sausage Pizza
Whenever I have Italian sausage in my fridge, I always love using it to make a tasty pizza. This homemade sausage pizza is loaded with other delicious pizza toppings like onions, mushrooms, and Mozzarella and is certain to make your family dinner a success!
Tips For Cooking Italian Sausage
Cooking Italian sausage can be made easier with some helpful tips and tricks! For the best flavor and texture, simply follow these suggestions:
Use quality sausage: Choose fresh, high-quality Italian sausage for the best taste and texture. Some of my favorite brands include Johnsonville (sweet, mild, and hot) Italian sausages as well as Premio, Swaggerty, Hillshire Farms, and Isernio's.
Prick the sausages: To avoid your Italian sausages from bursting open, use a fork to lightly prick them before cooking.
Rest before serving: In order to lock in the juices and enhance the flavor of your Italian sausages, I recommend resting them for a few minutes after cooking.
Internal temperature: Italian sausage is made with raw ground pork, so you'll want to ensure that the internal temperature reaches 160°F (71°C) so they're safe to eat.
Pair with complementing ingredients: Create a classic meal by serving Italian sausages with traditional sides like sautéed peppers and onions, marinara sauce, or Italian bread.
Now you have the best Italian sausage recipes around! Be sure to leave a comment down below if you try any of them out and let me know which one is your favorite!
🐖 😋 More Tasty Sausage Recipes
📋 Recipe