Best chicken wings recipes, including different flavor combinations and cooking methods for the most delicious wings! There's something here for everyone, whether you like them bone-in or boneless! From spicy buffalo wings to sweet and savory General Tso's chicken wings, there are many tasty recipes to try!
Best Chicken Wing Recipes
Whether they're baked, grilled, deep-fried, or crisped in the air fryer, there's something so satisfying about a plate of succulent chicken wings. And then, there are so many flavorful dry rubs and delicious wing sauces out there to try!
Below, you'll find the best of the best when it comes to chicken wings. Try mixing and matching cooking methods and seasonings or sauces to find your perfect plate of wings!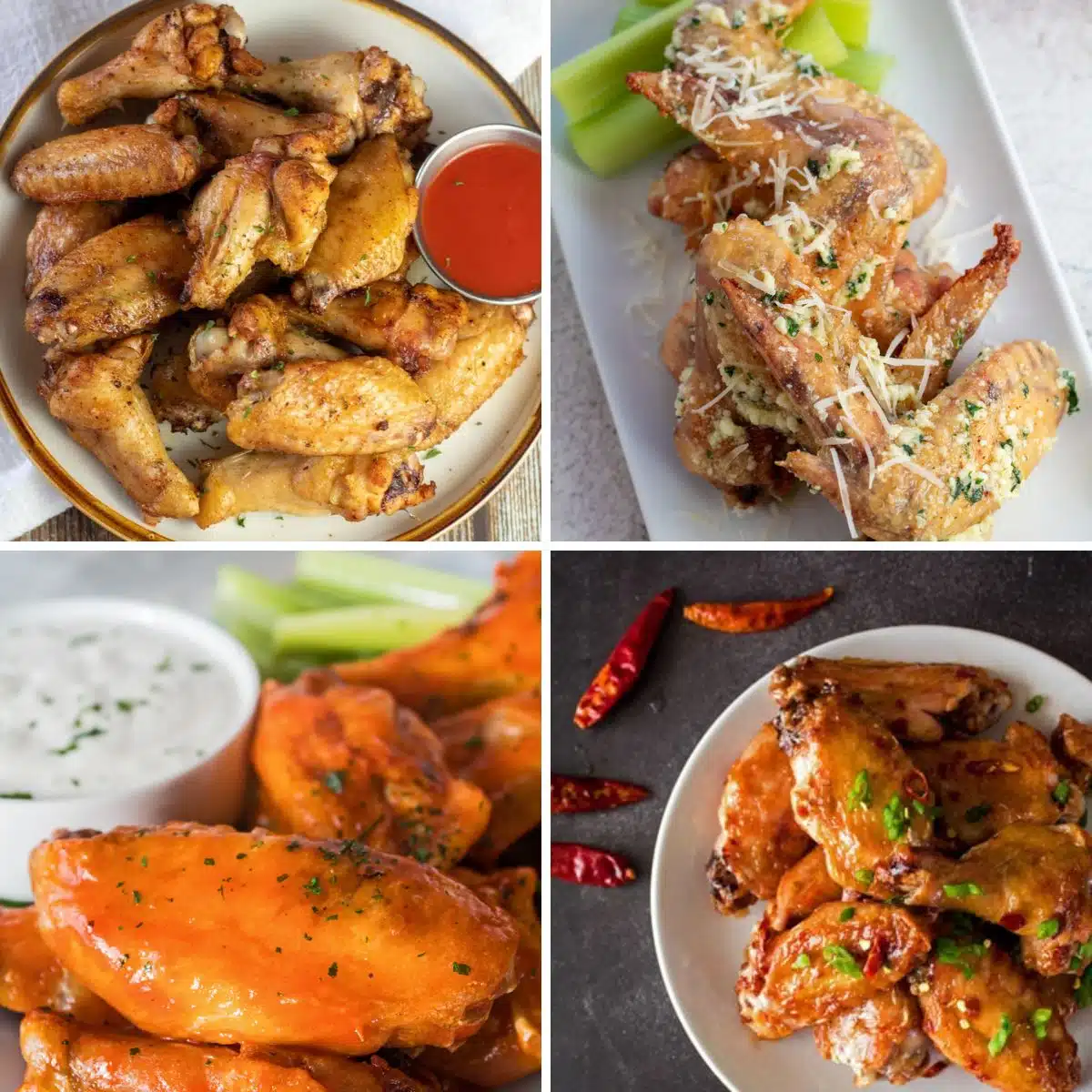 Jump to:
If you're looking for your favorite Wingstop flavors, I have a full list of their signature sauces and flavor combinations here! See how to reheat chicken wings for the best ways to enjoy your leftovers!
1. Boneless Chicken Wings
These boneless morsels of tender chicken breast are breaded and fried to crispy perfection. Then, you can coat them in zesty buffalo sauce or any of your favorite wing sauce flavors!
2. Baked Chicken Wings
You can get crispy and succulent chicken wings in the oven without all the mess of frying. They're seasoned with a simple and delicious chicken seasoning, and you can then toss them with sauce or enjoy them as-is!
3. Baked Garlic Parmesan Chicken Wings
Garlic Parmesan is my favorite wing flavor when eating out, so I recreated that classic flavor combination at home! They are tossed in a buttery garlic Parmesan sauce that is finger-licking good!
4. General Tso's Chicken Wings
You've had General Tso's chicken; now it's time for General Tso's chicken wings! We already know it's a winning flavor combination and just as delicious on crispy chicken wings.
5. Air Fryer Frozen Chicken Wings
When you're in a rush, there's no shame in cooking some frozen chicken wings as long as you do it right! Your air fryer is the BEST way to pull off delicious wings when they start out frozen.
6. Hunan Chicken Wings
Hunan chicken is a beloved takeout recipe and is known for its spicy/sweet chili pepper and honey flavor! They're so delicious that you won't even need any ranch or blue cheese for dipping.
7. Chipotle Dry Rub Smoked Chicken Wings
These spicy chipotle dry rub chicken wings are full of smokey flavor from being cooked to perfection in the smoker! You can control the spice level by using more or less ground chipotle pepper.
8. Apricot Sriracha Glazed Chicken Wings
These sweet, sticky, spicy wings are always a crowd favorite. They're coated in a sticky apricot and sriracha glaze that will keep you coming back for more!
>>>>See all of my recipes HERE<<<<
9. Easy Lemon-Pepper Chicken Wings
Lemon pepper is a classic flavor you'll find on the menu of wing bars and restaurants everywhere. You could even marinate your chicken wings in my homemade lemon pepper marinade for a double dose of flavor!
10. Instant Pot Chicken Wings
Instant Pot pressure cookers make just about any recipe 10x easier (and usually quicker, too)! The same goes for chicken wings. They turn out juicy and delicious every single time!
11. Grilled Buffalo Wings
These grilled buffalo chicken wings are always a hit when I'm firing up the grill. They have that flame-kissed flavor that's hard to beat!
12. Tandoori Chicken Wings
Tandoori chicken wings are marinated in tangy yogurt and then coated in a blend of warm Indian spices. The skin is perfectly crispy and bursting with flavor in every bite!
13. Honey Lime Chicken Wings
If hot wings aren't your thing, these honey lime chicken wings have all the flavor with none of the spice. They are the perfect blend of sweet and sour that is sure to satisfy your taste buds.
14. BBQ Crock Pot Chicken Wings
These 4-ingredient BBQ chicken wings can be tossed in your slow cooker while you go about your day. Plus, I have a whole list of BBQ chicken side dishes to help you round out the meal!
15. Jerk Chicken Wings
I could eat Jamaican Jerk seasoning on almost anything, and these chicken wings were just as delicious as I'd hoped! Marinate them in my Jamaican jerk marinade before cooking for a flavorful chicken dinner!
💭 Tips For Making The Best Chicken Wings
Here are a few key tips and tricks for making the most succulent and flavorful chicken wings!
Choose quality wings: When buying your chicken wings, look for fresh, high-quality chicken wings that are plump with meaty wings and smooth skin.
Brine or marinate: Brining or marinating the wings for a few hours or up to overnight will enhance their flavor and moisture. You can try any of my tasty chicken marinades!
Check the internal temperature: Cook the wings until they reach an internal temperature of 165°F (74°C) as read by a meat thermometer. This ensures they are cooked through while remaining juicy. Baked wings may take longer than deep-fried ones.
Toss while hot: If you're making sauced wings, toss them in the sauce right after cooking when they are still hot to ensure the sauce adheres well.
Garnishes: Garnish your wings with fresh herbs like parsley or a sprinkle of grated Parmesan cheese for an extra flavor boost. Serve with celery sticks and carrot sticks alongside your favorite dipping sauces.
With so many tasty options to choose from, it's hard to pick just one from this list of the best chicken wing recipes! What are your favorite chicken wing sauces or flavors? Let me know in the comment section below!
📋 Recipe