When you're wondering what Wingstop flavors are a must-have next time you get a chance to stop in, look no further! We have all of the flavor-packed options available at this popular fast-food restaurant listed from mild to spicy hot!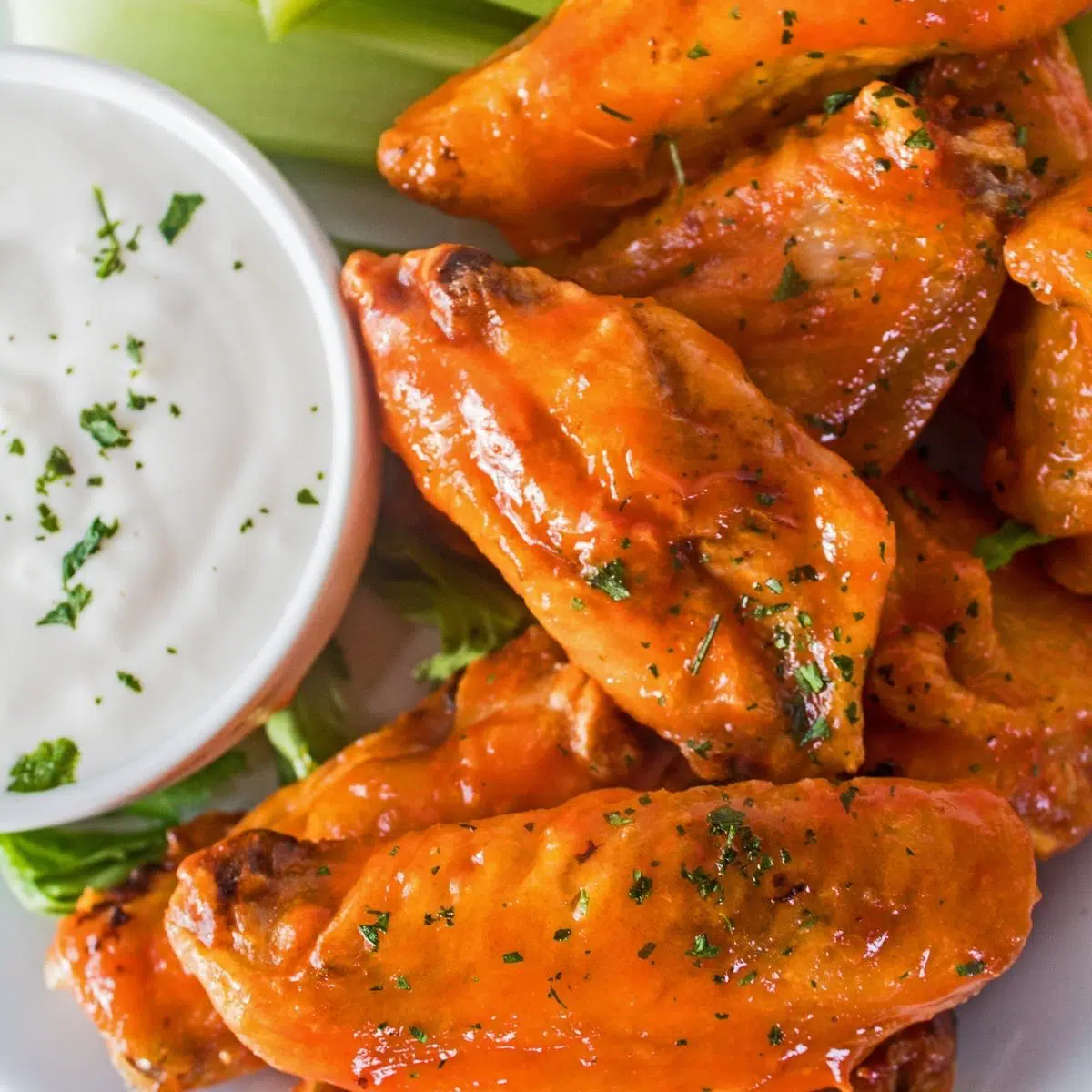 A tasty collection of all the popular flavors available on the Wingstop menu!
Chicken wings became a hot trend years ago and haven't shown signs of slowing down. Wingstop is a crowd favorite with 11 different flavor choices!
These self-identified "wing experts" have something for everyone in your dining group at this fast-food chain. From sweet to spicy, dry rubs to sauces, classic wings to chicken tenders - they've got it all!
Jump to:
The 'signature' flavors are sorted on their guide by heat index, from mild to hot, and we've done the same here! Check out all the fantastic wing flavors to try next time you stop in at Wingstop!
1. Hawaiian
Blend some island citrus with Asian flavors, and you'll get Hawaiian flavor. It's the sweetest kind available, but it's well-balanced with that fruity tang. Unlike some sauces out there, this one isn't overly sweet.

If you've had orange chicken, you're familiar with the idea of a saccharine and savory mix that somehow works perfectly with chicken. It's like that but with different spices and fruit. I have my own version here.
2. Garlic Parmesan
This is a flavor combo we're all familiar with. In this case, it's not a sauce but a dry rub full of intense, cheesy, buttery flavor.
For all the garlic bread-lovers out there, this one is a real winner. It's well worth the price of bad breath. And if you're not looking for heat, this is a great option.
Baked Garlic Parmesan Chicken Wings
My easy oven-baked garlic Parmesan chicken wings are cooked to crispy perfection on the outside then tossed in a buttery garlic Parmesan sauce! These savory wings are always a hit with garlic lovers, and they make a fabulous appetizer or snack for parties, game-day, or just because!
Check out this recipe
3. Lemon Pepper
Another dry rub with a bit of a cracked pepper kick is lemon pepper. It's zesty and spicy and one of the most popular flavors at Wingstop. The lemon rub is incredibly concentrated, giving wings a nice, tart tang rounded out with a bit of spice from the pepper.
As with all dry rubs, the lack of a sauce keeps out extra moisture. If you're a fan of crispy wings, one of these will be your best bet.
4. Hickory Smoked BBQ
Wingstop describes it as "Bold. Smoky. Sweet. Rich". I couldn't agree more. In fact, I would argue it has a pronounced smoky taste with a bit of heat without being spicy.
It's a delicious BBQ sauce that goes a long way towards making a meal feel like a summer party. Grab some good sides and good friends and celebrate the season!
5. Mild
As you might guess from the name, Mild is a light sauce on the lower end of the heat scale. Similar to the Original Hot, it's all the spice without the fire. I love hot food, but I have my limits. This gives you all the flavor without numbing your mouth in the process.
6. Louisiana Rub
An addictive combo of Cajun spices with an element of garlic, Louisiana Rub is mild with a low burn. For those unfamiliar with this part of the culinary world, a Cajun or Creole blend includes many of the following: paprika, cayenne pepper, cumin, onion powder garlic, etc.
Get your Mardi Gras on with this oh-so-delicious rub! All that's missing is the red beans and rice.
7. Spicy Korean Q
If you're into sweet and spicy combos, you'll love this. The complexity of the Spicy Korean Q sauce lies in the mix of ginger, garlic, sriracha, and crushed red pepper. Listed at the same heat level as Louisiana Rub and Original Hot, you're definitely going to feel the latter two ingredients in every bite.
8. Original Hot
Original Hot is a classic and with good reason. It was the first sauce ever created at Wingstop. Before the creators delved into the world of different sauces and dry rubs, they create a business around this.
It's tangy, hot, and red enough to wonder if it's a warning sign. It's in the middle of the heat scale, so you're probably fine unless you're really sensitive to peppers.
Air Fryer Frozen Chicken Wings
Cooking up perfectly crispy Air Fryer Frozen Chicken Wings is a snap to do and takes no time at all! The air-fried wings are crispier than oven-baked wings and much healthier than dropping your frozen wings into a deep fryer! Finish your wings with your favorite wings sauce and enjoy this popular appetizer in no time at all!
Check out this recipe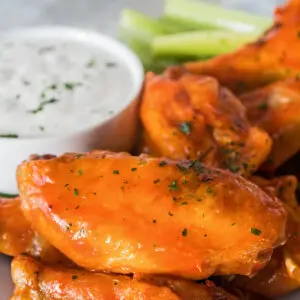 9. Cajun
A mix of Original Hot sauce and Louisiana Rub, Cajun takes the best of both and steps up the heat, giving you an amazing flavor profile before flooding your mouth with fire. It's not for the faint of heart. But if you like more than just burning in your mouth, Cajun is a good way to go. I'm a big fan of the spice blend.
10. Mango Habanero
This is a sauce on a level of its own. It starts with tropical, fruity sweetness and is soon followed by flames and tears. It's unique and very intense, and my guess is that you'll either love it or hate it. It's worth a taste if you're looking for some spice.
11. Atomic
Atomic is the hottest thing on the menu. You won't taste anything but a bit of burning spices before your mouth goes numb. Be warned. It's exactly how hot you think it is but doubled. You'll need a hose full of milk to put this fire out.
Hopefully, this will help when you're faced with information overwhelm on your next Wingstop night. With enough trials, you'll find your favorites and what your range is on the heat scale.
For some of us, that's changed over the years, for others, they've loved scorching hot foods from the day they could request them.
Additional Wingstop Flavors
These flavors have come and gone in the years since Wingstop first opened their doors, and hopefully we've managed to remember them all. Be sure to drop us a note if there's something we've missed!
Cajun BBQ
Hot Lemon
Bayou BBQ
Lemon Garlic
Ancho Honey Glaze
Harissa Lemon Pepper
Orange Szechuan
Ranked Wingstop Flavors
These tasty chicken wing flavors are ranked by fans, starting with the very best wing flavors to the least favorite! Enjoy our Top 15 picks!
Louisiana Rub
Lemon Pepper
Mango Habanero
Cajun BBQ
Spicy Korean Q
Hawaiian
Atomic
Cajun
Hickory Smoked BBQ
Mild
Hot Lemon
Original Hot
Garlic Parmesan
Orange Szechuan
Lemon Garlic
There is something that will appeal to everyone on the menu at this restaurant chain! Be sure to let us know which ones are your favorites in the comments below! Are you all about the wings - bone-in or boneless? Or do you love the thigh bites the best??
Do you love a recipe you tried? Please leave a 5-star 🌟rating in the recipe card below and/or a review in the comments section further down the page.

Stay in touch with me through social media @ Pinterest, Facebook, Instagram, or Twitter! Don't forget to tag me when you try one of my recipes!
📋 Recipe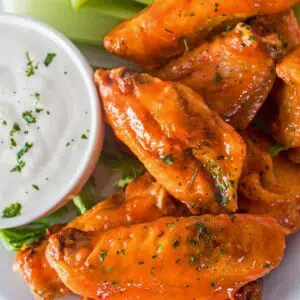 Print Recipe
Leave A Comment
Love This Recipe?
Click On A Star To Rate It!
Wingstop Flavors: Garlic Parmesan Chicken Wings (+More Great Recipes!)
When you're wondering what Wingstop flavors are a must-have next time you get a chance to stop in, look no further! We have all of the flavor-packed options available at this popular fast-food restaurant listed from mild to spicy hot!
Pin Recipe
Share on Facebook
Ingredients
Oven Baked Chicken Wings
2

lbs

chicken wings

(separated and tips removed if desired)

2

tablespoon

cornstarch

(up to 3 tablespoons if needed)

1

teaspoon

each, salt & pepper

(to taste)

2

tablespoon

vegetable oil
Buttery Garlic Parmesan Sauce
½

cup

butter

(1 stick)

3

tablespoon

garlic

(minced)

2

tablespoon

fresh parsley

(chopped, or 2 teaspoons dried)

½

cup

Parmesan cheese

(freshly grated, plus more for serving)
Instructions
Crispy Baked Chicken Wings
To begin, preheat your oven to 400°F (205°C) and place a metal roasting rack on top of a large rimmed baking sheet.

Use paper towels to pat all of the chicken wings dry, then toss them in a bowl with the cornstarch. You only want a light dusting of cornstarch on every wing, not too much. Season with salt and pepper to taste.

2 lbs chicken wings,

2 tablespoon cornstarch,

1 teaspoon each, salt & pepper

Once seasoned, add the wings and vegetable oil to a large bowl and toss until coated. Place your wings on the roasting rack, making sure that there is space between each wing, and bake until they are crisp and golden (about 45-50 minutes).

2 tablespoon vegetable oil
Garlic Parmesan Sauce
In a small saucepan over medium-high heat, melt the butter. Once melted, add the garlic and saute until lightly browned and fragrant. Then, remove the saucepan from heat and stir in the fresh chopped parsley and grated Parmesan cheese.

½ cup butter,

3 tablespoon garlic,

2 tablespoon fresh parsley,

½ cup Parmesan cheese

Place your freshly baked, hot, chicken wings into a large bowl and pour the sauce over top. Toss the wings until they are thoroughly coated.

Remove your wings from the bowl and top them with additional Parmesan cheese, if desired, and serve immediately with your favorite dipping sauces.
Notes
Try these wings with your favorite dipping sauces. Ranch, blue cheese, Caesar, or honey mustard would all be great options.
If you don't have a metal roasting rack (a wire cooling rack works too), you can still make these wings. They may be slightly less crispy, but still delicious.
Keep in mind that the calories and nutrition information account for eating all of the sauce, however, there will be sauce left after you toss your wings that you may discard.
Nutrition
Calories:
102
kcal
(5%)
|
Carbohydrates:
1
g
|
Protein:
5
g
(10%)
|
Fat:
9
g
(14%)
|
Saturated Fat:
4
g
(25%)
|
Polyunsaturated Fat:
2
g
|
Monounsaturated Fat:
3
g
|
Trans Fat:
1
g
|
Cholesterol:
27
mg
(9%)
|
Sodium:
82
mg
(4%)
|
Potassium:
42
mg
(1%)
|
Fiber:
1
g
(4%)
|
Sugar:
1
g
(1%)
|
Vitamin A:
193
IU
(4%)
|
Vitamin C:
1
mg
(1%)
|
Calcium:
31
mg
(3%)
|
Iron:
1
mg
(6%)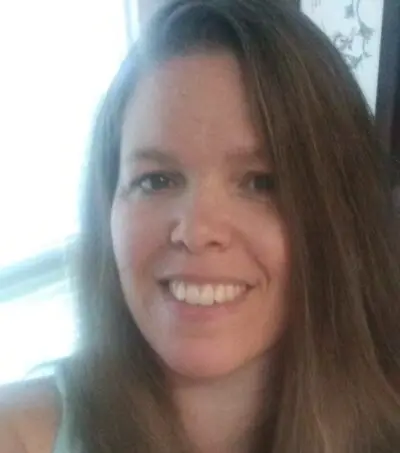 Angela is an at home chef that developed a passion for all things cooking and baking at a young age in her Grandma's kitchen. After many years in the food service industry, she now enjoys sharing all of her family favorite recipes and creating tasty dinner and amazing dessert recipes here at Bake It With Love!