What to serve with lamb breast: A collection of tasty side dishes and sauces to serve with rich and buttery lamb breast! Each of these recipes will help you turn your lamb into a flavorful and well-rounded dinner the whole family will enjoy. Keep on reading to find the best side dishes to serve with lamb breast in any form or fashion!
Best Side Dishes For Lamb Breast
Lamb meat has a rich and robust flavor that is hard to beat, but you do need to place some thought into finding the perfect sides to accompany it! It lends itself well to the flavors of fresh herbs, Mediterranean and Middle Eastern spices, and subtle notes of sweetness or citrus.
The recipes below are tried and tested and each and every one of them are perfect for pulling off an incredible lamb dinner. From veggies to pasta, lamb gravy, and more, you can find everything you need below!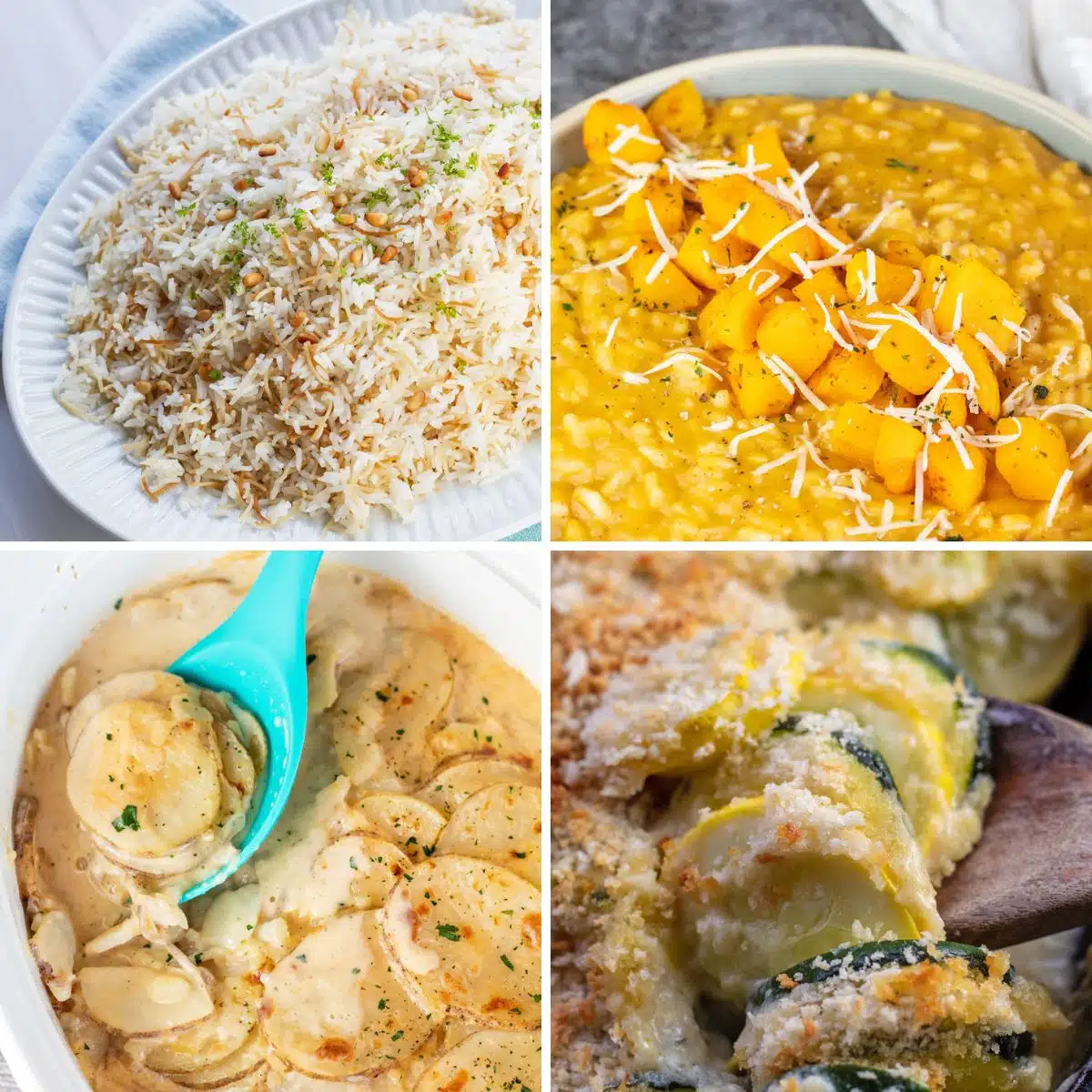 Jump to:
Want More Recipes? Enter your email below and we'll send them straight to your inbox!
See my page' what to serve with lamb' for even more great side dish suggestions! And be sure to check out the Ultimate Guide to Cooking Lamb for tips and tricks to use when preparing your lamb breast!
1. Butternut Squash Risotto
The subtle sweetness of butternut squash pairs perfectly with lamb. You can roast butternut squash, enjoy it as a savory soup, or whip up some of this creamy butternut squash risotto!
2. Honey and Herb Oven Roasted Carrots
Not only are fresh herbs wonderful with lamb but the sweetness of honey is the perfect contrast to the earthy flavor of lamb meat. This recipe is super simple and the fork-tender carrots are always a hit with kids and adults alike.
3. Lemon Asparagus Orzo
With both veggies and pasta, this side dish is the best of both worlds! You'll love the tender chunks of asparagus and orzo pasta tossed in a refreshing citrus garlic sauce.
4. Buttered Peas and Carrots
Buttered peas and carrots are as easy as it gets and they are a great veggie side dish to serve with lamb. This recipe comes together in about 15 minutes on the stovetop or you make it in the microwave in about half that time!
5. Polenta
Polenta pairs well with just about everything but it's particularly tasty with lamb! I like to include Parmesan, but you could even try mixing some fresh herbs or spices to really make it your own.
6. Green Beans Almondine
This elegant green bean dish is easy to prepare, nutritious, and will add a pop of color to the plate. You can have these buttery tender-crisp green beans with slivered almonds on the table in just 20 minutes!
7. Au Gratin Potatoes
Move over mashed potatoes because au gratin potatoes are going to be a new family favorite! It's classic comfort food made even easier by using your Instant Pot.
8. Cucumber Vinegar Salad
It doesn't get easier than this quick and refreshing vinegar cucumber salad. It's particularly tasty with Mediterranean or Middle Eastern flavors if you have a good lamb rub in mind.
9. Zucchini Squash Casserole
This might be a vegetable casserole, but it is still rich, cheesey, and indulgent! The Panko topping adds a delightful crunch that will have everyone excited to eat their vegetables.
10. Balsamic Roasted Brussel Sprouts
Brussel sprouts in general are a great side dish for lamb. You can pan-sear them, cook them in your air fryer, or roast them with balsamic vinegar for an extra punch of flavor!
11. Turmeric Rice
Forgo the standard white rice and try this aromatic and flavorful yellow turmeric rice! It pairs wonderfully with lamb, particularly if you are using Middle Eastern flavors.
13. Vermicelli Rice
The combination of vermicelli pasta and long-grain Basmati rice is a classic in Middle Eastern cuisine. Lamb lends itself well to Middle Eastern flavors, so naturally this rice is the perfect side dish!
12. Mint Sauce for Lamb
With just 3 ingredients, you can whip up this mint sauce for lamb! Mint and lamb are a classic pairing and this sauce is the perfect thing to take the flavor of your lamb to the next level.
14. Tzatziki Sauce
Tzatiki sauce is good for more than just gyros! This creamy cucumber sauce makes a delectable dip for slices of buttery lamb breast. You can throw it together in 5 minutes flat and it will instantly elevate your meal.
15. Lamb Gravy
Last but not least, this rich and savory lamb gravy rounds out our list. Save the drippings from your lamb breast and turn it into this easy 4-ingredient sauce!
Don't worry, if you don't have drippings you can still make this gravy with butter. It's delicious either way!
I hope this list helped you to find the perfect recipes for completing your lamb breast dinner! Come back and let me know how everything turns out in the comments below!
>>>>See all of my recipes HERE<<<<
🍖 Lamb Recipes To Try
📋 Recipe