These Malibu cocktails are some of the most fun and flavorful adult beverages that can be made with Malibu coconut rum! From frozen tropical drinks to fruity rum cocktails that pack a punch, this list has something for everyone! You might even find your new favorite drink!
Best Malibu Rum Cocktails
If you're familiar with Malibu rum then you know it makes some of the most popular cocktails around. If you're not familiar with Malibu rum, it's never too late to give it a try!
Malibu rum has an alcohol content of 21%, so it's not overly strong unless mixed with other alcohols. Plus, its signature coconut flavor is perfect for fruity drinks!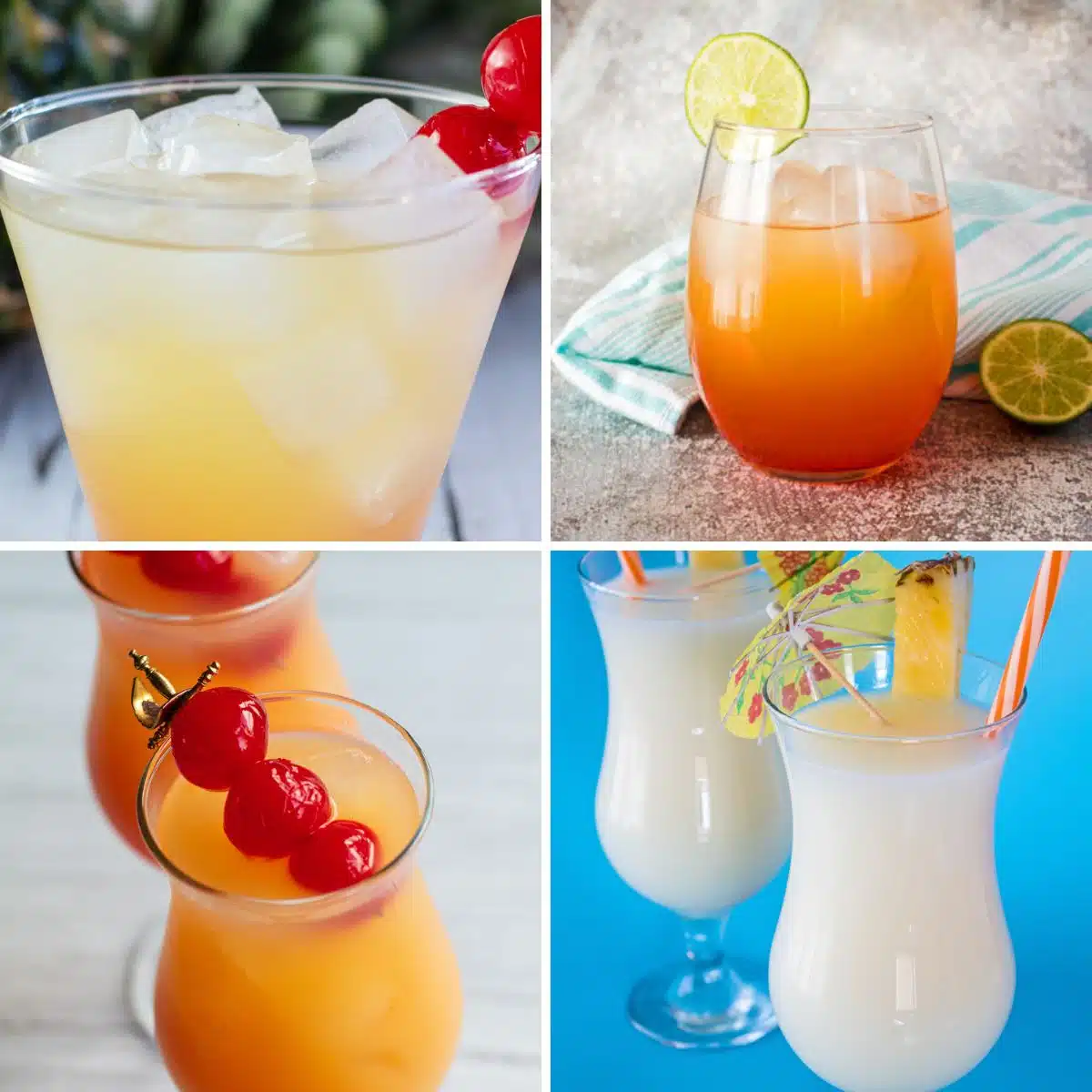 Jump to:
Want More Recipes? Enter your email below and we'll send them straight to your inbox!
1. Malibu Sunset
This easy Malibu cocktail is almost too pretty to drink and it only requires 3 ingredients! The beautiful 'sunset' appearance comes from carefully layering grenadine, pineapple juice, and coconut rum.
2. Malibu Sunrise
A fun and fruity drink for any occasion that is visually stunning, too! With coconut rum, pineapple juice, and grenadine, it's similar to a Malibu sunset, but it also includes orange juice.
3. Malibu Pina Colada
You can serve a refreshing Malibu pina colada shaken over ice or blend it into a tasty frozen cocktail! It has a double punch of coconut flavor from coconut rum and cream of coconut, as well as some tropical flavor from pineapple juice.
4. Jamaican Rum Punch
Jamaican rum punch makes a perfect spiked punch bowl for parties! With light, dark, and coconut rum as well as pineapple juice, orange juice, lime juice, and grenade, this punch has a strong fruity flavor that always makes for a good time.
5. Bahama Mama
This fruity drink will transport you to a tropical vacation, even if you're just hanging out at home. In fact, you can find frozen or on the rocks versions of this drink at most vacation destinations!
A Bahama mama is made by combining both light coconut rum and dark rum with orange juice, pineapple juice, and grenadine. It is often served in a hurricane glass whether it's frozen or on ice, though I find it more fun to drink it straight out of pineapple for the full vacation experience!
6. Bay Breeze
A Malibu bay breeze is a tart and fruity drink that tastes like summertime in a glass! All you need to make one is pineapple juice, cranberry juice, Malibu rum, and ice. There are no fancy bartending skills required, just add the ingredient to a glass, stir, and enjoy!
7. Frozen Blue Hawaiian
If you enjoy a spiked slushy or frozen daiquiri, you'll love this frozen blue Hawaiian cocktail! It's somewhat similar to a pina colada, but with a vibrant blue color from blue curacao.
Both Malibu coconut rum and Malibu pineapple rum would be great choices for the tropical flavors of this drink.
8. Rum Runner
If you're looking for a stiff drink that still has a significant fruity flavor, a rum runner is a cocktail for you. For starters, it contains an impressive 5 different types of alcohol.
A rum runner has 1 ounce each of banana liqueur, blackberry liqueur, light rum, dark rum, and a high-proof rum like Don Q 151. Don't worry, it also has plenty of sweet flavor from orange juice, pineapple juice, and grenadine for a strong, but well-balanced drink.
9. Electric Smurf
This cocktail gets its name from the vibrant blue-green color that can only be described as that of an 'electric smurf'. Luckily, it's as pleasant to drink as it is to look at!
An electric smurf is made with two alcohols: Malibu coconut rum and blue curacao. Those are paired with pineapple juice and lemon-lime soda like Sprite for a tasty tropical cocktail that is wonderfully refreshing.
10. Malibu Paradise
A Malibu paradise is a smooth and fruity drink that can be made in a pitcher for parties or days lounging by the pool. It's made with both Malibu coconut rum and vodka (I like using Titos or Absolut), as well as 1 part pineapple juice and 2 parts cranberry juice.
The flavor is slightly tangy and sweet with a hint of coconut. It's cool, refreshing, and easy to sip on!
11. Malibu Mistress
A Malibu mistress cocktail has an enticing vibrant green color that is hard to resist. It is made with equal parts coconut rum and melon liqueur which gives it a unique flavor that tastes fabulous when combined with pineapple juice.
Typically, it's topped with whipped cream and a cherry for a fun garnish. The neon green color makes it a wonderful choice for holiday celebrations like Christmas & Halloween!
12. Bliss On The Beach
You might be familiar with the more provocative name for this cocktail, but for the sake of this article we'll call it 'bliss on the beach'. Don't worry, it still has the same great taste!
This super fruity cocktail is made by combining vodka, peach schnapps, and in this case, Malibu coconut rum, with orange and cranberry juice. Malibu isn't technically part of the standard recipe, but it is a great modern twist that you are sure to enjoy.
13. Malibu White Sangria
If you're looking for a crowd-pleasing sangria for a girl's night or a day by the pool, a Malibu white sangria is just the thing. Typically, you would make it in a pitcher for easy serving.
Combine 1 bottle of white wine with 2 ounces of Malibu coconut rum, 1 cup of white cranberry juice, 1 cup of grapefruit juice, and whatever fresh fruit you have available in a pitcher. Fill with ice and enjoy!
14. Mai Tai
A Mai Tai is a classic rum cocktail made with both dark spiced rum (usually Captain Morgan) and coconut rum. It also includes fruity flavors from orange juice, pineapple juice, and grenadine. This tasty tiki drink is always a crowd favorite!
15. Malibu Mudslide
Unlike the other cocktails on this list, an Island donkey doesn't include fruity flavors outside of a hint of coconut from the Malibu rum. Instead, it has a rich and creamy chocolate flavor with a hint of cinnamon.
It's made with milk, Malibu, chopped white chocolate, and a touch of cinnamon, then topped off with whipped cream. It's almost like a boozy milkshake!
If you're a fan of coconut rum, you will enjoy any of the tasty cocktails on this list! Let me know which drinks are your favorite in the comment section below!
>>>>See all of my recipes HERE<<<<
😋 More Tasty Cocktails
📋 Recipe