Jamaican recipes are those that offer a unique, vibrant, Caribbean flair that delights the taste buds every time! We've rounded up our favorite Jamaican recipes that fit the bill perfectly and every single one will be a recipe to remember!
Authentic Jamaican Recipes
Jamaican culture is a mash-up of a few other cultures and that combination has become unique over the years in a fascinating way!
The exotic recipes of Jamaica will wow your family and friends. With a wide variety of flavors, spices, and textures, Jamaicans blend sweet and spicy like no other type of cuisine.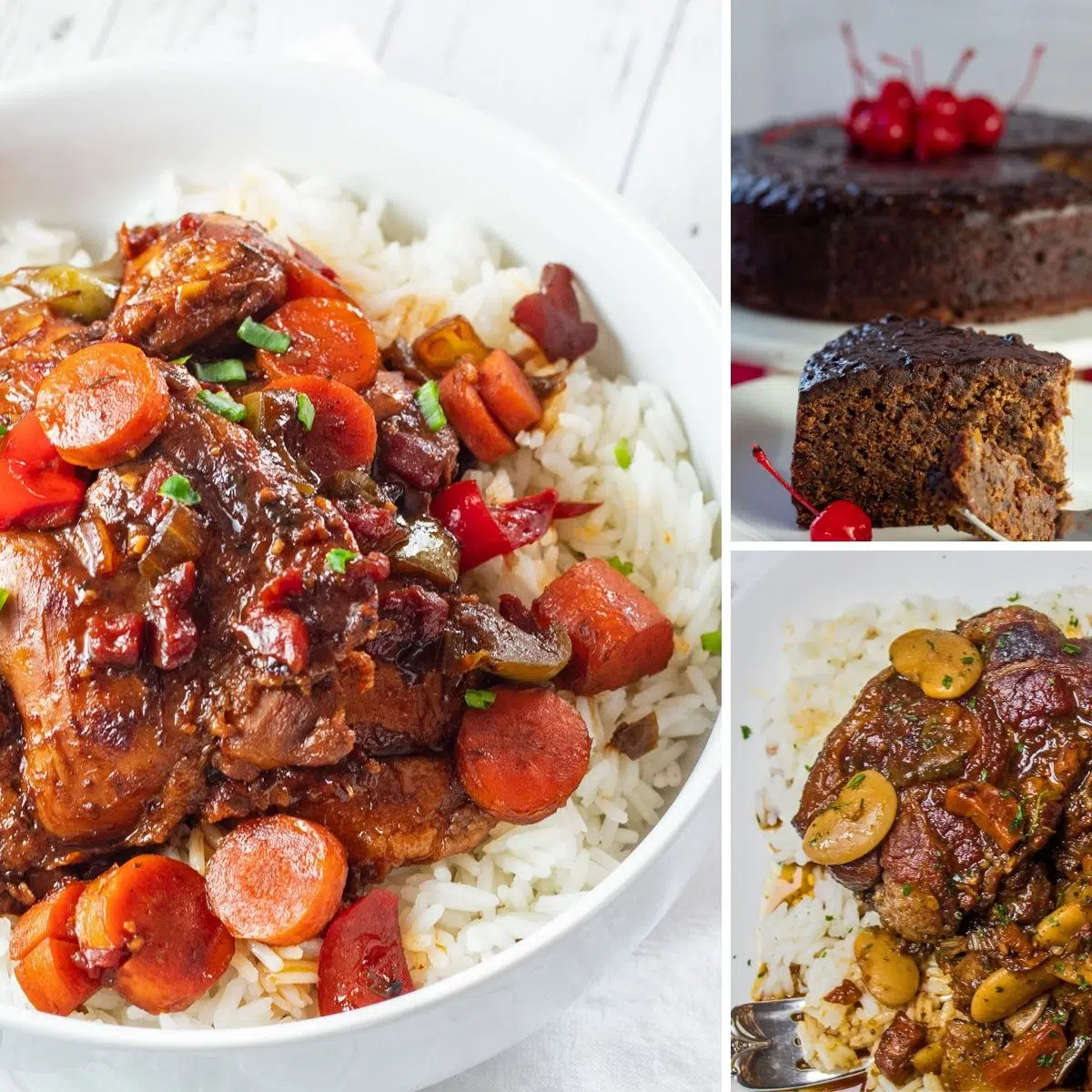 Incredibly tasty recipes that highlight the Caribbean flair of Jamaican food!
Jump to:
The Best Jamaican Recipes
Coconut and other tropical flavors mixed with top-of-the-line spices are what these recipes are known for. We've compiled a list of some of the most popular and delicious Jamaican dishes to inspire you!
1. Jamaican Oxtails
Although oxtail may sound strange to our non-Jamaican palates, when it is cooked correctly it can be mouth-watering. Mixed with herbs and vegetables, this is a main course that is sure to wow.
Many people serve the stew mixed with butter beans and served over white rice.
2. Jamaican Jerk Chicken
Jamaican Jerk chicken is a familiar recipe for most. When made traditionally, this chicken is a perfect mix of heat and a smoky flavor that Jamaican dishes are known for.
To get the jerk flavor to its maximum potential, let the chicken marinate overnight. Although the basic way to make this chicken is the same, you can always put your own spin on it, which is truly one of the best things about this recipe!
3. Jamaican Spinach Soup
Spinach soup is a comforting dish that incorporates spinach and traditional Jamaican spices. This soup is vegan, low carb, and full of flavor!
Try it with bread, and it is truly amazing.
4. Jamaican Jerk Burrito
Though perfect for vegetarians, everyone will love this Jamaican burrito recipe! The Jamaican burrito is a great blend of sweet and savory; with black beans, pineapple, cheese, Jamaican jerk sauce, and more.
Whip up a few of these burritos and your taste buds will thank you.
5. Spicy Shrimp Skewers
Spicy shrimp skewers are a classic Jamaican dish. This tropical, spicy-sweet shrimp recipe is often served over seasoned rice.
Spicy shrimp skewers are jam-packed with flavor and will impress any seafood lover!
6. Boscobel Beach Ginger Cake
We all get a hankering for something sweet every once in a while. The Boscobel Beach ginger cake is sure to satisfy your sweet tooth!
Covered with powdered sugar, it will even leave those who don't happen to love ginger wanting more.
7. Jamaican Beef Patties
If you like something new, with a little bite to it, the curry-flavored beef patties are the thing for you.
These can be found in other Caribbean islands and are covered in a thin pastry-type breading. They go wonderfully with peas, rice, or by themselves as a little snack.
8. Brown Stew Chicken
Another famous Jamaican stew is brown stew chicken. This chicken is similar to jerk chicken and is stewed and usually served over rice or with peas.
Perfectly seasoned chicken thigh meat and delicious tender veggies are the star of this stew.
9. Jamaican Rice and Peas
Jamaican peas and rice are a classic, easy meal that anyone can make. Plus, it's budget-friendly too!
The peas are flavored with coconut and Caribbean herbs and spices to add a kick to the sweet coconut flavor.
10. Jamaican Rum Cake
Rum Cake is a legendary, traditional Jamaican dessert. This recipe makes a large cake that is both light and moist.
A drizzle of irresistible rum and butter syrup and you have a dessert everyone will be talking about!
11. Jamaican Steamed Cabbage
Steamed cabbage is a delicacy when it comes to side dishes in Jamaica. This sweet cabbage goes with almost anything, but it really helps to offset spicier dishes.
12. Callaloo
Callaloo is a leafy green vegetable dish cooked with onion, garlic, tomatoes, thyme, and peppers. It's the epitome of comfort food!
Enjoy it on its own or toss it in a delicious stew!
13. Caribbean Carrot Juice
Jamaican carrot juice may not be what you think. It is a wonderful, thick, creamy drink that is very sweet.
This treat is usually enjoyed for breakfast or as a stand-alone cocktail. While it may sound strange, it has a beautiful flavor you won't soon forget.
14. Roti
Roti is a pliable flatbread that pulls from West Indies influence. Not only is it extremely versatile, but it is so simple that it can be made to go with virtually anything.
Use it to scoop up the yummy of your main dish and soak up any sauces on your plate!
15. Jamaican Cornmeal Porridge
Jamaican cornmeal porridge is like oatmeal, but with cornmeal instead of oats. It's a warm, comforting blend of cinnamon, nutmeg, vanilla, and a nice drizzle of maple syrup.
This recipe is so easy, you can even make it in the Instant Pot. There's no excuse not to try it!
16. Jamaican Black Cake
Rich and decadent Jamaican black cake is a delicious Caribbean take on fruit cake! This version is arguably better than the original because the fruit is soaked in rich port and aromatic dark rum!
This boozy, spiced black cake is so moist and delicious you will savor every bite.
We hope that you try out some of these amazingly tasty, unique flavors of Jamaica! Tell us which recipe you're going to try by dropping a comment below!
📖 Recipe Card