Is all-purpose flour plain flour: Are they the same thing or are they two different varieties of flour with different purposes? I'm here to help get rid of the confusion so you know the answer the next time you see plain flour in a recipe! Here's everything you need to know!
All-Purpose And Plain Flour
Do you have a recipe in front of you that is calling for all-purpose flour and you only have plain flour? Or maybe it's the other way around and you have some all-purpose flour but only have plain?
Are these the same things or are there some differences? Does it really matter which flour you use anyway? (Spoiler alert: it does matter!)
Jump to:
Want More Recipes? Enter your email below and we'll send them straight to your inbox!
If you want to learn more, take a look at my in-depth guide to all-purpose flour!
What Is All-Purpose Flour
All-purpose flour is a common flour that contains a medium level of protein. It is made from dry wheat grains that are milled and sifted until a very fine white flour remains.
As the name implies, all-purpose flour is great for generally anything you could need flour for! While it works well in virtually any recipe, it won't be as great as the specific flour that is called for in a recipe (if different from all-purpose flour), so make sure to always use the recommended flour in your recipes.
Is All-Purpose Flour The Same As Plain Flour
Yes! These are actually two different names for the same thing. All-purpose flour is one of the most common baking staples worldwide, however, you may see it under a variety of different names.
In America, you will commonly see it referred to as all-purpose flour, or even abbreviated to AP flour. The UK and Australia refer to it as plain flour, it is called flour type 550 in Germany, and flour type 55 in France. While there is a variation of all-purpose flour in India (called Maida), it is not exactly the same thing as it doesn't contain as much protein.
Protein In Flour
Baking is a science and the same thing is true for how flour works. When flour is mixed with a liquid it will form gluten. The amount of gluten formed is directly related to how much protein is within the flour.
Each variety of flour contains a different level of protein, thus forming a different level of gluten. Some recipes need a high amount of gluten in order to have a firmer structure, such as bread. On the other hand, some recipes need less gluten so that they are soft and tender, like cakes.
All-purpose flour falls right in the middle of the spectrum, with a protein range of 10-12%, which is what makes it great for any type of baking or cooking.
Common Types Of Flour
There are a ton of different kinds of flour in the world. In this post, I'm only going to cover a few of the most common varieties so that you can see how they compare to AP flour.
Bread Flour
Bread flour has a high level of protein in it and is referred to as 'hard flour' in the UK. The protein level ranges from 12-15%, which creates a sturdy and chewy texture. It's perfect for bread, bagels, etc.
Learn how to make your own bread flour here!
Cake Flour
Cake flour (or soft flour) falls on the other end of the spectrum, with a protein level between 7-9%. This type of flour is best used in soft and tender baked goods, such as cakes, muffins, and cookies.
Learn how to make your own cake flour here!
Self-Raising Flour
Self-raising flour is actually a mixture of all-purpose flour, baking powder, and sometimes salt. It doesn't require a leavening agent since there is one already in the flour itself.
Variations In Brands Of All-Purpose Flour
Believe it or not, the exact level of protein within all-purpose flour can vary based on the country in which it was produced. For example, Canadian brand AP flour tends to have a higher level of protein while South American brands have less.
Here's a list of some common brands of plain flour and their protein levels:
King Arthur Unbleached Enriched AP Flour: 11.7%
Hecker's Unbleached Enriched AP Flour: 11.4-11.8%
Gold Medal AP Flour: 10.5%
Pillsbury Enriched AP Flour: 10-11%
Hodgson Mill Unbleached AP Flour: 9.5-10.5%
Martha White Enriched Bleached AP Flour: 9-11.25%
White Lily Enriched Bleached AP Flour: 7-8.5%
Fun fact: Some countries actually require that white flour is fortified with iron, vitamin B, and folic acid.
How To Measure Flour
When measuring flour for any recipe, you should always either weigh it with a kitchen scale or use the spoon and level method. If you simply scoop the flour out of the container with your measuring cup, you are packing too much flour into the cup and therefore adding too much to the recipe. This can create baked goods that are dense and crumbly.
The spoon and level method refers to fluffing the flour up and using a spoon to scoop the flour into your measuring cup. Then, use a knife to level off the top.
Now you know that all-purpose flour and plain flour are the same things! What do you call it where you live? Leave a comment down below and let me know!
>>>>See all of my recipes HERE<<<<
🧁 Tasty Baked Goods
Shortbread - Sweet shortbread cookies are tender, delicious, and great for any occasion!
Fudge Brownies - These rich and indulgent brownies are great for a night at home, a birthday party, or any other reason!
Pumpkin Roll - A sweet pumpkin spiced cake that is rolled up with a creamy filling!
Double Chocolate Banana Bread - Not only is this banana bread chocolate but it is topped with ganache and chocolate chips!
Banana Blueberry Muffins - Enjoy these yummy muffins as an on-the-go breakfast or snack!
Carrot Cake - Classic carrot cake is topped with homemade cream cheese frosting!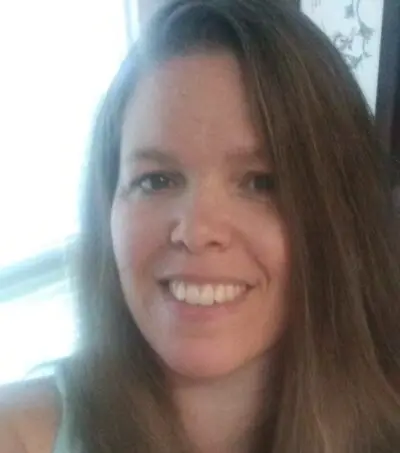 Angela is an at home chef that developed a passion for all things cooking and baking at a young age in her Grandma's kitchen. After many years in the food service industry, she now enjoys sharing all of her family favorite recipes and creating tasty dinner and amazing dessert recipes here at Bake It With Love!