All of the very best tasty Irish recipes are gathered here for you to serve for a wonderful St. Patrick's Day celebration or just to enjoy any day! These are incredibly hearty, satisfying, comfort food dishes that are sure to delight everyone!
Tasty Irish Recipes To Make
If you're on the hunt for some traditional Irish food for St. Patrick's day or because you crave a hearty Irish dinner, you've come to the right place. We've featured the most tried and true Irish recipes that are guaranteed to please!
Whether you have a hankering for something sweet or you're looking for some warm and cozy classic Irish cuisine, we've featured something for everyone!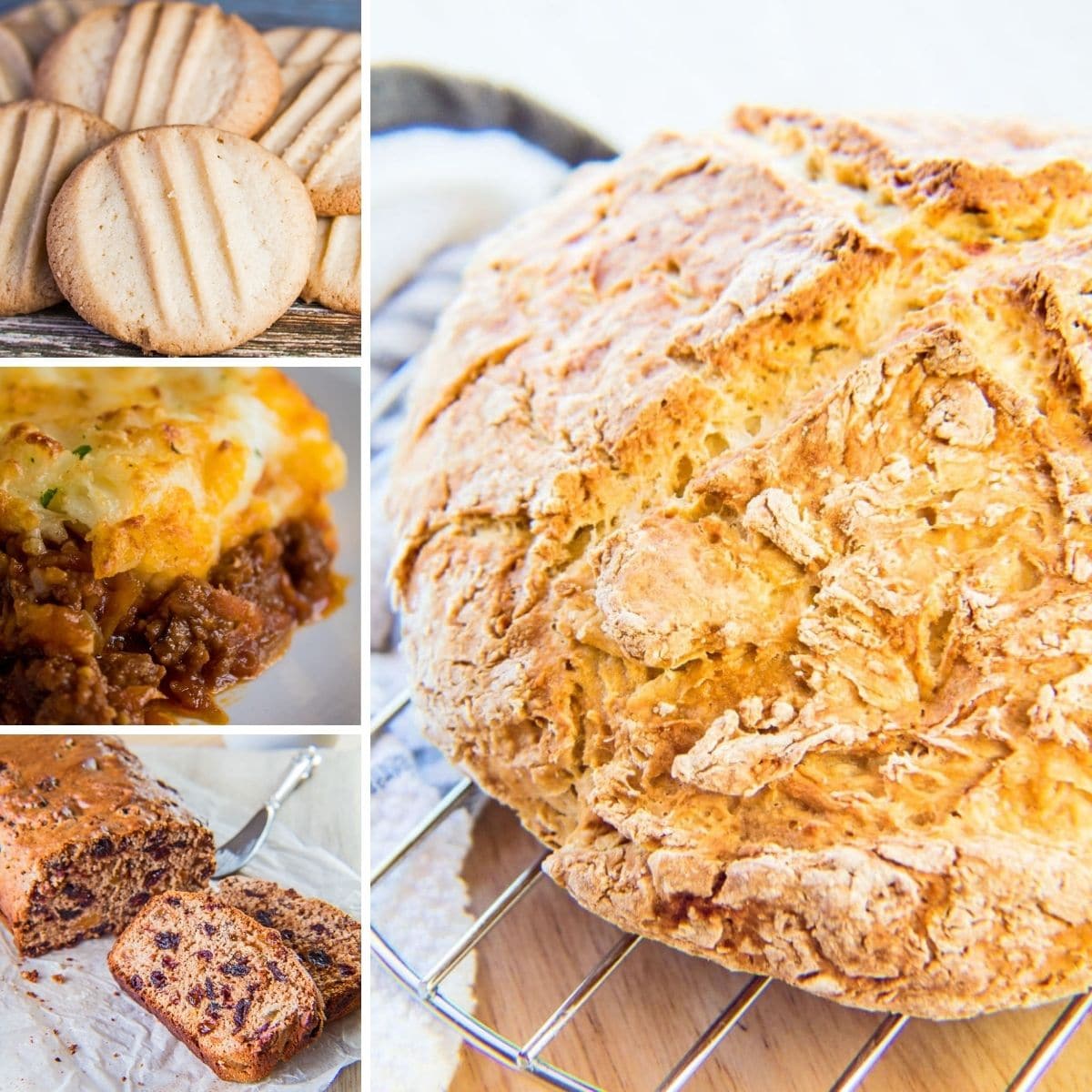 Jump to:
Best Traditional Irish Recipes
There are as many 'traditional' recipes as there are Grandmas that make them. Keep this in mind when searching for 'the one' that takes you back to enjoying meals with your family!
1. Barmbrack
Barmbrack is a traditional fruity spiced bread that is incredibly easy to make! It's not sweet enough to be considered cake, but it is sweet enough to feel like a treat!
Spread some butter on a slice and you'll be wondering why you haven't made this more often!
2. Irish Soda Bread
Irish soda bread is a simple quick bread that consists of just 4 ingredients! It is delicious as-is, but it also makes a great base for other quick bread recipes and desserts!
3. Irish Lamb Stew
This cozy, comforting stew is chock full of tender grass-fed lamb and lots of veggies!
The broth is thick enough to cling to all the tasty components and will have you savoring every bite. It's delicious during cold weather, but it's also enjoyable any time of the year!
4. Potato Leek Soup
If you are a fan of classic potato soup, you will be even more impressed with potato leek soup! Leeks add some of the expected onion flavors, but with a totally different consistency.
This soup is extra creamy, and features a sprinkling of bacon and white cheddar- yes, it's as good as it sounds.
5. Irish Apple Cake
This apple cake is an Irish tradition, and it's speckled with bits of tender, fresh apples that add a delightful texture!
Add a drizzle of homemade custard sauce over the top while serving and you won't be able to stop at 1 slice!
6. Old Fashioned Irish Oatmeal Cake
This old-fashioned oatmeal cake is topped with a heavenly caramel pecan frosting! The cake itself is moist and fluffy, with a delicious spiced flavor from nutmeg and cinnamon.
This cake is easy to whip up in a jiffy, so if you need a last-minute dessert you should give it a try!
7. Irish Soda Bread Pudding
This bread pudding with Bailey's Crème Anglaise is a perfect example of making something indulgent from the previously mentioned traditional soda bread recipe.
The chunky soda bread holds up well to moisture for a bread pudding unlike any you've had before! The Crème Anglaise is rich and velvety with a hint of Bailey's, making this bread pudding incredibly luxurious!
8. Apple Blackberry Crumble
This easy-to-make apple blackberry crumble is a popular dessert in Ireland, and you'll see why! Slightly tart blackberries and sweet apples contrast each other wonderfully, while the sweet crumble topping adds amazing texture!
9. Shepherd's Pie
When people think of traditional Irish cuisine, shepherd's pie is usually at the top of the list. This fantastic comfort food is stuffed with ground lamb meat, veggies, a saucy gravy, and a baked mashed potato topping to hold it all together.
10. Fork Biscuits
Fork biscuits are a simple 3-ingredient baked treat that tastes wonderful with coffee or tea. They are nice and crisp with just the right amount of sweetness!
11. Corned Beef and Cabbage
Corned beef and cabbage may not technically be Irish (in Ireland they enjoy a similar recipe of bacon and cabbage), but it's an incredibly popular dish in the states that you will often find served in Irish pubs or for St. Patrick's day.
The key is in slow-roasting the beef with Guinness beer! It's incredibly savory and melt-in-your-mouth delicious.
12. Railway Cake (Spotted Dog)
Railway cake, also known as 'spotted dog', is an Irish soda bread with dried fruits sprinkled throughout. This 'sweet cake' or quick bread was often served as a treat after a hard day's work.
Nowadays, there's no hard work required and you can enjoy a slice of delicious railway cake whenever you please!
13. Colcannon
Colcannon is an Irish mashed potato recipe that features greens like kale, cabbage, or Swiss chard and a hefty helping of butter and cream!
It makes a wonderful side dish for any of these Irish main courses, but it's always difficult to not eat a whole bowl of it by itself!
14. Corned Beef Hash
This chopped meat and potatoes dish is salty, savory, and utterly delicious. It's a great way to use up any leftover corned beef from the holidays!
With some eggs and maybe even an Irish coffee, corned beef hash makes a hearty, enjoyable breakfast.
15. Cornish Pasty
A pasty is a hand-held meat pie. This version includes tender cabbage, corned beef (another good recipe for using up leftovers), and potatoes!
It's always a hit when entertaining if you serve up a tray full of Cornish pastys, especially on St. Patty's day!
16. Boxty
Boxty is a traditional Irish potato pancake. Leftover mashed potatoes are often used in this recipe, as they make better pancakes when they are cold!
They have a crisp outside with a soft inside, and they are totally addicting!
17. Potato Farls or Fadge (Irish Potato Cakes)
Potato farls (also referred to as 'fadge') are another tasty leftover mashed potato dish! It's a quick potato bread that traditionally was made in the griddle right in the leftover greases from breakfast.
Serve them warm with some butter and salt and you'll be in heaven.
18. Dublin Coddle
Dublin coddle is a classic Irish sausage and potato stew. Bacon, sausage, onions, and potatoes are all slow roasted in a thick brown gravy that might not be much to look at, but it sure is delicious!
If you are craving something hearty and comforting, this stew is for you!
Any of the recipes mentioned here will make for a wonderful St. Patrick's day or traditional Irish meal! Try one recipe or try a few, just let us know which one is your favorite by sending us a message below!
📋 Recipe