Shamrock recipes for St. Patrick's Day: A collection of fun and festive recipes that are sure to delight your family and friends! Whether it's a creamy green milkshake or shamrock-shaped finger sandwiches, you'll love preparing these tasty holiday treats almost as much as eating them! For a St. Patrick's Day you won't soon forget, these shamrock-themed recipes are the way to go!
St. Patrick's Day Themed Recipes
St. Patrick's day may not be as widely celebrated as Christmas or Thanksgiving, but it still deserves some tasty treats of its own! Sure you can whip up some of your favorite Irish recipes, but there are also a wide variety of brightly colored and shamrock-shaped recipes you can try!
Sometimes I need a kid-friendly recipe to send off to school, while other times I'm just looking for something fun for the whole family to enjoy at home. If you're not sure what kind of goodies you want to serve this St. Patrick's day, you're sure to find something perfect on this list!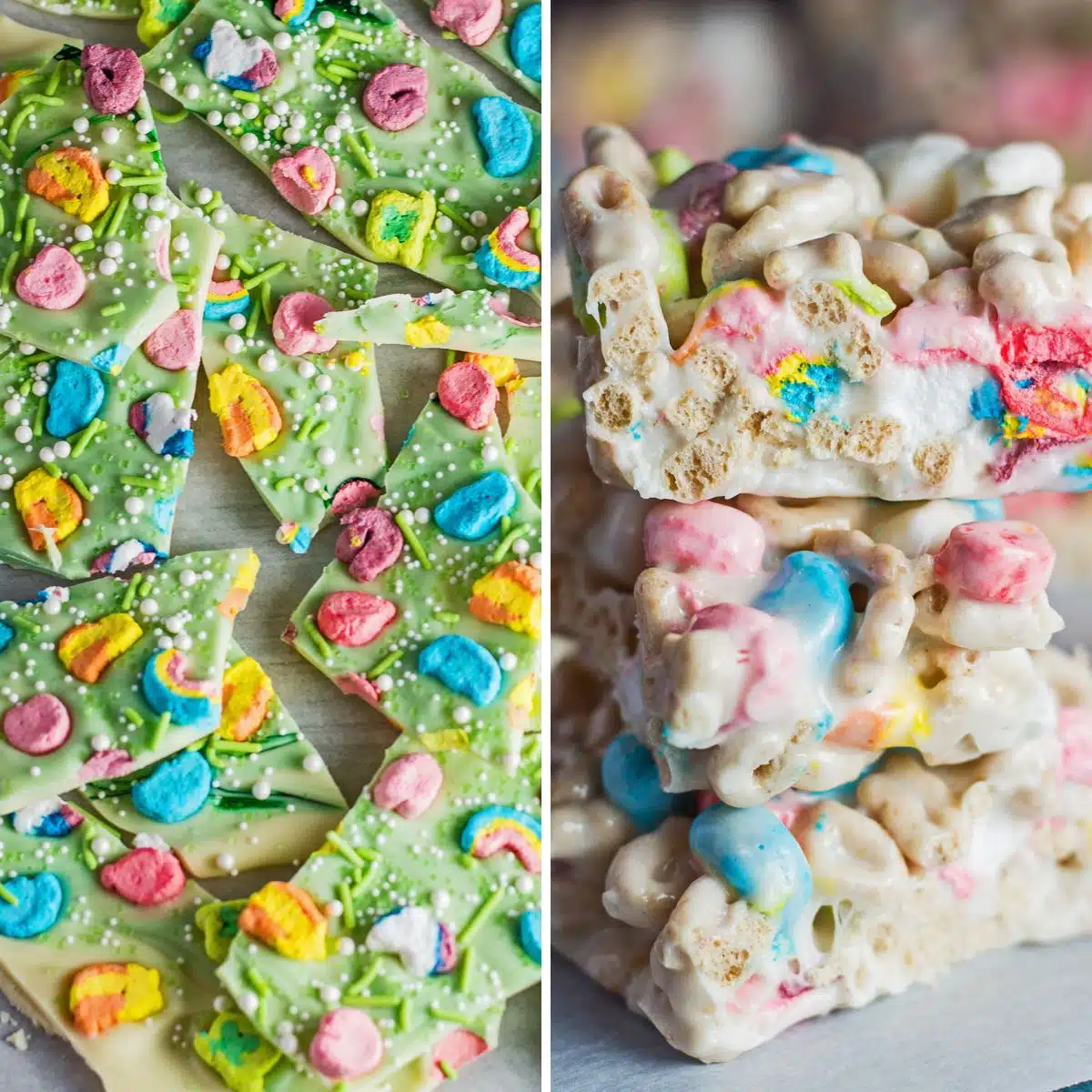 Jump to:
1. Lucky Charms Bark
This lovely pastel green Lucky Charms bark is fun for the whole family and you don't have to bake a thing! Just melt some white chocolate (on the stovetop or in the microwave), add some green coloring, place your Lucky Charms marshmallows on top, and then chill!
2. Lucky Charms Marshmallow Treats
These super simple Lucky Charms marshmallow treats are always a favorite (especially for kids)! They only take about 30 minutes to make, plus a few minutes to cool down, so they are a great last-minute addition to any St. Patrick's day party!
3. St Patrick's Day Puppy Chow
For an extra special St. Patrick's day snack, try this fun and festive puppy chow! Not only is it delicious, but it's so easy to make that even the littles can help whip up a batch! All it takes is 5 simple ingredients: powdered sugar, Chex cereal, green candy melts, green sprinkles, and white chocolate chips
4. Shamrock Fudge
If you're a regular here, then you know I have a thing for fudge in all its forms and flavors! This vibrant green 'shamrock' fudge is as fun to make as it is to eat.
These are made with marshmallow fluff, whipped cream, butter, white chocolate chips, and of course, sugar. The best part is adding the adorable holiday sprinkles on top!
5. Lucky Charms Cookies
These Lucky Charms cookies are so delicious you'll want to make them year after year! Soft and chewy sugar cookies speckled with Lucky Charms marshmallows make up the base. To top it all off, a luscious cereal milk-flavored frosting (and more Lucky Charms, of course)!
6. Green Pancakes with Lucky Charms
For a St. Patrick's day breakfast to remember, give these adorable green pancakes a try! The only difference between this recipe and traditional pancakes is that you will need a little green food coloring and a shamrock-shaped cookie cutter.
7. Shamrock Shake Copycat
Each year Mcdonald's comes out with its signature shamrock shake and now you can skip the line and make it at home! Not to mention, it's extra tasty with a little Bailey's Irish Cream, vodka, or whiskey mixed in to make it a fun adult beverage (you can't get that at McDonald's)!
8. Shamrock Sandwiches
These adorable finger sandwiches are great for grazing at St. Patrick's Day parties! The filling is made with corned beef (an Irish classic) as well as a creamy mixture of Dijon mustard and dill.
>>>>See all of my recipes HERE<<<<
9. No Bake Mint Chocolate Chip Pie
This creamy mint chocolate chip pie combines cream cheese, peppermint extract, Cool Whip, and chocolate chips all in a chocolate crumb pie crust. You don't have to bake a thing, just let it chill in the fridge for a few hours and it's ready to eat!
10. Shamrock Pizza Pot Pies
You can use a refrigerated tube of crescent dough to make these delicious mini pizza pot pies. A thin slice of bell pepper makes a fun shamrock design on top!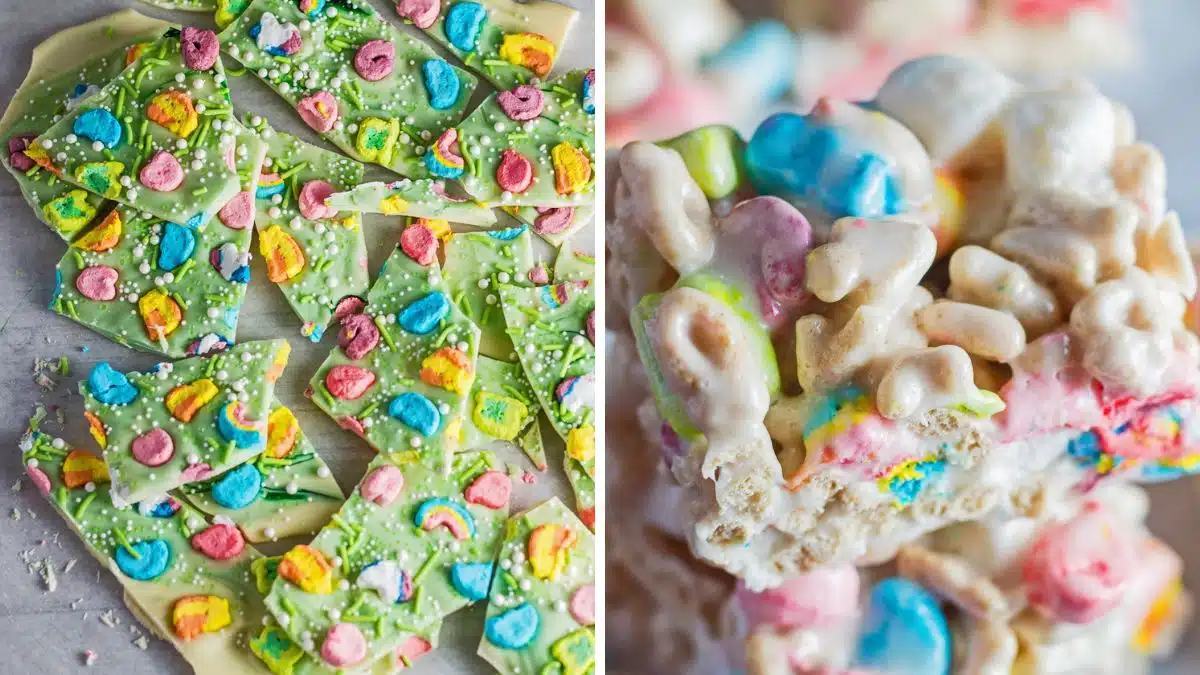 11. Lucky Lime Salad
These bars of green pineapple whipped cream salad are topped off with an adorable shamrock made from Jello! All you need is a shamrock cookie cutter to make your Jello shapes.
12. Shamrock Pretzels
Shamrock pretzels are a quick and easy-to-make St. Patrick's day candy! They are made by combining just 2 ingredients: mini pretzel twists and green candy coating.
13. Shamrock No-Bake Cake Batter Truffles
These bite-sized truffles are made with white cake mix, a little green food coloring, and peppermint extract! You can dunk them in white or milk chocolate and decorate them with your favorite green sprinkles!
14. Three's A Charm Shamrock Soup
Shamrock soup isn't green, but it is loaded with Irish staples that are perfect for St. Patrick's day! Corned beef, cabbage, carrots, and potatoes are all cooked in a flavorful seasoned broth.
15. Mini Whoopie Pies
2 green sugar cookies with a layer of cream cheese frosting sandwiched between them. They're simple and delicious!
16. Oreo Shamrock Cupcakes
These minty green cupcakes are topped off with fluffy whipped peppermint frosting and a sliver of mint Oreo cookies! If you're a fan of peppermint desserts, these cupcakes will be your new favorite!
17. Shamrock Cookies
These tender shortbread cookies are cut with a shamrock cookie cutter and can be decorated however you like! A touch of peppermint extract gives them the most wonderful subtly minty flavor.
18. Shamrock Pie
This green lemon meringue pie looks like it was kissed by a leprechaun! It's the same bright and creamy lemon flavor as a classic lemon meringue pie, but with a little gel food coloring mixed in.
19. Eggs In A Shamrock
Eggs in a shamrock is an easy breakfast recipe made by cooking sunny-side-up eggs inside of sliced bell pepper 'shamrocks'. Season with a little salt & pepper and a sprinkle of Swiss cheese and then breakfast is served!
I hope you enjoy these fun shamrock recipes for St. Patrick's day! Let me know how your family likes them by leaving me a comment below!
🍀 More St. Patrick's Day Recipes
📋 Recipe