If you're looking for what to serve with stuffed peppers, check out these easy side dishes that will pair with your peppers perfectly! No matter what you stuff your bell peppers with, any of these delicious recipes can help you round out the meal for a dinner that everyone will enjoy!
The Best Sides for Stuffed Peppers
What's not to love about a stuffed pepper? They are easy, filling, and there are tons of customization options. However, it can sometimes be a challenge to know how to transform your tasty peppers into a full family meal.
We're sharing our best family-favorite recipes to serve alongside your stuffed peppers that will round out dinner while still allowing them to be the star of the show!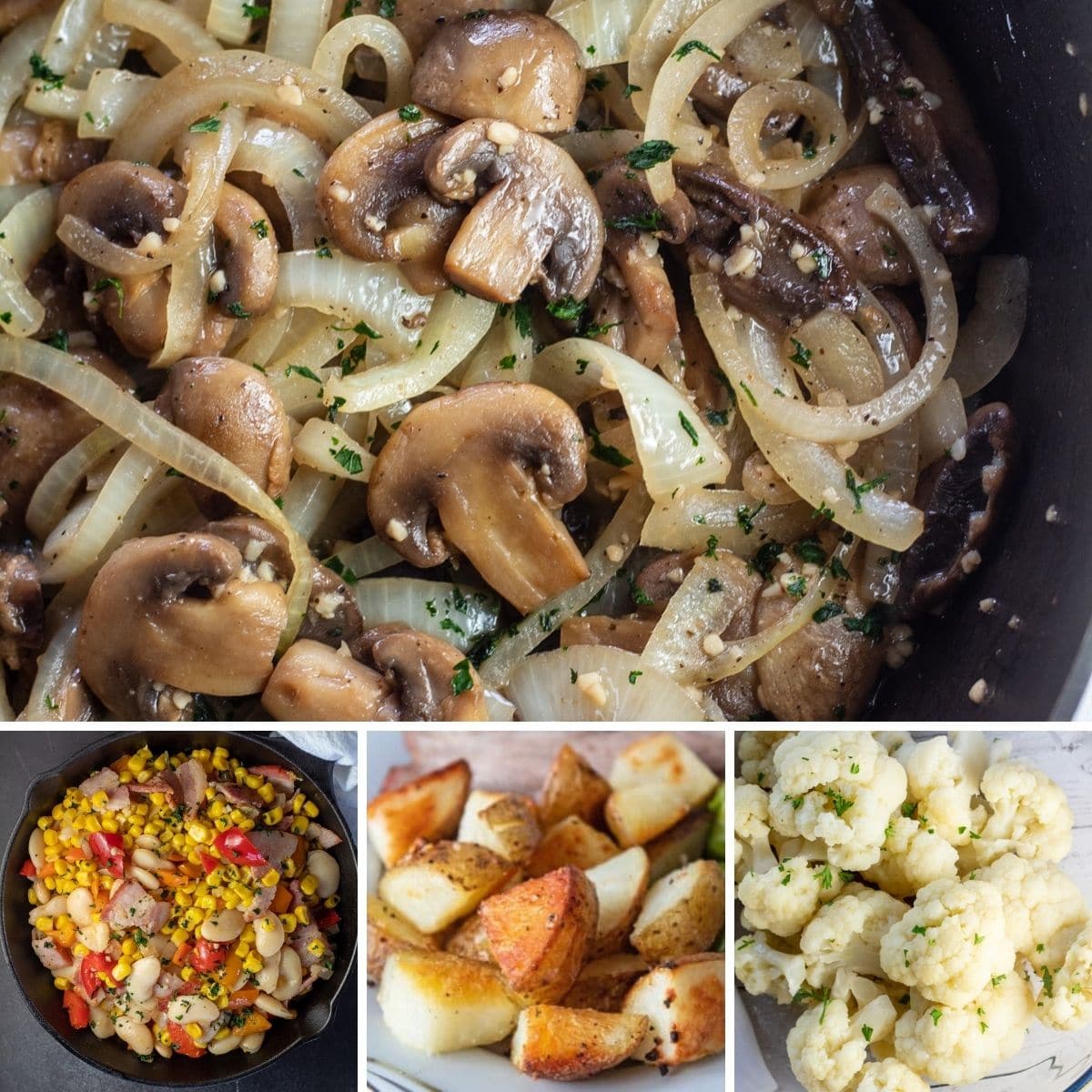 A tasty assortment of perfect stuffed pepper pairings for your family dinners!
Jump to:
1. Sautéed Green Beans
If you are looking for a more veggie-forward meal, consider pairing your peppers with some fresh sautéed green beans. This recipe is super quick and great for when you are feeling pressed for time.
These green beans are crisp-tender and feature simple flavors that will complement your peppers perfectly.
2. Oven Garlic Bread
It should be illegal for something so simple to taste this good. A loaf of buttery garlic bread improves any meal!
Take advantage of your oven already being heated up while you are baking your peppers to toast up this garlicky delight.
3. Oven Roasted Potatoes
Potatoes go with absolutely everything. This oven-roasted variety gives us a crispy outside and a tender, creamy inside.
As great as stuffed peppers are, they don't provide much crunch. Add these simple, golden brown potatoes will add some great textural variety to your meal.
4. Sautéed Zucchini and Yellow Squash
This simple recipe for sauteed zucchini and yellow squash is a delicious way to cram in more veggies while adding some color to your plate.
If your stuffed peppers aren't quite enough to make a full dinner, but you want to keep it light, this recipe is a fantastic way to round things out.
5. Succotash
Although it is a Southern staple, many people have not heard of the tasty butter bean and corn-filled side dish known as succotash. Did I mention there's also bacon?
Succotash is a hearty addition to your peppers that can be customized to suit the taste of whoever you are cooking for. It's light, but incredibly filling at the same time!
6. Roasted Vegetable Medley
If you are looking for a way to get more veggies in your diet, look no further. Whether you like your vegetables tender, or you are looking for more of a crisp, you can easily get your desired texture by adjusting the time.
This recipe does require a bit longer cooking time, but you can double it up with your peppers while they bake.
7. Microwave Cauliflower
This super simple recipe won't add any hassle to your already simple stuffed peppers. You are just a few minutes away from perfectly tender and buttery cauliflower.
Microwave cauliflower and stuffed peppers make for a quick, vegetable-forward weeknight dinner.
8. Honey Glazed Oven Roasted Carrots
The natural sweetness of carrots always pairs well with honey or brown sugar. If you are looking for a sweet counter to the savory delight that is stuffed peppers, this is the recipe for you.
9. Sautéed Mushrooms and Onions
This list wouldn't be complete without mentioning a classic side of sauteed mushrooms and onions. The onions become sweet and tender while cooking and the mushrooms balance them perfectly with their earthy, salty taste.
10. Jiffy Jalapeno Cornbread
Cornbread is a classic southern side dish and this variation kicks the spice up a notch with the addition of jalapeños.
Stuffed peppers traditionally use the spice-free bell pepper, so the jalapeño in the bread matches the flavor while adding a zing. Cornbread is a great choice if you hoping to add some heft and comfort to your meal.
11. Mexican Corn Fritters
These pan fried corn fritters feature Mexican flavors that pair perfectly with peppers of all kinds. This recipe is great in the late summer when you can get fresh corn, but can be made year-round with canned corn.
12. Roasted Garlic Mashed Potatoes
Not only do these roasted garlic mashed potatoes make a great side dish for stuffed peppers, but it's also a super easy recipe to scale up if you are feeding a large group. Serving decadent mashed potatoes alongside your peppers makes for the ultimate comfort meal.
13. Balsamic Roasted Brussel Sprouts
Healthy, delicious, and simple, this recipe is a total crowd-pleaser. Like the glazed carrot recipe above, this dish will provide a slightly sweet and tangy counter to your stuffed peppers.
Prep the brussel sprouts with the vinegar and seasoning and then just pop them in with your peppers!
14. Fried Cabbage
We are no strangers to cabbage here in Minnesota, but this fried cabbage recipe is a pure southern specialty. Adding a little bacon takes the normally neutral cabbage to next level.
Cabbage and peppers are a classic combo and this recipe will feel at home alongside your stuffed peppers.
15. Crispy Baked Zucchini Fries
These baked zucchini fries are more than just a healthy alternative to their deep-fried potato cousin. They are equally great as a stand-alone snack as they are beside the main dish.
Soft, crispy, and savory, pair them with your favorite dipping sauce and they are guaranteed to be a hit!
Your stuffed peppers are bound to be a hit when served with any of these incredible sides! If you have any suggestions on what to serve with stuffed peppers, let us know in the comments below!
📋 Recipe