Here's what to serve with potato soup so you can turn it into a hearty and delicious meal for lunch or dinner! From quick and easy bread recipes to satisfying salads and so much more! Keep reading to find the perfect dishes to enjoy with a warm bowl of potato soup!
Best Recipes To Serve With Potato Soup
Transform a simple bowl of potato soup into a hearty and satisfying meal you'll want to make again and again! I love soup and crackers as much as anyone, but that's not your only option- there are tons of tasty recipes that will elevate your potato soup!
From sandwiches and salads to biscuits and bread, there are plenty of delicious sides to choose from. Keep reading for a few of my favorite recipes to pair with potato soup!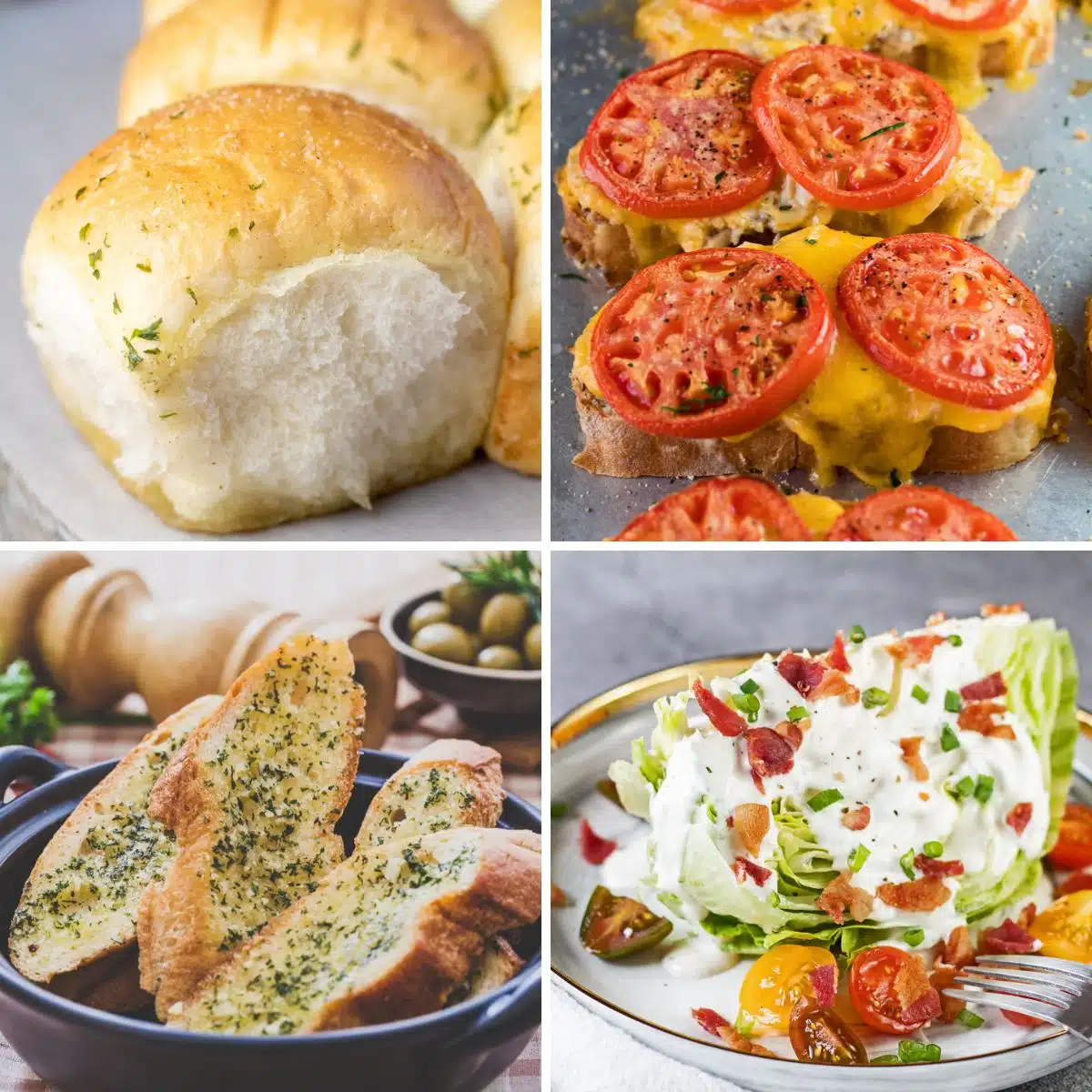 Jump to:
Want More Recipes? Enter your email below and we'll send them straight to your inbox!
1. Chicken Club Sandwich
A warm bowl of soup and a club sandwich is a classic pairing for lunch or dinnertime! This chicken club is loaded with tender chicken breast meat, avocado, tomatoes, bacon, onion, lettuce, and 3 pieces of bread.
Slice the sandwich in half and share it as a light lunch for 2, or enjoy the whole sandwich to yourself!
2. Tuna Melt Sandwich
Another popular sandwich pairing for potato soup is a tuna melt! For lunchtime, I often make it an open-faced sandwich because it's lighter, but you can certainly add the top piece of bread if you want to.
A slice of french bread topped with tuna in a creamy mayonnaise dressing, tomato, and cheddar cheese is popped under the broiler until the cheese is melted and the bread is crispy. It's a quick sandwich recipe you'll want to make every week!
3. Instant Pot Chicken Drumsticks
A side of juicy chicken drumsticks can turn a bowl of potato soup into a hearty family dinner! With your Instant Pot or pressure cooker, you can whip up perfectly cooked chicken legs in just 20 minutes.
The skin crisps up perfectly, just like baked chicken drumsticks, but in a fraction of the time!
4. Oven Garlic Bread
Garlic bread is perfect for dipping into potato soup! I like mine crispy so it holds up to the soup but with this recipe, you can make your bread as soft or crispy as you like.
All it takes is a loaf of French bread, butter, and garlic powder (plus Parmesan cheese if you like yours a little cheesy).
5. Rhode's Rolls
When in doubt, make a batch of frozen Rhode's rolls with herb butter! You can set the rolls out on the counter and let them rise until dinnertime, then just brush them with herb butter and pop them in the oven!
Rhode's rolls are soft and fluffy, just like they were made from scratch.
6. Pretzels
A fluffy jumbo pretzel and a bowl of potato soup make a tasty lunch! From start to finish, these homemade pretzels only take about 40 minutes to make.
You can dunk your pretzel or serve it with your favorite dipping sauces on the side! Cheese dip for pretzels is always a hit at my house.
7. Bisquick Biscuits
With just 2 ingredients and 15 minutes of time, you can have perfectly fluffy biscuits to serve with your soup! The Bisquick baking mix makes this recipe practically fool-proof, so even if you aren't confident in your baking skills it should be easy to pull off.
8. Rotisserie Chicken Salad
Chicken salad is so versatile and can be used in so many ways that all pair well with soup! You can enjoy it by itself, serve it with crackers or crostinis, turn it into sandwiches, or serve it over a lettuce salad.
This rotisserie chicken salad is one of my favorites, but my chicken salad with grapes would be tasty too!
9. Wedge Salad
Sure, you can serve a simple house salad but a wedge salad is much heartier and looks great on a plate! It's not any more difficult than making a traditional salad and you can always use your favorite dressing.
I like to keep mine simple with tomatoes, blue cheese crumbles, bacon, and blue cheese dressing, but you can customize it however you like!
10. Caesar Salad
A simple Caesar salad is always a great choice when serving soup, especially if you make the dressing from scratch! This recipe has no anchovies and is super quick and easy to make.
11. Yorkshire Pudding
You don't have to be Gordon Ramsay to make perfectly soft Yorkshire puddings. In fact, they only take about 15 minutes to prep!
These egg-based rolls are a great alternative to traditional rolls if you are looking to try something new.
12. Baked Beans
Baked beans are rich, smokey, and a little sweet which is the perfect complement to the smooth and creamy flavor of potato soup. I add ground beef and bacon for a heartier baked bean recipe that is always a crowd favorite!
13. Milk Butter Boiled Corn on the Cob
Corn on the cob is a great vegetable side dish to pair with potato soup. You can prepare it a number of ways, my favorite being boiled in milk and butter.
Boiling corn in butter and milk not only gives it flavor, but it makes the kernels wonderfully soft and juicy. Grilled corn on the cob and smoked corn on the cob are a few more you could try!
14. Hush Puppies
For an easy Southern side dish, whip up a quick batch of fried hush puppies! The outside is crispy and golden brown but the inside stays soft and bread-like.
These hush puppies certainly don't need any dipping sauce, but taste great in everything from tartar sauce to ketchup, or, potato soup!
15. Zucchini Fritters
Zucchini fritters are an easy way to use up extra zucchini, and they're tasty too! You can serve them as an appetizer with a dipping sauce like my Cajun dipping sauce, or serve them on the side of your soup.
You might have all the ingredients for this recipe in your kitchen already! They're on the table in about 30 minutes, so they are perfect for a last-minute dinner any day of the week.
I hope this list helped you decide what to serve with potato soup for lunch or dinner! Be sure to come back and let me know in the comments below how everything turned out!
>>>>See all of my recipes HERE<<<<
🍲 Tasty Soup Recipes
📋 Recipe