If you're wondering what to serve with hanger steak, any of these fabulously delicious sides would be the perfect choice! Better yet, choose 2 or 3 of them for a flavorful and well-rounded steak dinner that is out-of-this-world!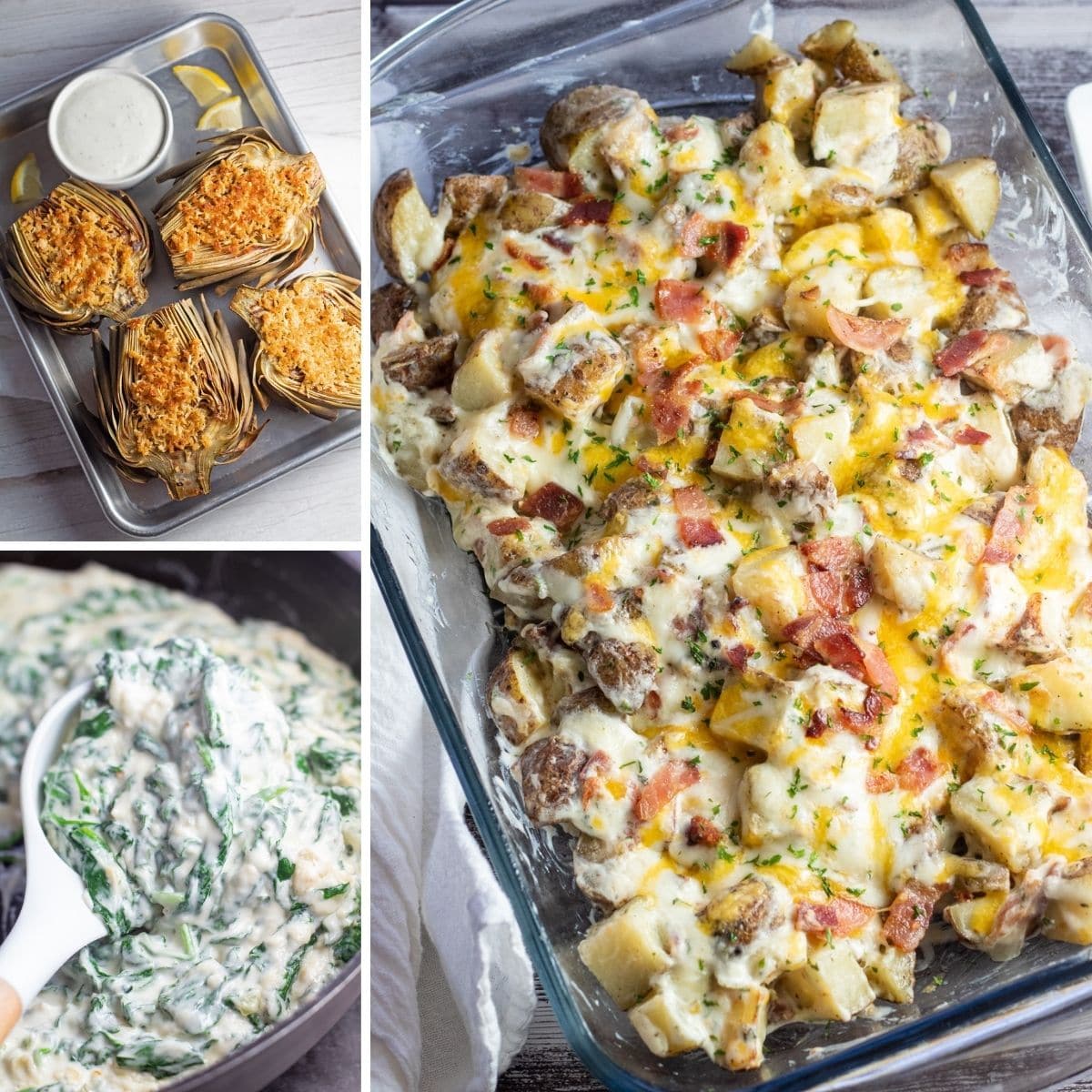 The very best sides to serve with a tasty, tender, juicy hanger steak!
Hanger steak is one of the most prized cuts of beef - and with good reason! It's usually associated with high-end restaurants and can be difficult to find at your local butcher.
However, if you can get a hold of this beef cut, the flavor is phenomenal! Whether it's your first time making hanger steak or your 101st, I'm here to help you plan your meal by offering a little inspiration!
Jump to:
Best Sides For Hanger Steak
Here are some of my favorite sides to answer your question about what to serve with hanger steak!
1. Garlic Red Skin Mashed Potatoes
Meat and potatoes go together like butter and popcorn. They're made for each other. Garlic red skin mashed potatoes are incredibly creamy and rich.
Roasted garlic adds a slight sweetness that intensifies the already amazing flavor. You'll want to make enough for leftovers!
2. White Cheddar Mac and Cheese
Continuing with the creamy side dish trend, I highly recommend white cheddar mac and cheese. It's everything you could want in a decadent Southern classic: cheesy, buttery, and garlicky.
3. Crockpot Green Beans and Potatoes
I'm a big fan of slow cooking, and this side is an excellent example of why. Not only does the food melt in your mouth, but the flavors have hours to blend and make everything in the pot taste outstanding.
It's easy to throw together and well worth a few hours of cooking.
4. Instant Pot Buttered Cabbage
Cabbage is an inexpensive way to add some serious flavor to your meal. Using an instant pot or pressure cooker reduces the time needed to cook and creates great texture.
All it takes is some chicken broth, butter, and salt and pepper to make this a dish to remember. And this savory, buttery veggie is a perfect pair for your hanger steak.
5. Succotash
Succotash seems to be absent from most people's radar these days, but it was once a very common dish in the south. Full of butter beans, corn, bacon, onion, and red bell pepper, this is also almost a meal in itself.
It's filling, flexible, and easy.
6. Cheesy Bacon Ranch Potatoes
If you haven't tried cheesy bacon ranch potatoes, you don't know what you've been missing! This recipe mixes potato chunks with sour cream, cheese, crispy bacon, and ranch dressing mix.
It's absolutely as good as it sounds and will be a crowd favorite when served alongside a good hanger steak. Plus, you can personalize it with hot sauce, gourmet salts, different cheeses, and more!
7. Steakhouse Creamed Spinach
Mozzarella, cream cheese, and Parmesan make steakhouse creamed spinach one of the cheesiest, richest, most decadent options out there. With over a pound of spinach, you'll get your vegetables, too!
This dish is good as a side or even a topping for steak. Butter, onion, and garlic flavors blend well with almost anything.
8. Sauteed Mushrooms and Onions
Rich, meaty mushrooms and sweet onions are one of my favorite combinations. You might assume correctly that butter, garlic, salt, and pepper are all part of the dish, but worcestershire is the secret ingredient.
It adds a flavor boost that everyone will appreciate. And if you're out, red wine is also pretty spectacular.
9. Baked Sweet Potato
Baked sweet potatoes are an incredibly simple way to please your dinner guests. Crispy on the outside and fluffy on the inside, these tasty sides add color and intrigue to any meal.
Sweet and savory fans will love a bit of cayenne pepper. Dessert lovers will enjoy cinnamon and brown sugar. Everyone wins.
10. Sauteed Zucchini and Yellow Squash
It's a delightful summer treat straight from the garden. Just slice, saute, and add garlic, lemon, and Parmesan.
The only seasoning you need is salt and pepper! From start to finish it only takes 10 minutes. Weeknight dinners just got a lot easier.
11. Roasted Broccoli with Garlic and Parmesan
Roasted broccoli has such a different taste than raw or steamed! If you've never roasted it before, this might just be your new favorite recipe.
Top it off with garlic and Parmesan when it comes out of the oven, and it's ready to serve. Simplicity can be fantastic!
12. BBQ Bacon Wrapped Brussel Sprouts
BBQ bacon wrapped brussel sprouts will be a hit at your next barbecue. Savory sprouts are brushed with a bit of smoked paprika-honey butter before being wrapped up in salty bacon and put on the grill.
It tastes exactly as good as it sounds. Dip in your favorite BBQ sauce to cool it down!
13. Milk Butter Boiled Corn on the Cob
Much as the name implies, boil your corn on the cob in water, milk, butter, and a bit of sugar for the softest, sweetest results you can get! Kernels soak up the rich liquid for a plump, tasty treat all the way through.
Milk brings out the natural sugars in the corn even without sweetening the pot. Throw on some paprika for a colorful garnish.
14. Cauliflower Mac and Cheese
Here's another show-stopping mac and cheese, and there isn't even any pasta in it! It's cheesy, buttery, and tangy as the traditional thing, but its main ingredient is cauliflower.
Spicy black pepper and baby spinach bring a lightness to the dish that sets it apart from some of the more indulgent versions. And as an added bonus, this recipe can easily be made gluten-free.
15. Parmesan Roasted Artichokes
Artichokes are an extra special addition to any meal. Place them on a beautiful serving platter for a party and cover them in panko, Parmesan, lemon butter and garlic.
Dip leaves in sour cream, pesto sauce, or lemon juice to bring it to the next level.
We hope you've found the perfect sides to compliment your hanger steak! Let us know how your steak dinner turned out by leaving us a message in the comments below!
📋 Recipe