If you're looking for what to serve with cabbage rolls, anything from this list of delicious side dishes will pair perfectly! If you prefer something savory we've got you covered and if you'd rather make something light, we have that too! You can't go wrong with any of these recipes when you are trying to decide what to serve with cabbage rolls!
Sides To Serve with Cabbage Rolls
Living in the Midwest, many delicious Scandinavian foods make their way into the rotating menu of our household. Cabbage rolls have always been a family favorite. Even as a child, I couldn't get enough of this savory, hearty dish!
While cabbage rolls might not have been part of everyone's upbringing, they are currently enjoying a mainstream resurgence thanks in no small part to the popularity of low carb diets.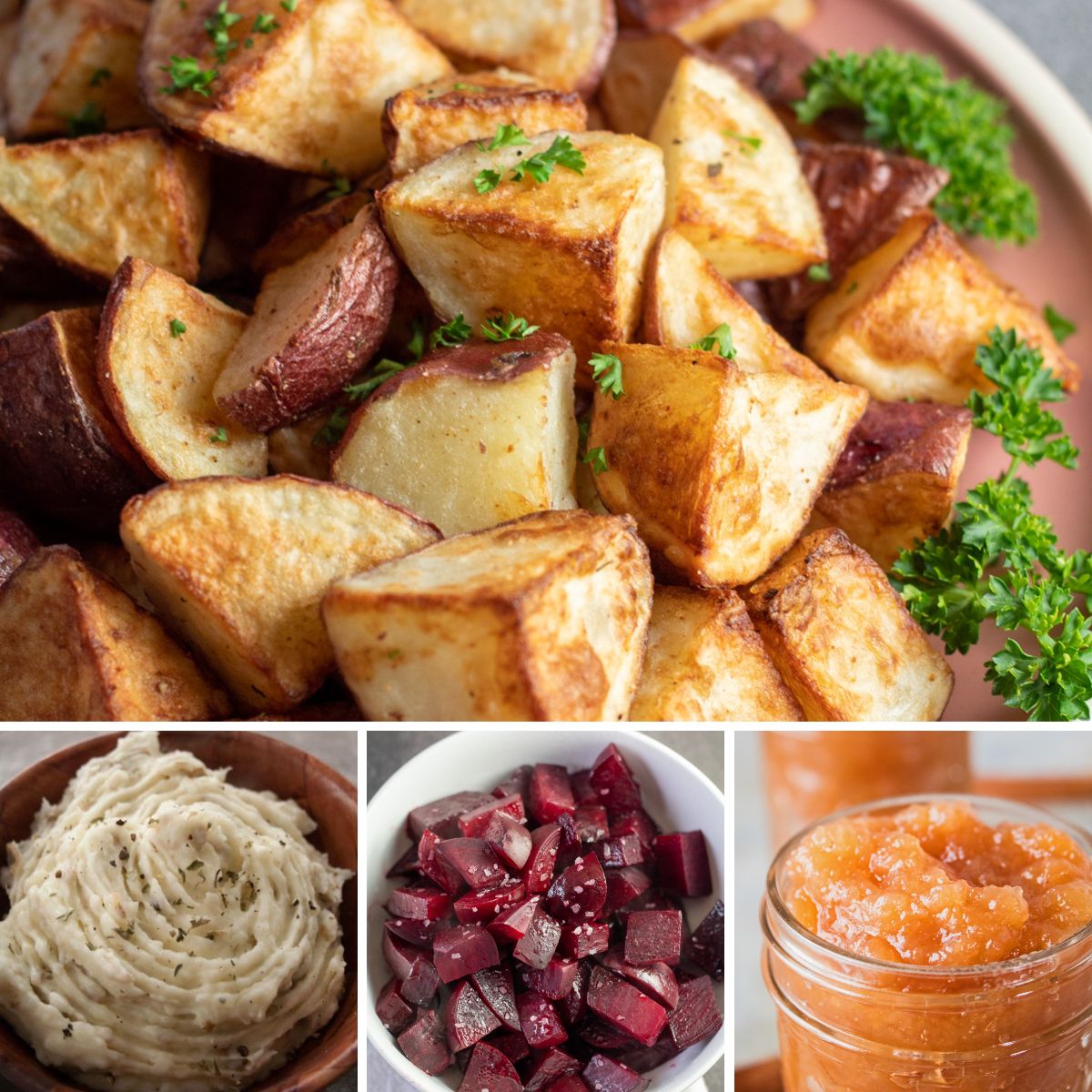 Jump to:
Cabbage rolls are great for their versatility. Depending on how they are prepared and what they are served with, they can easily be a stellar side dish or the main event.
Read on below for awesome suggestions on what to serve with your cabbage rolls!
1. Roasted Broccoli with Garlic and Parmesan
This roasted broccoli dish is a great addition to your cabbage rolls, particularly for anyone looking to keep your meal low carb.
Roasting the broccoli rather than sautéing or steaming provides for a nice light crisp texture. The added mouth-watering flavors of parmesan and garlic make this a must-try side.
2. Sauteed Mushrooms and Onions
Is there anything that isn't made better with the addition of sautéed mushrooms and onions?
This super simple recipe will help take your cabbage rolls to the next level. I would suggest serving these mushrooms and onions directly on top of your cabbage rolls for a delicious blend of savory flavors.
3. Cucumber Vinegar Salad
I love making this recipe all summer long when the cucumbers are plentiful and in season. It's quicker and easier to make than anything this delicious has the right to be.
If you're looking for a dish to serve with your cabbage rolls while still keeping the meal light, look no further than this salad.
4. Cauliflower Mac and Cheese
All the comfort of the classic dish you love with half of the guilt. Cauliflower is the perfect vessel for all that gooey, cheesy goodness.
Cauliflower Mac & cheese alongside cabbage rolls will make for a hearty and crowd-pleasing meal.
5. Macaroni and Tomatoes
This is another dish that instantly transports me back to my Midwestern childhood. Macaroni and tomatoes were an absolute staple in our household as it's both inexpensive and simple to make.
Macaroni and tomatoes are a perfect addition to any cabbage dish for a warming, Scandinavian meal.
6. Creamy Roasted Tomato Basil Soup
While there are many lovely store-bought soups these days, nothing beats homemade. This rich, creamy soup will warm you to your core.
Soup and cabbage rolls both make stellar leftovers. Plan to make extra and enjoy this tasty combo over several days.
7. Roasted Red Potatoes
Crispy and flavorful, these roasted red potatoes are roasted to golden brown perfection! This variety of potatoes holds their shape well making them perfect for roasting.
An easy and cheap side dish to accompany your cabbage rolls.
8. Creamy Roasted Garlic Mashed Potatoes
This garlicky delight is sure to be a crowd-pleaser. It works equally well for a casual weeknight dinner or a more formal family gathering.
9. Honey and Herb Oven Roasted Carrots
The addition of honey to the dish helps to bring out the subtle sweetness of the roasted carrots.
The carrots play against the savory characteristics of cabbage rolls. It's also a versatile veggie side that partners well with almost anything you can think of.
10. Crockpot Applesauce
If you have never made applesauce at home, you do not know what you're missing out on! This recipe calls for using a crockpot so you can just set it and forget it.
You may only associate applesauce with your child's lunch, but applesauce is actually a traditional condiment for a variety of Polish and Scandinavian dishes.
11. Slow Cooker Kielbasa and Sauerkraut
Sauerkraut is finely cut, fermented cabbage that is used as an accompaniment to a variety of Central European foods Including kielbasa and sausages.
The sauerkraut in this recipe adds a tangy zing and a crunchy contrasting texture to the kielbasa. Pairing this with cabbage rolls results in a hearty meal that could feed an army.
12. Cabbage Soup
Use the remainder of the head of cabbage once you've finished your rolls to make this simple soup.
The soup is deeply flavorful and comes together easily. If you end up with more than you need, it's a great leftover to pair with a sandwich for a quick lunch.
13. Lemon Asparagus Orzo
A simple, yet elegant dish that is sure to impress your guests. The combination of lemon and asparagus makes this side feel bright and fresh.
14. Oven Garlic Bread
Soft and buttery, there is nothing that oven-baked garlic bread does not go well with. It's perfect for a busy night when you need something that can be prepped and cooked super quickly.
It's also a great solution for soaking up all of the delicious sauce left on the plate from your cabbage rolls.
15. Roasted Beets
Roasting beets is a great alternative to boiling them. It helps to retain the earthy flavor and texture while still leaving you with a tender finished product.
Root vegetables always pair well with cabbage and this recipe is no exception.
We hope we've helped you decide on what to serve with cabbage rolls! Any of these incredible recipes would pair wonderfully, so you can't go wrong!
📋 Recipe