Blueberry recipes are always a hit and though they are delicious any time of year, they make particularly wonderful summertime treats! Blueberries make wonderful desserts, quick breads, and appear quite frequently on the breakfast table. Check out all of our favorite blueberry recipes and decide which ones you would like to try next!
The Best Blueberry Recipes
Blueberries may be small, but they are quite the superfood. They contain anthocyanin which is an antioxidant that allows them to be the color blue, as well as high levels of vitamin C and potassium.
Blueberries are very common in the United States and are in many recipes, especially desserts and sweet breakfast dishes. Some people even like to eat them straight out of the container as a snack.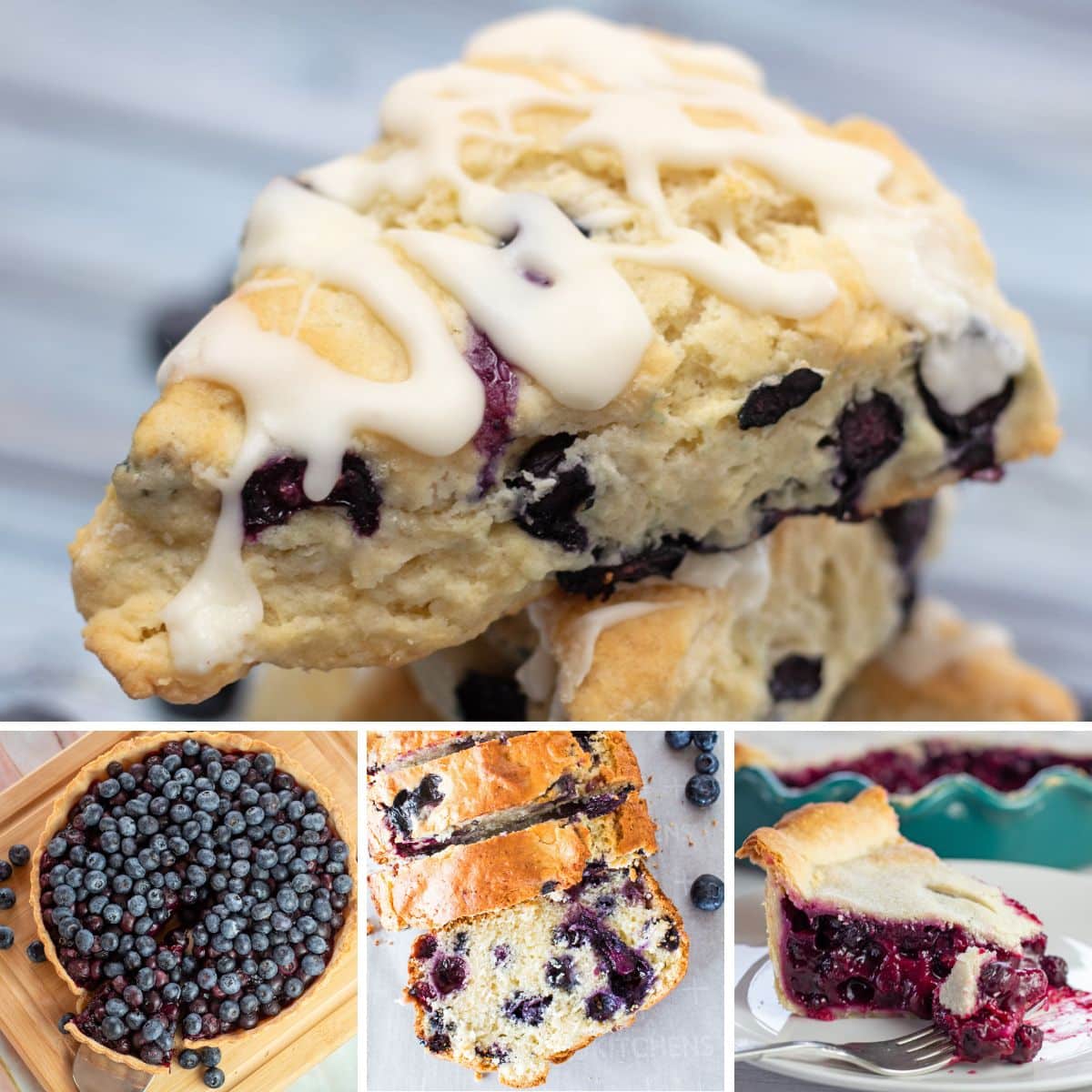 Jump to:
If you love blueberries, then you will love the recipes we have listed below, each one is unique and contains plenty of blueberries and other delicious ingredients.
1. Cherry Blueberry Dump Cake
Cherry blueberry dump cake is packed with delicious cherry pie and blueberry pie filling, which blend perfectly together with white cake mix and butter.
This dump cake is great for any occasion, birthdays, holidays, you name it this cake is easy and delicious!
2. Blueberry Muffin Bread
Blueberry muffin bread may be your new favorite breakfast treat! This muffin bread is moist, delicious, and easy to make for quick mornings.
Slice it into thick slices and add butter or our delicious blueberry syrup for added flavor!
3. Blueberry Tart
A blueberry tart is every blueberry lover's dream! Not only is it filled with delicious blueberry pie filling, but it is also topped with fresh and ripe blueberries!
This blueberry tart is a great summer snack for brunch or a weekend barbecue! Top with a dollop of whipped cream for added flavor!
4. No Bake Blueberry Cheesecake
No-bake blueberry cheesecake is perfect for anyone who doesn't have access to an oven, or simply doesn't enjoy baking but wants a homemade cheesecake!
This blueberry cheesecake perfectly blends cream cheese, cool whip, and blueberry pie filling creating a no-bake cheesecake that you will love.
5. Blueberry Pie
Blueberry pie is one of my personal favorite types of pie, and after you try this recipe, I think you will agree! This blueberry pie adds citrusy lemon juice and warm cinnamon to balance the flavors perfectly.
Blueberry pie can be eaten warm or served cold. My advice? Let it sit for about 15 minutes, it will still be warm, but not too hot.
Take a nice big scoop of vanilla ice cream and plop it on top of a giant piece.
6. Blueberry Pie Filling
Blueberry pie filling is perfect for many recipes, not only can it be used for blueberry pie, but it can be used as filling for donuts, topping for cakes, or used in a few other recipes that we have listed in this roundup.
Double or triple this recipe and store the extra pie filling in the freezer for when blueberries are out of season!
7. Blueberry White Chocolate Scones
Blueberry white chocolate scones are flaky and full of flavor! The tart blueberries pair so well with the white chocolate chips, and the sweet icing on top will impress everyone!
Serve these at a bake sale, or take a dozen to your office to give your coworkers a little extra happiness!
8. Blueberry Cream Cheese Scones
Blueberry cream cheese scones are dense and delicious! The added cream cheese will allow these scones to be rich and moist, while the blueberries add a bold and tart flavor.
These scones are the perfect addition to Sunday breakfast, serve them with coffee, milk, or your favorite juice.
9. Homemade Blueberry Syrup
Move over maple, because this homemade blueberry syrup is going to be your new favorite pancake topping!
Use this syrup recipe to top waffles, French toast, or even as a topping for ice cream!
10. Banana Blueberry Muffins
Banana blueberry muffins are the perfect twist to regular blueberry muffins. The bananas add nutrients, sweetness, and extra flavor!
This blueberry muffin recipe only takes 30 minutes to make! This will leave you plenty of time for other tasks, like eating!
11. Blueberry Buckle
Blueberry buckle is a great recipe for anyone with a sweet tooth! This recipe combines delicious blueberries, along with a sweet cinnamon sugar topping.
No oven? No problem! This recipe can be made completely on the stove from start to finish!
12. Lemon Blueberry with White Chocolate Chip Cookies
Lemon blueberry and white chocolate chip cookies are a great twist on the average chocolate chip cookie recipe! The white chocolate chips are mild and sweet, while the lemon and blueberry add a little bit of citrus and tart flavors that blend wonderfully together.
This cookie recipe is perfect for lunches, after-dinner snacks, or as a potluck dessert!
13. Blueberry Pancakes From Scratch
Blueberry pancakes from scratch are perfect, paired with our blueberry syrup recipe! Each has just the right amount of blueberry flavor and sweetness.
Use this recipe for more than just pancakes, you can also make delicious homemade waffles, too!
Blueberries add bold flavor to many recipes and can be used year-round. Whether fresh or frozen, you won't be disappointed with the outcome of any of these delicious blueberry recipes!
📋 Recipe