Learn how to freeze turkey the right way so that your delicious, flavorful leftovers don't have to go to waste! Whether it is whole or sliced, this method will work perfectly! Get ready to enjoy some amazing turkey leftovers all year long!
Guide To Freezing Turkey
Preparing turkey can definitely take some time and effort. Afterward, you'll have some tasty leftovers to enjoy, but they'll only last for a few days in the fridge.
As the holiday host for any Thanksgiving turkey, I've tested and perfected storing turkey leftovers! This guide will walk you through exactly how to freeze your turkey for longer periods of time!
Jump to:
How Long Can Turkey Stay In The Fridge
When properly stored, your leftover turkey will last in the refrigerator for up to 3-4 days. If you want to store it for any longer than that, it is best to transfer leftovers to the freezer.
However, if you intend to freeze your turkey, you will have the best results if you freeze it within the first 1-2 days after cooking it.
Storing Leftover Turkey In The Fridge
To properly store your turkey in the fridge, you'll want to make sure that it is placed into an airtight container or storage bag. Remove any excess air and then transfer it to the refrigerator.
You can store it whole, sliced, bone-in, or boneless.
How Long Can Turkey Be Frozen
Frozen, raw turkey can be stored in the freezer indefinitely. Of course, I recommend cooking them within 1 year for the best texture and flavor.
For cooked turkey, on the other hand, your leftovers can be frozen for 6 months at most. In my experience, I have found that it is best enjoyed within the first 3 months, though.
Best Container For Freezing Turkey
Essentially, any freezer-safe bag or container will do. However, to lower the risk of freezer burn, you want as little contact with air as possible.
If using a container, make sure it is packed full of meat. For bags, you'll want to squeeze out any excess air.
I always prefer to use bags for a few reasons. First, I find it the easiest way to remove the air. Secondly, it is easier to store them in the freezer.
How To Freeze Turkey
Your turkey can be frozen whole, with the bone still in, or in slices or chunks. I prefer to slice or cube my turkey meat, but you can choose whichever way you prefer!
Freezing Sliced or Cubed Turkey
Cut your meat from the bone and either slice it or cut it into cubes.
Lay the meat onto a baking sheet lined with parchment or wax paper.
Place the sheet into the freezer for 1-2 hours or until frozen.
Transfer the turkey to your preferred container, removing as much excess air as possible.
Label and date the container using a permanent marker.
Store in the freezer for 3-6 months.
Freezing Bone-In Turkey Pieces
Separate your turkey into your desired sections (drumsticks, wings, etc.)
Wrap each piece tightly in plastic wrap.
Place all of the wrapped pieces into a large food storage bag.
Squeeze out any excess air and then label and date the bag.
Store in the freezer for 3-6 months.
Freezing A Whole Cooked Turkey
Wrap the turkey tightly in several layers of plastic wrap.
Next, wrap it in a layer of aluminum foil or freezer paper.
Label and date the turkey.
Freeze for 3-6 months.
How To Thaw Turkey
The best (and safest) way to thaw your turkey is by transferring it to the refrigerator and letting it defrost overnight. If you are defrosting a whole turkey (or a larger amount of meat), this could take up to 2 or 3 days.
Of course, this requires some planning ahead as it does take time.
If that's not an option, the next safest way to defrost your turkey is by placing the bag of frozen meat into a bowl of COLD water. The water will need to be changed every hour, though, and this could still take a while, depending on how much meat you have.
Finally, if defrosting only a small portion of turkey, you could use the defrost function on your microwave.
For raw Thanksgiving turkeys, take a look at my entire guide to safely and effectively thawing turkey!
How To Use Leftover Turkey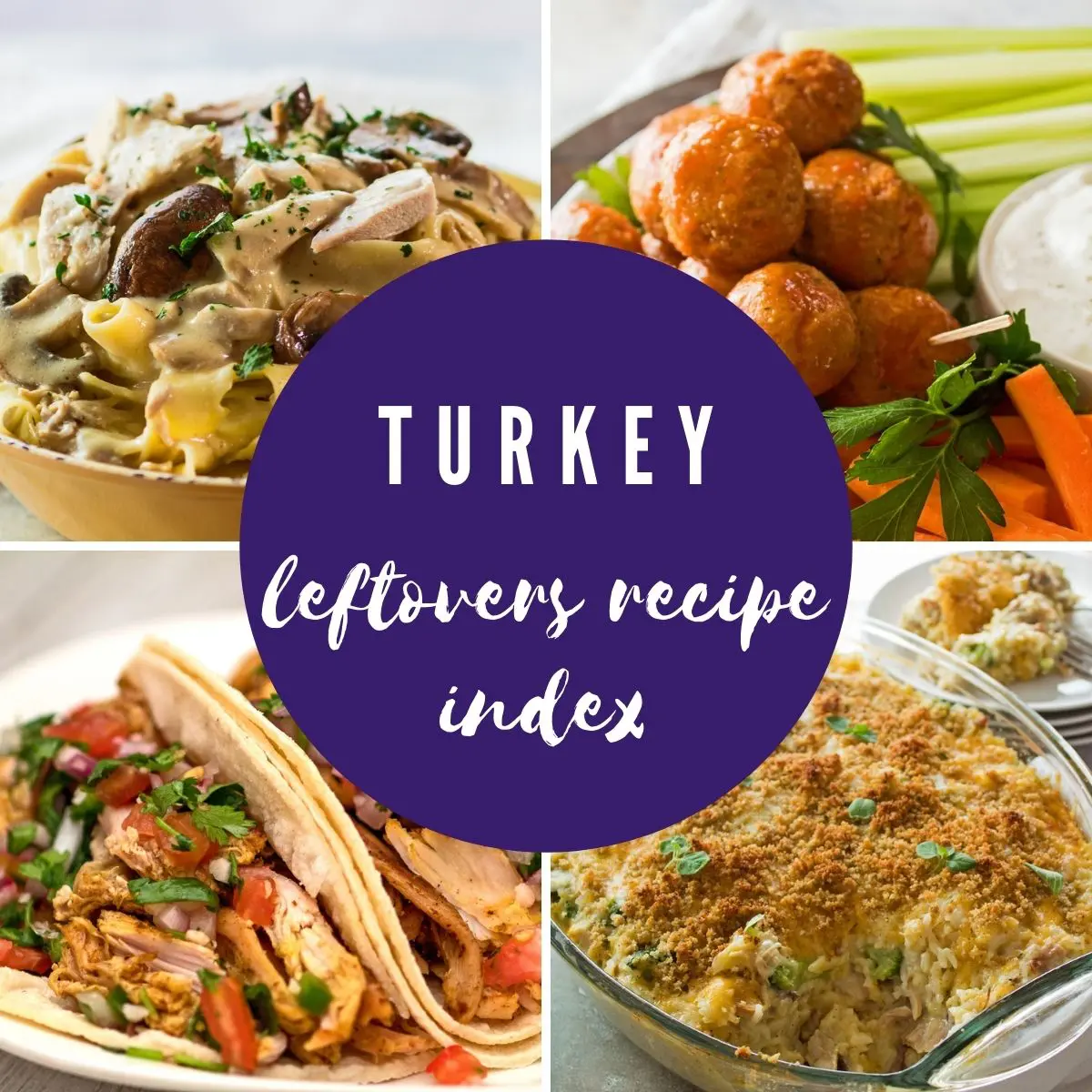 Depending on the recipe (like casseroles and stews), you may be able to add your turkey while it is still frozen and not have to bother with defrosting it first.
Check out these awesome leftover turkey recipes!
>>>>See all of my recipes HERE<<<<
💭 Tips For Freezing Turkey
Don't freeze your turkey if it is already on the verge of spoiling. It will go bad quickly once it has thawed.
Leftover turkey that has been frozen and thawed should not be frozen again. Make sure to use it!
Don't thaw your turkey at room temperature, as it could allow bacteria to grow, causing food-borne illnesses.
Now you know how to easily freeze turkey! Leave a comment below and let me know what you will be making with your leftovers!
Do you love a recipe you tried? Please leave a 5-star 🌟rating in the recipe card below and/or a review in the comments section further down the page.
Stay in touch with me through social media @ Pinterest, Facebook, Instagram, or Twitter! Subscribe to the newsletter today (no spam, I promise)! Don't forget to tag me when you try one of my recipes!
📖 Recipe Card
Print Recipe
Leave A Comment
Love This Recipe?
Click On A Star To Rate It!
How To Freeze Turkey: Thanksgiving Roasted Turkey (+Tips & Tricks)
Learn how to freeze turkey the right way so that your delicious, flavorful leftovers don't have to go to waste! Whether it is whole or sliced, this method will work perfectly! Get ready to enjoy some amazing turkey leftovers all year long!
Cooking
2

hours
30

minutes
Total Time
3

hours
45

minutes
Pin Recipe
Share on Facebook
Ingredients
16

lb

turkey

(thawed)

½

cup

butter

(softened, at room temperature, divided)

1

medium

yellow onion

(peeled, halved, and quartered)

1

large

lemon

(washed, halved, and quartered)

1

large

orange

(washed, halved, and quartered)

1

head

garlic

(peeled and cloves crushed)

¼

teaspoon

each, salt & pepper

(to taste)

¼

teaspoon

garlic powder

¼

teaspoon

thyme

½

teaspoon

poultry seasoning

(optional)
Help Us Out!
If you love a recipe, be sure to come back and share your ratings. This helps future users, and allows me to continue sharing free recipes! Angela
Instructions
30 minutes before you begin, remove the turkey from the fridge so that it can come to room temperature. This is also a good time to take out the butter so it can soften.

16 lb turkey,

½ cup butter

Preheat your oven to 450°F (230°C) and place a roasting rack or tray into a large roasting pan.

Remove the turkey from its packaging as well as the contents of the cavity (neck, gizzards, heart, liver, and sometimes a gravy packet). Rinse both the inside and outside of your turkey and then pat it dry using paper towels.

Transfer it to your roasting rack and generously season the interior of the turkey with salt and pepper. Then, fill the cavity with the onion, garlic cloves, orange, and lemon.

1 medium yellow onion,

1 large orange,

1 head garlic,

1 large lemon

In a small mixing bowl, add softened butter, salt, pepper, garlic powder, thyme, and optional poultry seasoning if using. Mix until well combined.

½ cup butter,

¼ teaspoon each, salt & pepper,

¼ teaspoon garlic powder,

¼ teaspoon thyme,

½ teaspoon poultry seasoning

Gently loosen the skin of the turkey with your fingertips and spread half of the herb butter under the skin, covering the breast and legs.

Tuck the wing tips under and use butcher twine to hold the legs together. Spread the remaining herb butter all over the entire outside of the turkey, including all sides.

Leave your turkey uncovered and place it in the preheated oven. Then, reduce the temperature of the oven to 350°F (175°C) and cook for 13 minutes per pound (with no stuffing) or 15 minutes per pound (with stuffing).

Remove your turkey from the oven and baste it using the drippings from the pan every 45 minutes. Keep your oven closed while you are basting the turkey so that the temperature stays steady.

Remove your turkey from the oven when it reaches 155-160°F (68-71°C).

Carefully transfer the cooked turkey to a cutting board or your serving platter, then cover loosely with aluminum foil. Save the drippings for gravy (if desired). Allow your turkey to rest for about 1 hour before carving and serving.
Equipment You May Need
Notes
Take a look at my guide for how to safely thaw turkey for some tips and tricks!
Allowing your turkey to come to room temperature will help it to cook evenly and minimize shrinkage.
An unstuffed turkey cooks at about 13 minutes per pound. However, since the cavity is stuffed with oranges, lemons, onions, and garlic, it will take slightly longer to cook at about 15 minutes per pound.
Turkey should never be cooked at a temperature that is lower than 325°F (163°C) due to safety. 
If the presentation of your turkey is not vital, you can achieve an incredibly moist turkey breast by cooking the bird with the breast side facing down.
The hardest spot to get to cook evenly with your turkey is the thigh joint, to help with this don't tie the legs together, and you can even use a sharp knife to cut deeper into the joint. This will cook your turkey evenly, quickly, and perfectly.
To store: Remove the meat from the turkey and transfer it to an airtight container. Keep it in the fridge for up to 4 days.
To freeze: You can place your meat into zip-top freezer bags and freeze them for up to 3 months.
To reheat: Place your meat into a baking dish with some chicken broth and butter then cover with aluminum foil. Bake in the oven at 350°F (175°C) until heated all the way through. 
Nutrition
Calories:
522
kcal
(26%)
|
Carbohydrates:
4
g
(1%)
|
Protein:
70
g
(140%)
|
Fat:
24
g
(37%)
|
Saturated Fat:
8
g
(50%)
|
Polyunsaturated Fat:
5
g
|
Monounsaturated Fat:
7
g
|
Trans Fat:
0.4
g
|
Cholesterol:
247
mg
(82%)
|
Sodium:
445
mg
(19%)
|
Potassium:
786
mg
(22%)
|
Fiber:
1
g
(4%)
|
Sugar:
3
g
(3%)
|
Vitamin A:
388
IU
(8%)
|
Vitamin C:
11
mg
(13%)
|
Calcium:
52
mg
(5%)
|
Iron:
3
mg
(17%)
how to freeze turkey, thanksgiving roasted turkey, Thanksgiving turkey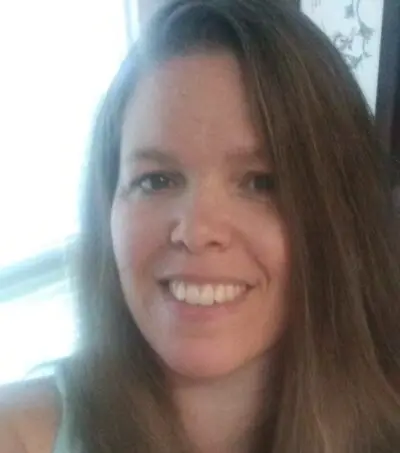 Angela is an at home chef that developed a passion for all things cooking and baking at a young age in her Grandma's kitchen. After many years in the food service industry, she now enjoys sharing all of her family favorite recipes and creating tasty dinner and amazing dessert recipes here at Bake It With Love!