Cajun recipes are full of robust and zesty flavors, so we've featured some of the best dishes out of Louisiana for you to make at home! This list includes everything from savory side dishes to classic Cajun entrees, even a good old-fashioned Cajun seafood boil! Spice up dinnertime with any of these incredible Cajun recipes!
Best Louisiana Cajun Recipes
Cajun cuisine is a unique blend of French and Southern cooking, with a dash of Spanish and African influence. These easy Cajun recipes have a smoky and bold taste that will spice up your meal.
So if you're looking for some new recipes to try, look no further than this list of easy Cajun recipes. You'll be sure to find a new favorite dish. Bon appétit!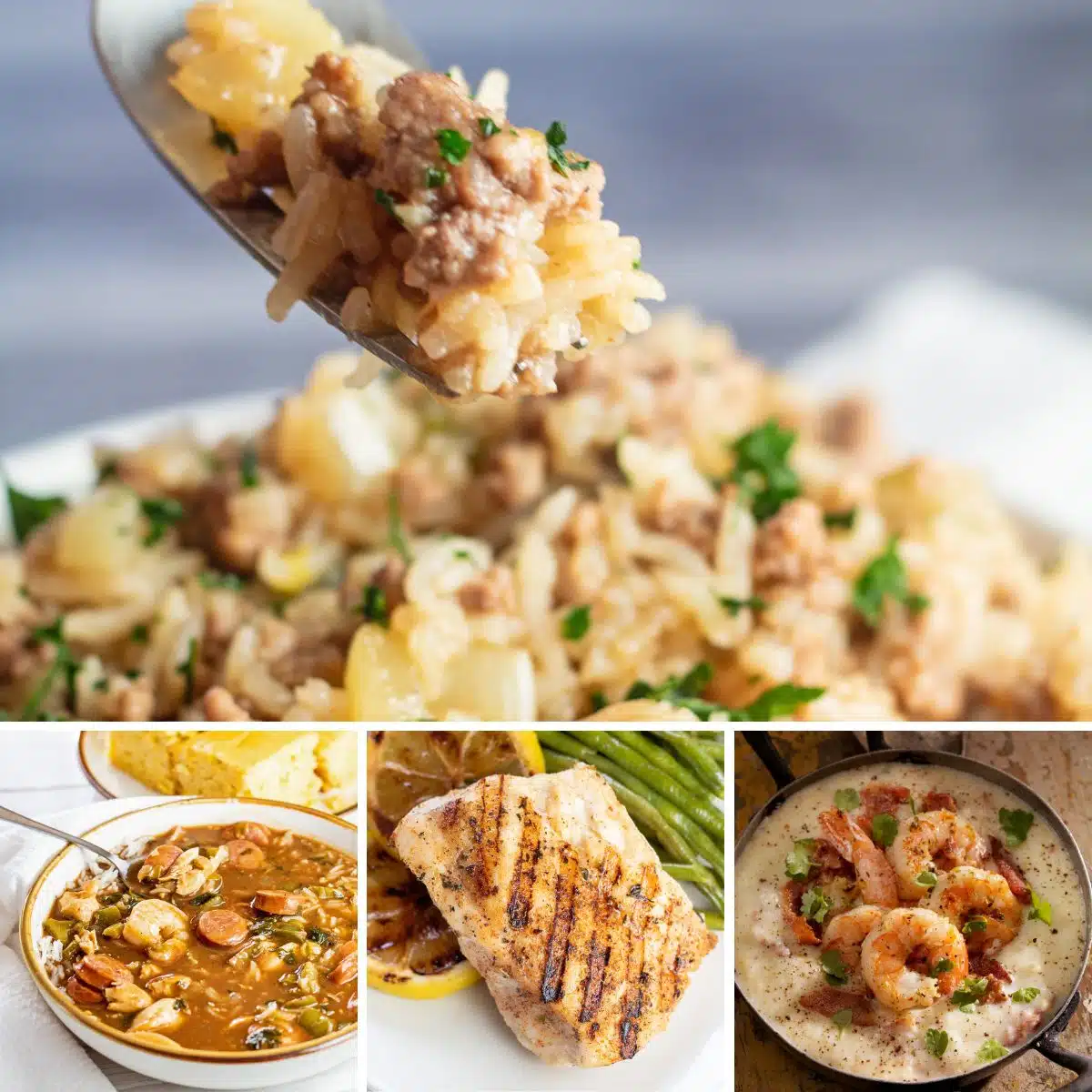 Jump to:
1. Cajun Sausage Pasta
If you're looking for a delicious and easy weeknight meal, look no further than Cajun sausage pasta! This dish is simple to make and features a spicy and flavorful andouille sausage that will leave you wanting more.
Plus, it's perfect for busy families since it only takes about 30 minutes from start to finish. Give this Cajun sausage pasta recipe a try today!
2. Blackened Fish
Who doesn't love blackened fish? It's a healthy, fast, and easy dish that can be made with any type of fish.
This recipe is for cod, but you can use any white fish. The best part is that you probably have all the blackening ingredients in your pantry.
3. Dirty Rice
Dirty rice is a classic Louisiana dish made with white rice, ground beef, ground pork, bell peppers, celery, and onions. It's packed with flavor and perfect for a hearty meal.
This recipe is simple to follow and can be adapted to your liking.
4. Crawfish Etouffee
Crawfish etouffee is a Louisiana classic, and it's perfect for a casual family dinner. This dish is simple to prepare, and the crawfish tails give it a delicious flavor.
Serve with some hot French bread and you'll have a meal that your whole family will love.
5. Cajun Cabbage Stew
Cajun Cabbage Stew is an easy one-pot meal that the whole family will love. This dish is packed with protein and vegetables, making it a healthy, hearty meal.
Whether you're looking for a weeknight dinner solution or something to bring to a potluck, this stew is sure to please. give it a try today!
6. Red Beans & Rice
Red beans and rice is a classic Creole dish that is popular in Louisiana. This dish is made with red kidney beans, rice, and various seasonings, and it can be served as a main course or side dish.
There are many different ways to make red beans and rice, and this recipe is one of my favorites. It is easy to prepare and it tastes great! I hope you enjoy it.
7. Cajun Shrimp
This Cajun shrimp recipe is perfect for those nights when you want something tasty and easy to make.
It's also great for families since it's really affordable and everyone will love the spicy Cajun flavor. Pair with tomatoes & rice or pasta for a more filling meal.
8. Seafood Boil
How about a Cajun seafood boil? It's easy to make, and the whole family will love it!
You'll need some gulf shrimp, crawfish, potatoes, corn on the cob, and smoked sausage. Serve with your favorite seafood sauce or seasoning! Enjoy!
9. Cajun Fries
Whether you're a mom, dad, home cook, or part of a family, there's one thing we can all agree on: Cajun fries are delicious! And this recipe is sure to please everyone in your family.
10. Gumbo Soup
Do you love gumbo as much as we co? It's one of our favorite dishes to make, and there are endless variations you can try.
In this recipe, I'll show you how to make a classic gumbo with shrimp, chicken, and andouille sausage - but as a rich, flavorful soup. I promise it will be a hit with your family!
11. Instant Pot Jambalaya
If you've ever been to Louisiana, you know that jambalaya is a staple dish. This Creole one-pot meal is so versatile, that it can be made with just about anything. And, best of all, it's easy to make!
In this recipe, I'll show you how to make classic jambalaya the quick and easy Instant Pot way!
12. Shrimp & Grits
Is there anything more comforting than a big bowl of shrimp and grits? This classic southern dish is perfect for a weekend breakfast or dinner.
And it's easy to make at home, with just a few simple ingredients. Shrimp and grits are always a hit with kids and adults alike, so it's always a crowd-pleaser!
13. Grilled Grouper
If you're looking for an easy, healthy fish dish to cook on the grill this summer, look no further than grouper. This mild-tasting fish pairs well with a variety of flavors, making it a versatile choice for any menu.
Grilling grouper is also a great way to take advantage of those warm summer evenings. So fire up the grill and try out this delicious Cajun grilled grouper recipe!
14. Oven Fried Catfish
Ditch the oil and try oven fried catfish instead. This catfish is super crispy, not at all greasy, and goes just perfectly with a side of tartar sauce.
You get the whole fried catfish experience without any of the guilt!
15. Roasted Okra
It's not a southern cookout without some roasted okra. It's an easy vegetable side dish that is relatively healthy but totally delicious!
After some light seasoning, these okra are downright deliciously snackable.
16. New Orleans BBQ Shrimp
New Orleans flavor BBQ shrimp are full of buttery, zesty flavor! It's an easy last-minute recipe you can whip up at a moments notice.
This recipe is not technically BBQ. However, it includes pan-seared shrimp in a buttery Worcestershire sauce that is so delicious that you won't care that it's not BBQ.
📋 Recipe