Here's what to serve with hummus so that you can turn your tasty dip into an unforgettable meal that the whole family will love! From grilled meats to homemade bread bowls, there are plenty of easy options to choose from! Hummus is quick to prepare, and these recipes are just the thing to complete your meal!
Foods To Eat With Hummus As A Meal
Hummus is a delectable dip that can be made in a variety of ways and is typically served as an appetizer or snack. However, if you are wanting to prepare hummus as the highlight of a meal, there are plenty of great options to pair with it!
While pita chips and veggie sticks are common choices, there are more filling options to choose from. You can pair your hummus with a tasty wedge salad, salami sandwich, or any of the flavorful dishes below!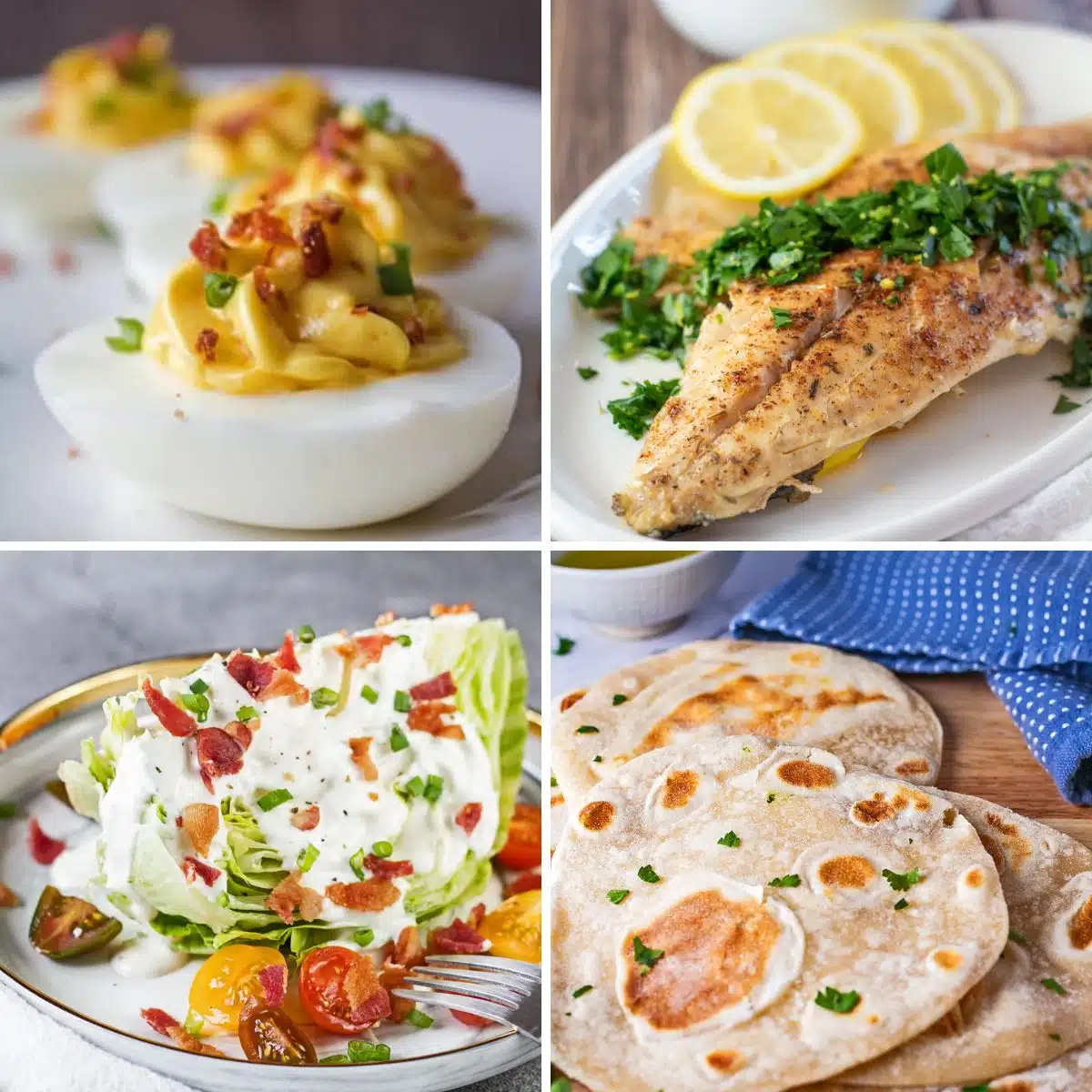 Jump to:
If you've never made homemade hummus before, check out my easy hummus recipe that is ready to serve in just 5 minutes!
Typical Hummus Pairings
Commonly served items include falafel or beanballs, veggies (celery, carrots, snap peas, radishes, peppers, cauliflower, jicama, green beans, or cherry tomatoes), fruits like apple slices and pear slices, tahini, crackers or pretzels, pita chips or bagel chips, grissini or bread sticks, and crostini with olive oil.
1. Flatbread
Flatbread is incredibly easy to prepare, and its airy texture provides a wonderful contrast to the creamy and dense consistency of hummus! The softness of flatbread allows you to scoop up a generous amount of hummus, and the simplicity of its flavor won't overpower the star of the show.
Homemade Flatbread
This homemade flatbread is so easy, versatile, and delicious that it is going to become a new staple recipe in your household! It doesn't take very long to rise and is cooked in a skillet in a matter of minutes! Use it to make pizzas, sandwiches, and wraps, or just enjoy it by itself!
Check out this recipe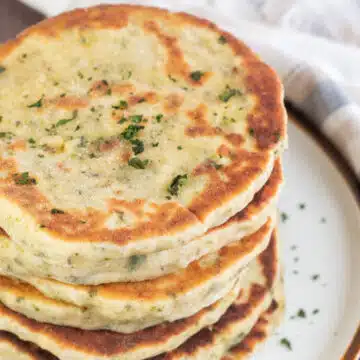 2. Deviled Eggs
Deviled eggs are a timeless favorite for gatherings, holidays, and parties that will pair well next to a bowl of hummus! These tasty eggs feature a filling with the classic combination of mayonnaise, vinegar, salt, pepper, and mustard.
Deviled Eggs
These deviled eggs are a classic, time-honored recipe that is supremely easy to make and quite simply the best ever! Some things just don't need improving, and these yummy deviled eggs are one of those things! Of course, you can always change them up with stir-ins or add-ons, but these eggs will be just like the ones from your childhood!
Check out this recipe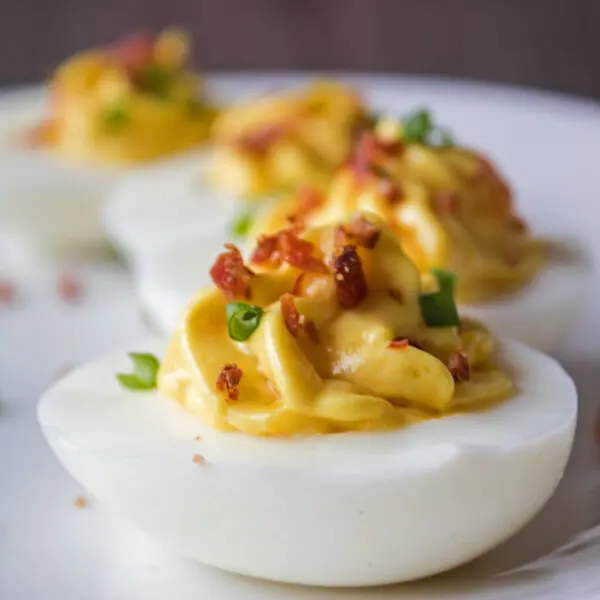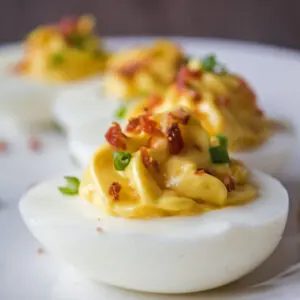 3. Easy Air Fryer Pretzel Bites
If you are looking for an easy appetizer to serve alongside your favorite hummus, these air fryer pretzel bites are just the thing! They're the perfect combination of salty, soft, and chewy - plus, your kids will love them as much as you do.
Easy Air Fryer Pretzel Bites
These easy air fryer pretzel bites are the perfect salty, soft, and chewy appetizer for any party, game day, or family gathering! This easy recipe features refrigerated pizza dough and a few ingredients for a simple egg wash to brush on the bites before they air fry. Serve them with some tasty cheese dip, ranch dip, or your favorite mustard for a shareable snack everyone will love!
Check out this recipe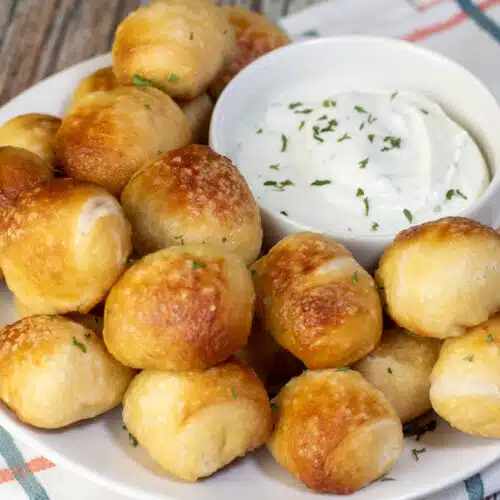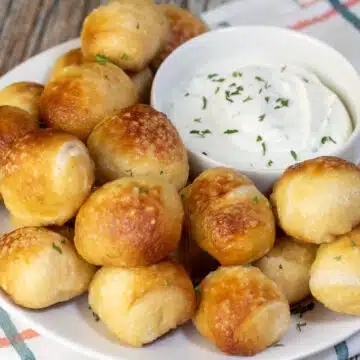 4. Rustic Bread or Homemade Bread Bowls
This delicious rustic bread is not only easy to make, but it is also perfect for tearing into pieces to dip into your hummus. Its sturdy structure allows you to load up a good amount without having to worry about the bread falling apart or becoming soggy!
Another great bread option is my homemade bread bowls! These are great for serving party dips (or soup). Plus, you don't need any bread-making experience or even a bread machine!
Rustic Bread
This no-knead Rustic Bread is an easy-to-make tasty bread with a delightful crust and the perfect amount of chewiness! Mix up your dough, let it rise, then turn it out and shape it with as little handling as possible for a super all-purpose bread that the whole family will love!
Check out this recipe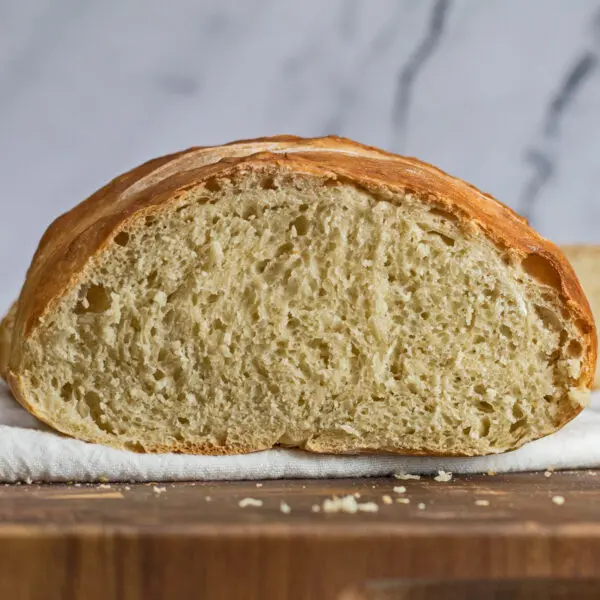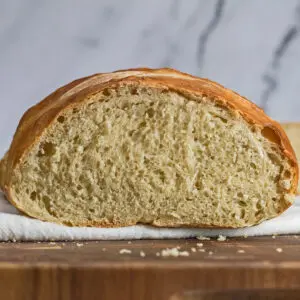 5. Salami Sandwich
Nothing beats enjoying some of your favorite hummus with a delicious salami sandwich loaded with mayo, lettuce, tomatoes, and mozzarella cheese! Whether you are looking for a quick and easy lunch or dinner, it's sure to be a hit with everyone!
Salami Sandwich
The salami sandwich is a quintessential classic that is a hit for lunch or dinner any day of the week and any time of the year! I love to stack the salami with tasty, fresh ingredients for the best sandwich build ever! Grab a crusty baguette or ciabatta roll, or keep it simple with sourdough or white sandwich bread!
Check out this recipe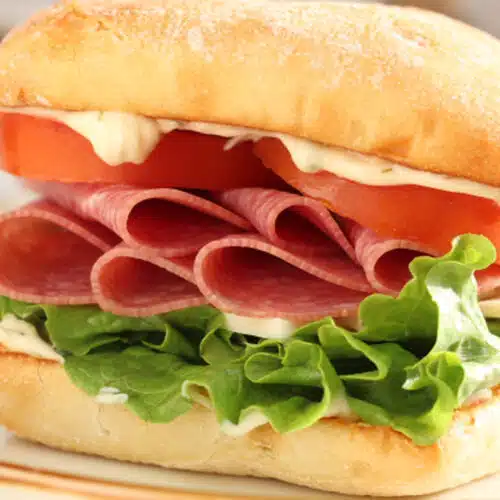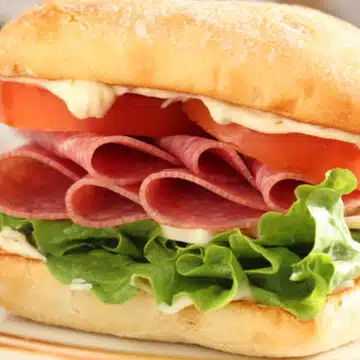 6. Wedge Salad
A classic wedge salad goes well with a large variety of dishes, and serving it with some hummus is no exception! My version features iceberg lettuce, bacon, blue cheese crumbles, tomatoes, chives, and an easy blue cheese dressing, so it has a perfect balance of flavors.
Wedge Salad
This classic wedge salad made with iceberg lettuce is crisp and full of tasty ingredients like blue cheese, bacon, and tomatoes! No basic side salad can compare to a huge wedge of fresh lettuce loaded with delicious toppings! Plus this tasty wedge side salad is super easy to throw together!
Check out this recipe
>>>>See all of my recipes HERE<<<<
7. Fruit Cocktail Salad
Fruit salads are easily customizable and provide a pleasant textural contrast to the creaminess of hummus. You can opt for a classic mix like berries, melon, and citrus fruit or experiment with more unique combinations!
No matter what you choose, a fruit cocktail salad is always an excellent addition to your hummus meal. My fresh fruit salad, ambrosia salad, or Greek yogurt fruit salad would be delicious too!
Fruit Cocktail Salad
My easy fruit cocktail salad features a rainbow of different fruit and a sauce made with pineapple and vanilla pudding that is incredible! This is a fabulous summer side dish or dessert that can be made using fresh or canned fruit, it's delicious either way! Try a refreshing fruit cocktail salad at your next get-together!
Check out this recipe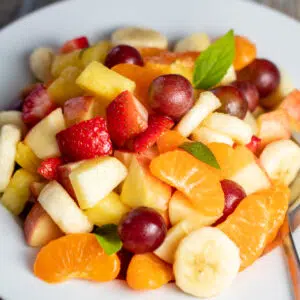 8. Grilled Tomahawk Ribeye Steak
The combination of tomahawk ribeye and hummus is sure to leave a lasting impression. You can add a dollop of hummus on top or dip slices of steak directly into it. Either way, this duo is sure to impress every time!
Grilled Tomahawk Ribeye
This grilled tomahawk ribeye is a steak of epic proportions that will wow your guests with its tender texture and incredible flavor! I use an easy reverse-sear method that keeps the meat inside delightfully juicy while still giving the outside a wonderfully golden-brown crust. It's a steak right out of any meat-lover's dreams!
Check out this recipe
9. Grilled Branzino
Grilled branzino is an incredibly easy-to-make white fish that any seafood lover will enjoy. It has a mildly sweet flavor that will go well with the earthy and plant-based tones of hummus beautifully!
Grilled Branzino Recipe
Grilled branzino (or European bass) is an easy, tasty fish dinner that will be on your table and ready to enjoy in less than 15 minutes! It is perfectly seasoned and grilled until it has a wonderfully crispy skin. No one will believe how effortless this restaurant-quality meal was to make!
Check out this recipe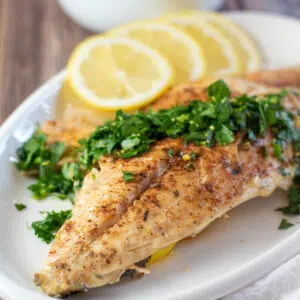 10. Olive Dip
This savory olive dip is loaded with green olives, cream cheese, cheddar cheese, mayonnaise, and seasoning, making it a great appetizer for any occasion. Pair it with a bowl of hummus, your favorite veggie slices, and crackers, and watch how quickly it disappears.
Olive Dip
Olive dip is a delicious and savory appetizer that's perfect for entertaining or as a quick and easy snack. Made with salty green olives, this dip is loaded with rich, bold flavors that are sure to delight your taste buds. Best of all, it takes only a few minutes to make, then you can just pop it in the fridge until you need it!
Check out this recipe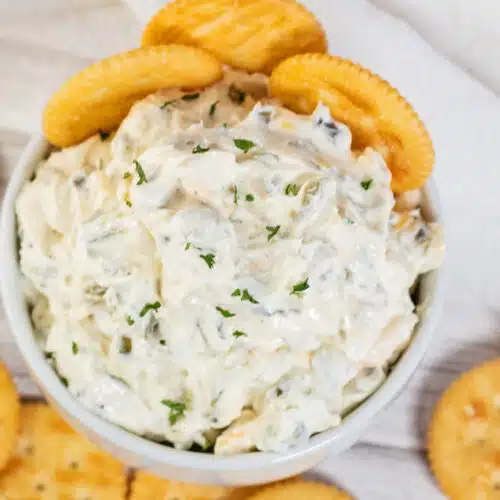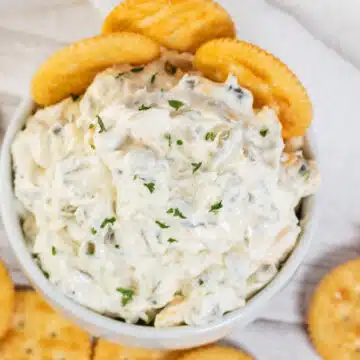 11. Flatbread (No Yeast)
If you've never tried your hand at making bread before, then this flatbread (with no yeast) is the perfect place to start! With only 4 ingredients that result in a pliable texture, it's perfect for serving alongside your hummus or using as a base for some delicious sandwiches.
Flatbread (No Yeast)
This flatbread (no yeast) recipe is for quick and easy homemade flatbreads you can whip up right on the stovetop! There are only 4 ingredients, so it's the perfect recipe to try your hand at making bread from scratch! You can fold them, wrap them, or dip them - these flatbreads are incredibly versatile!
Check out this recipe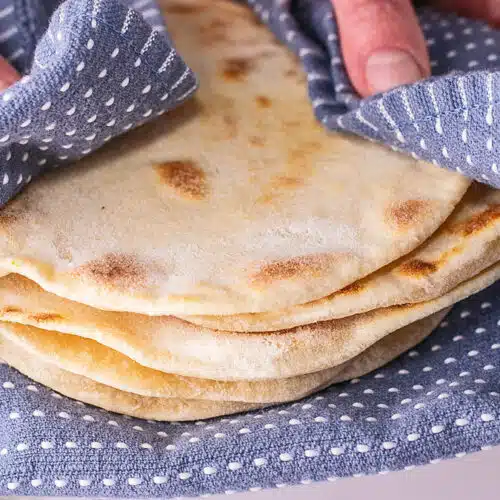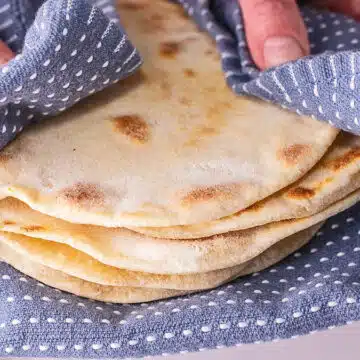 Tips For Choosing What To Serve With Hummus
Below are a few serving tips to help you pull together an incredible hummus meal! Don't be afraid to offer a variety of options; you'll want to choose a few sides based on your family's personal preferences.
Raw or grilled vegetables: Hummus is often served with either fresh raw veggie slices or a medley of grilled vegetables. The creamy texture of hummus pairs extremely well with the refreshing crunch of cucumbers, bell peppers, carrots, and celery. If you prefer grilled vegetables, zucchini, eggplant, or bell peppers, can also be a wonderful pairing.
Bread: When you think of hummus, Pita bread usually comes to mind as the accompaniment. However, you can also pair it with slices of French bread, sourdough, Naan, or even tortilla chips. For a healthier option, consider whole-wheat bread or crackers.
Grilled Protein: Hummus tastes delicious with grilled skewers of meat like lamb, beef, or chicken. It even pairs well with seafood, sausages, and falafel.
Salads: Did you know that hummus can be used as a dressing for salads too? Try pairing it with a Greek salad, tabbouleh, or any salad that includes feta cheese and your favorite olives.
Eggs: For a great protein-packed snack or light lunch, serve your hummus with hard-boiled eggs or deviled eggs!
Added spices and ingredients: Consider the flavors and ingredients that you add to your hummus when pairing with other dishes. Traditional hummus pairs well with most foods. However, hummus flavored with something like roasted red peppers or olives may pair well with savory sides.
When you're in the mood for hummus, you can't go wrong pairing it with any of these delicious options! It's all about your personal preferences! Leave me a comment down below if you try any of them out!
😋 More Tasty Dip Recipes
Do you love a recipe you tried? Please leave a 5-star 🌟rating in the recipe card below and/or a review in the comments section further down the page.
Stay in touch with me through social media @ Pinterest, Facebook, Instagram, or Twitter! Subscribe to the newsletter today (no spam, I promise)! Don't forget to tag me when you try one of my recipes!
📋 Recipe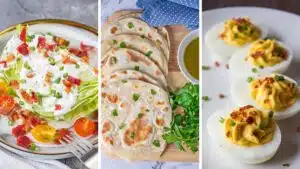 Print Recipe
Leave A Comment
Love This Recipe?
Click On A Star To Rate It!
What To Serve With Hummus: Creamy Hummus Pasta Sauce (+More Tasty Recipes!)
Here's what to serve with hummus so that you can turn your tasty dip into an unforgettable meal that the whole family will love! From grilled meats to homemade bread bowls, there are plenty of easy options to choose from! Hummus is quick to prepare and these recipes are just the thing to complete your meal!
Pin Recipe
Share on Facebook
Ingredients
¼

cup

pasta water

(reserved from your pasta of choice)

2

tablespoon

olive oil

(extra virgin)

1

tablespoon

garlic

(optional, minced)

1

cup

hummus

(see my recipe or use store-bought)

1

lemon

(juice and zest)

each, salt & pepper

(to taste)

fresh basil leaves

(optional garnish, or oregano, parsley, or thyme)
Help Us Out!
If you love a recipe, be sure to come back and share your ratings. This helps future users, and allows me to continue sharing free recipes! Angela
Instructions
Cook your preferred pasta to al dente as instructed on the package. Reserve

¼ cup pasta water

and drain the rest.

Meanwhile, heat

2 tablespoon olive oil

in a skillet over medium heat. Add

1 tablespoon garlic

, if using, and sautee until fragrant (about 30 seconds).

2 tablespoon olive oil,

1 tablespoon garlic

Reduce the heat to low and stir in

1 cup hummus

until warmed through.

Slowly stir in the reserved pasta water until the sauce is creamy and smooth.

Mix in the juice and zest of

1 lemon

and season with

each, salt & pepper

to taste.

1 lemon,

each, salt & pepper

Toss with your preferred cooked pasta and garnish with

fresh basil leaves

if desired.
Equipment You May Need
Notes
I recommend trying 1 cup of my easy hummus recipe as the base for this sauce or you can use your favorite store-bought brand if preferred.
Using

¼ cup of the leftover

starchy pasta water helps to create a silky sauce that clings to your pasta.
Feel free to add other ingredients like sun-dried tomatoes, roasted red peppers, sauteed mushrooms, spinach, or grilled chicken as this recipe is incredibly versatile!
Garnish your pasta with fresh herbs like basil and a sprinkle of grated Parmesan cheese if desired before serving. You could also add a pinch of crushed red pepper if you prefer a spicier sauce.
To store: Store your cooled leftover creamy hummus sauce in an airtight container in the refrigerator for up to 3-4 days. It's best to store your cooked noodles in a separate container as it will absorb the sauce over time. This could result in a drier texture when reheated.
To freeze: Place your creamy hummus pasta sauce in a freezer-safe container or a heavy-duty storage bag (leaving some excess space, as it may expand). Store in your freezer for up to 3 months. Defrost in your refrigerator overnight before reheating.
To reheat: Transfer your leftover sauce to a saucepan or skillet. Reheat the sauce gently over medium-low heat on the stovetop. Combine with al dente noodles and toss before serving.
Nutrition
Calories:
117
kcal
(6%)
|
Carbohydrates:
8
g
(3%)
|
Protein:
4
g
(8%)
|
Fat:
9
g
(14%)
|
Saturated Fat:
1
g
(6%)
|
Polyunsaturated Fat:
2
g
|
Monounsaturated Fat:
5
g
|
Sodium:
157
mg
(7%)
|
Potassium:
124
mg
(4%)
|
Fiber:
3
g
(13%)
|
Sugar:
0.5
g
(1%)
|
Vitamin A:
16
IU
|
Vitamin C:
10
mg
(12%)
|
Calcium:
23
mg
(2%)
|
Iron:
1
mg
(6%)
best creamy hummus pasta sauce, best hummus pasta sauce, best hummus recipe, Creamy Hummus Pasta Sauce, healthy hummus recipe, homemade hummus pasta sauce, how to make a creamy hummus pasta sauce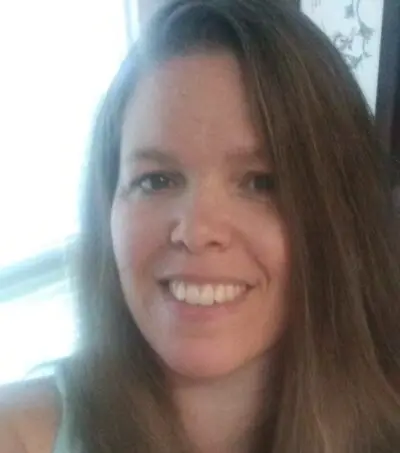 Angela is an at home chef that developed a passion for all things cooking and baking at a young age in her Grandma's kitchen. After many years in the food service industry, she now enjoys sharing all of her family favorite recipes and creating tasty dinner and amazing dessert recipes here at Bake It With Love!