For what to serve with beef ribs, take a look at this list of side dishes that have become our go-to recipes when we grill, smoke, or BBQ! If you prefer vegetables you have plenty of options, or if you prefer indulging in some comforting carbs we have that too! You can't go wrong with any of these incredible recipes when choosing what to serve with beef ribs!
The Best Sides For Beef Ribs
Nothing beats some juicy, fall-off-the-bone beef ribs that have been cooked low and slow to tender perfection. But how do you choose what to serve with them to complete the meal?
It's simple, just take a look at the best recipes to serve with beef ribs below! Each of these side dishes are tried and true favorites of my family, and soon they will be yours too!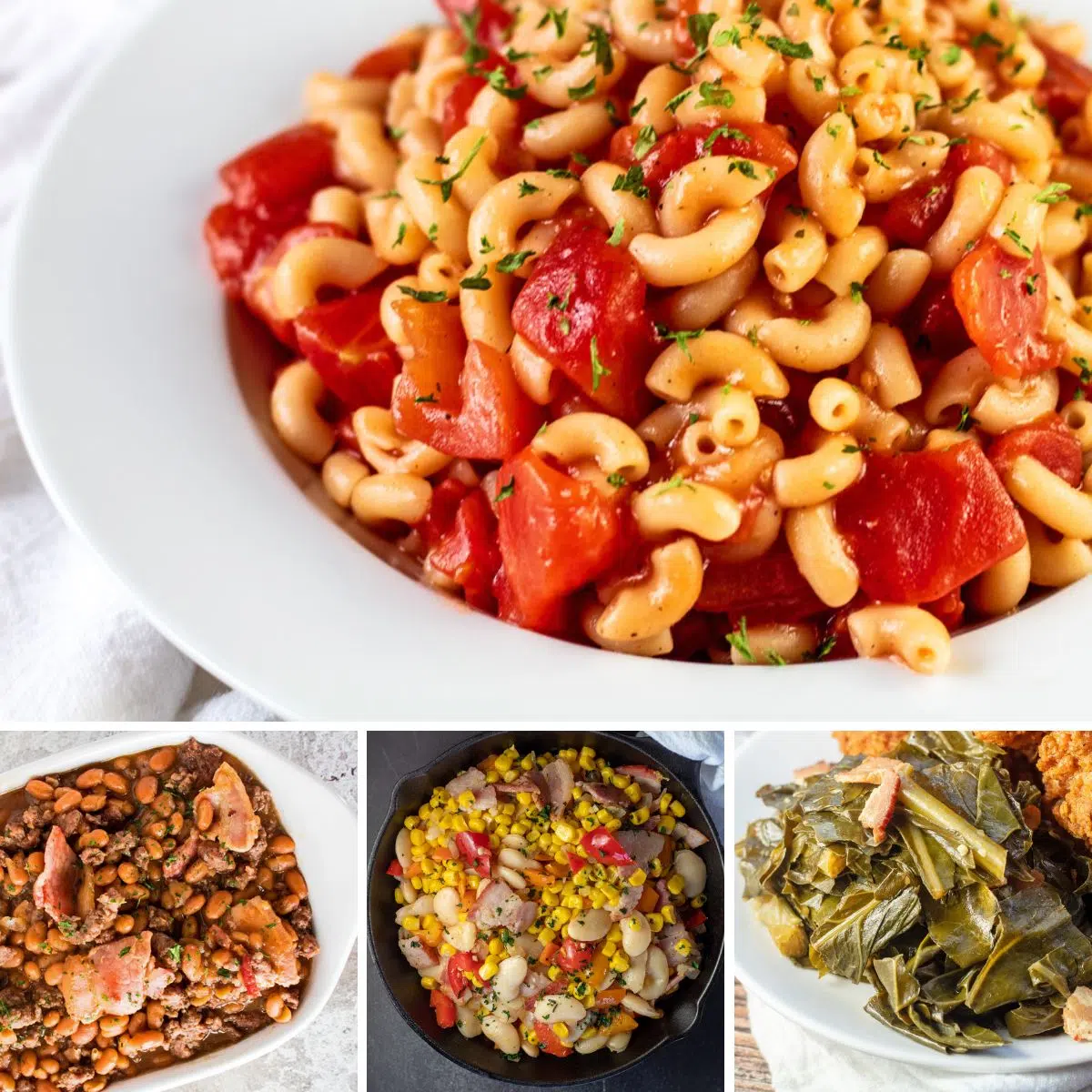 Jump to:
We love ribs of every variety! If you are planning on whipping up some pork ribs rather than beef, take a look at our favorite sides for pork ribs!
Or, if you plan on slathering some sauce on those ribs, give our 'what to serve with BBQ ribs' page a glance.
1. Milk and Butter Boiled Corn on the Cob
This method of boiling corn on the cob in milk and butter will change your life! The corn comes out so tender and juicy every time.
If you are already busting out the grill or smoker, smoked corn on the cob would also be a great choice to pair with your beef ribs dinner!
2. Macaroni and Tomatoes
This Southern classic sounds weird until you try it. A little bacon grease gives it its signature smokey bacon flavor that pairs just wonderfully with juicy bits of tomato and tender macaroni noodles.
Not only that, but it is so easy to make! There is practically no prep work involved.
3. Boiled Potatoes
Toss some boiled baby potatoes with butter and herbs, and you have a hearty side dish that could feed a crowd. This beef ribs side dish is beginner friendly and it only takes 15 minutes to make!
4. Wedge Salad
If you're craving some leafy greens, forget the boring old house salad and opt for a eye-catching wedge salad instead! A crisp wedge of fresh, green iceberg lettuce just makes your beef ribs feel a little more special.
5. Collard Greens with Bacon
If you aren't from the South you may not be familiar with collard greens yet, but you should be! And if you are from the South, you know this savory, salty side dish is a necessity at any cookout or backyard BBQ!
6. Southern Fried Corn
If you prefer your corn off the cob, try Southern fried corn instead! It is incredibly easy and chock full of bacon, garlic butter, and sauteed onions.
The slightly sweet, savory, and buttery combination of flavors will make you want to shovel this corn right into your mouth. You may need to make extra.
7. Smoked Asparagus
Instead of baking or sautéing asparagus, have you considered smoking it? If you have a smoker you won't regret tossing in a few stalks.
8. Southern Coleslaw
Crisp, creamy, and cool, coleslaw is maybe one of the most popular rib side dishes of all time. It's a little tangy, a little sweet, and it is great on sandwiches or on its own!
Everyone needs a go-to coleslaw recipe for last minute get-togethers, and this quick and easy recipe is right for the job.
9. Fruit Cocktail Salad
A bright fruit cocktail salad can be a fabulous side dish, appetizer, or dessert! Use fresh fruit that is in season, or cut back on prep and time by using canned fruit.
The fruit is coated in a sweet and creamy pineapple vanilla sauce that both kids and adults will enjoy!
10. Roasted Brussel Sprouts
This quick and easy recipe for roasted brussel sprouts is one you will want to make time and time again. They are delicious with beef ribs as well as just about anything else!
The crispy caramelized edges are the best part. Use fresh brussels or frozen, whatever you prefer!
11. Egg Salad
You can't have a cookout without egg salad. My super easy egg salad recipe has been perfected over time and it is definitely one for the books.
Serve it as a simple side dish, or make sandwiches for snacking while everyone waits on the main course!
12. Creamy Roasted Garlic Mashed Potatoes
Mashed potatoes are never a bad choice! They are right at home next to virtually any protein, but my creamy garlic mash compliments savory beef ribs particularly well.
Leftover mashed potatoes are even better the next day! If there's any left, that is.
13. Baked Sweet Potatoes
Baked sweet potatoes are a super easy side dish that everyone will enjoy. Add a little butter, sugar, and cinnamon for a sweeter potato, or some butter, salt, and pepper for a savory potato!
14. Succotash
Succotash may have a silly name, but this easy vegetable side dish is surprisingly hearty! Creamy butter beans, juicy corn kernels, and bacon are what will keep people coming back for seconds.
Succotash goes great with just about any meaty main course, especially beef ribs!
15. Baked Beans with Ground Beef and Bacon
Baked beans with ground beef and bacon are savory, sweet, a little smoky, and perfect for pairing with beef ribs (or any ribs)! This recipe is Southern home-cooking at its finest and will definitely help your guests bring on the impending food coma.
When choosing what to serve with beef ribs, you can't go wrong with any of these fabulous recipes! Tell us what's on the menu with your ribs in the comment section!
📋 Recipe