For what to serve with artichokes, take a look at these easy and delicious recipes that always hit the spot! This list includes the best main courses as well as some complementary side dishes to try! If you're looking for a new way to enjoy artichokes, you've come to the right spot!
Best Recipes To Serve With Artichokes
Artichokes are a delicious green vegetable with tender flesh and a meaty 'heart' that can be enjoyed whole or chopped up and mixed into other dishes. They have a mild, earthy taste that pairs well with a wide variety of flavors!
When it comes to what to serve with them, you can lean towards Italian or Mediterranean cuisines or try something new entirely! Here are a few great ideas to pair with your artichokes, whether you're preparing them whole or even if you enjoy them out of the can!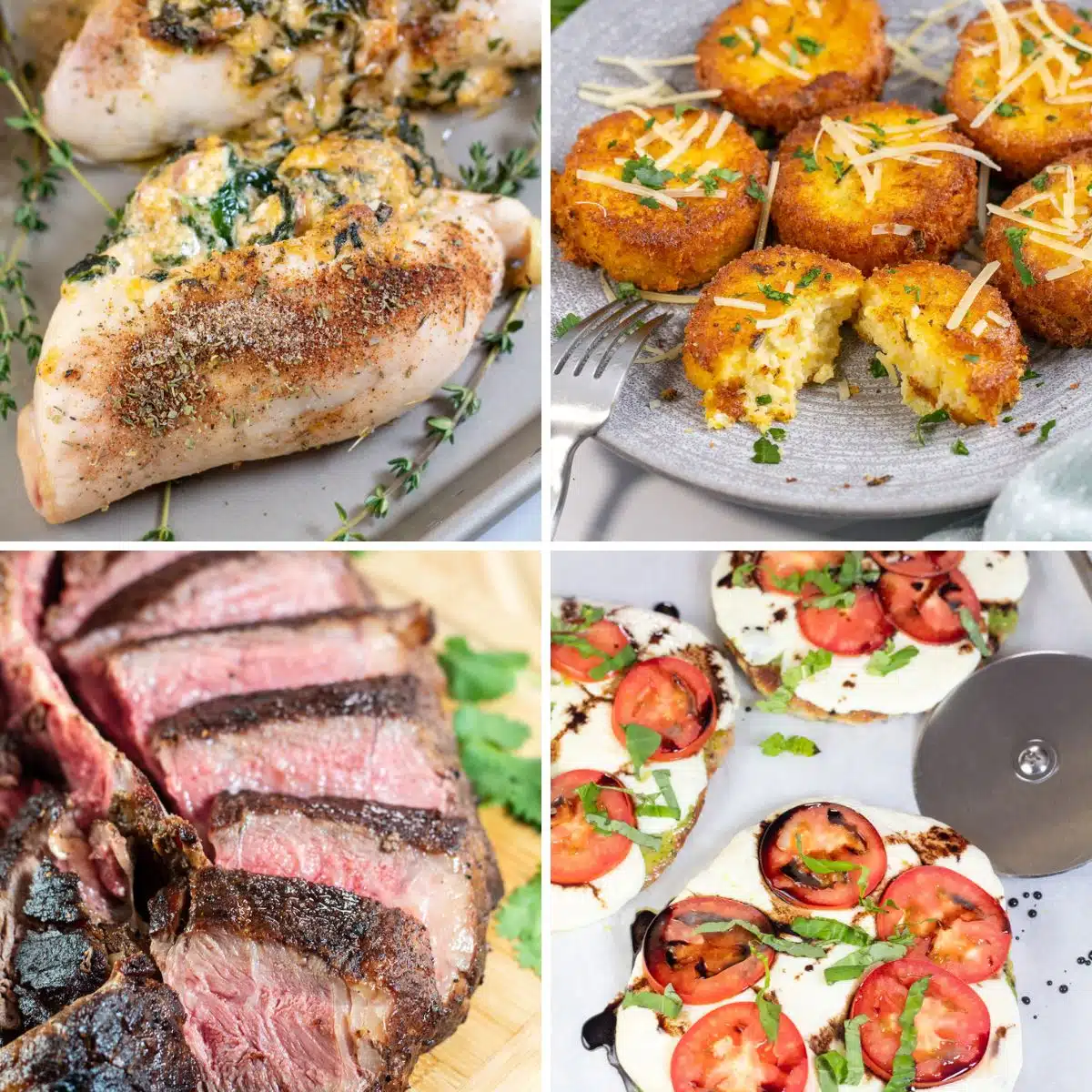 Jump to:
If you don't already have an artichoke recipe in mind, my baked Parmesan artichokes would taste wonderful with anything on this list! You could also try these easy Instant Pot artichokes or make some spinach artichoke dip!
1. Spinach Stuffed Chicken Breasts
Like artichokes, spinach has a neutral flavor, so naturally, they pair well together! These juicy chicken breasts are stuffed with a cheesy spinach filling, so they make an excellent main course after an artichoke appetizer (or with some artichokes on the side)!
2. Caprese Flatbread
A Caprese flatbread with layers of pesto, fresh mozzarella, juicy tomatoes, and fresh basil makes for a delicious lunch or dinner! Roasted artichokes to the side with some butter for dipping would make a great addition to the meal.
3. Rice Pilaf
Rice pilaf is fragrant and nutty with a mild earthy flavor that pairs wonderfully with artichokes. It's made with a combination of orzo pasta and long-grain white rice, which also makes it a great side dish for just about any protein!
4. Cheese Platter
If you want to keep things light, or you're looking for a complementary appetizer, a cheese platter is perfect for any occasion! Cheese and artichokes pair beautifully, as do the other ingredients you could add to your platter, like nuts or cured meats.
5. Creamed Corn
Creamed corn is a wonderful side dish to balance out the flavor of your artichokes. Where artichokes are mild, earthy, and meaty, this creamed corn is rich, sweet, and savory!
6. Florentine-Style Steak (Bistecca alla Fiorentine)
The flavor of this gorgeous Florentine-style porterhouse makes it the perfect candidate for your next meal that features artichokes. It stays true to the Tuscan theme, and it's incredibly easy to prepare at home!
7. Pasta Salad with Italian Dressing
The great thing about pasta salad (besides that it's delicious) is that you can make it in advance and let it chill in the fridge until you need it. A few chopped artichoke hearts would make a great addition to the salad itself!
>>>>See all of my recipes HERE<<<<
8. Caesar Salad
When in doubt, you can never go wrong with a Caesar salad made with fresh, crisp Romaine. It's even better if you whip up the Caesar dressing yourself!
9. Polenta Cakes
These crispy and delicious polenta cakes are the perfect starchy side dish to complement a lighter side like artichokes. They only take about 5 minutes to prep, and then you just chill them so they hold their shape and fry them until golden!
10. Oven Garlic Bread
Another Italian classic, garlic bread is a welcome addition to just about any dinner table! It's crispy, buttery, and perfect for soaking up any extra sauces from the main course.
11. Pasta with Basil Pesto Sauce
Pasta dishes pair well with artichokes in general, whether they are on the side or in the dish itself. Try your favorite pasta with some homemade basil pesto sauce and really impress your family or dinner guests!
12. Lemon Asparagus Orzo
Not only do asparagus and orzo pasta pair wonderfully with artichokes, but lemon is one of the most complementary flavors you can use! Mix in some artichoke hearts to make it a delicious vegetarian meal or a show-stopping side dish!
13. Italian Sausage Bake
For an easy family dinner idea, try this sausage bake with Italian sausage, rotini pasta, spaghetti sauce, and lots of cheese! It's the perfect main course to complement a light vegetable side dish such as artichokes.
14. Smoked Duck and Mushroom Risotto
If you're looking to impress, this smoked duck and mushroom risotto is a gourmet restaurant-quality dinner you can make at home! It's rich and creamy and will make any night feel like a special occasion.
15. Creamy Smoked Salmon Pasta
Seafood pairs well with artichokes, as does pasta, so seafood pasta is always a great choice! This smoked salmon pasta is one of my personal favorites, though you could also try my creamy seafood pasta or my creamy prawn pasta.
Tips For Choosing What To Serve With Artichokes
While artichokes pair well with many things, there are certain flavors and textures that complement them exceptionally well. Here are a few great suggestions to keep in mind when deciding what to serve with artichokes:
Dipping Sauces: Whole artichokes are typically served with melted butter or another tasty dipping sauce. You could try garlic butter, lemon butter, garlic aioli, or even a balsamic reduction!
Pasta or Rice: Rice or pasta dishes are a common addition to artichokes. Citrus-infused pasta recipes like this lemon garlic shrimp pasta pair particularly well! Rice made with fresh herbs is another great option.
Proteins: Pair artichokes with your choice of protein to create a well-balanced meal! Grilled or roasted chicken, fish, shrimp, or tofu all taste great with artichokes.
Salads: A fresh green salad or a Greek salad with tomatoes, olives, cucumbers, and feta cheese can make for a light and refreshing accompaniment to artichokes. For something heartier, try my Greek pasta salad!
Mediterranean Flavors: Artichokes have always been a staple in Mediterranean cuisine. Try serving them alongside hummus, tabbouleh, or falafels for a classic Mediterranean meal.
Artichokes have a mild flavor, which means they can be incorporated into many of your favorite meals! Let me know how you like to serve your artichokes in the comment section below!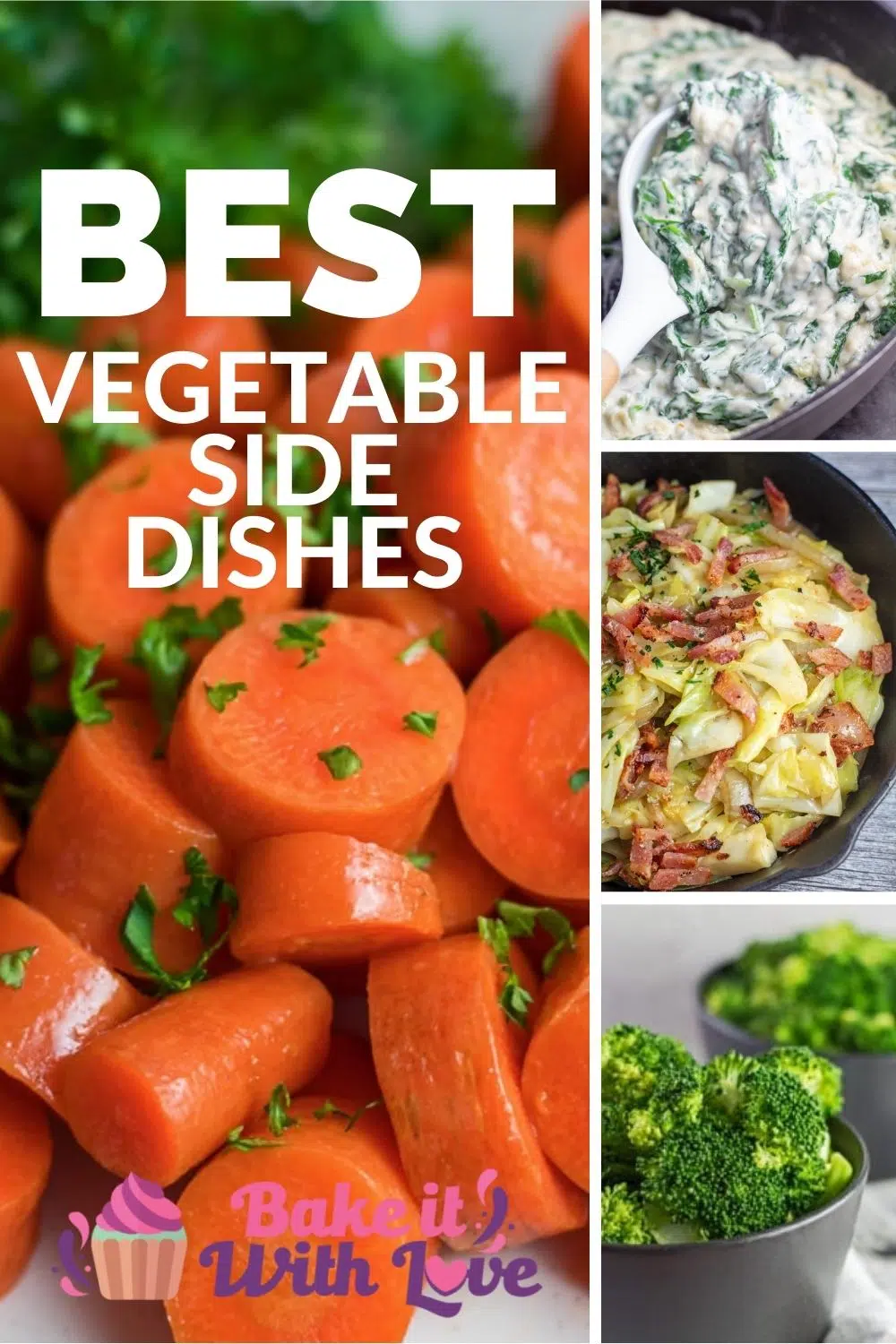 📋 Recipe