What is corned beef: A complete guide to everything you need to know about this incredibly popular cured meat! I cover how corned beef is made, what it tastes like, my favorite corned beef recipes, and more. You can even learn how to cure your own corned beef at home!
Guide To Corned Beef
Corned beef is beef (typically brisket) that has been cured for a long period of time with large-grained salt to preserve the meat and prevent bacterial growth. It is then cooked slowly which turns what was a tough cut of meat into tender and flavorful slices of beef we know and love.
During WWI and WW2, it was a popular meal because access to fresh meat was limited. In fact, to this day it is often served as rations for military all over the world. Nowadays, you can find it ready for purchase at most delis and supermarkets.
Jump to:
If you love Irish food as much as I do, be sure to stop by and check out all of my favorite Irish recipes!
📖 Why Do They Call It Corned Beef
The term was coined by the British back in the 17th century deriving from the large grains of rock salt (aka 'corns' of salt), that were used to cure the meat. Slices of beef were laid out and covered in these large corns of salt which would draw out moisture and help to prevent any bacteria growth.
🍀 Why Do People Eat Corned Beef On St. Patrick's Day
The relationship between corned beef and St. Patrick's Day can be traced back to the 19th century when the Irish began to immigrate to the United States. In Ireland at that time, people primarily consumed salt pork and corned beef was considered a luxury.
In America, the closest thing to salt pork was bacon which was much more expensive than other kinds of meat, namely corned beef. Yes, what was a meat that was mostly reserved for special occasions was now affordable and easy to obtain.
The Irish-American's mass-consumption of corned beef is what associated it to St. Patrick's day. The holiday quickly became less of a religious holiday and more of a celebration of heritage in which corned beef and cabbage was often enjoyed.
🥬 Why Is Corned Beef Often Served With Cabbage
The reasoning behind this classic pairing is simple. During the 19th century, cabbage was inexpensive and easy to source.
It only made sense to pair corned beef with the vegetables they had on hand. Clearly that choice was a good one, because the combination became tradition from there on out!
Fun Fact
On March 4th, 1861, Abraham Lincoln requested corned beef and cabbage be served as the main course at his first inaugural luncheon. That's less than 2 weeks from St. Patrick's day.
👅 What Does Corned Beef Taste Like
The texture of the meat is very soft and tender. Flavor wise, it is a perfectly balanced combination of beefy, salty, and spiced.
There is some briny flavor, but it is not overwhelming. Especially when served with mild flavored ingredients like potatoes, carrots, or cabbage.
🔪 How Is Corned Beef Made
Nowadays, it is typically made by taking the flat side of a brisket (as opposed to the point side, which is more marbled and falls apart easily) and submerging it in a pickling brine.
The brine can be customized but typically includes pickling spices, Kosher salt, pink curing salt, and sugar. All of it is added to a pot with water and boiled until the sugar has dissolved, then cooled.
The brisket is then added to the cooled brine and refrigerated for 5-7 days. After its stint in the fridge is up, it can be rinsed off under cool running water and slowly simmered until tender and cooked-through.
🥩 Why Is Corned Beef Sometimes Pink
The pink color you may have noticed comes from the sodium nitrite in pink curing salt (not to be confused with pink Himalayan sea salt). Sodium nitrite is also used in bacon and hotdogs, lending to their colors as well.
Without nitrates, cured beef is a pale gray color. Nitrate-free (gray) corned beef has been dubbed 'the New England variety'. No one is quite sure why that area opted out of using sodium nitrite, but it's become a signature meat for a 50 mile radius around Boston.
😋 What To Serve With Corned Beef
From Reuben sandwiches to corned beef & cabbage, corned beef is a key ingredient in some of our favorite meals! I have a full list of the best sides to serve with corned beef, but here are a few of my personal favorites:
If you were wondering 'what is corned beef?' I hope I was able to answer any questions you had in mind! If not, feel free to reach out to me in the comment section below!
>>>>See all of my recipes HERE<<<<
🍽️ More Great Irish Food
📋 Recipe
Print Recipe
Leave A Comment
Love This Recipe?
Click On A Star To Rate It!
What Is Corned Beef: Corned Beef and Cabbage (A Complete Guide To This Hearty Beef!)
What is corned beef: A complete guide to everything you need to know about this incredibly popular cured meat! I cover how corned beef is made, what it tastes like, my favorite corned beef recipes, and more. You can even learn how to cure your own corned beef at home!
Total Time
4
hours
20
minutes
Pin Recipe
Share on Facebook
Ingredients
3-4

lbs

corned beef brisket

2

cups

beef broth

23

oz

Guinness

(2 11.5 ounce bottles extra stout)

1

batch

homemade corned beef and cabbage seasoning mix

(see recipe)

2-3

tablespoon

coarse ground mustard

(I use Inglehoffer brand)

2-3

tablespoon

light brown sugar

2

tablespoon

garlic

(minced)

3-4

sprigs

fresh thyme

1

large

yellow onion

(sliced or diced)

10-12

red potatoes

(small red potatoes, use 5-6 medium)

6-8

carrots

(rough chopped, large pieces)

6-8

ribs

celery

(rough chopped, large pieces)

4

parsnips

(rough chopped, large pieces)

1

head

green cabbage

(cut into 8 wedges)

each, salt & pepper

(to taste)
Instructions
Preheat your oven to 325°F (162°C) and move the racks down so that your roasting dish will be centered in the oven.

In a large roasting pan or dutch oven, combine the beef broth and Guinness with the homemade corned beef and cabbage seasoning mix. Place your corned beef brisket portion, fat side up, in the center of your dutch oven or roasting pan.


3-4 lbs corned beef brisket,

2 cups beef broth,

23 oz Guinness,

1 batch homemade corned beef and cabbage seasoning mix

Coat the top of your corned beef with the coarse ground mustard, then sprinkle with brown sugar and season with salt and pepper. Cover and cook for 1 hour.

2-3 tablespoon coarse ground mustard,

2-3 tablespoon light brown sugar,

each, salt & pepper

Remove the roasting pan from oven, and transfer the corned beef to a cutting board. Then strain the liquids to remove whole herbs (if desired, OR a spice sachet or bouquet garni could have been used to place all whole spices). Return the strained liquid to the roasting pan.

Before returning the corned beef, add the minced garlic and sliced or chopped onion. Place the corned beef, fat side up again, in the center of your roasting dish. Add vegetables, arranged around the corned beef. Top with sprigs of fresh thyme and add the bay leaves.

2 tablespoon garlic,

2 bay leaves,

3-4 sprigs fresh thyme,

1 large yellow onion,

10-12 red potatoes,

6-8 carrots,

6-8 ribs celery,

4 parsnips,

1 head green cabbage

Cover and return the roasting pan to the center of your oven, continue cooking at 325°F (162°C) for an additional 2 hours - or a total of 1 hour per pound of corned beef. When the corned beef is fork tender, it is ready to serve.

Remove the corned beef and vegetables from the roasting pan, rest 15-20 minutes, then slice corned beef against the grain and serve with juices drizzled over when plated (if desired).
Stove Top Instructions
*To make corned beef on the stove top, follow the directions in the recipe: add the liquids, seasoning, place the meat fat side up in a dutch oven or large pot. Bring to a boil, then reduce heat to low and simmer for 2 ½ hours.


After that 2 ½ hours, add vegetables (except the cabbage) and cook for 15 minutes. Add the cabbage and cook for an additional 15-20 minutes, or until the meat, potatoes, and cabbage are tender.
Equipment You May Need
Notes
All cooking methods should should have an internal temperature of 145 degrees F (63 degrees C) as read by a meat thermometer at the thickest portion of the baked corned beef as suggested by USDA food safety guidelines.
Allow the finished corned beef to rest for 20 minutes before slicing. It will slice easier once rested and the juices will not be lost on your cutting board, keeping your meat tender and flavorful.
The perfectly cooked corned beef will melt in your mouth, not fall apart on your plate. Corned beef that is too tender, does not slice well for sandwiches (a common use for left overs!).
Nutrition
Calories:
560
kcal
(28%)
|
Carbohydrates:
62
g
(21%)
|
Protein:
29
g
(58%)
|
Fat:
21
g
(32%)
|
Saturated Fat:
7
g
(44%)
|
Polyunsaturated Fat:
1
g
|
Monounsaturated Fat:
10
g
|
Cholesterol:
73
mg
(24%)
|
Sodium:
1816
mg
(79%)
|
Potassium:
1995
mg
(57%)
|
Fiber:
11
g
(46%)
|
Sugar:
15
g
(17%)
|
Vitamin A:
6344
IU
(127%)
|
Vitamin C:
104
mg
(126%)
|
Calcium:
126
mg
(13%)
|
Iron:
5
mg
(28%)
Corned Beef and Cabbage, how is corned beef different, is corned beef brined, What Is Corned Beef, what makes corned beef 'corned'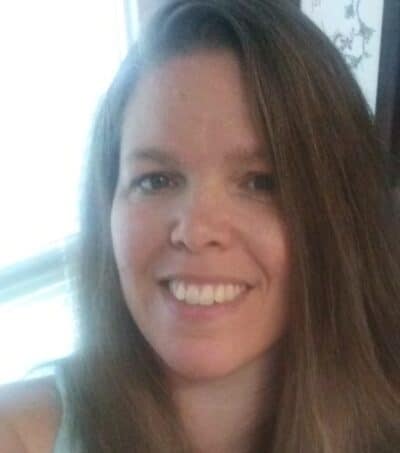 Angela is an at home chef that developed a passion for all things cooking and baking at a young age in her Grandma's kitchen. After many years in the food service industry, she now enjoys sharing all of her family favorite recipes and creating tasty dinner and amazing dessert recipes here at Bake It With Love!