How to make a bouquet garni: the ultimate guide showcasing how to elevate your meals with herbs in a convenient way! The hardest part is picking out the flavors you want for your dish! From how to make it, what herbs to use, and storage, I will cover all of the things you need to know!
Guide To Making Bouquet Garni
Bouquet garni, (or garnished bouquet) is a classic French herb and aromatic mixture used to add a depth of flavor to dishes. Learning how to make a bouquet garni and its uses will become your new favorite way to season stocks, soups, stews, meats, legumes, vegetables, and more!
In this guide, I will walk you through how you can prepare a bouquet garni, which herbs are commonly used, and the differences between a bouquet vs a mirepoix!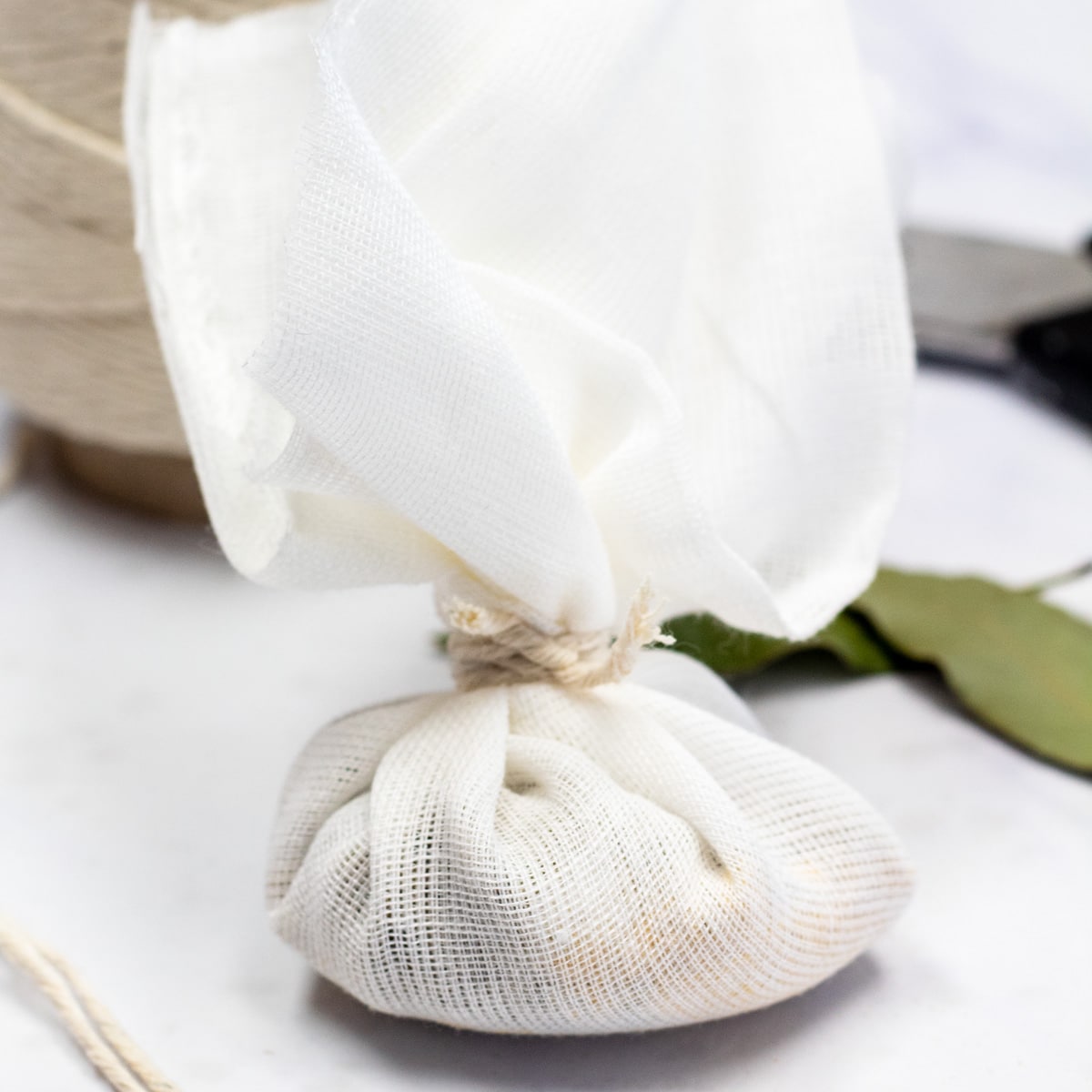 Jump to:
What Is A Bouquet Garni
A bouquet garni is a bundle of herbs that are tied together with kitchen twine or encased in a square of cheesecloth secured with twine. They are added to infuse flavor to slow-cooked dishes, then removed and discarded before consumption.
It's a natural, easy, and less wasteful way to season dishes that slow cook, stew, or simmer! Plus, it will help with the presentation and texture of your meals. You will no longer have soggy herbs that you have to pick out or dried flakes floating at the top of a dish!
Methods For Making A Bouquet Garni
There are two methods you can choose from depending on if your recipe calls for fresh or dried herbs. Both are incredibly easy and will take a short amount of prep time! You will need un-waxed kitchen twine (or butcher twine), cheesecloth, and your favorite herbs.
Method 1: Using Fresh Herbs
Gather the fresh herbs you plan to use and place them over a string of butcher twine. Wrap the twine around the herbs and make a tight knot. It's important to tie the twine tightly since fresh herbs will shrink as they are cooking.
Method 2: Using Dried Herbs
For dried herbs and spices, you'll need to measure them out and bundle them in a double-layered square of cheesecloth. Pick up the corners of the cheesecloth to make a pouch, then secure the herbs by tieing the top of the cloth with twine. I like to make sure that one end of the twine is long enough for me to easily grab when it's time to remove the bouquet.
Herbs In A Bouquet Garni
Traditionally, French and English cooks assemble a bouquet garni with fresh parsley stalks, thyme, and bay leaves. However, any combination of herbs could be used to complement the style of dish you are planning to make!
📖 Variations
You could use any of your favorite herbs that you have in your pantry. The key is to pick out which herbs will enhance the other ingredients in a dish. These are some common herbs that you could incorporate aside from the traditionally used parsley, thyme, and bay leaves:
Rosemary
Basil
Sage
Black Peppercorn
Tarragon
Chervil
Oregano
Coriander
Cilantro
Fennel
Celery
Dried vs Fresh Herbs
You can make a bouquet garni with fresh or dried herbs (or even a combination). There are a few things to consider when choosing between the two. Dried herbs are more concentrated so you will need to use less compared to fresh. Also, you can store a bouquet garni made with dried herbs for a longer amount of time. However, both will produce an equally delicious flavor!
Uses Of Bouquet Garni
Bouquet garni is used to add flavor to dishes that cook for a long period of time, such as braised meats or vegetables, stews, sauces, soups, roasts, and stocks. Whether you are preparing a bone broth or slow-cooking a hearty roast, toss in a bouquet garni and let the heat disperse its flavors!
Here are a few of my favorite recipes that you can utilize your bouquet garni in:
Bouquet Garni vs Mirepoix
Although they serve the same purpose, there are a few differences between a bouquet garni and a mirepoix. The main difference is in the ingredients. A bouquet garni is made with herbs and a mirepoix is made with vegetables.
Celery, onions, and carrots are diced and slowly cooked in oil to extract their flavors, but without caramelizing or browning them. Also, another difference is that a mirepoix needs to be strained out while a bouquet can be simply plucked out.
🥡 Storing
When using a dried herb combination, you can place a bouquet garni in an airtight container and store it at room temperature for 6 months.
If you'd like to make several batches of fresh herbs at a time, you can individually wrap each bundle with plastic wrap. Then place your wrapped herb batches in a heavy-duty freezer bag or freezer container. This will help keep the herbs hydrated, but it's really best to use herbs right away.
Now you know how to make a bouquet garni so can add your favorite seasonings to your dishes in an easy way! Which meal are you going to make with one first? Leave me a comment down below to let me know!
>>>>See all of my recipes HERE<<<<
📖 More Food Guides
📋 Recipe
Print Recipe
Leave A Comment
Love This Recipe?
Click On A Star To Rate It!
How To Make Bouquet Garni (An Easy Tutorial & Guide For Herbs To Use!)
How to make a bouquet garni: the ultimate guide showcasing how to elevate your meals with herbs in a convenient way! The hardest part is picking out the flavors you want for your dish! From how to make it, what herbs to use, and storage, I will cover all of the things you need to know!
Pin Recipe
Share on Facebook
Instructions
Cut cheesecloth square (or a square of muslin cloth) and lay it flat.

Bundle the thyme sprigs, parsley stalks, and bay leaves together with butcher's twine then fold into a neat bundle.

2 sprigs thyme,

4 stalks parsley,

2 whole bay leaves

Place the bundles herbs and the optional black peppercorns into the center of your cheesecloth square and pull the edges up over the center of the herbs. Tie the bundle together above the herbs.

2-3 whole black peppercorns
Equipment You May Need
Nutrition
Calories:
15
kcal
(1%)
|
Carbohydrates:
4
g
(1%)
|
Protein:
1
g
(2%)
|
Fat:
0.3
g
|
Saturated Fat:
0.1
g
(1%)
|
Polyunsaturated Fat:
0.1
g
|
Monounsaturated Fat:
0.1
g
|
Sodium:
3
mg
|
Potassium:
72
mg
(2%)
|
Fiber:
1
g
(4%)
|
Sugar:
0.04
g
|
Vitamin A:
567
IU
(11%)
|
Vitamin C:
9
mg
(11%)
|
Calcium:
39
mg
(4%)
|
Iron:
2
mg
(11%)
butcher's twine, cheesecloth, french provencal herbs, herbs in a bouquet garni, How To Make A Bouquet Garni, methods of making bouquet garni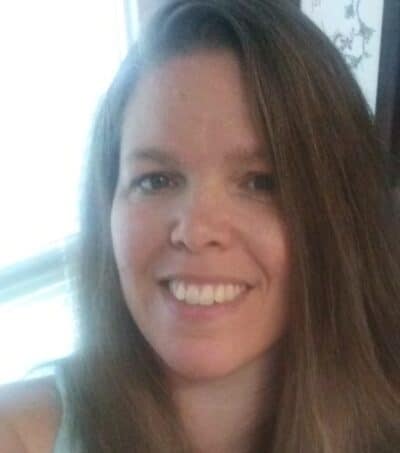 Angela is an at home chef that developed a passion for all things cooking and baking at a young age in her Grandma's kitchen. After many years in the food service industry, she now enjoys sharing all of her family favorite recipes and creating tasty dinner and amazing dessert recipes here at Bake It With Love!