What is chuck steak, what cut of meat is it, how do I cook it, what does it taste like, and how is it different than a ribeye? If you've ever seen this cut of beef and wondered how to prepare it, I've covered everything you need to know! Keep reading on to learn how to make chuck steak into a delicious main course meal!
Guide To Chuck Steak
If you've ever stumbled across a chuck steak in your grocery store and were curious to know more, I am here to tell you about it! Chuck steak has gained popularity by being one of the cheapest steaks that you can buy.
Although it's easy to be apprehensive about trying budget-friendly steaks, chuck steak actually has tons of potential to be tender and delicious! In this ultimate guide, I will walk you through how to cook chuck steak, where to buy it, and how it is compared to ribeye!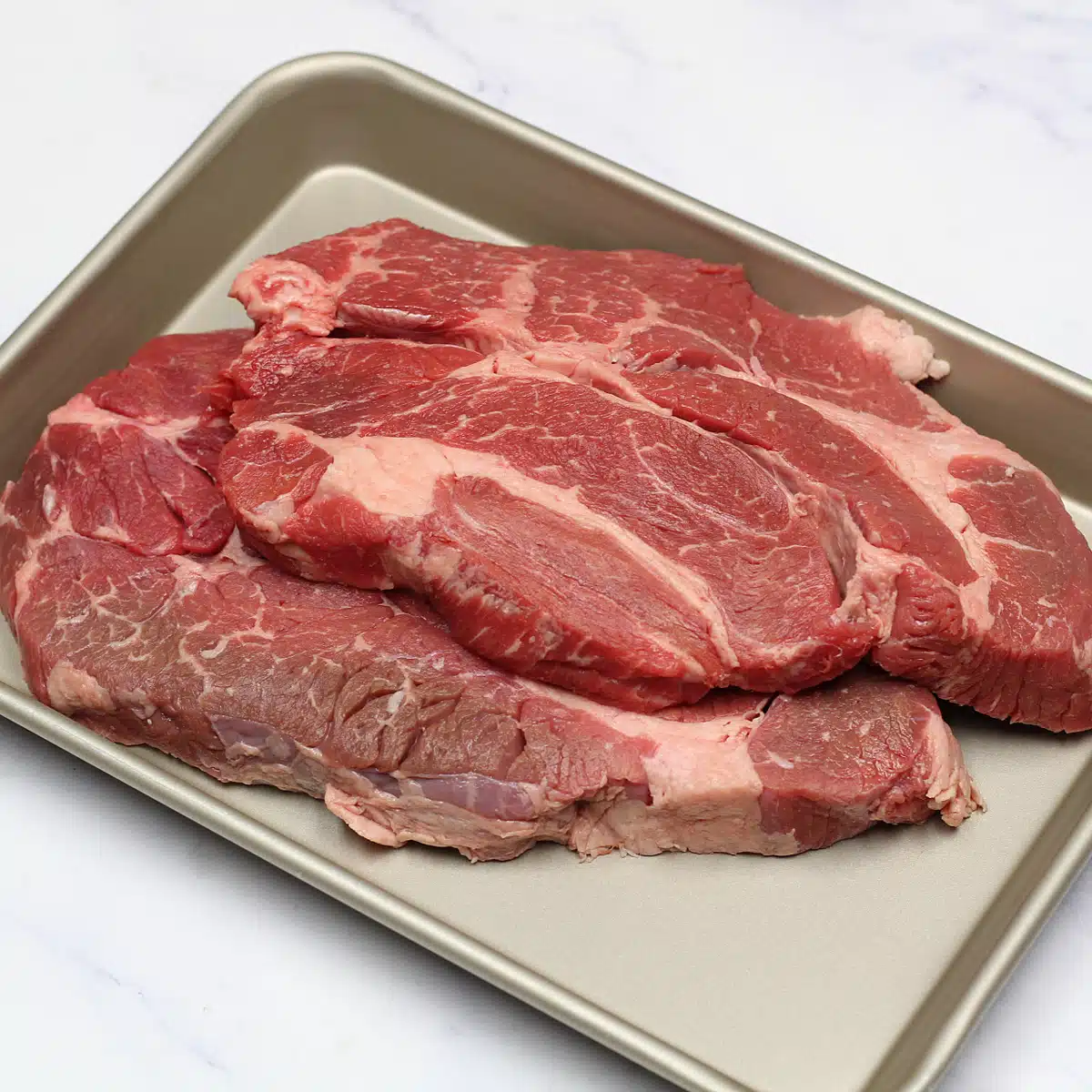 Jump to:
🤔 What Is Chuck Steak
A chuck steak is a cut of beef that comes from a large section of the upper shoulder and the lower neck area of a cow known as the chuck primal.
Chuck steak is often referred "poor man's ribeye" because it tastes similar to a ribeye yet it's less inexpensive. "7-bone steak" is another nickname given due to the shape of the shoulder bone's cross-section resembling the number 7.
The majority of the chuck primal section of a cow is divided up and used for stewing, braising, slow cooking, and pot roasting. This is because most of the meat in the shoulder area is packed with a lot of collagen or connective tissue.
Since the muscles are used a lot in this area of the cow, the meat tends to be more lean and tough. It is best to use a slow cooking method to break down the tissue.
However, chuck steak is cut from the top blade of the shoulder which is more tender once the gristle is removed. It has the potential to be one of the most tender and flavorful steaks when cooked properly!
Look for chuck steaks with great marbling to make sure that your steaks will cook up wonderfully.
🍲 How To Cook Chuck Steaks
There are a number of ways that you can cook a chuck steak! Some popular methods include pan-searing, grilling, braising, and broiling.
To ensure your steak turns out tender and juicy, place it in a steak marinade for a few hours. You can also baste the steak with butter, or you could tenderize it with a meat mallet.
The quickest and easiest way is to pan-sear it on a cast iron skillet (or other heavy-bottomed pans)! Marinate or tenderize your chuck steak(s) then season with your favorite steak seasoning.
Place your seasoned steak in the skillet and sear over medium-high heat on each side for 3-4 minutes. Baste with butter to finish and then rest your steak for 5 minutes. Cut against the grain to serve.
The searing time will vary depending on how you prefer your steak to be cooked. For more information, check out my guide on beef internal temperatures!
😋 What Does Chuck Steak Taste Like
Chuck steak is chock-full of beefy flavor! It has a buttery and meaty taste similar to a ribeye. This steak can be chewy but with a good marinade, it can transform into a wonderful and juicy cut of meat.
🛒 Where To Buy
You should be able to easily find these steaks at your favorite local grocery stores. If you find a chuck roast, you can cut it down into a couple of individual steaks. You could also ask a butcher to slice the roast for you as well!
🔎 Chuck Steak vs Ribeye
Chuck steak is a great alternative to the ribeye cut of steak. Both have beautiful fatty marbling that provides moisture and tenderness.
Like a ribeye, chuck steak has a wonderfully rich and beefy flavor. Chuck steaks are less expensive than ribeyes and will vary more in size.
🥡 Storing
Store your packaged chuck steak in the refrigerator for up to 3-5 days. To freeze, wrap individual steaks in plastic wrap and place them in a freezer-safe container for up to 3 months.
Store any cooked leftover steaks in an air-tight container in the refrigerator for 3-4 days.
>>>>See all of my recipes HERE<<<<
📖 More Helpful Food Guides
Now you know everything about this delicious cut of steak. Have you made chuck steak before and did you like it? Let me know by leaving a comment down below!
Do you love a recipe you tried? Please leave a 5-star 🌟rating in the recipe card below and/or a review in the comments section further down the page.
Stay in touch with me through social media @ Pinterest, Facebook, Instagram, or Twitter! Subscribe to the newsletter today (no spam, I promise)! Don't forget to tag me when you try one of my recipes!
📋 Recipe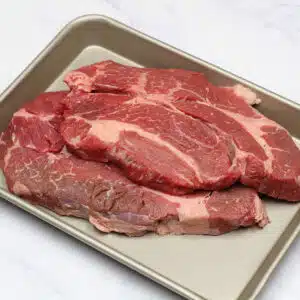 Print Recipe
Leave A Comment
Love This Recipe?
Click On A Star To Rate It!
What Is Chuck Steak: Pan Seared Chuck Steaks Recipe (+Where To Buy, Tips & More!)
What is chuck steak, what cut of meat is it, how do I cook it, what does it taste like, and how is it different than a ribeye? If you've ever seen this cut of beef and wondered how to prepare it, I've covered everything you need to know! Keep reading on to learn how to make chuck steak into a delicious main course meal!
Pin Recipe
Share on Facebook
Ingredients
2

lbs

chuck steak

1

tablespoon

olive oil

(extra virgin, ½ tablespoon per steak)

2

tablespoon

steak seasoning

(see recipe or use your favorite brand, to taste)

1

tablespoon

butter
Help Us Out!
If you love a recipe, be sure to come back and share your ratings. This helps future users, and allows me to continue sharing free recipes! Angela
Instructions
Heat a cast iron skillet (or large frying pan) to medium-high heat.

While your skillet is heating, place your chuck steaks on a baking sheet to prep. Coat each steak with half of the olive oil and season both sides of the steaks with steak seasoning. Pat the seasoning into place. *Make sure to not rub the seasoning as it will accumulate instead of spread evenly.

2 lbs chuck steak,

1 tablespoon olive oil,

2 tablespoon steak seasoning

Once your skillet is hot, place one steak in the skillet at a time and sear for 3-4 minutes on each side. When you flip the steak, add a pat of butter and spoon the melted butter onto the chuck steak. Cook the steaks until you reach 125°F (50°C) for medium-rare.

Remove the cooked chuck steaks and place them on a plate or tray to rest for 5 minutes before serving. *Cut against the grain when slicing.
Equipment You May Need
Notes
2 tablespoons of my homemade steak seasoning are equal to roughly

¼ of a serving (or you can use your favorite store-bought brand).

When pan-searing steaks, I recommend using a cast iron skillet. A cast iron skillet caramelizes the steaks more and results in a better flavor. A medium or large frying pan or skillet will work fine too.
Add fresh herbs (sage, rosemary, thyme) or fresh peeled garlic cloves to the pan when you are basting the steaks with butter for extra flavor.
 If you want to cook more than one chuck steak at a time, make sure to not overcrowd your pan. You may want to use more than one skillet or pan at a time.
A medium-rare steak is 130°F-135°F (54°C-57°C), a medium steak is 135°F-145°F (57°C-63°C), and a medium well is 145°F-155°F (63°C-68°C), anything above that is done or well-done.
To store: Place any leftover steak in an airtight container in the fridge for 3-4 days.
To freeze: Wrap your cooked chuck steak in a layer of plastic wrap then place it in a freezer-safe storage bag. Label the steaks and serve within 2-3 months. Thaw steaks in the fridge overnight before cooking.
To reheat: Reheat leftover chuck steak on the stovetop over medium heat with a teaspoon of butter or olive oil. For more tips and tricks, take a look at my article on how to best reheat steak.
Nutrition
Calories:
558
kcal
(28%)
|
Carbohydrates:
3
g
(1%)
|
Protein:
43
g
(86%)
|
Fat:
42
g
(65%)
|
Saturated Fat:
17
g
(106%)
|
Polyunsaturated Fat:
3
g
|
Monounsaturated Fat:
20
g
|
Trans Fat:
2
g
|
Cholesterol:
162
mg
(54%)
|
Sodium:
178
mg
(8%)
|
Potassium:
804
mg
(23%)
|
Fiber:
0.5
g
(2%)
|
Sugar:
0.1
g
|
Vitamin A:
227
IU
(5%)
|
Vitamin C:
0.5
mg
(1%)
|
Calcium:
72
mg
(7%)
|
Iron:
6
mg
(33%)
best ways to cook chuck steak, chuck steaks vs ribeye, great cheap steak cuts, how to cook chuck steaks, what are chuck steaks, what do chuck steaks taste like, what is chuck steak, where to buy chuck steaks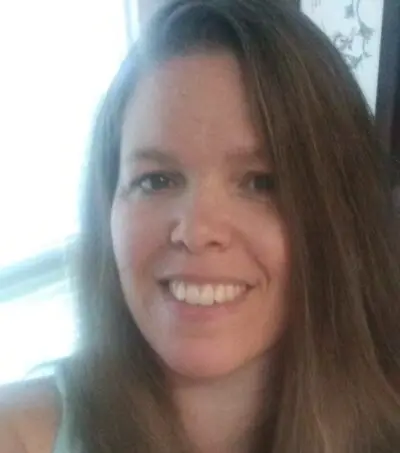 Angela is an at home chef that developed a passion for all things cooking and baking at a young age in her Grandma's kitchen. After many years in the food service industry, she now enjoys sharing all of her family favorite recipes and creating tasty dinner and amazing dessert recipes here at Bake It With Love!