Here's how to tenderize London broil so that you can ensure that your cut of meat will turn out tender and juicy every time! In this guide, I will be sharing a variety of ways that you can use to prepare your steak before broiling or grilling. Keep reading on to learn all of the tricks I use to get a perfectly tenderized and mouth-watering London broil!
Tenderizing London Broil Before Cooking
When cooking a London broil, it is imperative that the meat is tenderized before cooking, or it could come out tough and chewy. Since a tougher, leaner cut of meat is often used to make London broil, it must be prepared and marinated in order for it to become juicy, tender, and delicious!
There are a number of techniques that you can use to tenderize your meat and I will be covering them all. With the tips and tricks in this guide, you'll be making the most tender and juicy London broils like a pro!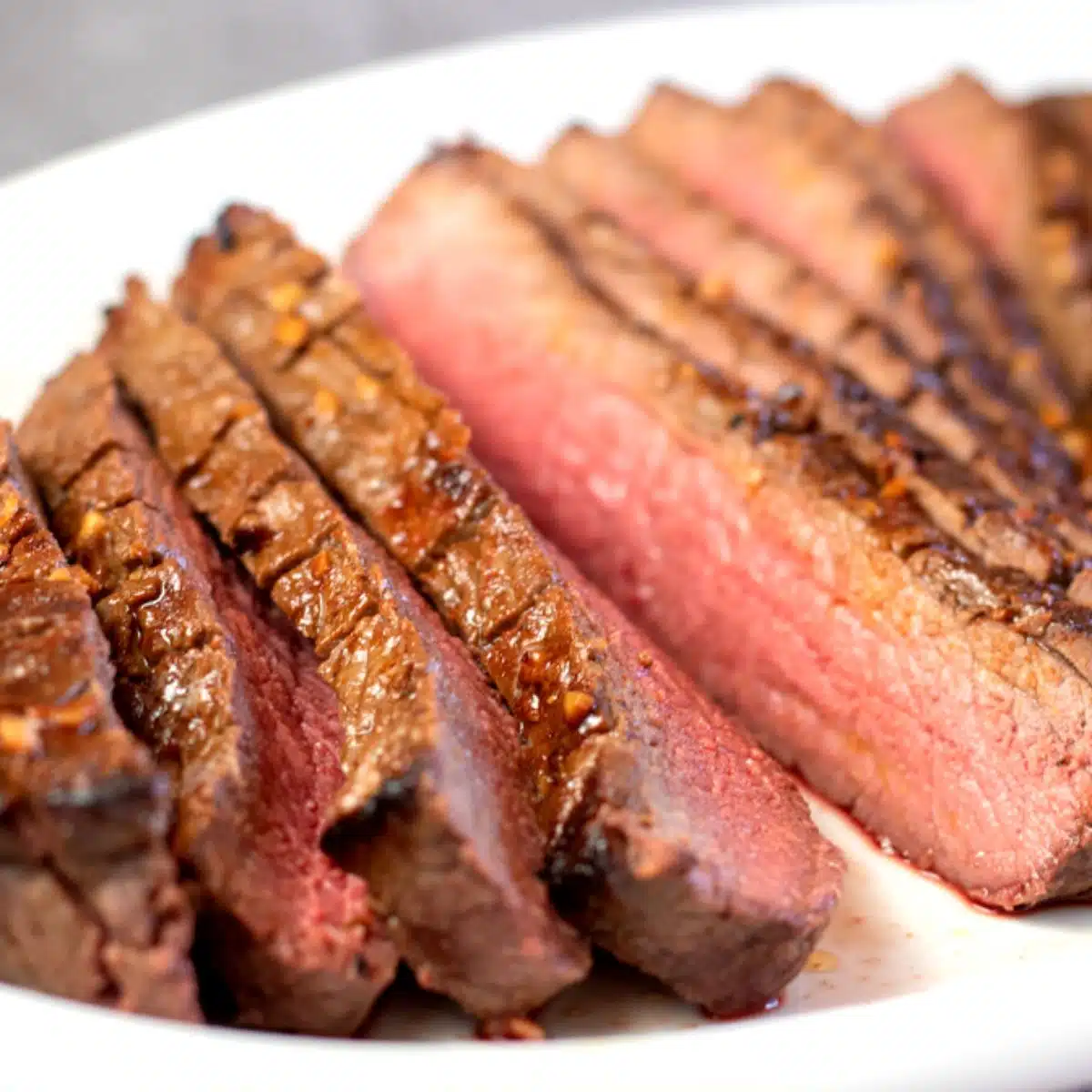 For more information on London broils, check out my in-depth article that covers the best ways to cook it and where to buy this cut of meat!
How To Tenderize London Broil Using A Meat Tenderizer
The quickest way to tenderize a London broil is by using a meat tenderizer. Start by covering your London broil with a piece of wax paper (or plastic wrap) on both sides. This is to prevent juices from flying everywhere. Then lay the wrapped meat on a clean cutting board. Use a cutting board that has a longer length than the meat to avoid creating a mess on your counters.
Take the flat side of the meat tenderizer and pound the meat in a straight downward motion to flatten it out. Then use the spiky side to further break down the connective tissue. Once this process is done, your London broil is ready to be marinated or seasoned, then cooked!
I recommend following this process by using an acidic marinade to add flavor and to continue the tenderizing process.
How To Tenderize London Broil Using A Marinade
For a London broil or flank steak, you will want to use an acidic marinade to break down tough fibers. An acidic-based marinade is typically made with citrus juices, vinegar, wine, or tomatoes.
The key to making a great marinade for this tough beef is combining fat, acid, and herbs/spices. If you need a quick marinade recipe that is tasty and flavorful, my easy London broil marinade is so simple!
How To Marinate
Place your desired marinade in a Ziplock storage bag, brining container, or mixing bowl. Add the meat and make sure that the marinade covers all sides. Refrigerate for at least 30 minutes, although you can marinate meat for up to 24 hours.
It is not recommended to go over 24 hours, or your steak can come out mushy. Take out your marinated steak to warm on the counter for at least 30 minutes so that it cooks evenly. You are now ready to grill or broil!
How To Tenderize London Broil With Baking Soda
Baking soda can be mixed with water to create a solution that will tenderize London broil in only 15 minutes! The baking soda causes the steak's pH level to increase while neutralizing the acid in the meat.
When pH levels rise toward the outside of the steak, the proteins on the inside aren't able to bond tightly. Ultimately, this keeps the steak tender and moist while it's cooking.
Dissolve 1 tablespoon of baking soda in a ½ cup of water for every 12 ounces of steak. Place your meat in the solution and soak it for 15 minutes. Rinse with water and pat dry, then season and cook as desired.
How To Tenderize London Broil With Salt
Tenderizing a London broil with salt is one of the easiest ways to break down the protein cells of steak. Using salt is known as a "dry brining" method which dissolves the water inside of the meat.
When using this method, make sure to use kosher salt and not iodized! Iodized salt will cause the steak to taste very salty.
Sprinkle 1 tablespoon of kosher salt over both sides of your meat. Place it in a dish and let it set in the fridge for 1-2 hours. Next, rinse your meat with water and pat dry with a paper towel. You may season your steak with your favorite steak seasoning then broil or grill!
🥡 Storing
After your London broil has chilled, keep any leftovers in an airtight container in the refrigerator for 3-4 days.
To freeze your leftovers, wrap them in aluminum foil and then place them into a freezer-safe storage bag. Frozen leftovers will keep up to 3 months. Thaw overnight in the fridge before reheating.
I hope that this guide has helped you learn how to tenderize London broil! Have you tried London broil before? Let me know in the comments below!
📖 More Food Guides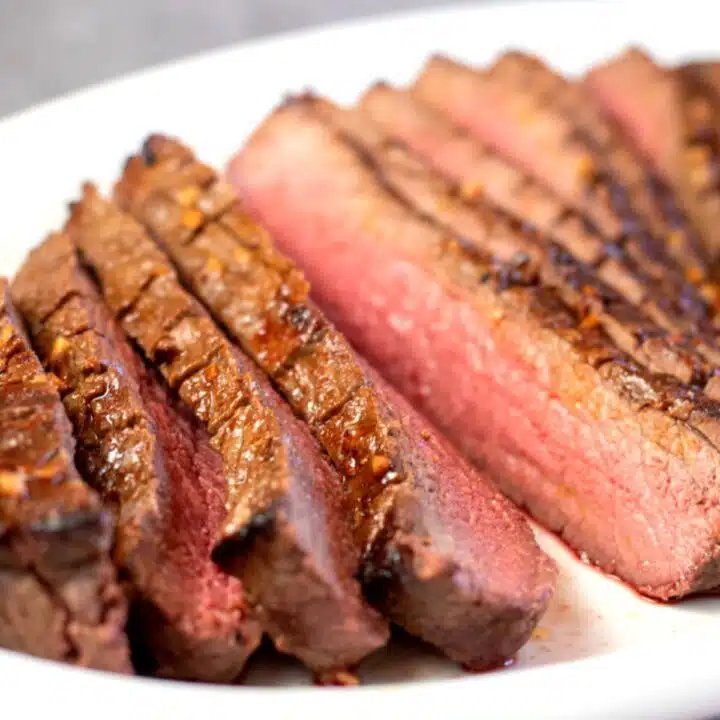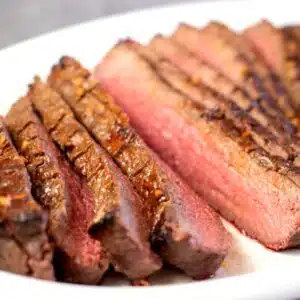 Print Recipe
Leave A Comment
Love This Recipe?
Click On A Star To Rate It!
How To Tenderize London Broil: London Broil Recipe (The Ultimate Guide!)
Here's how to tenderize London broil so that you can ensure that your cut of meat will turn out tender and juicy every time! In this guide, I will be sharing a variety of ways that you can use to prepare your steak before broiling or grilling. Keep reading on to learn all of the tricks I use to get a perfectly tenderized and mouth-watering London broil!
Marinating + Resting Time
2
hours
10
minutes
Total Time
2
hours
30
minutes
Pin Recipe
Share on Facebook
Ingredients
2

lb

London broil

(typically 2 inches thick)
Instructions
London Broil Marinade
Tenderizing your London broil is highly recommended (don't skip the marinade either, it also helps to tenderize this tasty beef cut). Use a meat tenderizer mallet to pound both sides of your London broil then cut the top surface in a criss-cross pattern using a sharp knife.

Combine all of the marinade ingredients (balsamic vinegar, Worcestershire sauce, soy sauce, olive oil, Dijon mustard, garlic, black pepper, salt, and optional thyme or oregano) in a bowl, storage bag, or brining container.

¼ cup balsamic vinegar,

¼ cup Worcestershire sauce,

¼ cup soy sauce,

¼ cup olive oil,

1 tablespoon Dijon mustard,

1 teaspoon garlic,

1 teaspoon ground black pepper,

½ teaspoon Kosher salt,

1 teaspoon thyme or oregano

Place the entire London broil in the marinade then refrigerate. Allow to marinate for a minimum of 30 minutes (preferably a few hours) and a maximum of 24 hours.

Time allowing, it is best to allow your London broil to warm to room temperature for 30 minutes to an hour before cooking. This helps to ensure that your beef cooks quickly and evenly.

Set your oven to broil on the high setting (or broil if you do not have a high setting option). Move your top oven rack up to the second from the highest rack position.

When your London broil is warmed and you're ready to get it broiling, remove from the marinade and discard the excess marinade. Place your beef onto a broiler pan or place it onto a wire rack set inside a rimmed baking sheet. *You can also line a tray or pan with aluminum foil if you do not have a rack that fits your pans or baking sheets.

Place the marinated London broil on the center of your raised oven rack and cook both sides for 7 minutes (for medium-rare) or 9 minutes (for medium).

When your London broil has reached your desired level of doneness, remove from the oven and loosely cover with a square of aluminum foil. Allow to rest for 10 minutes before slicing against the grain to serve.
Equipment You May Need
Notes
Thinner cuts of steak can also be cooked using this method, just reduce the cooking time and keep a close eye on your beefy main! Alternative beef cuts include NY strip steaks, ribeye, flank steak, skirt steak, chuck steaks, round steaks, hanger steak, or top sirloin.
Carryover cooking will add about 5 degrees F to your final cooking temperature of the London broil.
London broil is best served medium-rare to the 'just at' medium doneness. I prefer to pull and rest the London broil once the beef reaches 130-135°F.
Your leftover London broil can be cooled and stored in an airtight container for up to 3-4 days. Wrap cooked portions of London broil in heavy duty aluminum foil to freeze in a freezer storage bag or airtight freezer container.
You can freeze cooked London broil for up to 2-3 months. Place frozen portions in the fridge to thaw overnight before reheating.
The best way to reheat leftover London broil is low-and-slow. Preheat your oven to 250°F (120°C) and place the beef portion into a baking dish (add a touch of beef broth or water to keep it moist) and cover with aluminum foil. Depending on the size of your portion, it can take up to 30 minutes to fully reheat your London broil. Once warmed to your satisfaction, a quick sear in a really hot skillet or frying pan will make your leftovers as near-perfect as they can be.
Nutrition
Calories:
317
kcal
(16%)
|
Carbohydrates:
1
g
|
Protein:
30
g
(60%)
|
Fat:
21
g
(32%)
|
Saturated Fat:
10
g
(63%)
|
Polyunsaturated Fat:
1
g
|
Monounsaturated Fat:
10
g
|
Cholesterol:
92
mg
(31%)
|
Sodium:
79
mg
(3%)
|
Potassium:
410
mg
(12%)
|
Fiber:
1
g
(4%)
|
Sugar:
1
g
(1%)
|
Vitamin A:
40
IU
(1%)
|
Vitamin C:
1
mg
(1%)
|
Calcium:
17
mg
(2%)
|
Iron:
3
mg
(17%)
best ways to make the best tender london broil, broiled london broil, classic london broil, how to cook london broil, how to tenderize london broil, London Broil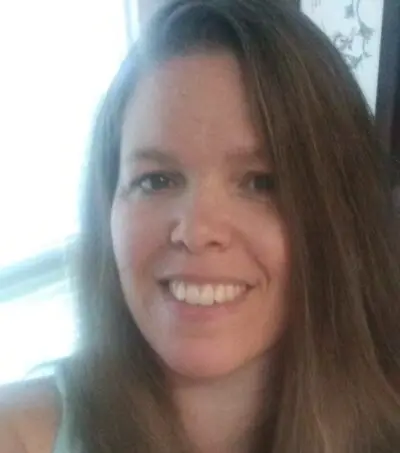 Angela is an at home chef that developed a passion for all things cooking and baking at a young age in her Grandma's kitchen. After many years in the food service industry, she now enjoys sharing all of her family favorite recipes and creating tasty dinner and amazing dessert recipes here at Bake It With Love!