What is London broil, is it a type of meat, how do I prepare it, what does it taste like, and how is it different than a flank steak? Don't worry, I have all of the answers you're looking for! Here's everything you need to know about London broil!
What Is London Broil
London broil is an American term for preparing beef (ironic, right?) that actually has nothing to do with Britain! This beef dish was one of the first to gain popularity in the United States, and hasn't lost its ability to please!
London broil is the name used for referencing a cooking method and it is not the name for a cut of beef like many people believe.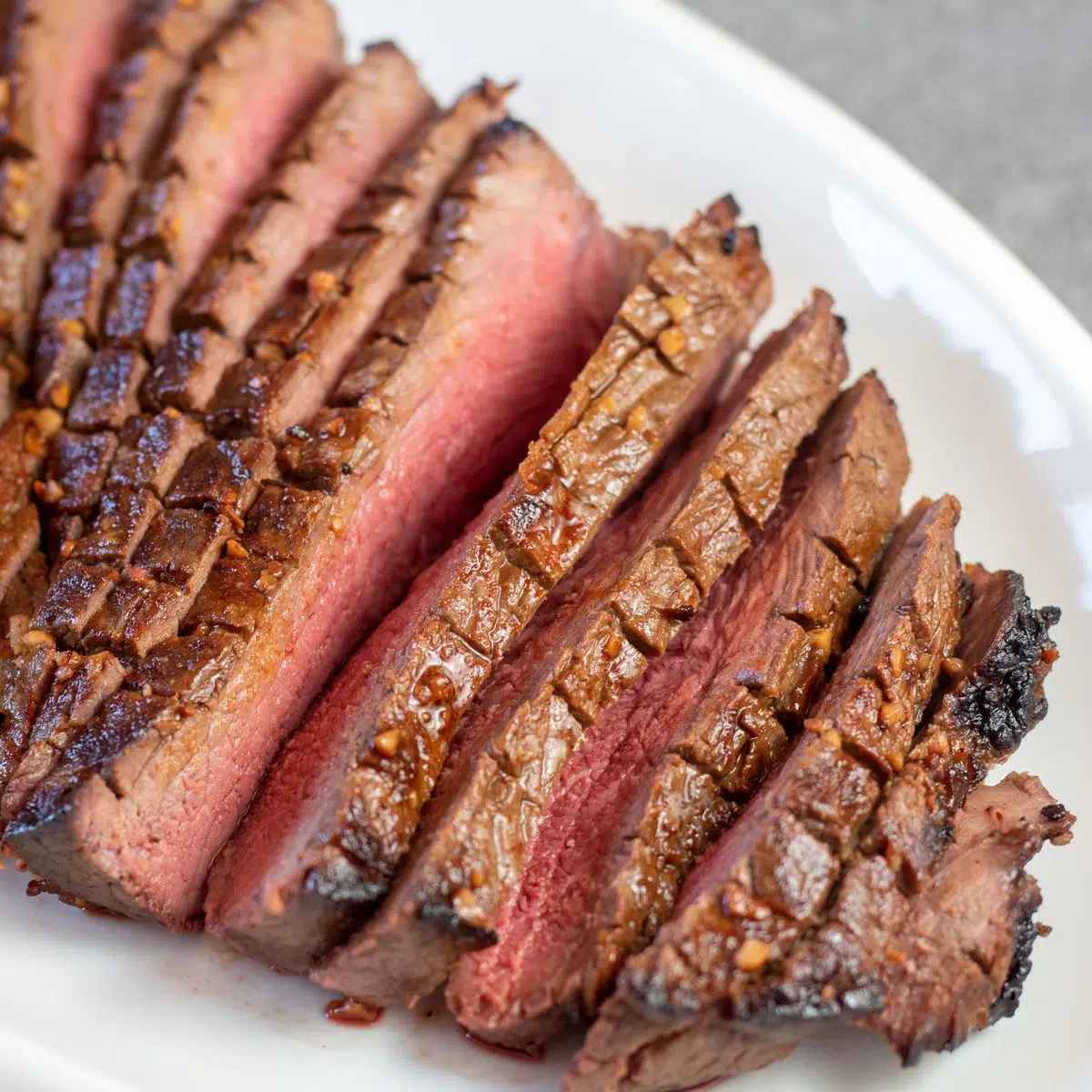 Jump to:
A London broil was originally prepared with a flank steak, but other cuts of beef can be used, as long as they are lean and tough.
The steak is marinated in an acidic bath to help break down the tough tissue. It is then cooked on high heat for a short period of time.
🍲 How To Cook
You will want to start off with a lean yet tough cut of beef such as flank steak or top-round steak.
Add your meat to an acidic marinade for at least 4 to 6 hours, you can even marinate the meat overnight for extra tender and juicy meat.
The beef can be broiled, seared, or it can also be grilled. The main cooking specification is that it has to be cooked on high heat for a limited time. You want the steak to be cooked medium-rare, no more than medium.
Allow the beef to rest once it has been removed from the heat for at least 5 to 10 minutes. Then, thinly slice the meat across the grain into thin strips.
Tips on Cooking
Tip 1. Add some type of acid to your marinade to help break down any tough tissue. Vinegar, lemon juice, or tomato juice are all great choices for a beef marinade.
Tip 2. Do not overcook your meat! High heat for only a few minutes on each side is plenty of time for a London broil since you don't want the internal temperature to go above 135 degrees.
Tip 3. Wrap your beef in foil after it has been cooked, but before it has been sliced. Allow it to rest in the foil to help its juices to make it even more tender.
😋 What Does London Broil Taste Like
A London broil will taste similar to the marinade that is used. If you add lemon or lime juice to your marinade it will taste citrusy, and if you add herbs and spices it will taste similar to the ones used.
The meat is obviously beefy and chewy with a great overall flavor.
🔎 London Broil Vs Flank Steak
The terms London broil and flank steak may seem synonymous, but they are actually two completely different things!
London broil is a type of meat preparation. The way it is marinated, cooked, and cut creates a London broil.
Flank steak is a cut of meat. It is a lean and tough cut of beef that comes from the abdomen.
People often refer to one with the other because flank steak is often prepared in the London broil cooking method.
🍽️ Best London Broil Recipes
The best recipes for a London broil include marinades that have an acidic base to help tenderize the meat. You can try my London broil marinade recipe here.
My grilled London broil recipe is juicy, tender, and delicious! The meat is grilled perfectly and marinated to perfection! You will love this grilled London broil recipe!
Don't have a grill? No problem! Try a classic London broil recipe here!
💪 Is It Good For Me
Flank steak, as well as other cuts of beef, contain protein, potassium, and vitamins B6 and B12. Beef is a calorie-dense food that helps you meet your daily caloric intake, containing about 162 calories per 3 oz.
Beef is high in cholesterol and therefore should be limited for people on low-cholesterol diets!
🛒 Where Can I Buy A London Broil
You can buy a flank steak or top round cut of beef at any local grocery store or neighborhood butcher! In fact, this is a common cut of beef that should not be too hard to find.
🥡 Storing
A frozen cut of beef that is uncooked will last for up to a year in your freezer as long as it is packaged correctly.
Your thawed and marinated uncooked beef will last up to 4 days in the refrigerator.
Do you like London broil? Which cut of beef do you prefer? I would love to know in the comments below!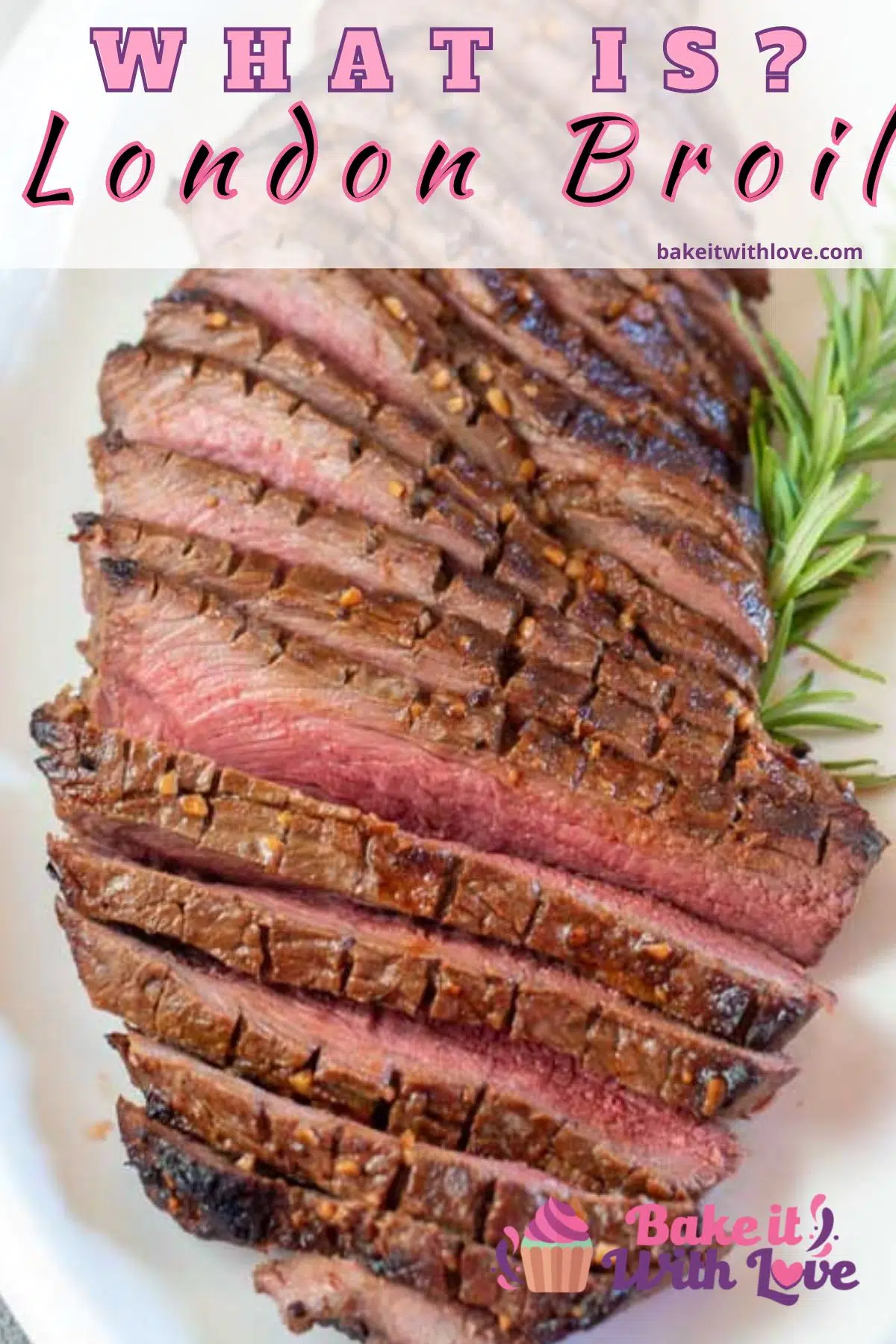 📖 More Food Guides
📋 Recipe
Print Recipe
Leave A Comment
Love This Recipe?
Click On A Star To Rate It!
What Is London Broil: London Broil (+Cooking Tips)
What is London broil, is it a type of meat, how do I prepare it, what does it taste like, and how is it different than a flank steak? Don't worry, I have all of the answers you're looking for! Here's everything you need to know about London broil!
Marinating + Resting Time
2
hours
10
minutes
Total Time
2
hours
30
minutes
Pin Recipe
Share on Facebook
Ingredients
London Broil Marinade
¼

cup

balsamic vinegar

¼

cup

Worcestershire sauce

¼

cup

soy sauce

¼

cup

olive oil

(extra virgin)

1

tablespoon

Dijon mustard

(or honey Dijon mustard)

1

teaspoon

garlic

(minced)

1

teaspoon

ground black pepper

(freshly ground is best)

½

teaspoon

Kosher salt

1

teaspoon

thyme or oregano

(optional)

salt & pepper

(optional, to taste)
Grilled London Broil
2

lb

London broil

(typically 2 inches thick)
Instructions
London Broil Marinade
Tenderize your London broil using a meat tenderizer mallet to pound both sides of the meat. Then, use a sharp knife to cut the top surface in a criss-cross pattern, *Tenderizing and marinating your London broil is highly recommended as it helps tenderize this often-times tough, yet tasty, cut of beef.

Combine the marinade ingredients (balsamic vinegar, Worcestershire sauce, soy sauce, olive oil, Dijon mustard, garlic, black pepper, salt, and optional thyme or oregano) in a brining container, bowl, or storage bag.

¼ cup balsamic vinegar,

¼ cup Worcestershire sauce,

¼ cup soy sauce,

¼ cup olive oil,

1 tablespoon Dijon mustard,

1 teaspoon garlic,

1 teaspoon ground black pepper,

½ teaspoon Kosher salt,

1 teaspoon thyme or oregano

Put your London broil into the marinade, covering as much surface area as possible. Allow it to marinate for at least 30 minutes but preferably 2 or more hours (no more than 24 hours).
Grilled London Broil
If you have time, set your London broil out on the counter to come to room temperature for 30-60 minutes before cooking. This will help your beef cook evenly.

Preheat your cleaned and oiled grill to 450-500°F (205-260°C).

After your London broil has come up to room temperature, remove it from the marinade and discard the excess. Pat the beef dry with paper towels and season with salt and pepper if desired.

Once your grill has preheated, add the steak and cook it for 4-5 minutes per side (for medium-rare).

Once your London broil has reached your desired internal temperature, transfer it to a tray or cutting board and loosely tent a piece of foil over the top. Allow it to rest for 10 minutes before you slice against the grain and serve.
Equipment You May Need
Notes
Keep in mind that carryover cooking will add about 5

°F as your beef rests. 

A London broil is best when served medium-rare to 'just barely' medium. I choose to pull mine from the grill to rest once it reaches an internal temperature of 130-135°F.
To store: Leftover London broil can be stored in an airtight container and refrigerated (once it has cooled). It will keep for 3-4 days. 
To freeze: Wrap cooled leftovers in heavy-duty foil, then place them in a freezer bag or airtight container. Freeze for up to 3 months and thaw in the fridge overnight before reheating. 
To reheat: Reheat your London broil low-and-slow in an oven preheated to 250°F (120°C).  Place it in a baking dish with a splash of beef broth and cover it with aluminum foil. Depending on the thickness of your beef it may take up to 30 minutes to fully reheat. For near-perfect leftovers, give your steak a quick sear in a VERY hot skillet or frying pan.
Nutrition
Calories:
302
kcal
(15%)
|
Carbohydrates:
5
g
(2%)
|
Protein:
36
g
(72%)
|
Fat:
14
g
(22%)
|
Saturated Fat:
3
g
(19%)
|
Polyunsaturated Fat:
1
g
|
Monounsaturated Fat:
9
g
|
Cholesterol:
92
mg
(31%)
|
Sodium:
1010
mg
(44%)
|
Potassium:
698
mg
(20%)
|
Fiber:
0.3
g
(1%)
|
Sugar:
3
g
(3%)
|
Vitamin A:
13
IU
|
Vitamin C:
2
mg
(2%)
|
Calcium:
54
mg
(5%)
|
Iron:
4
mg
(22%)
London Broil, what is london broil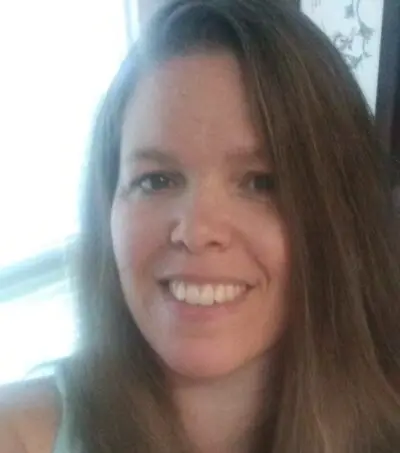 Angela is an at home chef that developed a passion for all things cooking and baking at a young age in her Grandma's kitchen. After many years in the food service industry, she now enjoys sharing all of her family favorite recipes and creating tasty dinner and amazing dessert recipes here at Bake It With Love!