Are you wondering what is hanger steak, why is no one talking about it, and why is it so hard to get your hands on it? We answer all of those questions and more about this extraordinarily rich and delicious cut of beef!
Hanger steak - the elusive, yet delicious, cut of beef you have to try!
Wondering what the big deal is about hangar steak and what makes it so great? Maybe you've seen it on the menu at a restaurant but can't find it in your local grocery store - what's that about?
There's a reason that this elusive cut of beef is so sought after. We're here to answer all your hanger steak questions, including the best ways to cook and serve this intensely flavorful steak for the most exquisitely delicious results!
Jump to:
What is Hanger Steak?
Hanger steak, sometimes called butcher's steak or hanging tenderloin, is an amazing cut of beef known for its superior flavor. Because customers didn't know how to ask for it, butchers often used to keep the cut to enjoy for themselves before it became popular.
It comes from the upper belly of the cow between the rib and the loin. Filled with rarely used dense muscle and significant marbling, it becomes very tender and juicy when cooked properly.
Hanger steak is a rarity in stores because there is only one per animal. The store would have to buy thousands of pounds of meat for every hanger steak it wanted to sell.
It's in a category of meats called flat steaks. These are pieces that are typically used in recipes that call for stuffing or rolling a steak. Others on this list include flank and skirt steaks.
Hanger Steak vs. Skirt Steak
While it's uncommon to see a hanger steak at your average grocery store, skirt steak is usually on hand and is often used as a substitute. What is the difference?
Hanger steaks are thicker and shorter than the latter. Skirt steaks can be up to 2 feet long, whereas hanger steaks are rarely over 6 or 7 inches.
Skirt steak is an average of two pounds while hanger steak is much lighter. Flavor-wise, they are relatively similar.
It also comes down to prevalence. There are two skirt steaks on a cow while there is only one hanger.
Hanger Steak vs. Flank Steak
Hanger steak is more tender than either skirt or flank steak since it's a rarely used muscle. It's just there for support.
When it comes to texture and flavor, hanger and flank steak are very similar. Both pieces come from the abdomen of the cow, but flank steak comes from further towards the hind legs, or the flank.
How to Cook Hanger Steak
Hanger steak is flavorful enough to do a simple sprinkle of salt and pepper, but marinating it is also a popular method. Vinegar, citrus, or wine do wonders to tenderize the meat and add internal moisture. You'll want a marinade with strong acidity. 
The key to a perfectly cooked steak is high heat and ensuring the steak is dry before letting it hit the skillet or grill. To get that golden-brown crust, moisture is your enemy.
Also, be sure to bring your steak to room temperature before cooking. It will ensure even cooking, preventing the outside from being done while the inside is still cold.
Grilling or pan searing are the two best ways to cook this cut of beef. It seals in the moisture and keeps it from getting too tough.
On the Grill
To get a good char on your meat, grilling is your best option. 3 to 4 minutes on each side is all it takes.
For those restaurant-style grill marks, put it on the hottest part of the grill without letting it be consumed by flames.
Pan Seared On the Stovetop
You can also pan sear the meat in a skillet. A cast-iron skillet is especially great for this.
Heat up the pan with a bit of oil and, again, cook for 3 to 4 minutes on each side. Finish it off under the broiler, 2 to 3 inches from the flames on high.
Use a meat thermometer to check the internal temperature at its thickest point. It should be between 130℉ and 135℉ (55°C to 57°C).
It will continue cooking for a few minutes after removing it from the heat, so be sure not to overcook it, and let it rest when it's done.
Either way you decide to cook it, only heat to medium-rare for best results. Anything beyond medium can lead to tough meat. 
Serving Hanger Steak
To serve, cut it in slices against the grain. In a hanger steak, that means cutting it into three or four pieces across the short end before turning it 90 degrees and cutting thin slices in the opposite direction.
Using this technique can also make it more tender and easier to eat.
How to Store Hanger Steak
Once purchased, hanger steaks can be kept in the fridge for up to 4 days, 5 if it's in a marinade.
If you need to store it longer, wrap it tightly in foil and put it in a freezer bag or airtight container in the freezer for up to 3 months. After that, flavor and texture will start to be affected.
So if you can get your hands on a piece of this steak, grab it before someone else does! Serve it with some awesome sides for a 5-star dinner your whole family will enjoy!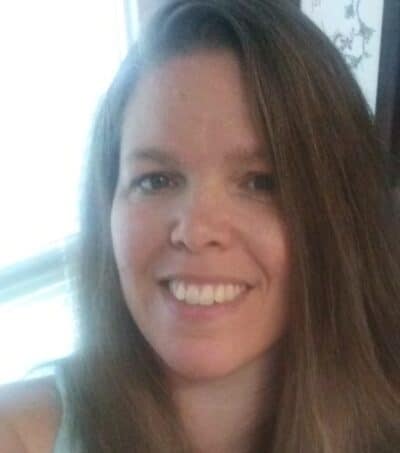 Angela is an at home chef that developed a passion for all things cooking and baking at a young age in her Grandma's kitchen. After many years in the food service industry, she now enjoys sharing all of her family favorite recipes and creating tasty dinner and amazing dessert recipes here at Bake It With Love!