Choosing the best cheese for fondue is an important part of making your evening of fondue much more memorable! We've covered everything from the best single cheese types to the very best combination, plus what works best for dipping into your fondue here!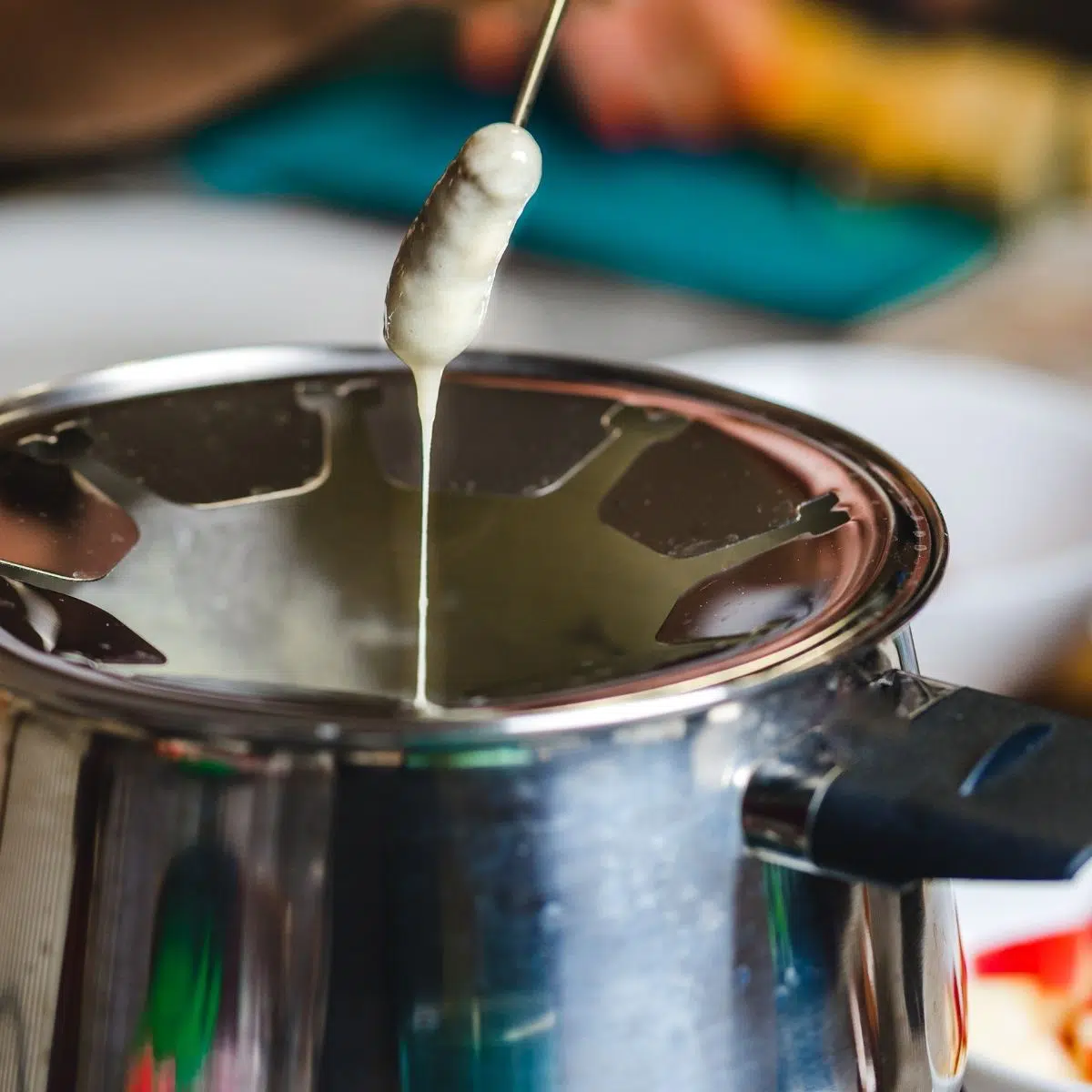 Wondering what the perfect cheese for fondue making is? All of our top picks are shared below!
Fondue is a lot of fun! You'll get a lovely fountain or dipping pot, and you'll be able to create your own masterpieces. The classic fondue is made in a fondue pot, of course. You may customize fondue to your preferences, and you can enjoy it in a variety of ways.
Fondue can be tailored to nearly any taste or preference, and if you have the right tools, it's a breeze. You may put up a buffet of dishes that will be wonderful when dipped in the fondue pot. In fact, there are restaurants dedicated to fondue.
Try My Amazing Cheddar & Swiss Fondue That Appeals To Everyone!
Jump to:
What is the finest fondue cheese? There are so many different types of cheese that picking the perfect one for fondue is almost difficult! Gruyere is one of the best cheeses for classic fondue.
Gouda is also one of our favorite cheeses. However, we believe that a mix of Swiss cheeses is the best cheese for fondue. Whichever combo you use, we advocate that Gruyere be included! 🙂
We'll go through a number of cheese options in this article to help you figure out which cheese is ideal for your fondue. We'll tell you everything about how to choose the best cheese and how to tell whether you're using the right one.
We hope you'll stick around to learn more about the best cheese for fondue and other topics here at Bake It With Love!
The Best Cheese for Fondue — The Ultimate Guide
Fondue is a melted cheese dish that originated in Switzerland. The origin of the name is from the French word 'fronde' which means 'to melt.'
The recipe came to use in 18th century Switzerland as a means to extending the life of both expiring cheese and stale bread. But it's so darn good, it caught on!
You can make fondue on the stove, in a classic fondue pot, or in a fondue fountain (just be sure to add more wine or cream for the fountain version).
In a communal pot, the melted cheese is served. Originally, candles or even a light were used to keep this pot warm, but that is no longer required. However, you'll need a technique for keeping your fondue warm.
Today, we're talking about cheese fondue, not chocolate fondue, which you may get in fountains and pots as well. Chocolate is always wonderful, but we're focusing on cheese today. *There are also oil (or meat) fondue and broth fondue types that you can enjoy at home!
The Best Melting Cheeses For Fondue
You are free to use whatever kind of cheese you like. You may use a single kind of cheese or a combination of several types of cheese. Various Swiss-type cheeses were used in traditional Swiss fondue, along with a little dry white wine.
Here are some of our favorite cheese choices without further ado!
1. Swiss Cheese Fondue — The Best Combination
A combination of three types of Swiss cheese is our favorite fondue choice. These cheeses complement each other well, resulting in a smooth, rich taste that is hard to match.
In fact, most fondue recipes agree with our statement that these three cheese varieties should be mixed in equal amounts:
⅓ Fontina, ⅓ Gruyere, ⅓ Gouda is the best cheese ratio for fondue.
When these three options are mixed and melted together, they create an extremely wonderful fondue!
Combining these three types of cheese creates a strong and rich taste that was made for fondue. They're all creamy cheeses, so they'll melt together well for the ideal fondue.
2. Gouda
Gouda cheese is the next best cheese for fondue. Gouda cheese is a considerably brighter yellow cheese than Gruyere, yet it still has a delicious taste. The taste of this cow's milk cheese is somewhat woody and smokey.
Gouda is a creamy Dutch cheese that is one of the most popular in the world. The semi-hard texture of this cheese makes it ideal for melting.
It's described as having a caramel and nutty taste with the perfect balance of sharp and mild. Gouda is one of the most widely used melting cheeses, which makes it ideal for fondue.
3. Gruyere
Gruyere cheese is a yellowish Swiss cheese that is hard to cut and comes in large blocks. It has a sweet but also somewhat salty taste, and it holds up very well over time. Plus, it's a personal fave for SO MANY recipes!
The overall flavor of this cheese can be changed by aging it. In time, the tastes develop into something rich and earthy, losing some of the nutty notes that were there when it was younger.
This cheese's taste and creamy texture make it an excellent choice for fondue since they complement one other. It's also one of my top picks for combining with other cheeses, and should always be included in a Swiss cheese trio that makes for the best fondue ever!
4. Comte Cheese
Comte cheese is a type of cheese from France. It is the most highly sought-after French cheese available on the market today. In appearance, Comte cheese is quite similar to Gruyere cheese; however, the aging procedure is somewhat different.
Comte is usually aged for considerably longer periods of time.
We believe you will find that Comte cheese pairs well with other cheeses and that the taste is mild enough that you may dip anything you like into it.
5. Fontina
Fontina is a cow's milk cheese that originates in northern Italy.
Fontina features a thick interior with many airy openings. When you look at it, it looks a lot more like Swiss cheese, which you may be familiar with from your local deli.
This cheese has a combination of sweet and salty flavors, which gives your fondue a wonderful taste that you can use to dip anything in.
This is likewise a semi-hard cheese that has a creamy texture in its natural state. It melts easily and has a pleasant flavor, making it another excellent choice for fondue.
6. Emmental
Emmental (also known as Emmentaler or Emmental) is a yellow medium-hard Swiss cheese that is produced in Switzerland. The cheese is produced in the cantons of Switzerland's central region.
It is widely regarded as one of the best melting cheeses currently on the market, and it is often used as the primary ingredient in fondue.
Emmental cheese, which is produced from cow's milk, has a sweet and creamy taste. Depending on how long it has been aged, it may range from mild and creamy to acidic and full-flavored.
Due to its pH level, this cheese has the ideal melting point, leading to a melted liquid cheese that is both stringy and retains the original texture of the cheese at the same time.
7. Cheddar
Cheddar is often regarded as one of the most important parts of the British diet, as well as the most widely consumed kind of cheese. It is derived from the village of Cheddar in the English county of Somerset, and it can be purchased at stores all across the country.
From mild to vintage, cheddar cheese is available in a variety of flavors and strengths to suit every palate. Try your favorite mild, medium, sharp, extra sharp, or flavored cheddar cheese!
Nowadays, you can also buy a low-fat form of Cheddar cheese, but the flavor is not as excellent as the regular type. Cheddar is often considered to be a hard cheese, although the mild variety is usually quite soft.
Try cheese curds (which are frequently from cheddar) are also the best bet for making fondue from cheddar cheese.
How to Choose Fondue Cheese
There are a lot of options here, and there are a lot more where they came from. Beaufort cheese and is an additional option you may wish to try using on its own or as a combination with Emmental cheese. Yum!
Other cheese varieties that also make excellent fondue (but may be harder to find) are Appenzeller, Hoch Ybrig, and Tête de Moine.
When it comes to selecting fondue cheese, there are a few particular guidelines to follow. Here are some suggestions for you.
Spend a bit extra money to buy excellent, high-quality cheese. The quality of the cheese you use may have a big impact on the outcome of your fondue.
High-fat cheeses are best for fondue.
Mixing 1-3 different types of cheese yields the best results.
Look for cheeses that are buttery and/or creamy, since they melt the best.
Before melting your cheese, finely grate it rather than cutting, slicing, or blocking it.
Do not use pre-shredded cheese for your findue! Packaged cheeses that are ready to use have been coated with an anti-clumping additive that makes them harder to melt. They also tend to be a lot greaiser, making a less-than-pleasant fondue appearance.
Avoid cheeses that are stringy once melted like mozzarella (this applies somewhat to cheddar too).
Using Fondue
Fondue has the advantage of being versatile. Fondue can be used as a sauce to top meats and seafood meals, or it can be used as a party table centerpiece with different dipping foods.
Bonus for party planning? Fondue is ridiculously easy to prepare!
Most fondue pots allow you to make it right in the pot, but you may also make it on the stove and then transfer it to another pot or dish. It's important to consider your cheese fondue intentions and the capabilities of your pot.
What to Dip in Your Fondue
Some of our favorite bread, fruits, and meats for dipping in fondue are listed here:
Vegetables (of any kind)
Bread (with a crust or that is semi-hard)
Apples (specifically Granny Smith)
Cured Meat (pepperoni, jerky, kielbasa, etc.)
Seafood of various kinds (shrimp, crab, lobster, crawfish, langostino)
Pineapple (fresh is best - be sure to remove the peel)
Pear (firm varieties taste amazing)
Chips or Crackers (for an easy finger food snack)
These are just a few examples of popular cheese fondue ingredients. They're all very tasty, and you can use just about anything dippable to make them. What you want to make sure is that whatever you're dipping in the cheese doesn't come apart.
You may use fondue forks or a skewer or toothpick. You'll want to make sure that whichever dipping tool you choose has enough length for dipping.
More About Preparing Your Fondue Ingredients
Bread, sliced into bite-sized pieces, is the classic fondue dipper. While there's nothing bad with dipping bread in your fondue, now there is an abundance of different dipping options available.
Meats such as cooked sausage, cooked chicken, cooked seafood, and cooked ham fall under this category.
Fresh vegetables, such as broccoli and cauliflower, may be eaten raw, while harder vegetables, such as potatoes, must first be cooked - my roasted potatoes are ideal for this!
As a fondue dipper, you may use pretty much anything that can be sliced into easy-to-eat bits that goes well with the cheeses.
Cut your dipping accompaniments into bite-sized pieces while arranging your dish, since there should be no double-dipping of the same item into the fondue pot. It's also crucial to ensure that none of the pieces fall into the fondue pot.
This is a violation of fondue etiquette, and it is customary for the person who loses dipping accompaniments in the fondue pot to buy a round of beverages for the rest of the table.
When it comes to bread, day-old bread is generally preferable to fresh bread in fondue, and crusty bread is preferable to soft bread. Italian bread, sourdough bread, and rye bread are all popular fondue bread.
Fresh bread may be firmed up and given structure by lightly toasting it beforehand. Crackers, chips, and other snack items can be dipped straight into the fondue pot without the need for a fork for a less conventional fondue.
If you're going to dip the meat into your fondue, be sure it's precooked since the melted fondue cheese won't be hot enough to cook meat to a safe temperature. Fondue Bourguignon is a higher-temperature fondue that utilizes extremely hot oil to cook bite-sized pieces of raw beef and poultry.
However, cheese fondue cannot effectively cook meats. Sausages make great fondue dippers, and they come in a variety of tastes to complement any cheese.
When it comes to vegetables and fruits, avoid overcooking them to the point of being too soft, since overdone food will not stay on the fork. The fondue cheese sauce will cling to both cooked and raw vegetables if they are washed beforehand.
Also, don't forget to include dried fruits like figs, dates, and apricots in your fondue spread, as well as pickled items.
Now Make Some Fondue!
To sum it up, there are many ways to create a delicious and tasty fondue dish. For example, each Swiss region has its unique cheese fondue recipe, which explains why different types of cheese melt so well.
The preparation and other ingredients for cheese fondue are similar; the major difference is the type of cheese used. Each cheese fondue has its own unique flavor and taste, which is determined by the mix of cheese and other ingredients.
I hope that you find our list of the best cheese for fondue as a great start for creating the best fondue you've ever had!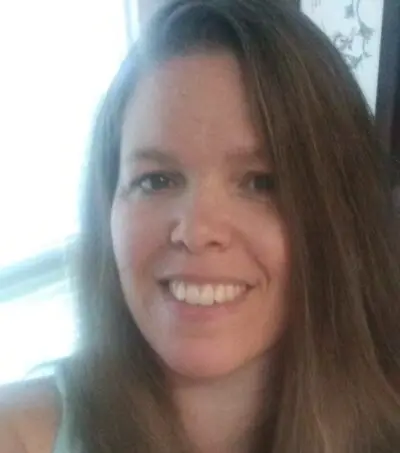 Angela is an at home chef that developed a passion for all things cooking and baking at a young age in her Grandma's kitchen. After many years in the food service industry, she now enjoys sharing all of her family favorite recipes and creating tasty dinner and amazing dessert recipes here at Bake It With Love!