This potato guide: starchy, waxy, all-purpose potatoes & best uses is full of tips and tricks for choosing the perfect potato! Learn how to spot quality potatoes, which ones will hold their shape when cooked, and which have a creamy or waxy texture. With all of this useful information, you can easily find the best potatoes for your next dish!
Different Types Of Potatoes Explained
Potatoes are probably one of the most beloved foods in the world, at least in the United States. From mashed potatoes to French fries and so many wonderful dishes in between, they are one of the most versatile and delicious foods.
Moreover, they are one of the most affordable foods around. Therefore, making them a wonderful choice for when you are cooking on a budget or for a large family.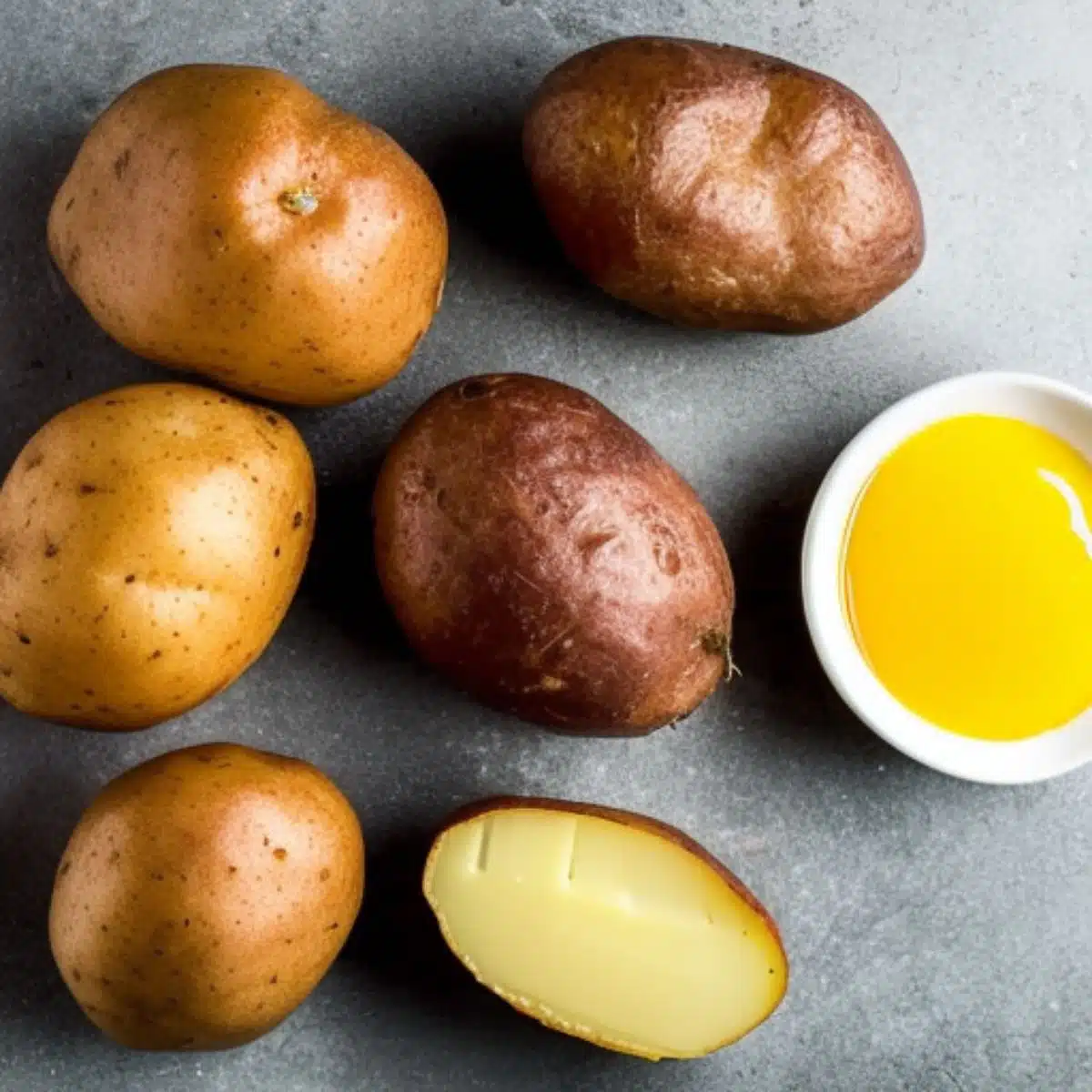 Jump to:
Want More Recipes? Enter your email below and we'll send them straight to your inbox!
If you have been to the grocery store recently though you know that there are several types of potatoes to choose from. Which one is the best? Well, that depends on the recipe you are making. Keep reading to find the best potatoes to use for any recipe.
Starchy Potatoes
Starchy potatoes are the ones that most people think of when they hear the word "potato." These are potatoes like Russet and Idaho potatoes.
As the name suggests, these potatoes are starchier than other potatoes. Meaning, they have a high volume of starch and a low volume of water. The result of this starch-to-water ratio is what creates the perfect texture for mashed potatoes and fried potatoes.
The low water content allows the flesh of these potatoes to break down easily when cooked. Even becoming flaky. Moreover, since they are high in starch, they are highly absorbent. Therefore, these potatoes will absorb other liquids easily.
The absorbency of starchy potatoes is what makes them perfect for mashed potatoes. They will absorb the butter and milk added to create a light and fluffy dish.
In addition, this quality is what makes them a great choice for french fries since their ability to absorb the oil creates the perfect crunchy outside and soft flaky inside.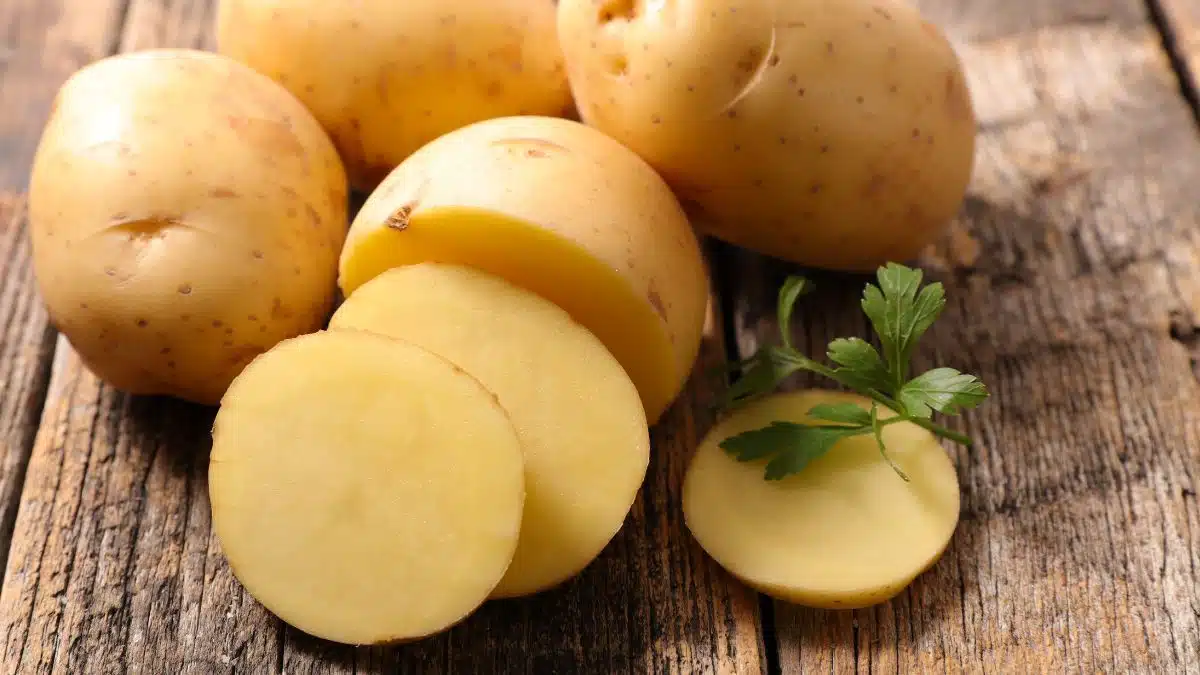 Types of Starchy Potatoes
Russet Potatoes
Russets are more common than Idaho potatoes and can be found in most grocery stores. Use this variety to make mashed potatoes, baked potatoes, french fries, or even homemade potato chips!
Idaho Potatoes
Like russet potatoes, Idaho potatoes are great for mashing, baking, or deep frying! The starch molecules swell when boiled, making for some of the most fluffy mashed potatoes you'll ever have.
Waxy Potatoes
On the other end of the potato spectrum are waxy potatoes. In contrast to starchy potatoes, waxy potatoes have a low starch content and a high water content.
The result of higher water content in waxy potatoes allows them to hold their shape better when cooked. Therefore, they are an excellent choice for dishes where you want to maintain the shape of the potato.
Think about dishes like potatoes au gratin where you want to maintain the shape of the sliced potatoes to layer on one another. Other popular dishes well suited to waxy potatoes are soups, potato salad, and casseroles.
In addition to the firmer texture of waxy potatoes when cooked is a difference in their flavor. Waxy potatoes have a creamier and slightly sweeter texture and flavor than starchy potatoes. You will also notice they have thinner skin.
>>>>See all of my recipes HERE<<<<
Types of Waxy Potatoes
Red Potatoes
There are many types of red potatoes. One of the most popular is "New Potatoes." In addition, there are other varietals such as Red Bliss Potatoes and Red Adirondack Potatoes.
Whatever type of red potato you have access to will provide similar qualities: a waxy texture with a mild flavor that holds its shape when cooked. As one of the best potatoes for holding its shape, red potatoes are a favorite for potato salad and soups or stews.
Fingerling Potatoes
Fingerling Potatoes provide a lovely nutty and buttery flavor in a compact size. Moreover, when roasted or fried, the flavor of these small potatoes is further enhanced.
As their name suggests, fingerlings can be easily eaten as finger food. Therefore, consider roasting some and serving it with a delicious dip or sauce. In addition, they are a fun alternative to chopped potatoes in potato salad.
Baby or Petite Potatoes
Petite potatoes come in a variety of colors which makes them a fun choice for adding variety to a meal. Moreover, their small size makes them easy to cook and eat.
Since they do not have to be chopped or mashed, they can quickly be cooked just as they are. In addition, since they have a more concentrated flavor than larger potatoes, they are easy to season with just salt and pepper. Truly a great choice for an easy and tasty side dish.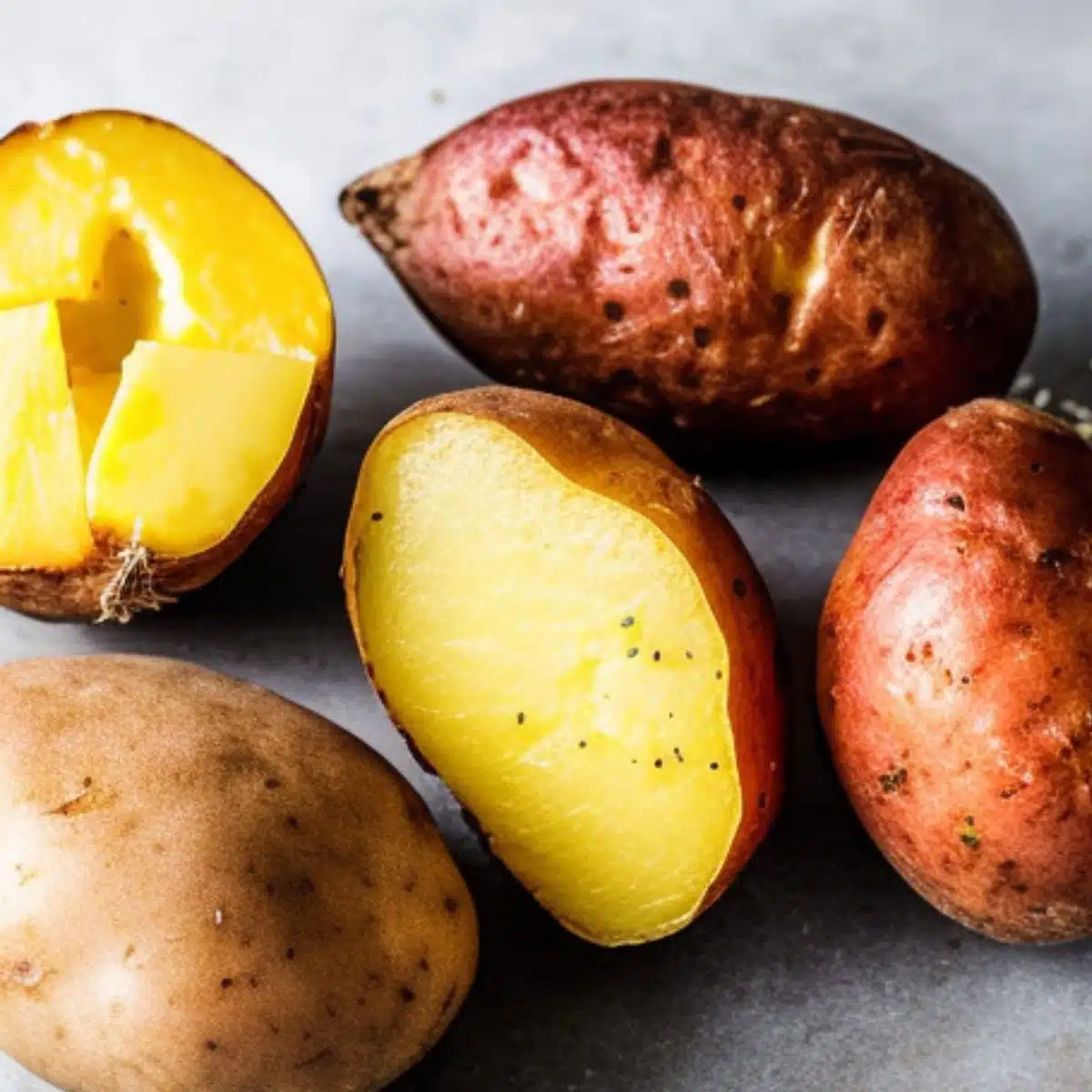 All-Purpose Potatoes
Just like there is all-purpose flour that can be used in almost any baking or cooking situation, there are also all-purpose potatoes. Just like all-purpose flour, these types of potatoes are well-suited for most dishes.
The key thing that makes these different potatoes all-purpose potatoes is their balanced ratio of starch to water. These potatoes have a medium starch content and a medium water content.
As an all-purpose potato, these varietals will hold their shape better than a starchy potato but can also be mashed or fried with equal success. Therefore, they can be used in place of a starchy or waxy potato in most recipes.
Types of All-Purpose Potatoes
White Potatoes
Like waxy potatoes, white potatoes have thin skin. Combined with the medium texture of this potato, this makes for an easy and creamy mashed potato with no peeling required. Simply chop up the whole potato, boil, and mash.
In addition, white potatoes can maintain a firm shape which makes them a great choice for potato salad. Extremely versatile, this potato can even be grilled to bring out its rich flavor.
Purple Potatoes
Purple potatoes are not only a tasty addition to a meal but also a wonderful visual addition. These boldly colored potatoes have a mild flavor that pairs well with many meals.
While these potatoes are mild in flavor, they do have a distinctive nutty flavor profile that pairs especially well with green salads. Consider roasting these to serve alongside a salad and steak or mixing them with white and red potatoes for a fun variety of colors and flavors.
Yellow Potatoes (Yukon Gold Potatoes)
The most popular type of yellow potato is Yukon Gold. While Yukon Golds are waxier than white potatoes, I have included them under the all-purpose potatoes because they are a favorite for mashed potatoes and potatoes au gratin.
One unique quality of Yukon Gold Potatoes is their delicious buttery flavor. In addition to their creamy texture, this buttery flavor makes it easy to enjoy these potatoes without adding flavor. This is one of the reasons they are so popular and versatile.
Table 1: Potato Attributes At A Glance
Potato Variety
Attributes
Russet
- Large, oblong shape with a rough, netted brown skin
- High starch content makes them ideal for baking, frying, and mashing
- Fluffy texture when cooked
Yukon Gold
- Medium-sized with a smooth, thin golden skin
- Moist and creamy texture when cooked
- Ideal for boiling, roasting, and mashing
Red
- Small, round shape with a smooth, thin red skin
- Waxy texture and slightly sweet flavor
- Hold their shape well when cooked, making them ideal for potato salads and roasted dishes
Fingerling
- Long and narrow with a thin skin
- Firm, waxy texture and nutty flavor
- Ideal for roasting and boiling
Purple/Blue
- Small to medium-sized with a smooth, thin purple or blue skin
- High antioxidant content and slightly sweet flavor
- Ideal for roasting and mashing
Quick reference table of potato varieties and their attributes.
Note that the attributes of potatoes can vary depending on their growing conditions and the specific variety. However, this table provides a general overview of some of the most common US potato varieties and their characteristics.
Pick Your Best Potato
With so many choices of potatoes and ways to use each, it is no wonder this is a favorite food across the country. While russet or Idaho potatoes may be the types you typically buy at the grocery store, consider trying one of these other types!
Like the classic russet potato, most of these varieties can easily be found at your grocery store, and with the guide above you can now tailor each recipe to the perfect potato!
I hope you found this potato guide useful and that I answered any of your potato-related questions! If not, feel free to reach out to me in the comment section below!
🥔 Potato Recipes To Try
📋 Recipe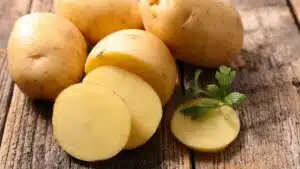 Print Recipe
Leave A Comment
Love This Recipe?
Click On A Star To Rate It!
Potato Guide: Starchy, Waxy, All-Purpose & Best Uses: Oven Baked Potatoes (+More Potato Varieties!)
This potato guide: starchy, waxy, all-purpose potatoes & best uses is full of tips and tricks for choosing the perfect potato! Learn how to spot quality potatoes, which ones will hold their shape when cooked, and which have a creamy or waxy texture. With all of this useful information, you can easily find the best potatoes for your next dish!
Pin Recipe
Share on Facebook
Ingredients
4

medium

russet potatoes

1

tablespoon

olive oil

(extra virgin)

½

tablespoon

sea salt
Instructions
Preheat your oven to 425°F (215°C) and line a baking sheet with parchment paper.

Wash your potatoes and pat them completely dry. Then, use a fork to poke holes all over the potatoes.

Place the potatoes onto the prepared baking sheet, brush them with olive oil, and then generously sprinkle sea salt over them.

1 tablespoon olive oil,

½ tablespoon sea salt

Bake in the oven at 425°F (215°C) for 45-60 minutes, or until the skin is crispy and the potatoes can easily be pierced with a fork.

Remove the potatoes from the oven, slice them open, fluff the inside, and then serve immediately with your desired toppings.
Equipment You May Need
Notes
Russet potatoes are my favorite for baking as they are high in starch content and make some super fluffy baked potatoes! For more options, check out my post on the best potatoes for baked potatoes!
Don't skimp on the salt! You want to essentially coat the exterior of the potatoes in salt to create a flavorful and crispy crust!
Depending on how large your potatoes are, your cooking time may vary slightly. Smaller potatoes will cook quicker, while larger potatoes may take the full 60 minutes. 
To store: Keep any leftover baked potatoes stored in a sealed container in the refrigerator for up to 4 days. Make sure you let them cool completely before storing them.
To reheat: Reheat your baked potato in the air fryer at 350

°F (175°C) for 3-5 minutes or in the oven at

350

°F (175°C) for 15-20 minutes. 
Nutrition
Calories:
199
kcal
(10%)
|
Carbohydrates:
38
g
(13%)
|
Protein:
5
g
(10%)
|
Fat:
4
g
(6%)
|
Saturated Fat:
1
g
(6%)
|
Polyunsaturated Fat:
0.5
g
|
Monounsaturated Fat:
3
g
|
Sodium:
883
mg
(38%)
|
Potassium:
888
mg
(25%)
|
Fiber:
3
g
(13%)
|
Sugar:
1
g
(1%)
|
Vitamin A:
2
IU
|
Vitamin C:
12
mg
(15%)
|
Calcium:
28
mg
(3%)
|
Iron:
2
mg
(11%)
baked potato, how to bake potatoes, how to bake potatoes in the oven, oven baked potatoes, oven baked potatoes ingredients, oven baked potatoes recipe, potato guide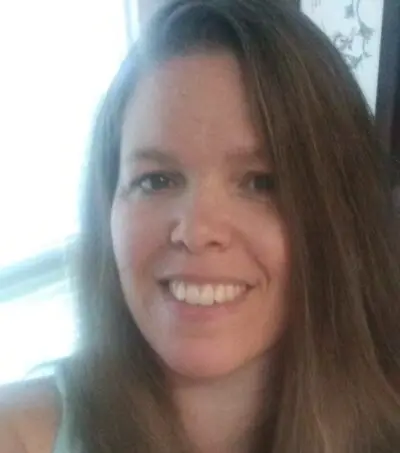 Angela is an at home chef that developed a passion for all things cooking and baking at a young age in her Grandma's kitchen. After many years in the food service industry, she now enjoys sharing all of her family favorite recipes and creating tasty dinner and amazing dessert recipes here at Bake It With Love!