My 12 days of Christmas cookies countdown is the perfect way to celebrate the holidays with your family each year! These classic Christmas cookies include some festive favorites as well as a few tasty traditional recipes from around the world. Remember, the only thing better than eating these delicious Christmas cookies is the time you spend making them with your family!
Christmas Cookie Countdown
There's no better way to celebrate the holidays than lots and lots of Christmas cookies! This Christmas cookie countdown is the perfect excuse for getting the whole family together to bake (and then later you can all enjoy the fruits of your labor)!
These Christmas cookie recipes showcase traditional holiday treats from all over the globe. I hope the familiar recipes fill you with warmth and nostalgia and that you can make new traditions with others. Merry Christmas!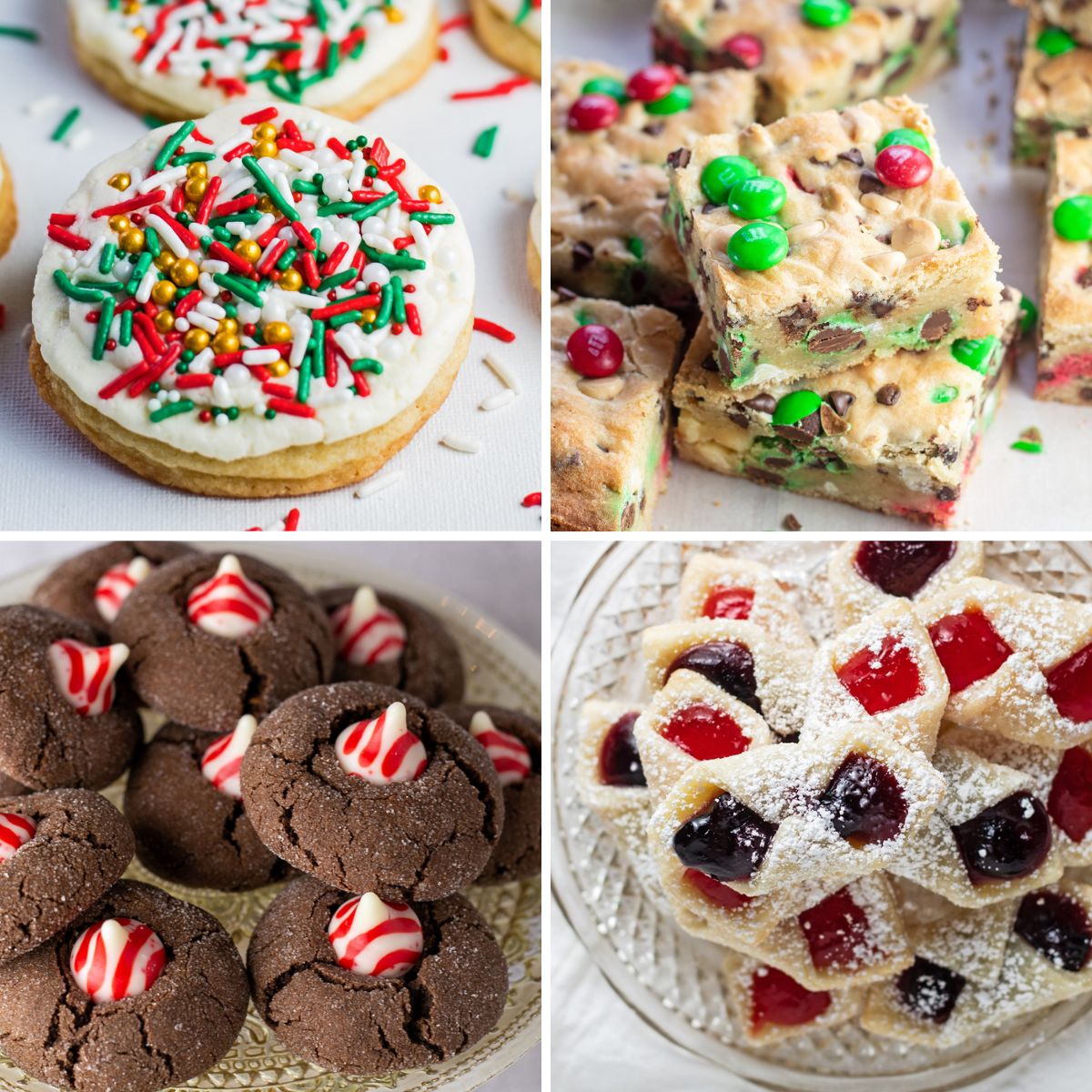 Jump to:
If baking gets you in the Christmas spirit, be sure to check out all of my holiday baking recipes! There are cookies, cakes, pies, fudge, candy, and so much more to try!
When Do The 12 Days Of Christmas Start?
Technically, the 12 days of Christmas (AKA Christmastide or Twelvetide) begins on Christmas day and runs until January 6th. During this time, Christians celebrate the nativity of Jesus Christ.
However, for the sake of this cookie countdown, you can totally bake them in the 12 days leading up to Christmas if you prefer! I've included a few extra recipes should you decide a certain cookie is not for you.
Don't worry about having too many cookies on hand because these recipes are perfect for gift-giving and cookie exchanges. If all else fails and you find yourself with extra cookies, check out this page on what to do with leftover Christmas cookies for more ideas!
1. Vintage Betty Crocker Sugar Cookies
These vintage Betty Crocker sugar cookies are perfect for decorating. They are easy to make, roll out smoothly, and cut beautifully!
The cookie dough is made with shortening, as are most vintage recipes. I think you'll find that there's a good reason classic recipes are classics!
2. Peanut Butter Blossoms
Baking peanut butter blossoms is a great family activity around Christmastime. There are no fancy frills or frosting, just the classic flavor combination of creamy peanut butter and milk chocolate.
A coating of white sugar is the secret ingredient to making these cookies extra tasty. Older kids can help measure and mix the cookie dough while the little kids can help by adding a Hershey's kiss to each cookie!
3. Christmas M&Ms Cookies
M&M Christmas cookies make the list of the most popular Christmas cookies year after year, and it's easy to see why. These cookies decorate themselves with festive red and green candies!
The cookies are chewy and soft with chocolatey M&Ms in every bite. You can't go wrong with these classic Christmas cookies (especially with a glass of milk on the side)!
4. Russian Tea Cakes
Russian tea cakes are soft and buttery with chopped walnuts scattered all throughout. The outside is rolled in sweet powder sugar which makes these cookies finger-licking-good!
As the name suggests, these cookies are often enjoyed with coffee or tea. Though you won't need a drink to enjoy them because they are delicious any time of day!
5. Melting Moments
These cookies will practically melt in your mouth in just moments (hence the name). Melting moments are a buttery twist on shortbread cookies that the whole family will enjoy.
You only need 4 ingredients to make these tasty cookies. They are made with cornstarch which binds the cookies just enough that you don't even need eggs!
6. Italian Ricotta Cookies
Yes, there is ricotta cheese in these cookies, but hear me out! This traditional Italian Christmas cookie is extra moist with a delightful tang from the added ricotta.
Add a sweet lemon glaze and festive Christmas sprinkles to top them all off. These cookies are easy to make and even better to eat!
7. Chocolate Peppermint Blossoms
This recipe is a fun twist on the classic peanut butter blossoms listed above! In place of a traditional brown sugar and vanilla cookie base, these are rich and extra chocolatey.
The fantastic flavor combination of chocolate and peppermint is always a hit at the holidays. The red and white striped Hershey's kisses on top add the perfect Christmas touch!
8. Gumdrop Cookies
These incredible holiday cookies have chewy bits of gumdrop candy in every single bite! They are easy to make, and you can pop them right in the oven (no chilling required)!
The bright colors of the candy peek through each and every cookie. You don't need frosting or sprinkles for these cookies to feel festive!
9. Christmas M&Ms Bars
Okay, so maybe they aren't cookies but they are cookie bars so they deserve a spot on the list. These Christmas M&M cookie bars are just as delicious as their cookie counterparts but in a thick and easy-to-eat dessert bar!
A 9x13 tray bake is so much easier than making cookies. You don't have to roll or shape them, just pop them in the oven and enjoy!
10. Kringla
These Scandinavian Christmas cookies are so tender and sweet that you will hardly believe it. They are simple cookies, with no special equipment or advanced baking skills needed.
Traditionally, kringla are enjoyed without frosting or glaze. Though you can certainly add some if you like!
11. Christmas Cookies (with Sprinkles)
These cookies embody everything there is to love about Christmas cookies! A soft drop-style sugar cookie base is topped off with an easy homemade frosting and, of course, plenty of colorful sprinkles!
Everyone can gather around the kitchen table and add their favorite edible glitter, sprinkles, and nonpareils to each cookie. It's like an extra tasty session of arts & crafts!
12. Kolaczki
Polish kolaczki cookies are the perfect way to satisfy your sweet tooth at Christmastime. All you need is 5 ingredients: cream cheese, butter, pie or pastry filling, flour, and powdered sugar. (Oh, and just a touch of water).
The buttery cookie dough is simply folded around a sweet fruit filling and baked before being dusted with powdered sugar. Trust me, you will want to make these cookies every year.
🍪 A Few More Great Christmas Cookies
🎄 Bonus: Christmas Candy Recipes
Be sure to take a look at my Christmas fudge recipes for more indulgent holiday treats!
Did you bake 12 days of Christmas cookies this year? Which recipes were your favorite? Let me know in the comments below!
🎅 More Christmas Recipes & Guides
📋 Recipe