These recipes using fruitcake mix feature a variety of delicious desserts that are perfect for the holidays! From traditional fruitcakes to cookies or bars, there is something for everyone! They are all easy-to-make, tasty, and use store-bought fruitcake mix!
Best Recipes Using Candied Fruit
Fruitcake mix isn't limited to only making fruitcakes. You can also use this assortment of dried fruits for tons of other delicious treats!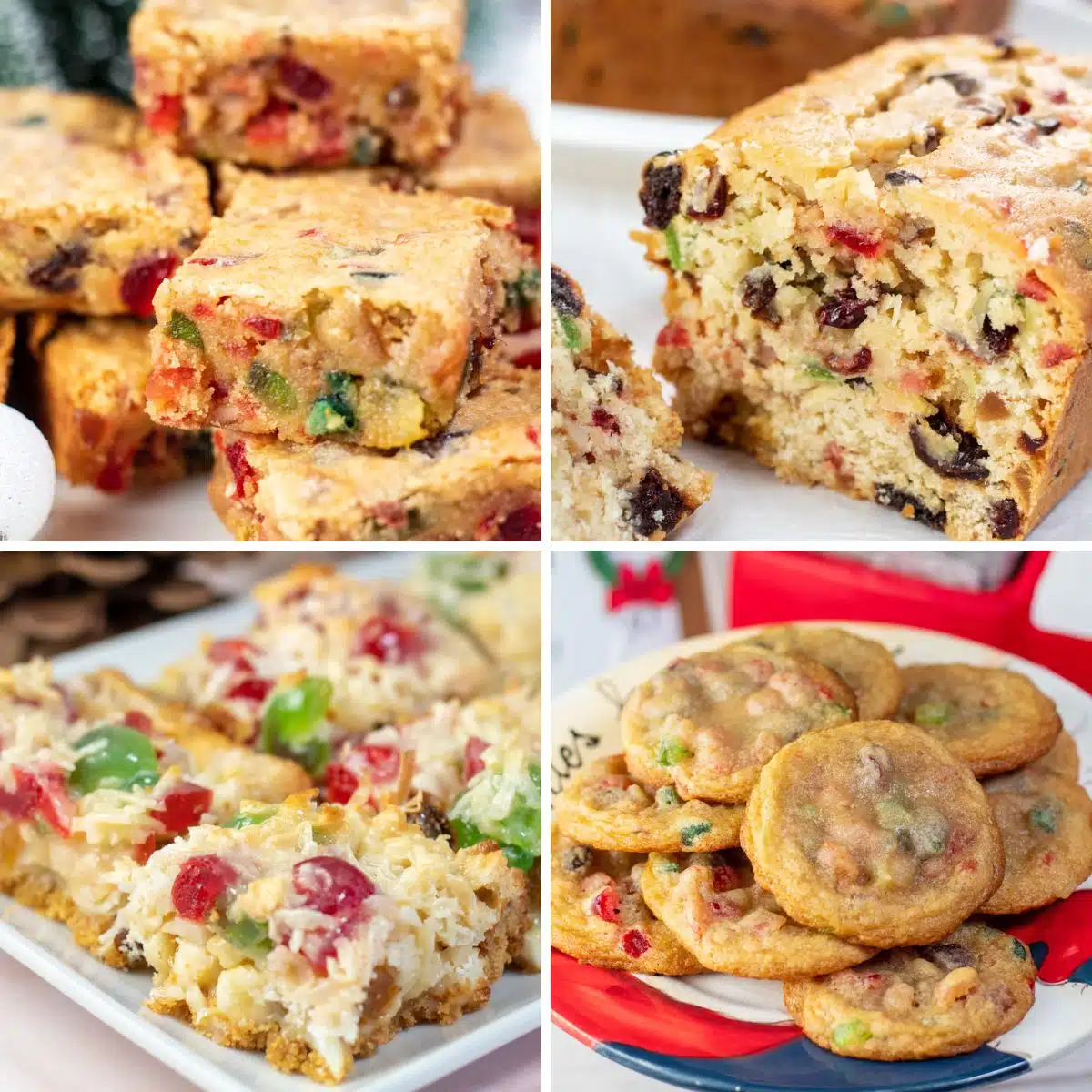 Jump to:
Desserts Using Fruitcake Mix
1. Light Fruitcake
This classic light fruitcake is perfect for the holidays! Feel free to enjoy it right away or properly age it to deepen the flavors.
If you aren't sure what a light fruitcake is, check out my article on light vs dark fruitcakes.
2. Christmas Cake
Traditional American fruitcake has roots that take it back to this delicious British Christmas cake! It still includes your dried and soaked fruit as well as warm spices.
What makes it unique is that it also has marzipan and royal icing!
3. Jamaican Rum Cake
Your dried peels and fruits are soaked in a combination of rum and sweet wine. Then, more rum is incorporated into the batter itself!
Feel free to add the icing or leave it off, but I highly recommend including some toasted coconut!
4. Black Cake
This Jamaican fruitcake variety is similar to traditional fruitcake but with orange peel, lime zest, and lime juice! You can even prepare it an entire six months ahead of time!
5. Barmbrack
This barmbrack is similar to an upgraded version of raisin bread. The dried fruit (raisins, sultanas, cherries in this case) is actually soaked overnight in tea!
6. Fruitcake Cookies
These cookies feature all your favorite dried fruitcake mixes but in some chewy and soft cookies rather than a cake! There's no need to soak the fruit, but you can add a splash of alcohol to the cookie dough!
7. Fruitcake Bars
These fruit-packed bars are perfect for when you are hosting a crowd! They are easy to slice, serve, and eat without a plate!
8. Fruitcake Shortbread Squares
Tender shortbread is combined with dried fruit for these wonderfully delicious and easy-to-serve bars. The squares are topped off with booze-infused icing, making them irresistible!
>>>>See all of my recipes HERE<<<<
9. Fruitcake Shortbread Cookies
Shortbread cookies are jam-packed with your preferred holiday fruitcake blend for an easy and tasty holiday treat. Not to mention, you'll only need four ingredients in total!
10. Fruitcake Magic Bars
These fruitcake magic bars really bring out all of your favorite flavors. They have a graham cracker crust, white chocolate chips, almonds, dried fruit, and shredded coconut!
11. Christmas Fruitcake Truffles
If you have any leftover fruitcake, you can easily repurpose it into these addicting bite-sized treats! Just roll them into balls and dip them in melted chocolate!
12. Upside-Down Fruit Cake
This unique twist has dried fruit, brown sugar, and butter evenly spread on the bottom of the pan. The brandy-infused cake batter is poured on top and then baked.
When you take it out of the oven, you just flip it over and enjoy!
13. Fruitcake Balls
These fruitcake balls are actually made on the stovetop, so they are completely no-bake! They are similar to a Rice Krispie treat but with fruitcake mix, coconut, and pecans!
14. Fruitcake Fudge
This simple stovetop fudge is incredibly easy to make (you can't mess it up!) It features white chocolate chips, marshmallows, and fruitcake mix!
15. Fruitcake Biscotti
These classic biscottis have fruit cake mix added to the batter. They are then twice-baked and drizzled with a simple icing.
16. Fruitcake Bundt Cake
Upgrade your standard fruitcake by using a bundt pan! It is easy and delicious, and the result is stunning!
17. Candied Fruit Macaroons
These ultra-easy macaroons only use 4 ingredients: sweetened condensed milk, coconut flakes, fruitcake mix, and chocolate for dipping! They are pretty effortless but completely delicious.
💭 Tips For Using Fruitcake Mix
As always, make sure you follow your recipe, but here are some tips and tricks for using fruitcake mix in your desserts!
Soak the Fruits in Alcohol or Fruit Juice: Before using the mix, soak the dried fruits in your choice of alcohol (such as brandy, rum, or whiskey) or fruit juice for at least a few hours or overnight. This will plump up the fruits and infuse them with flavor. Of course, this is completely optional!
Control Liquor Amount: If you're soaking in alcohol, be cautious about the amount you use. Too much can overpower the flavors, so start with a small amount and adjust as needed.
Add Nuts for Texture: If you enjoy a nutty crunch in your fruitcake-based desserts, consider adding chopped nuts like pecans, walnuts, or almonds.
Incorporate Spices: Enhance the flavor profile of your recipes by adding warm spices like cinnamon, nutmeg, and allspice. These spices complement the sweetness of the fruits.
Chop to Suit Recipes: If the fruit pieces are too large for your liking, or if your recipe requires smaller pieces, feel free to chop them down to size.
These recipes using fruitcake mix are bound to become some new holiday favorites! Which one will you be making first?
📖 Recipe Card