Learn how to freeze sour cream in this helpful guide full of tips and tricks so that you never have to waste any unused sour cream ever again! I cover how to properly store your sour cream, how to thaw it, and how you can use it in a variety of baking and cooking needs! Plus, I even throw in some easy and delicious recipes to try with your frozen sour cream!
Freezing Sour Cream
Sour cream is a versatile ingredient used regularly in many kitchens to add a tangy flavor and creamy texture to a variety of dishes! But what happens when you have an excess amount that you can't use up right away? Can you freeze it? The short answer is yes, but there are some things you need to know to ensure the best results!
In this ultimate guide, I'll be covering everything there is to know about freezing sour cream, including the best methods for freezing, thawing, and using it in recipes. So let's get started and learn how to freeze sour cream like a pro!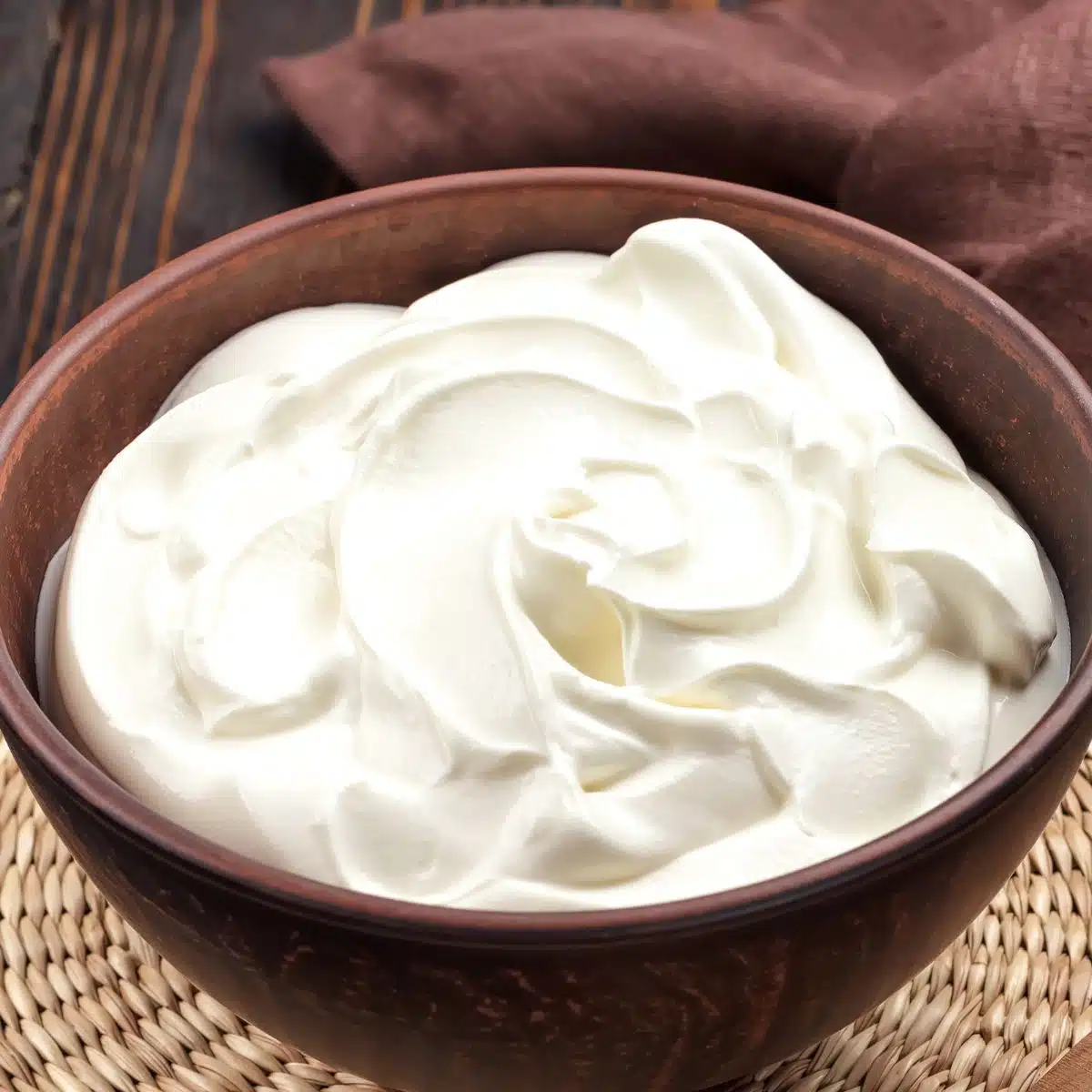 Jump to:
Want More Recipes? Enter your email below and we'll send them straight to your inbox!
🤔 Can You Freeze Sour Cream
Freezing sour cream may seem like a simple task, but there are a few things to consider before doing so. If you freeze it incorrectly, you could end up with a watery mess that won't work in most recipes. But if you do it right, you can extend the life of your sour cream and save money in the process!
In general, sour cream can be frozen, but it will have an altered texture after it is thawed. Freezing will cause the sour cream to become slightly grainy or separated, but it should still be perfectly safe to eat!
The fat in the sour cream is what separates, resulting in a less appetizing appearance. Despite these changes, sour cream that has been frozen can still be used in cooking and baking, although it really isn't as suitable to serve as a topping or used in dip recipes.
How To Freeze
To freeze sour cream, simply transfer it to an airtight container or freezer bag, making sure to leave some room at the top for expansion. Seal the container or bag tightly and label it with the date!
Feel free to store the entire container of sour cream in a freezer bag. Just note that plastic sour cream containers are not great for long-term freezing and they have the potential to expand. However, the storage bag will help protect the sour cream from getting freezer burn.
Alternatively, you can scoop it out of the original container and divide it into silicone molds. Freeze the silicone molds for an hour then pop them out into a freezer bag!
How To Thaw
When you're ready to use the sour cream, simply thaw it in your fridge overnight. After it's thawed, give it a stir to help smooth out any graininess or separation that may have occurred. If the sour cream has an off smell or taste after it's been thawed, it's best to discard it.
It's worth noting that sour cream that has been frozen and thawed is best used in cooked dishes rather than as a topping or garnish, as its texture may be less smooth. Freezing is a good option if you have excess sour cream that you don't plan to use before it expires, but if you use sour cream frequently, it's better to buy it in smaller quantities and use it up before it goes bad.
How Long Can Sour Cream Be Frozen
When properly stored, sour cream can last in the freezer for up to 2-3 months! Sour cream may develop an off flavor when stored after 3 months, and if so, it will need to be thrown away.
How To Use In Recipes
Even though frozen sour cream will have a changed texture and consistency, it can still be used in many different kinds of recipes! Here are a few ideas for you to make when you have some on hand:
Use it in cooked dishes - Frozen sour cream can be added to recipes that are heated, such as casseroles, soups, and stews! Since the texture most likely changed, mixing it with other ingredients is best to incorporate it fully into the dish.
Use it in baked goods - You can also use frozen sour cream in baked goods such as cakes, muffins, and bread! Allow it to thaw in the fridge overnight, then stir it thoroughly before adding it to the recipe. While the texture may not be the same as fresh sour cream, it can still provide the necessary moisture and tangy flavor to your baked goods!
Make a sour cream sauce - If you are a tangy sauce fan, mix your frozen sour cream with some herbs, spices, or other flavorings! Heat it gently on the stove until it's warmed through, and use a topping for vegetables, meat, or pasta!
Tips For Freezing
If you need to freeze sour cream, here are my best tips to help maintain its quality:
Use a freezer-safe container or resealable plastic bag to store the sour cream. Be sure to squeeze out as much air in the bag as possible before sealing it. Leave some air at the top if you are storing the original container in a freezer bag, in case it expands.
Label your bag or container with the date and the amount of sour cream stored. This will help you keep track of how long it's been in the freezer and how much you have on hand.
Freeze the sour cream for up to 2-3 months. Sour cream that has been frozen for longer than 3 months may start to develop off-flavors.
Thaw the sour cream in your fridge overnight. Avoid trying to thaw it at room temperature or in the microwave. This can cause the texture to become even more grainy and separated.
Once the sour cream is thawed, stir it well before using it in your recipe. This can help to smooth out any graininess and restore some of its texture!
Now you know the best tips and tricks on how to freeze sour cream! Are you a fan of sour cream, if so, what is your favorite recipe to make with it? Leave a comment down below and let me know!
>>>>See all of my recipes HERE<<<<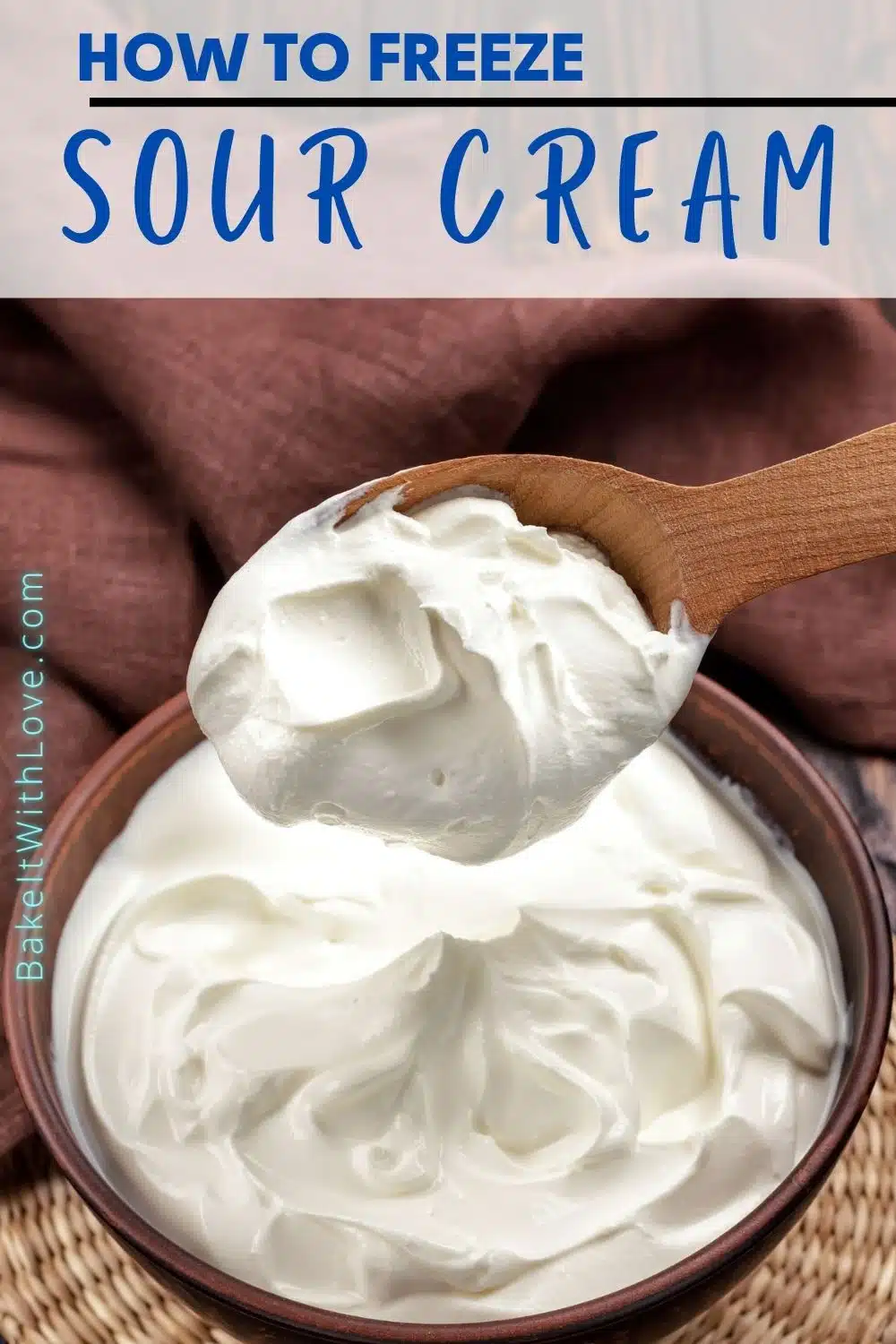 😋 Tasty Recipes Using Sour Cream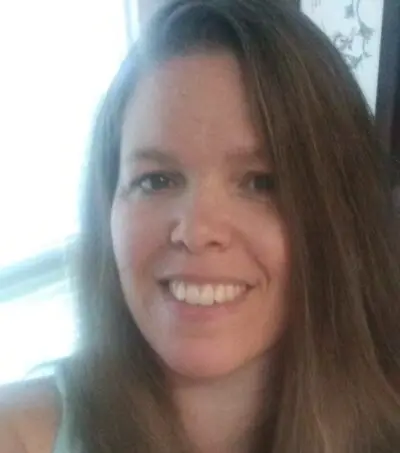 Angela is an at home chef that developed a passion for all things cooking and baking at a young age in her Grandma's kitchen. After many years in the food service industry, she now enjoys sharing all of her family favorite recipes and creating tasty dinner and amazing dessert recipes here at Bake It With Love!