This Easter lamb dinner menu includes everything you need to pull off a delicious and memorable meal on Easter Sunday! From appetizers and entrees to side dishes and desserts, these recipes are always a hit! Who knows, you might even find a few new family favorites!
Easter Lamb Dinner Menu Ideas
Celebrate Easter with a delicious lamb dinner! Whether you're hosting a family gathering or just want to enjoy a special holiday meal, there are plenty of options for creating the perfect Easter dinner with lamb as the main course.
From appetizers and side dishes to desserts that pair perfectly with lamb, we have all the recipes to make your Easter dinner extra special and delicious! I've even included a few different lamb entrees to choose from!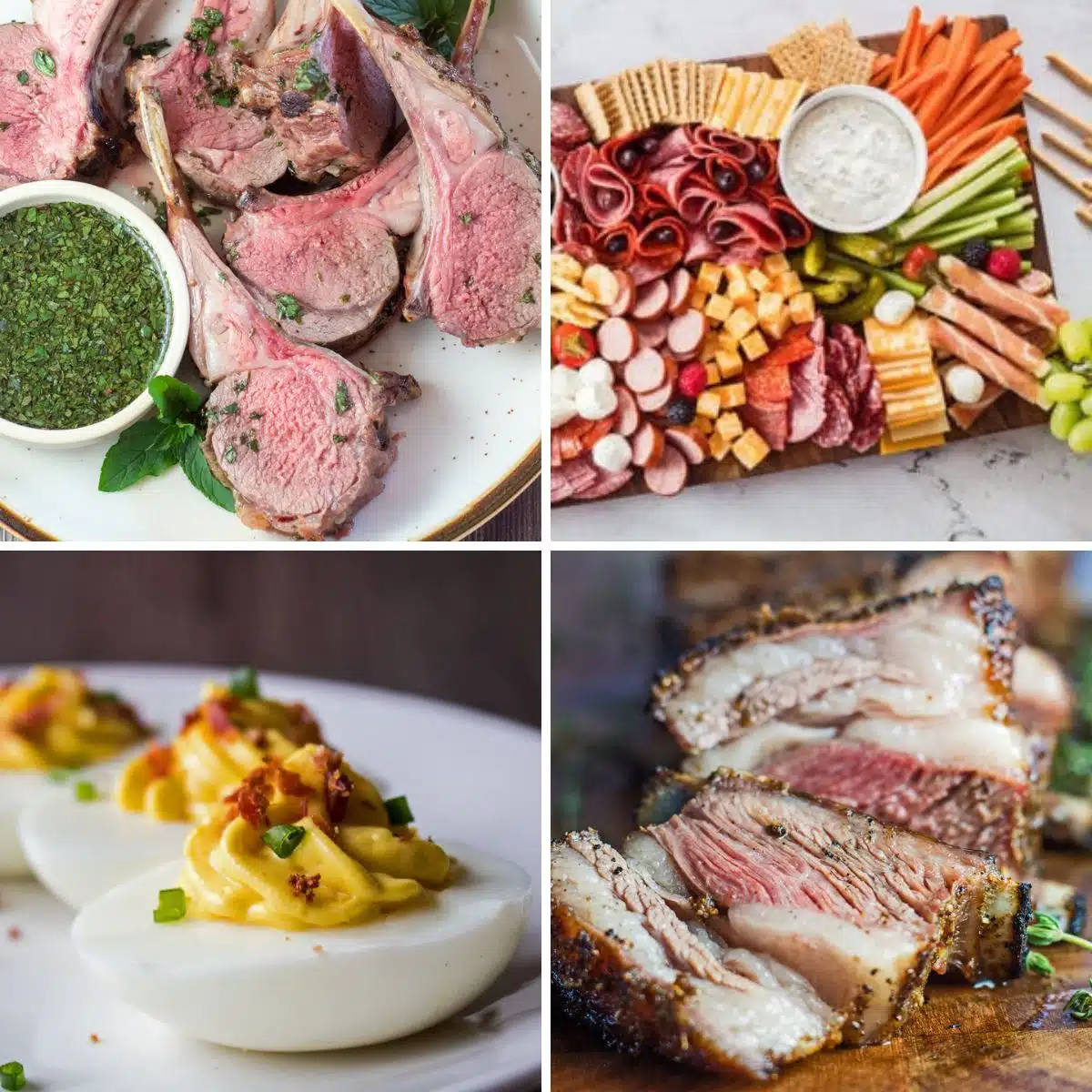 Jump to:
Want More Recipes? Enter your email below and we'll send them straight to your inbox!
Before starting your lamb dinner, make sure to check out my Ultimate Guide to Cooking Lamb! It has tips, tricks, and more for making the most tender and flavorful lamb!
Appetizers
For starting an amazing dinner out right, start with equally amazing appetizers!
1. Deviled Eggs
Deviled eggs are a classic appetizer that has been a staple of Easter dinner tables for generations! This is my go-to recipe for traditional deviled eggs, but you can always spruce them up by adding mix-ins like crumbled bacon or pickled onions (a pinch of cayenne is perfect for spice lovers)!
2. Greek Salad
Lamb pairs wonderfully with Greek flavors, and this chilled Greek salad is one of my favorite ways to start a lamb dinner. It's made with cucumber, tomatoes, red onion, kalamata olives, and feta cheese, and tossed in a quick homemade Greek dressing.
Greek salad is light and refreshing so it won't fill you up too much before the main course. Not to mention, you can make it in advance and let it chill in the fridge!
3. Cream Cheese Stuffed Mushrooms
Cream cheese stuffed mushrooms are a bite-sized, easy appetizer that can be made in just 30 minutes. They are the perfect dish to make for Easter dinner and they taste amazing!
All you need is white or crimini mushrooms, cream cheese, Parmesan, and some seasonings. Fill your mushrooms, pop them in the oven, and enjoy!
4. Wedge Salad
It doesn't get much easier than making a wedge salad, yet they somehow look more elegant than their loose-leaf lettuce counterparts. I use a crisp wedge of iceberg lettuce, bacon, tomatoes, blue cheese crumbles, and blue cheese dressing, though you can always customize your salad to suit your taste.
5. Charcuterie Board
Charcuterie boards are always a great choice when choosing starters for holiday meals. Add dried fruits, nuts, crackers, cheeses, sausages, compotes, mustards, or whatever you like!
Arrange your charcuterie board and let everyone graze while you prepare the main course!
Main Courses
The star of any meal is a fabulous portion of rich and delicious protein!
6. Roasted Rack of Lamb
If you're looking for an impressive main course that will steal the show, this roasted rack of lamb is just the thing. The succulent lamb meat is perfectly seasoned with a flavorful blend of garlic and fresh herbs.
Homemade mint sauce is my favorite condiment for elevating the flavor of lamb even further. Serve it on the side, and watch your family savor every bite!
>>>>See all of my recipes HERE<<<<
7. Sous Vide Lamb Chops
You'll be shocked at how wonderfully tender and juicy sous vide lamb chops are when the process is so easy! I give them a quick sear at the end so you still get a nice crust while the meat on the inside melts in your mouth like butter.
They take some time to prepare but for the most part, it's hands-off! Marinate your chops overnight for the most amazing flavor!
8. Roasted Lamb Breast
Roasted lamb breast is a classic Easter dinner main course that is sure to impress your guests. It's fall-off-the-bone tender, juicy, and packed with rich flavor from my simple homemade lamb rub.
Whether you're hosting an Easter dinner or just looking for something special to serve your family, roasted lamb breast is a perfect choice.
9. Smoked Leg of Lamb
If you have a smoker, Easter is the perfect time to fire it up! The smokey flavor penetrates the meat and adds to the rich taste of the lamb.
I use a Mediterranean-inspired lamb rub and herbes de Provence to season the lamb before smoking it, then sear it quickly at the end over high heat for the perfect outer crust.
10. Roasted Lamb Shanks
These lamb shanks are decadently tender from being slow-roasted in chicken broth. I use a simple blend of herbs and spices that complements the uniquely rich flavor of lamb meat.
This recipe requires very little prep time, but it tastes like you've been slaving in the kitchen all day! If you're looking for a lamb dinner that will impress your guests, these lamb shanks always get the job done.
If desired, you can save your lamb drippings to make a rich and flavorful lamb gravy! You can pair lamb gravy with any of the lamb recipes on this list and it will make them even more delicious!
Side Dishes
Round out a hearty meal with generous portions of tasty vegetable or starch side dishes!
11. Candied Carrots
Candied carrots are an irresistible side dish that will add a touch of sweetness to any Easter dinner. These tender carrots are coated in a delicious brown sugar glaze that kids (and adults) will love.
From start to finish, they only take about 30 minutes to prepare! So, if you're looking for a simple and unique veggie side dish, these candied carrots are a great choice.
12. Dauphinoise Potatoes
Dauphinoise potatoes are a classic French side dish that is perfect for any special occasion. This creamy and cheesy gourmet side dish consists of thinly sliced potatoes baked in a decadent combination of cream, butter, and Gruyere cheese.
It makes an elegant addition to any dinner and is the perfect accompaniment to lamb on Easter Sunday or any other holiday meal!
13. Lemon Asparagus Orzo
Lemon asparagus orzo is a delicious side dish that pairs perfectly with lamb and is an ideal choice for Easter dinner. This simple dish is made with tender chunks of asparagus and orzo pasta, all cooked in a flavorful lemon garlic sauce.
It's a great way to add some extra flavor to your meal without spending too much time in the kitchen!
14. Garlic Butter Mushrooms
Garlic butter mushrooms are incredibly quick and easy, plus they taste great with lamb (and chicken, steak, or fish, too)! They only take about 10 minutes to make, so if you're scrambling for a last-minute side dish, garlic butter mushrooms are just the thing.
15. Balsamic Roasted Brussel Sprouts
Balsamic roasted brussel sprouts are a delicious and easy side dish that can be prepared in no time. Thanks to the combination of olive oil, honey, and balsamic vinegar, they are packed with flavor.
This green vegetable is perfect for any meal, from a simple family dinner to an Easter lamb roast!
Desserts
Last but never least, a sweet end to a wonderful holiday meal!
16. Carrot Cake
Carrot cake is a classic Easter dessert that will satisfy any sweet tooth. It's a rich, moist cake packed with flavor from warm spices and topped with a delicious vanilla bean cream cheese frosting.
Whether you're looking for a memorable dessert to make for your family or something special to bring to an Easter dinner, carrot cake is a perfect choice. Enjoy its decadent taste and texture as you celebrate the holiday with your loved ones!
18. Tres Leches Cake
Tres leches cake is an ultra-moist, sweet, creamy Mexican dessert often served on Easter. It's made with three kinds of milk - evaporated milk, condensed milk, and heavy cream - which gives it its unique flavor and texture.
To make it extra special, top it off with fresh fruit or a dusting of powdered sugar. This classic dessert is sure to be a hit this Easter!
19. Key Lime Pie
Key lime pie is a classic Easter dessert that is bright and refreshing. It has the perfect balance of sweetness and tartness, with a creamy lime filling and fluffy whipped cream on top. Every bite of this delicious treat will leave you wanting more!
20. Dutch Apple Pie
Dutch apple pie is a nice alternative to a traditional apple pie. It has the tender apples and warm spices that we all know and love but with a tasty twist!
A crunchy brown sugar streusel on top adds the perfect finishing touch. Whether you're looking for something special to make for your family or just want to enjoy a delicious treat, Dutch apple pie will surely be a hit!
21. Blueberry Galette
A blueberry galette is similar to a blueberry pie, except it is made with a French pastry crust loaded with fresh blueberries and baked until golden. With its sweet and tart flavor, this blueberry galette will delight your guests (don't be surprised when everyone asks for the recipe)!
I hope your family enjoys these Easter lamb dinner menu recipes as much as mine does! Be sure to come back and let me know which of these recipes you try by commenting down below!
😋 More Lamb Recipes
📋 Recipe