Because sausage comes in so many forms and flavors, I've rounded up the very best sausage recipes for you to choose from! Sausage can be served at breakfast, lunch, or dinner, so there are a variety of options for using sausage for any meal!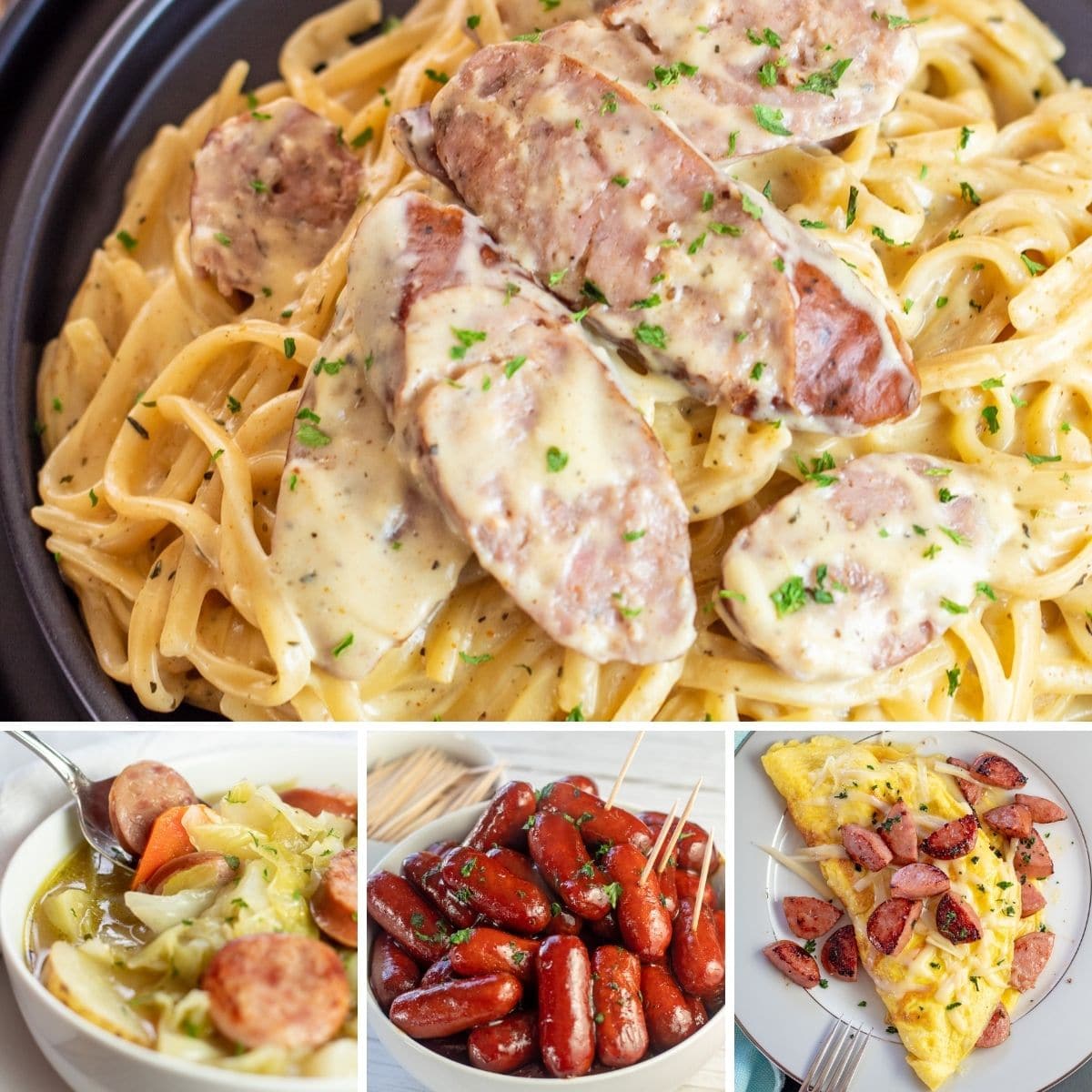 20+ delicious recipes that showcase sausage in all its forms!
There are several fantastic sausage recipes out there, so I've narrowed it down to a select few that everyone should try at home.
So, if you're looking for something amazing to make with sausage for breakfast, lunch, or dinner, you'll find it here. I've also included some dishes that are perfect for potlucks!
Jump to:
1. Cajun Sausage Pasta
Everything about this one-pot recipe screams "simplicity." So when we're craving something creamy and spicy on a weekday, this 30-minute dish is exactly what we're looking for.
If you don't like spicy food too much, you can use mild Italian sausage or smoked Kielbasa instead of the Cajun-style andouille sausage.
2. Cabbage Soup with Kielbasa
We can't even think of a better way to describe this dish than nourishing, comforting, cozy, and delicious. Filling and inexpensive, this is a great weeknight meal.
Make this your go-to meal when the temperature drops and you're craving some comfort food. If you don't make a large batch, it will be gone before you know it.
3. Kielbasa Cabbage Skillet
The tangy Dijon mustard sauce in this kielbasa cabbage skillet is what really sets it apart. Best of all, this flavor-packed skillet dinner only takes 20 minutes to make!
4. Stuffed Italian Sausages
Stuffed Italian sausages are shockingly easy to make. Filled with cream cheese, Parmesan, and a little Italian seasoning, this is my favorite way to make sausages the main course on their own.
To make them into a full meal, take a look at my post on what to serve with Italian sausages for inspiration.
5. Kielbasa Swiss Omelet
Slice up some salty, smoky kielbasa and add it to a protein-packed 3-egg omelet! I find Swiss cheese really compliments the sausage.
This is a great recipe for when you are short on time. From pan to plate in 15 minutes or less!
6. Italian Sausage Bake
My delicious Italian sausage bake only requires 5 ingredients and can be made entirely in one pan! It's perfect for hectic weeknights because it is so easy to throw together.
This sausage bake is a total comfort meal. It's hearty, filling, and flavorful while requiring minimal effort.
7. Hash Brown Breakfast Casserole
This simple breakfast casserole features crispy hash browns, sausage, and all the eggs you could ask for. This casserole serves 10, so it's perfect for any time you have guests over for breakfast.
This is a family favorite we like to whip up on lazy Sunday mornings.
8. Cream Cheese Sausage Balls
The name says it all. These cream cheese sausage balls make a wonderfully filling appetizer or finger food.
All you need is a little Bisquick, pork breakfast sausage, cream cheese (of course), and cheddar!
9. Baked Italian Sausages
Quite possibly the easiest dinner of all time, baked Italian sausages can be dressed up however you please. Add some vegetables to make them into a one-pan meal.
Try out different variations and you can have endless dinner options all from a single recipe!
10. Smoked Italian Sausages
If you're lucky enough to have a smoker, I highly recommend smoking Italian sausages! They are so versatile.
Eat them as is, slice them up and add them to any meal, or enjoy them on a bun!
11. Baked Mac & Cheese (with Smoked Sausage and Broccoli)
If you want to indulge, this oven-baked mac and cheese with smoked sausage and broccoli is the right way to do it.
Even the kids will enjoy this dressed up mac and cheese.
12. Air Fryer Brats
Air-frying is our new preferred way of cooking sausage or bratwurst. The air fryer cooks sausage perfectly, with lovely crisp skin, even when it's completely hands-off. Using an air fryer is a breeze.
Cooking sausages in a pan and constantly flipping them to ensure that they are brown on the exterior but still perfectly cooked on the inside is no longer necessary. It's all done for you, and you don't even have to lift a finger.
13. BBQ Little Smokies
These easy-to-make 2-ingredient BBQ Little Smokies will keep you and your guests coming back for more! Cooked until nice and hot, these sausages are a delicious treat.
Guests will rave about these mouthwatering appetizers! So bring these incredibly simple sausages to your next gathering, and they'll be gone before you know it!
14. Sausage & Apple French Toast Bake
This recipe would be ideal for breakfast. Baked apples and sausage are a classic combination for fall, and this dish is no exception. This dish may remind you of your favorite apple pie, but with a savory sausage twist.
Once it's in the oven, the delightful aroma will fill your home.
15. Sausage Rolls
This dish is an incredibly flavorful and tender sausage filling encased in puff pastry. These may be a fun activity for you and your kids to do together, or you can serve them at your next party. They're going to love it.
Undoubtedly, if you're a fan of sausage rolls, you know just how good these are.
16. Sausage Gumbo
Cajun-style sausage gumbo is made with a basic roux, veggies, chicken, and spicy Andouille sausage and served over rice. This classic gumbo has all the rich flavors of the South and a rich sauce that is perfect for a hearty family supper served over rice.
If you're looking for a traditional Southern meal, serve this over white rice with a side of cornbread!
17. Kielbasa Pepper Pasta
This recipe features Kielbasa, red bell pepper, yellow onion, tomatoes, Parmesan cheese, and rotini pasta. To be honest, there's nothing better than a quick and healthy dinner that's also kid-friendly.
18. One-Skillet Sausage, Peppers, Potatoes, and Onions
There's nothing complicated about this dish, and it's delicious and full of flavor if you're looking for something simple. All of the flavors come together wonderfully in a skillet.
It's perfect for any meal of the week, from a quick weeknight dinner to a leisurely Sunday brunch. Regardless of whether you're serving it for dinner or breakfast, you can't go wrong with it.
19. Sausage and Rice
This one-pot sausage and rice dish is quick and easy, but it's loaded with flavor. The secret is in the smoked sausage!
The rice soaks up all of the great flavors from the sausage, which makes it a fantastic side dish. Because it's so flavorful and delicious, this recipe is suitable for people of all ages.
20. Curried Sausages
Spice things up with this old-school curried sausage recipe. It's a dish that brings back happy memories and a smile to our faces.
You're missing out if you've never heard of or tried this recipe. It's a classic dish with browned sausages in a curry-flavored gravy with carrots and peas. So delicious!
21. Spicy Italian Sausage Pasta
If you're looking for an easy and spicy weeknight dinner, this is the recipe for you. Pasta is our favorite dish to make in our house because of its versatility.
Anything goes well with pasta, and the results are always delicious. That is evident in this recipe. Wonderfully quick and easy to put together, this dish has a lot of flavor and texture.
22. One-Pan Sausage and Veggies
This simple side dish goes well with just about any meal. It's incredibly versatile, and you can pair it with any of your favorite vegetables and sausages.
Our favorite aspect of this dish is that you can simply throw everything into a single pan and then let it cook for a while until the flavors meld together.
23. Shrimp & Sausage Creole
Tender and tasty shrimp and sausage are simmered in a flavorful tomato sauce and are the shining stars of this dish. The 30 minutes cooking time are well worth the wait!
This dish is decidedly delicious, especially when served with some hot steamed rice and buttery cornbread. It's one of our favorites from the South, hands down!
There you have it, the best sausage recipes out there ! In the future, if you get a craving for sausage, I hope this list comes in handy. We want to hear which sausage recipe you like most, let us know in the comments below!
📋 Recipe