Check out my article on what to serve with biscuits if you want to make a hearty, well-rounded meal at breakfast, lunch, or dinner! Biscuits are perfect for dunking, dipping, and smothering, so there are plenty of delicious ways to serve them!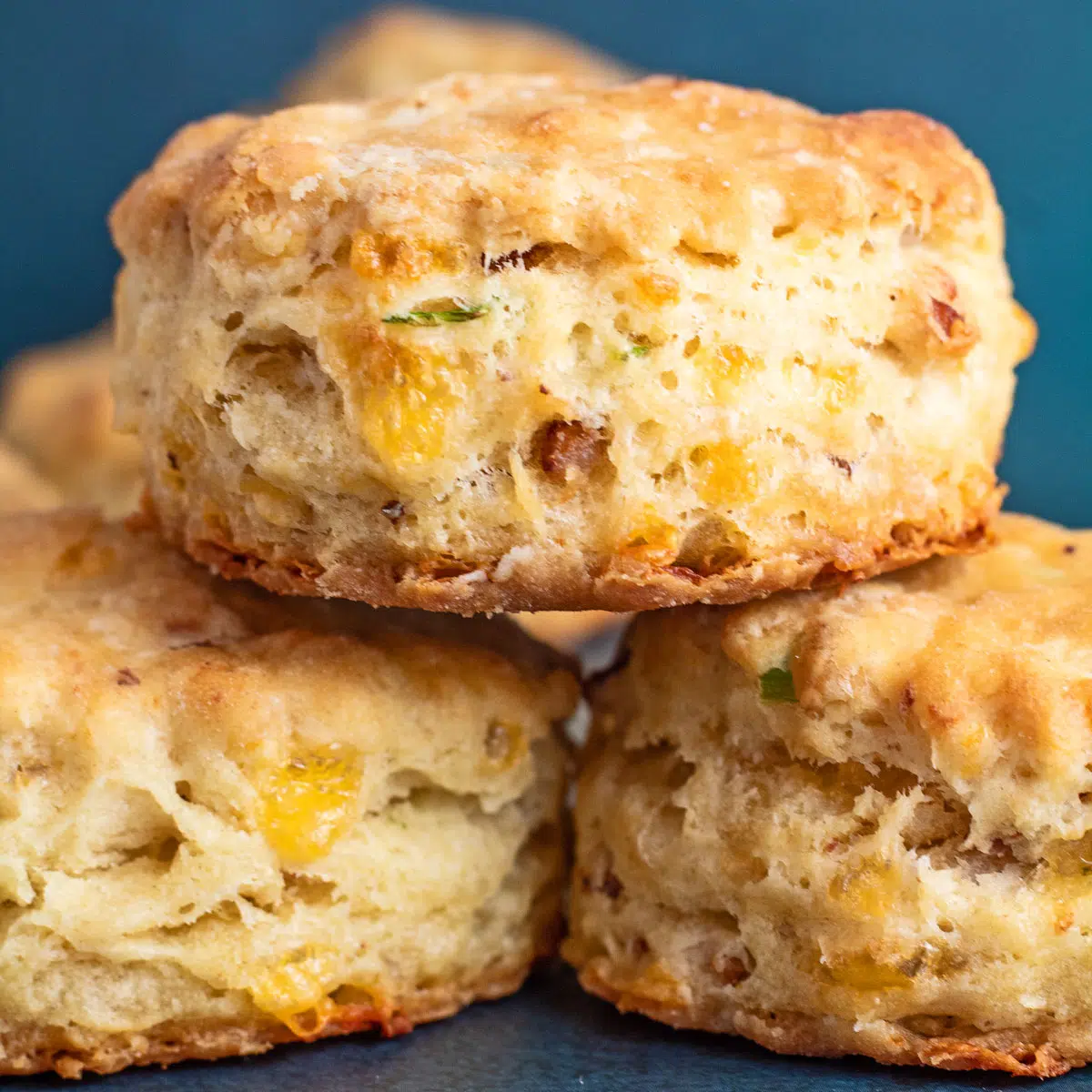 A list of all my favorite delicious recipes to make with fluffy, buttery biscuits!
Golden brown, fluffy biscuits are literally one of my favorite simple comfort foods. They can be dressed up, used to soak up sauce, made into sandwiches, you name it!
I love their versatility because they can be served sweet, savory, or both. The very best thing about biscuits is how well they complement a variety of other dishes.
Jump to:
If you're wondering what to serve with biscuits, look no further than our list of the best dishes that complement them perfectly. This list has a little something for everyone, no matter what meal of the day!
1. Chicken Noodle Soup
You'll feel nourished, warm, and satisfied after a huge bowl of chicken noodle soup. It's a classic comfort meal for chilly evenings or feeling under the weather.
Of course, you can eat chicken noodle soup on its own, but it is so much better with a fluffy biscuit to dunk in the broth.
2. Chicken a la King
Mushrooms, peas, chicken, and a rich cream sauce come together in a mouthwatering dish called Chicken a la King. We love this dish because it's so easy to make and it's packed full of tasty vegetables, perfect for weeknight cooking!
Chicken a la king is best served over your carb of choice, and mine is a couple of delicious, golden biscuits.
3. Country Gravy
When it comes to Southern cuisine, white country gravy is a must-have. Use it to dress up your favorite chicken-fried steak dish, or serve it with a side of warm biscuits and gravy for breakfast.
Even if you don't have much time, you can whip up a classic American dish in just a few minutes! Throw in some crumbled breakfast sausage for an extra savory addition!
4. Baked BBQ Chicken Drumsticks
Baked BBQ chicken drumsticks are a must-have for summer potlucks. These are a party favorite, and guests can't get enough of them.
These tender, juicy drumsticks are slathered in barbecue sauce and baked to perfection. The best part about baking them instead of grilling them is that you simply put them in the oven and then, let the oven do the rest!
I like to serve mine up with a piece of bread and a side of Southern coleslaw!
5. Crockpot Cube Steak
If you're looking for a dish that's simple to prepare but still delicious, crockpot cube steak is a must-try. We love how you can just throw everything in the slow cooker and forget about it until dinner time.  
The end result is a flavor-infused, incredibly tender, and juicy cube steak. Set everything up in the morning before you leave for work, and by the time you get home, this delicious dinner will be ready for you.  
The gravy in this dish is perfect for smothering!
6. Instant Pot Beef Stew
Is there anything more brilliant and practical than an Instant Pot or pressure cooker? Cooking is so much easier, and you can always have your food ready in minutes. 
Instant Pot beef stew is one of our favorite dishes to make in an Instant Pot because it eliminates a lot of work and saves us a lot of time. It's comforting, hearty, and it goes well with a variety of other dishes, particularly flaky biscuits.
7. Garlic Red Skin Mashed Potatoes
This mouth-watering mashed potato dish is a family favorite. We also enjoy serving this flavorful dish during the holidays, along with traditional and delightful side dishes like gravy, biscuits, and roasted vegetables.  
It's smooth and creamy, but there are still some chunks in there for that amazing texture.
8. Ground Beef Stroganoff
Ground beef stroganoff is a favorite weeknight dinner at our house, and we love the aroma of this delectable dish after a long day at work. It's absolutely delicious, and though it is often served over pasta, don't let that limit you.
After eating this flavorful dish everyone is always full and satisfied, particularly when the stroganoff is served along with some tasty biscuits!
9. Texas Chili
If you enjoy a little heat, you'll enjoy Texas chili. This hearty chili can be paired with a biscuit, just like it often is when served in a restaurant.  
It's ideal for any occasion, including Sunday brunch and potlucks. It's even better on cold rainy days when you just want to feel cozy and warm in your belly.
10. Slow Cooker Pulled Pork
This is another one of those delectably simple dishes that you can just leave and forget about until it's time to serve. It's a traditional American barbecue dish that's cooked slowly, so the flavor infuses as it cooks.  
I love to slice a roll or biscuit in half and load it with pulled pork. Plus, you can always cook a large batch ahead of time because it keeps well in the fridge.
11. Baked Beans With Ground Beef and Bacon
The combination of biscuits and baked beans with ground beef and bacon is such a delicious meal that it makes our mouths water just thinking about it. Rich and hearty baked beans with ground beef and bacon make a filling side dish for BBQ dinners and other meals.
The savory baked beans are slightly sweetened with brown sugar and enhanced with smoky flavors from hickory-smoked bacon and liquid smoke.
12. Scrambled Eggs
Biscuits and scrambled eggs are the ideal breakfast combination, and having them first thing in the morning is a fantastic way to start the day!
Scrambled eggs can be made in a variety of delicious ways, and they are incredibly simple to prepare. You can always spruce it up with toppings or eat it plain. The options are endless.
13. Crack Chicken
We are addicted to crack chicken! If you've never tried it, you should do so ASAP. We are not joking, this dish's flavors complement each other perfectly, and it's delightful when served as a slider.
This recipe can be made in a crockpot or instant pot and it's perfect for serving a crowd!
14. Fried Chicken
Fried chicken can be prepared in a variety of ways. You can pan-fry, deep-fry, pressure fry, or air fry it, and it will always come out crunchy and delicious.
Fried chicken pairs well with any southern sides, and you'll often see it served with a biscuit on the side! It's a traditional pairing you just have to try.
15. Coleslaw
This classic favorite side dish is sure to please with its combination of crunchy vegetables and creamy dressing. It's impossible to go wrong with this super easy side dish.
Coleslaw is perfect for summer barbecues, brunches, and luncheons because it is light and refreshing!  
You can pair any of these delicious dishes with biscuits for a delicious meal. There are countless possibilities, and every one of them is mouth-wateringly good!
If you're stuck wondering what to serve with biscuits, we hope you'll find this list to be useful. We'd love to know which side dish you have tried or look forward to trying, by leaving a comment down below!
📖 Recipe Card