This list of different types of bread from all over the world is just what you need for finding the perfect complement to any dish! There are flatbreads, quick breads, yeast rising breads, holiday breads, and more! If you're curious to learn all there is to know about different types of bread, you've come to the right place!
Different Types Of Bread
Types of bread vary by location, available ingredients, and intended use. Each type of bread serves its purpose, and many have their own unique flavor or texture!
Below is a list of the different varieties of bread made all over the world. Maybe you'll find one you'd like to try making at home!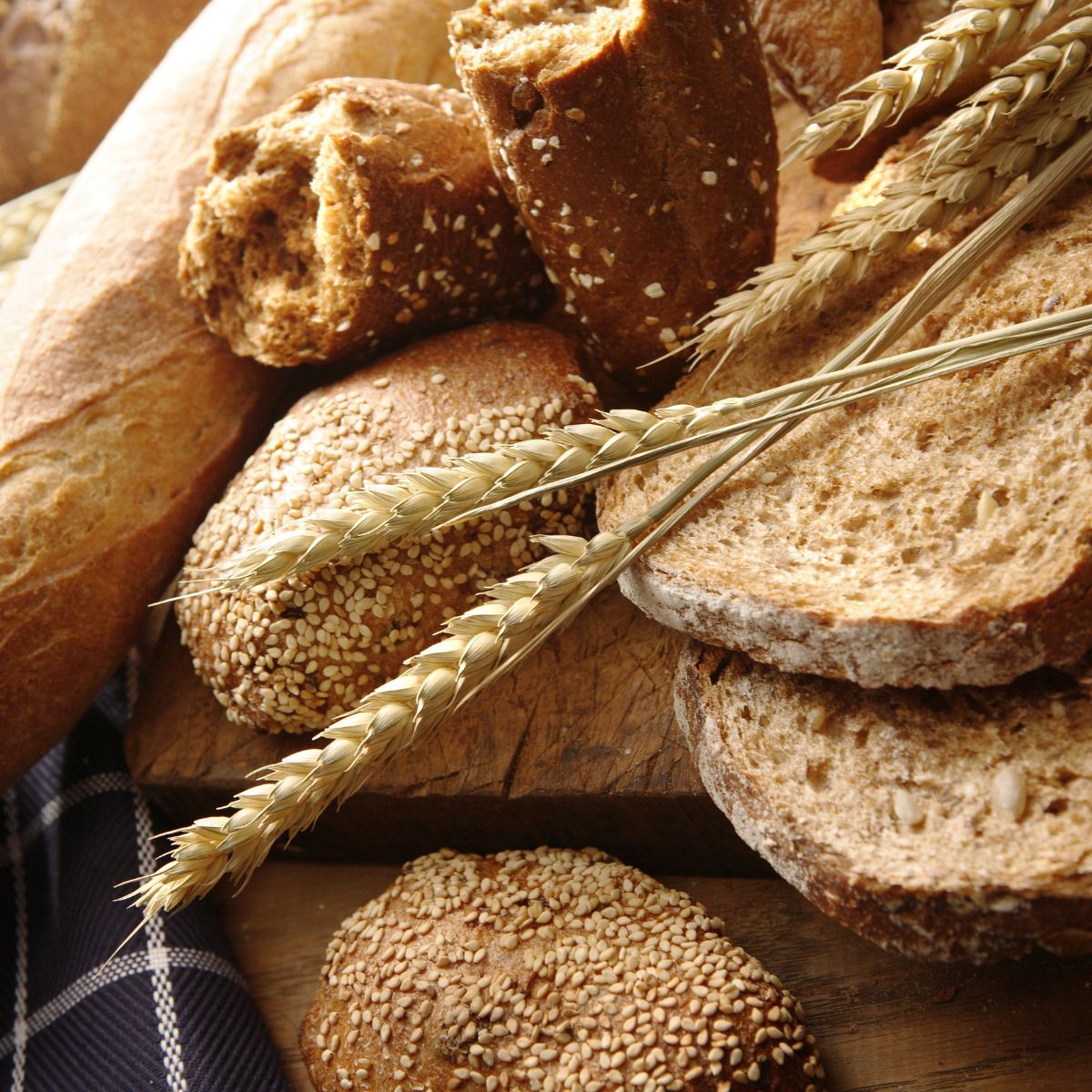 Jump to:
Yeast Rising Bread
When we think of bread most of us imagine some type of yeast rising bread. Yeast rising bread includes your classic loaf of white bread, a classic French baguette, and even whole wheat bread. These are just a few types of yeast rising bread!
In addition to these three classics are several other delicious breads from around the world. All with one thing in common – they were made with yeast.
When yeast is fed by a liquid and sugar it activates and grows. In bread, the liquid is usually water or milk. While some bread may a bit of sugar, yeast feeds off the natural sugars in the flour.
Without this magical ingredient, all of these breads would be flat and dense. However, with the help of yeast, we get to enjoy thick slices of soft chewy bread in several different forms.
While we love the results yeast gives us in bread, the results are not quick. Yeast needs time to activate and help the dough rise.
This can take anywhere from a couple of hours to several hours (depending on the quality of the yeast and the temperature in the kitchen). Therefore, when planning to make any of the following types of bread plan for several hours for preparation and baking.
1. White Bread
Whether it is for lunch sandwiches or toasted with butter, white bread is a classic. It is the most popular bread sold in the United States. Moreover, it is the easiest to make.
Part of the ease of making white bread is that you only need a handful of ingredients: flour, sugar, water, salt, and yeast.
Most home bakers have these standard ingredients on hand and can toss together a loaf of bread in a few minutes. However, while it may only take a few minutes to combine the ingredients it will take hours before you see a finished product.
A classic white bread recipe typically takes 3-4 hours from start to finish.
2. Baguette
A baguette is a traditional bread that comes from France. While it is a yeast rising bread its shape is quite different from classic white bread. Baguettes are long thin loaves of bread. They have a crunchy outside and a soft center.
Although baguettes only require 4 simple ingredients (water, flour, yeast, salt) they are more complex to prepare.
There are several different sessions of mixing and stirring even before molding the bread to rise. It is considered a bread that takes time and dedication to perfect.
3. Brioche Bread
At the different type of French bread is brioche. Brioche is more like a classic white loaf of bread.
It has a similar shape (if baked in a loaf pan) with a soft outside and middle. However, it is even softer than regular white bread. Moreover, it has a richer flavor.
The indulgent flavor of brioche is due to the large number of eggs used to make it. As well as the addition of butter. The result is a decadent bread that is perfect for making thick French toast.
4. Ciabatta Bread
Ciabatta bread is Italian artisan bread. It resembles a baguette with its crunchy outside and soft chewy inside. It is also similar in shape, although wider than a baguette. The long flat and thin shape of ciabatta is what makes it a popular choice for making decadent sandwiches.
This type of bread can be made using yeast, but many bakers prefer to use a sourdough starter. The use of sourdough adds more depth to the flavor.
While many people love the taste and texture of ciabatta, this is a more complex bread to make. Therefore, if you are a beginning baker don't get frustrated if it takes a few tries to get the ciabatta you want.
5. Focaccia Bread
Focaccia bread is easily recognizable due to its shape and texture. This Italian bread has a textured top that is made by poking the bread dough before it is cooked. In addition, many people recognize focaccia by the addition of herbs and sometimes tomatoes or olives.
Focaccia begins with the same basic four ingredients used in most yeast bread: water, flour, yeast, and salt. In addition, focaccia includes sugar and is also mixed with delicious herbs like oregano, garlic, thyme, and basil.
A key to baking focaccia is to make sure it goes into a hot oven. This is essential to get the right texture.
6. Whole Wheat Bread
Whole wheat bread is made in the same fashion as white bread. A combination of flour, water, salt, sugar, and yeast. However, the type of flour used is different.
When making a classic loaf of white bread, white flour is used. Ideally, this is bread flour, but all-purpose flour also works.
Bread flour and all-purpose flour are both refined types of flour. This means the wheat has gone through a process where most of the bran and germ have been removed from the wheat. Moreover, these flours are bleached to give them a bright white look.
In contrast, whole wheat flour is minimally processed. It still contains the germ and bran of wheat. Therefore, it provides more fiber, minerals, and nutrients than bread flour or all-purpose flour.
As a result, the color is soft brown instead of bright white. Many people choose whole wheat bread for its added nutritional benefits. The taste is a bit earthy, and the texture is denser than white bread.
7. Multigrain Bread
In addition to whole wheat bread is multigrain bread. Multigrain bread is similar to whole wheat bread in that it is more nutrient dense than white bread.
Unlike whole wheat bread (and many other types of bread), multigrain bread is made with an assortment of grains and flour (rather than one type of flour).
Most multigrain bread contains oats, wheat, buckwheat, barley, millet, and flax. This provides even more fiber than whole wheat bread and a variety of nutrients. However, this is only if whole grains (and whole grain flour are used).
If making your own, this is easy to determine. When buying multigrain bread though, read the labels to make sure that whole grains are used. If the package says "enriched" then the grains have been processed and stripped of many of their nutrients.
Even if multigrain bread has been made with enriched flour and grains it will still lend a richer flavor than white bread. Moreover, it will often have a denser texture and even some additional texture from seeds and nuts. The flavor is often nutty and earthy.
8. Yeast Rolls
Yeast rolls are basic dinner rolls made with your standard ingredients: flour, butter, eggs, milk, sugar, and yeast! They are soft, fluffy, and pair with just about anything.
My oat rolls are the perfect example! They are a welcome addition to any dinner spread.
9. Rye Bread
With its rich earthy flavor, people tend to either love or hate rye bread. This preference may vary though, depending on the type of rye bread.
There are four different types of rye bread: light rye bread, dark rye bread, marbled rye bread, and pumpernickel bread.
These different types of rye bread are all made from the same grain: rye. Like wheat, rye can be processed in several different ways to create different types of flour. Therefore, the type of rye flour being used will create a different type of rye bread in the same way that the way wheat flour is processed can create white bread or whole wheat bread.
Light rye bread: made from only white rye flour.
Dark rye bread: made from ground whole rye grains. It can also be made by dying light rye flour. Therefore, just because the bread says "dark rye" it may not be whole grain bread.
Marled rye bread: made by combining light rye dough and dark rye dough. If the dark rye dough is not dark enough, it may be colored with molasses, cocoa powder, or instant coffee.
10. Pumpernickel Bread
Although pumpernickel bread is a type of rye bread it is typically considered its own type of bread. This is because of its distinct flavor.
It is made from coarsely ground and whole cracked rye grains. It does not contain any milled (processed) flour.
As a result of the whole rye grain, pumpernickel has a deep earthy flavor that is somewhat bitter. While not everyone loves the taste of pumpernickel bread, it is a great choice for those who want nutrient-packed bread. Full of fiber and minerals it is great for those who want a healthier bread.
In addition to the bread-making basics of flour, water, salt, and yeast, this bread is typically made with a bit of cornmeal and either molasses or unsweetened cocoa powder to enrich the color. Some bakers also add caraway seeds to further enhance the complex flavor.
11. Sourdough Bread
Sourdough bread is unique. Technically, it has yeast in it. However, not in the same way that the other yeast rising bread does.
To make sourdough bread you need a sourdough starter. Sourdough starter is made by combining warm water, flour, and yeast.
These ingredients are mixed and then left to sit for several days (while continuing to be fed with more flour and water). The result is a rising agent that has a rich sour aroma and taste.
When making sourdough bread, the sourdough starter is used in place of yeast. Since it has yeast in it, it activates the other ingredients in the same way as yeast would and adds that new rich sour flavor.
After you use some of the sourdough starter in your recipe, you can feed the remaining starter and then let it sit in the fridge until you need it again. If you enjoy making bread, but don't always have yeast around, making a sourdough starter is a great way to always have a rising agent around.
12. Breakfast Bread
While bread is itself a popular choice for breakfast, there are a few bread types that are traditionally served for breakfast.
Bagels
English Muffins
Croissants
These three breakfast breads are all types of yeast bread. However, unlike the loaves of bread mentioned above each of these is formed into a specific shape before baking.
In addition, each of these requires additional steps unique to their type of bread.
Bagels need to be boiled and baked. Croissants need lots of butter to create a layered (or laminated) dough. English muffins need to be made with shortening and milk.
Holiday Breads
13. Challah Bread
Challah bread is a traditional bread for Jewish holidays. It is made from a basic dough consisting of water, flour, yeast, salt, and eggs.
However, it is made with more eggs than other bread which gives it a soft yellow color. Moreover, the dough is braided which lends a distinct aesthetic.
14. Zopf Bread
Zopf bread is native to Switzerland, but it looks and tastes a lot like Challah bread. This braided bread is made with the same ingredients except the Swiss use milk instead of water.
While not specific to a holiday, this is typically eaten on Sundays with butter and jam.
15. Vanocka Bread
A traditional Czech Christmas bread. A sweet yeast bread that is made with raisins, almonds, and candied citrus.
Quick Breads
Quick breads are breads that don't need time to rise. These are made with a quick leavening agent like baking soda or baking powder (often a combination of the two).
Baking soda and baking powder activate while baking; therefore, your dough does not need time to rise. This saves hours of preparation.
If you want basic white bread for sandwiches though, quick bread is probably not the best choice.
Most quick breads have a complex flavor that comes from the addition of eggs, oil, and sugar. In addition, most of them have a large amount of sugar that makes them sweeter than regular bread.
16. Banana Bread
A favorite for using up extra ripe bananas, banana bread is delicious as a sweet treat or breakfast bread.
For added texture, add walnuts. If you want to make it even sweeter, add a cup of chocolate chips. Delicious warm right out of the oven or at room temperature.
17. Zucchini Bread
The banana bread cousin that shows up for the summer when you (or your neighbor) grow too many zucchinis. This bread can be mildly sweet with a light zucchini flavor with finely shredded zucchini, or extra rich in flavor and texture with thicker zucchini shreds and a handful of chocolate chips.
18. Pumpkin Bread
Zucchini bread covers the summer months until pumpkin bread can make its appearance in the fall. Pumpkin bread is the perfect easy bread to make with leftover cans of pureed pumpkin from Thanksgiving.
It is also a delicious treat to kick off fall in October. The warm rich flavor of the pumpkin is even better when contrasted with the sweetness of chocolate chips.
19. Cornbread
This quick bread is the perfect companion for a bowl of chili or stew. This super easy side is worth keeping a canister of cornmeal in your pantry.
It will stay fresh for several months and you can make delicious cornbread quickly and easily. In addition to a basic cornbread, get creative by adding shredded cheese and jalapenos.
20. Soda Bread
Soda bread is a type of bread typically associated with Ireland. This thick and dense bread only requires a handful of basic ingredients: water, flour, salt, baking soda, baking powder, and sometimes margarine.
These ingredients are mixed together and then baked. No time for rising is needed (like with yeast bread).
If you want quick bread for sandwiches, then soda bread is the best choice. You can use as little or as much sugar as you want to make it sweet or savory. In addition, many recipes add raisins for a sweet spin.
21. Damper Bread
Damper bread has a rich history in Australia and is known as a staple food in the bush. This is because it is easy to make and quick. Like soda bread from Ireland, damper bread is a quick-rising bread.
Instead of using baking soda though, damper bread uses baking powder.
This quick bread is a dense and delicious bread that has a slight sweetness. It is quite versatile and used in the same way any longer rising yeast bread would be used.
Flatbreads
Flatbreads are just what they sound like, bread that is flat. While one would assume this is a result of not being made with any leavening agent (yeast, baking powder, baking soda) that is not always the case.
Some of these flatbreads do not contain any leavening agents. However, some use a small amount of yeast, baking soda, or baking powder to get a slightly thicker and softer texture.
Often these types of bread are traditional foods in different cultures. Therefore, you will find a variety of flatbreads around the world.
22. Matzo bread
Matzo is made from two ingredients: flour and water. It is a traditional food served at Passover. To be prepared appropriately for Passover, it must be made in a specific time frame.
Even without a leavening agent, the combination of water and flour will naturally start to rise a little bit. Therefore, matzo must be made in less than 18 minutes. The time before water and flour naturally starts to rise. Without any rising, these small pieces of bread look like crackers and have a similar crunchy texture.
23. Grissini Bread (Sticks)
Grissini is an Italian breadstick. Like Matzo, it does not contain a leavening agent. It is also distinctly crunchy. This makes it the perfect addition to any Italian meal.
While grissini is technically considered flatbread since it does not have a leavening agent, it is round in nature. The dough is formed into long cylinders to create delicious crunchy breadsticks.
24. Knäckebröd Bread
A lesser-known crisp flat bread is Knäckebröd Bread. This crispbread is from Sweden and is made with a mixture of wheat and rye flour.
These two flours are mixed with water and salt. While it is baked in flat crisps, it does contain a small amount of yeast.
In addition, additional ingredients like carraway seeds and fennel seeds are often added. It is eaten with butter, cheese, jams, or meats.
25. Tortilla
Tortillas are unleavened bread originally from Mexico. While most flatbreads are made from wheat flour, tortillas are made with either corn flour or wheat flour. Historically, corn tortillas were the first type of tortillas made in Mexico.
Today, companies have branched out and started to use a variety of flours (and flavors) to create different types of tortillas. However, they all maintain the traditional form of being simply made without any leavening agent.
A unique ingredient in tortillas is the use of lard. Lard is added to the flour, water, and salt. This helps create a soft texture that is pliable and easy to roll. In addition, many tortillas recipes include a small amount of baking powder to get a fluffier tortilla.
26. Qistibi Bread
A flatbread from Eastern Europe that is traditionally filled with mashed potatoes. This flatbread resembles the look of a tortilla but is native to Tatarstan and Bashkortostan (both part of the republic of Russia).
27. Yufka Bread
Another type of flat bread similar to a tortilla is yuka bread. This Turkish flatbread is round or oval in shape. It is used as a wrap for meat, cheese, and vegetables.
28. Naan Bread
Naan is a traditional flatbread found in Indian cuisine. Traditionally, it is made with Indian white flour. Indian white flour is fine and powdery.
Its texture is similar to pastry flour that is used to make croissants. Therefore, it provides a softer and lighter texture.
This delicious bread is chewy with a slightly charred outside. This lovely texture is a result of its traditional baking technique where the dough is thrown on the wall of an open flame oven (or Tandoori oven).
The delightful texture of naan is a result of not only the baking process but the small amount of yeast used in making it. In addition to the traditional naan recipes, additional flavors like garlic may be added.
29. Roti Bread
Roti is another staple bread in Indian cuisine. Unlike naan, it is unleavened and made with whole wheat flour. The result is a truly flat bread that resembles a tortilla or pita.
Although different from naan in some ways, roti is often cooked in the same way – on the walls of a Tandoori oven. Roti can also be cooked on a hot grill. While historically an Indian bread, roti is popular around the world. One of the places where roti is loved is in the Caribbean where it is used as a wrap.
Chapati
Chapati is simply another name for roti. The same mixture of whole wheat flour, salt, and water is rolled into a round flat bread and cooked on a hot griddle or in a Tandoori oven.
30. Obi Non Bread
Made with the same ingredients as its cousin (flour, water, salt, and yeast) obi non is a cousin to naan. It is also cooked in a tandoori oven (making tandoor bread).
This bread differs from naan in that it is formed in a circle and is thicker. Moreover, it is distinctly marked by being formed with thicker edges and a thinner center.
It is also aesthetically marked with different designs (such as letters or religious symbols).
31. Paratha Bread
Paratha is a layered pan-fried Indian Flatbread that is flaky and crisp.
32. Pita Bread
Pita bread is a traditional bread in Middle Eastern and Mediterranean cuisine. However, it has become a popular bread around the world. Today it is a common flatbread to find at the grocery store.
Like naan, this type of flatbread is also made with a small amount of yeast. Unlike naan though, it is thinner and less chewy. It is also unique in that this round flat bread has a hollow center. This is a result of its high-water content and being cooked at high temperatures. This combination creates air pockets that make a hollow center.
The hollow center in pita bread is traditionally filled with foods like falafel or gyro meat.
33. Lavash bread
Lavash bread is a flat bread that is central to Armenian culture. It is a thin bread that is made in long sheets. This simple bread is made from flour, water, and salt.
While some are made unleavened, some cooks follow an old tradition of leavening. This practice involves setting aside a small amount of dough from one batch to be added to a new batch.
Similar to a sourdough starter. Even if it is leavened with this old method, the amount of rising is minimal compared to bread made with a leavening agent.
A unique quality of this type of bread is that while it is traditionally eaten fresh, it can be dehydrated to preserve it. When ready to eat, you can rehydrate the bread with a little bit of water.
34. Arepas
Arepas are another type of flat bread that can be filled (like pita bread). Native to South America, arepas are a typical bread found in Panama, Venezuela, and Colombia. They are also common in Puerto Rico and The Dominican Republic.
Like their cousin, the corn tortilla, arepas are made from corn meal. Corn meal is combined with water and salt. Although these are formed into thicker round cakes, arepas do not contain any type of leavening agent.
Once formed into a small round cake arepas are fired in oil rather than baked. Once cooked, they can be eaten as is or filled with cheese, meat, beans, or other delicious ingredients.
With so many types of bread, it's hard to choose a favorite! Let us know in the comments below if you've made any of these bread varieties at home!
📋 Recipe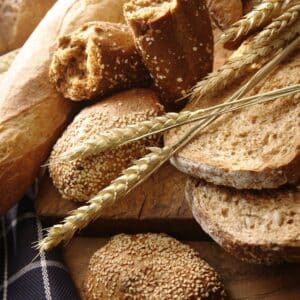 Print Recipe
Leave A Comment
Love This Recipe?
Click On A Star To Rate It!
Types Of Bread: Oat Rolls (+ More Tasty Bread Varieties)
This list of different types of bread from all over the world is just what you need for finding the perfect complement to any dish! There are flatbreads, quick breads, yeast rising breads, holiday breads, and more! If you're curious to learn all there is to know about different types of bread, you've come to the right place!
Rising Time
1
hour
45
minutes
Total Time
2
hours
35
minutes
Pin Recipe
Share on Facebook
Ingredients
2

cups

water

(warm water between 105-115°F/40-46°C)

1

tablespoon

sugar

1

packet

active dry yeast

(¼ ounce or 2 ¼ teaspoons)

1

cup

quick oats

(not Old Fashioned, Rolled Oats, or Steel Cut Oats)

3

tablespoon

butter

(salted - melted and cooled slightly)

⅓

cup

light brown sugar

(packed)

4 ½ to 5

cups

all-purpose flour

(+ more for your working surface)

1

teaspoon

salt
Instructions
Combine warm water, sugar, and yeast then stir until smooth and set aside to activate or 'bloom'.

2 cups water,

1 tablespoon sugar,

1 packet active dry yeast

Add the quick oats to a food processor and pulse until the consistency is fine, with few pieces of oats remaining (like coarse flour).

In a large bowl or the bowl of your stand mixer combine the dissolved, frothy yeast with the first 4 cups of flour, (ground) quick oats, melted butter, light brown sugar, and salt. Mix until smooth, adding the additional flour as needed to form your dough (it should be a soft, sticky dough).

3 tablespoon butter,

⅓ cup light brown sugar,

4 ½ to 5 cups all-purpose flour,

1 teaspoon salt

Turn the dough out onto a floured working surface and knead for 6-8 minutes (or 3-4 minutes in your stand mixer on low speed, until the dough clings to your dough hook and pulls from the sides). Once the dough has a smooth, elastic consistency transfer it into an oiled bowl and cover with a warm, damp tea towel or plastic cling film.

Place the dough in a warm place and allow it to rise until doubled in size, about 1 hour.

When the dough has doubled in size, punch it down halfway and transfer it back out onto your floured working surface. Divide the dough into 20 portions and shape them into balls.

Place the shaped dough balls into a greased 9x13 baking pan then cover and allow to rise until doubled, about 45 minutes.

Preheat your oven to 350°F (175°C) and bake the oat rolls for 25-30 minutes, or until golden brown on the top. Remove from the oven when done and allow to cool in the pan for 5 minutes before transferring to a wire cooling rack to cool.
Notes
Stir the warm water before checking the temperature with a digital thermometer.
Make sure your yeast is fully activated.
For consistent results every time use all-purpose flour.
Use salted butter.
Nutrition
Calories:
150
kcal
(8%)
|
Carbohydrates:
29
g
(10%)
|
Protein:
4
g
(8%)
|
Fat:
2
g
(3%)
|
Saturated Fat:
1
g
(6%)
|
Polyunsaturated Fat:
1
g
|
Monounsaturated Fat:
1
g
|
Trans Fat:
1
g
|
Cholesterol:
5
mg
(2%)
|
Sodium:
134
mg
(6%)
|
Potassium:
53
mg
(2%)
|
Fiber:
1
g
(4%)
|
Sugar:
4
g
(4%)
|
Vitamin A:
52
IU
(1%)
|
Vitamin C:
1
mg
(1%)
|
Calcium:
11
mg
(1%)
|
Iron:
2
mg
(11%)
dinner rolls, Oat Rolls, yeast rolls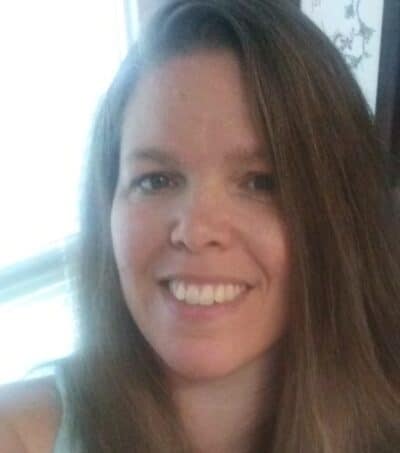 Angela is an at home chef that developed a passion for all things cooking and baking at a young age in her Grandma's kitchen. After many years in the food service industry, she now enjoys sharing all of her family favorite recipes and creating tasty dinner and amazing dessert recipes here at Bake It With Love!