Pork Chops Calories and Complete Nutrition Information: An easy guide that covers all of the nutritional values of pork chops. Macronutrients and micronutrients including carbs, fats, protein, and more, are all discussed here! Come take a look at why pork chops would make a great choice for your next meal!
Pork Chop Calories & Nutrition
When it comes to choosing a main protein source for dinner it can be nice to change it up. While beef and chicken are typically the go-to choices, pork is also an excellent choice. Especially pork chops.
Pork chops are extremely versatile. Moreover, they are one of the cuts of pork that is lower in calories. To help you better understand the calories and nutritional value of pork chops, I have broken them down below.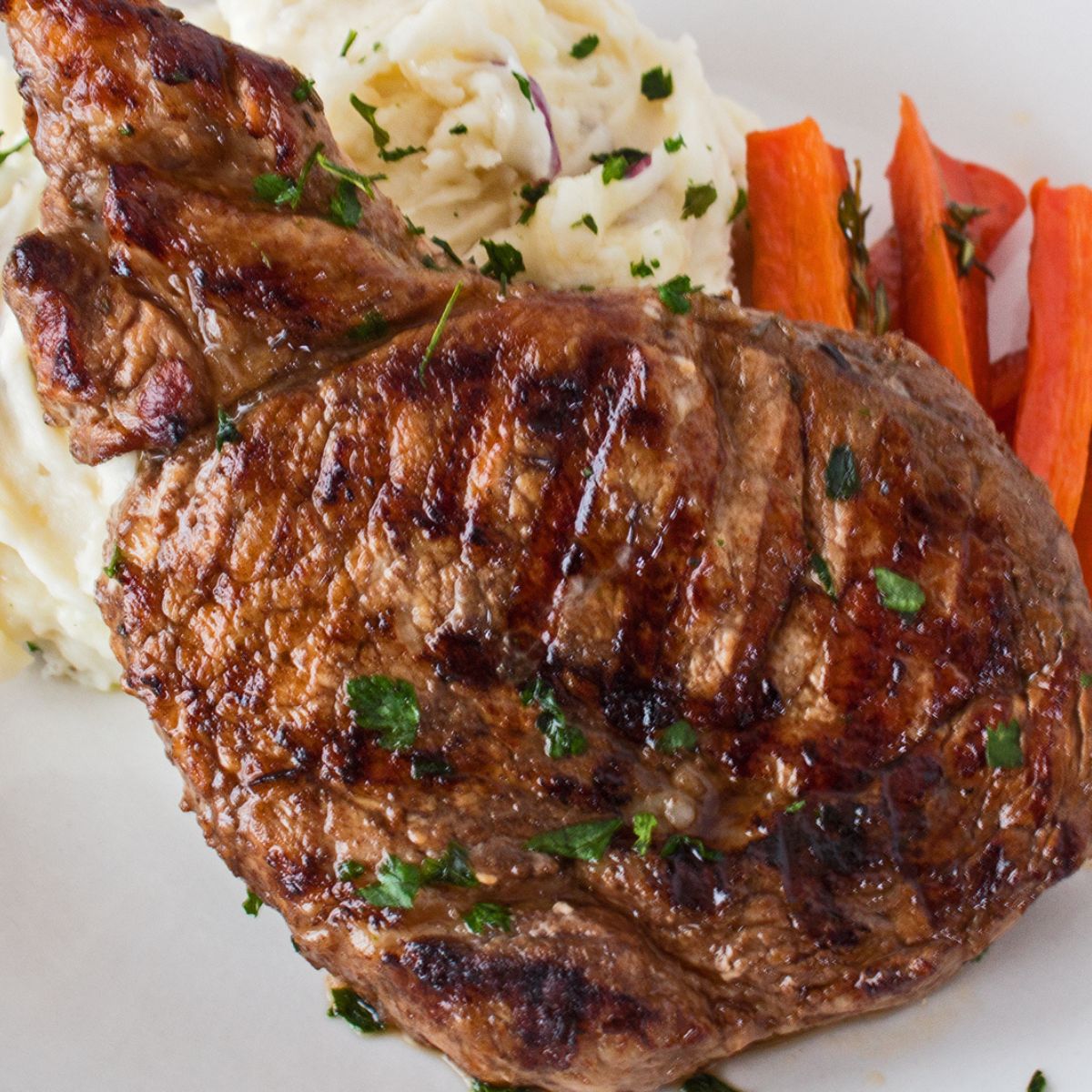 Jump to:
Keep reading to learn all you need to know about pork chops to help you plan your next dinner while staying aligned with your health goals.
Calories in a Pork Chop
The answer to "how many calories are in a pork chop" is not exact because the calories will vary depending on the size. However, based on the average size of a pork chop we can assume an average amount of calories.
The standard size for a pork chop is 4 ounces. This equates to about 210 calories per pork chop.
While you can expect a 4-ounce pork chop to have about 210 calories this can vary slightly depending on if it is a boneless pork chop or a bone-in. In addition, if your pork chop is slightly larger (or smaller) than 4 ounces, the calories will be a bit higher (or lower).
If you are unsure of the exact size of your pork chop and want to be mindful of calories, assume that the pork chop has between 200 and 250 calories. This range will cover the average size of a pork chop sold in grocery stores and restaurants.
Additional Calories in Pork Chops
In addition to the size of the pork chop, the average number of calories can vary depending on how the pork chop is cooked. Other factors may include the particular cut of meat.
Cuts that have more fat will have more calories than other cuts. While the fat will help make the pork chop moister during cooking, it is not required. Therefore, if you are watching your calories, you can always cut off the extra fat before cooking.
Another thing to consider when looking at the calories in a pork chop is how it is cooked. The addition of seasoning, oil, and butter can change the number of calories in the pork chop.
Seasonings
To maintain the pork chop's original caloric value, the best choice for adding flavor is through dry seasonings. Basic salt and pepper, as well as garlic salt, onion salt, or seasoned salt all have minimal calories.
In addition, seasoning blends like Creole seasoning or dry rubs like mesquite seasoning are all low in calories. When used on their own with minimal oil or butter these flavor additions will not greatly impact the total calories of the pork chop.
Marinades
While dry seasonings do not have many calories marinades often have a much higher caloric count. This is because marinades (or sauces like BBQ sauce or teriyaki sauce) are made with sugar. Therefore, they will have more calories.
Oils and Butter
Beyond seasoning, how you cook your pork chop may impact the total calories. Pork chops that are seared in oil or butter will have an increase in calories and fat.
If you prefer to keep the calories as low as possible, use a cooking method such as broiling or grilling your pork chops. These methods do not require the addition of fat and are quite easy.
Nutritional Value of a Pork Chop
While knowing how many calories there are in a pork chop helps make healthy eating choices, calories are not the only thing to consider. In addition to calories, it is helpful to understand the other nutrition offered.
When it comes to looking at the nutritional value you may choose to look at both the macronutrients and the micronutrients. Macronutrients tell you how many grams of protein, fat, and carbohydrates are in a certain food. Micronutrients tell you what vitamins and minerals are found in food.
Macronutrients in Pork Chops
Let us start by taking a look at the macronutrients in a pork chop. As you may assume, pork chops primarily consist of protein and fat. In fact, a plain pork chop (without any seasoning) has zero carbohydrates.
Moreover, often described as the "other white meat" pork chops are naturally lower in fat, like chicken. However, as mentioned above the addition of oils or butter will add to the overall fat content.
Since additional oil or butter is not required though, take a look at the average grams of protein and fat below. You can use this as a starting point to plan how many grams of protein and fat will be in each pork chop.
4-ounce Pork Chop
24 grams of protein
12 grams of fat
0 grams of carbohydrates
The grams listed above are approximate measurements. These numbers will vary slightly just like the calories. For example, if you have an extra lean piece of meat then the fat content may be closer to 9 grams of fat. On the other hand, a fattier cut may be closer to 20 grams of fat.
However, while the fat content may vary the protein content will always be about 24 grams per 4 ounces (approximately 6 grams per ounce). Moreover, a plain piece of meat will always have 0 grams of carbohydrates (at any size).
Additional Carbohydrates
While pork chops do not naturally contain carbohydrates, many of the seasonings used in cooking do contain carbohydrates. Therefore, if you want to be aware of the number of carbs in your final dish make sure to read the labels for any sauces or marinades you use.
If you make your own sauce, you can check the nutritional labels of each individual ingredient to get an idea of the approximate number of carbohydrates. In addition, as mentioned above, to keep carbs and calories low - use dry seasonings.
Micronutrients in Pork Chops
Although we typically focus on the calories and macronutrients it can also be helpful to know about the micronutrients in your foods. Beyond the substantial amount of protein offered by pork chops, this protein choice also provides several other nutrients.
The following are some of the primary vitamins and minerals found in pork chops.
Thiamine
Selenium
Zinc
Vitamin B6
Niacin
Phosphorus
While many other types of meat also contain vitamins and minerals, there are a couple that pork is particularly high in.
Pork has one of the highest levels of Thiamine (compared to other red meats). Thiamine is a B vitamin that helps support everyday functions in the body.
Beyond being rich in Thiamine, pork has a high amount of zinc. Zinc helps to support healthy brain function while also supporting the immune system.
Even if you do not eat pork regularly, adding it into a more frequent rotation at your home can help you and your family to add these vitamins and minerals to your diet.
Benefits of Pork Chops
As mentioned above, one of the benefits of adding pork chops to your diet is the addition of different vitamins and minerals. Not to mention, pork chops are lower in calories than several other cuts of meat.
Therefore, if you are looking to add a new protein to your diet that will not unnecessary calories, pork chops are an excellent choice. Simply be mindful of any additional cooking fats or seasonings that you choose to add.
With so much versatility, this "other white meat" is a wonderful addition to your dinner plans!
I hope this guide on pork chop calories answered all of your questions. If not, please reach out in the comment section below!
>>>>See all of my recipes HERE<<<<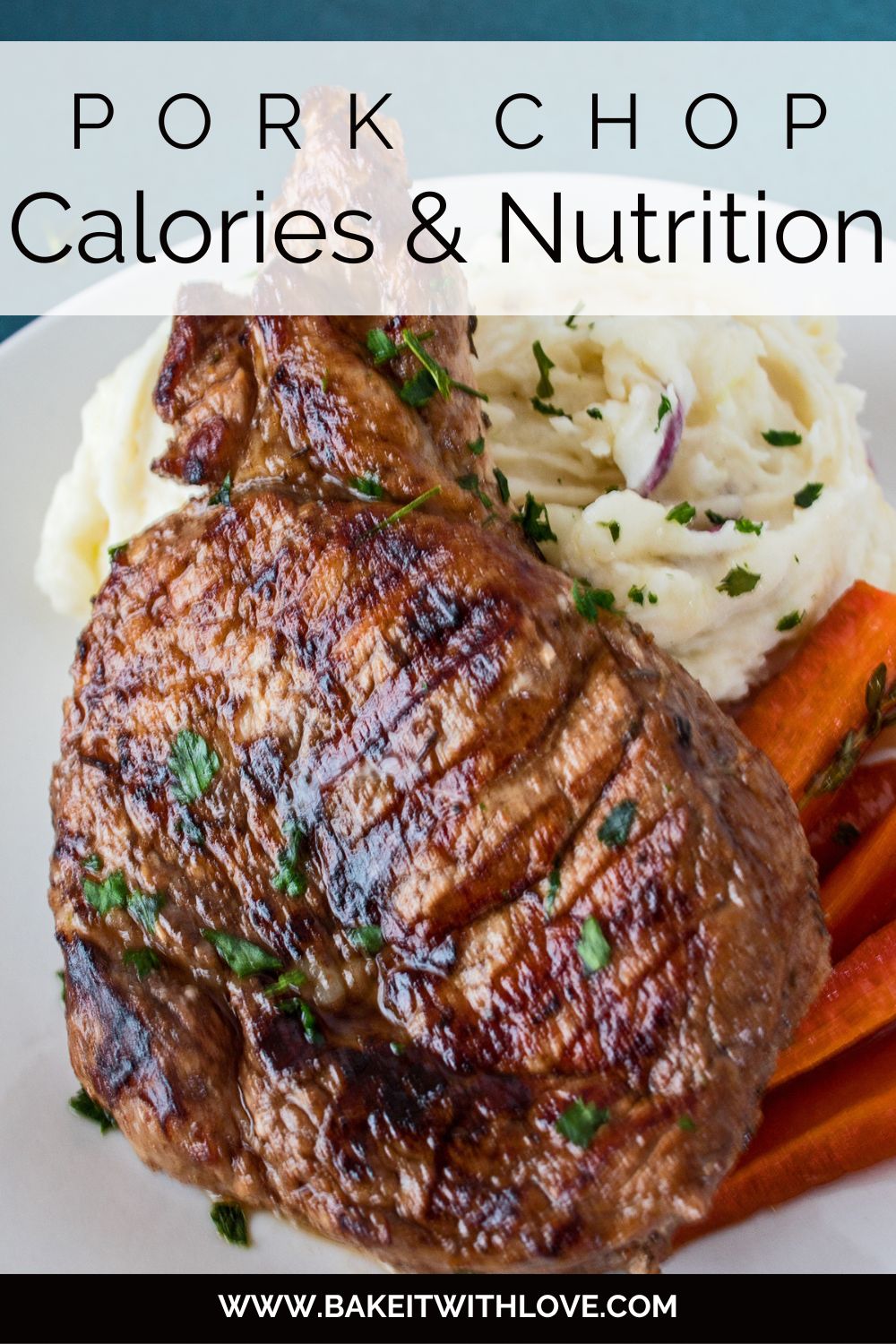 🥩 Pork Chop Recipes
📋 Recipe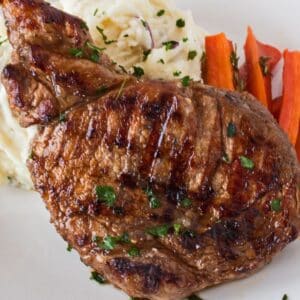 Print Recipe
Leave A Comment
Love This Recipe?
Click On A Star To Rate It!
Pork Chop Calories and Nutrition: Pan Seared Pork Chops (+More Great Recipes!)
Pork Chops Calories and Complete Nutrition Information: An easy guide that covers all of the nutritional values of pork chops. Macronutrients and micronutrients including carbs, fats, protein, and more, are all discussed here! Come take a look at why pork chops would make a great choice for your next meal!
Pin Recipe
Share on Facebook
Ingredients
Instructions
Lightly coat both sides of your pork chops with the olive oil, then season with salt, pepper, and paprika.

2 lbs pork chops,

1 tablespoon olive oil,

¼ teaspoon paprika,

¼ teaspoon each, salt & pepper

Heat a heavy bottomed frying pan or a cast iron skillet to medium high heat. Place seasoned pork chops into the frying pan or skillet once fully heated, only cooking as many pork chops as can easily fit into the pan (I usually do 2 at a time). Do not move the pork chops while cooking.

Cook on the first side for 3-5 minutes, or until nicely caramelized in color and the edges are no longer pink. Flip the pork chops to cook the other side. While the pork chops are cooking for an additional 3-5 minutes on their second side, add the butter on top of the already cooked side. As the butter melts continue to spoon the melted butter over the chops.

Remove from the pan when golden browned and cooked to your desired temperature. Cover with a square of aluminum foil and rest for 5 minutes before serving.
Equipment You May Need
Nutrition
Calories:
260
kcal
(13%)
|
Carbohydrates:
2
g
(1%)
|
Protein:
34
g
(68%)
|
Fat:
13
g
(20%)
|
Saturated Fat:
4
g
(25%)
|
Cholesterol:
85
mg
(28%)
|
Sodium:
570
mg
(25%)
|
Potassium:
790
mg
(23%)
best pork chops recipe, easy stove top pork chops, how to pan sear pork chops, pan seared pork chops ingredients, pan seared pork shops, pork chop calories, pork chops nutritional information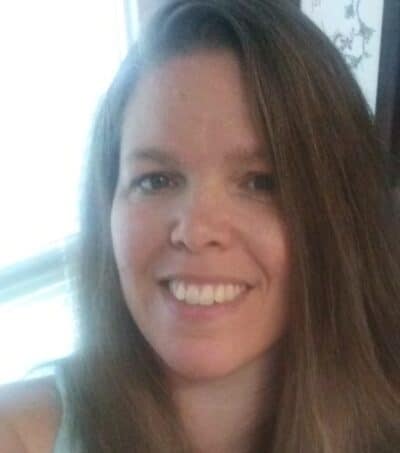 Angela is an at home chef that developed a passion for all things cooking and baking at a young age in her Grandma's kitchen. After many years in the food service industry, she now enjoys sharing all of her family favorite recipes and creating tasty dinner and amazing dessert recipes here at Bake It With Love!