Make sure you're using the best noodles for chicken noodle soup if you plan on whipping up a warm bowl of chicken noodle from scratch! There are so many variations of chicken noodle soup, and so many different noodles to try!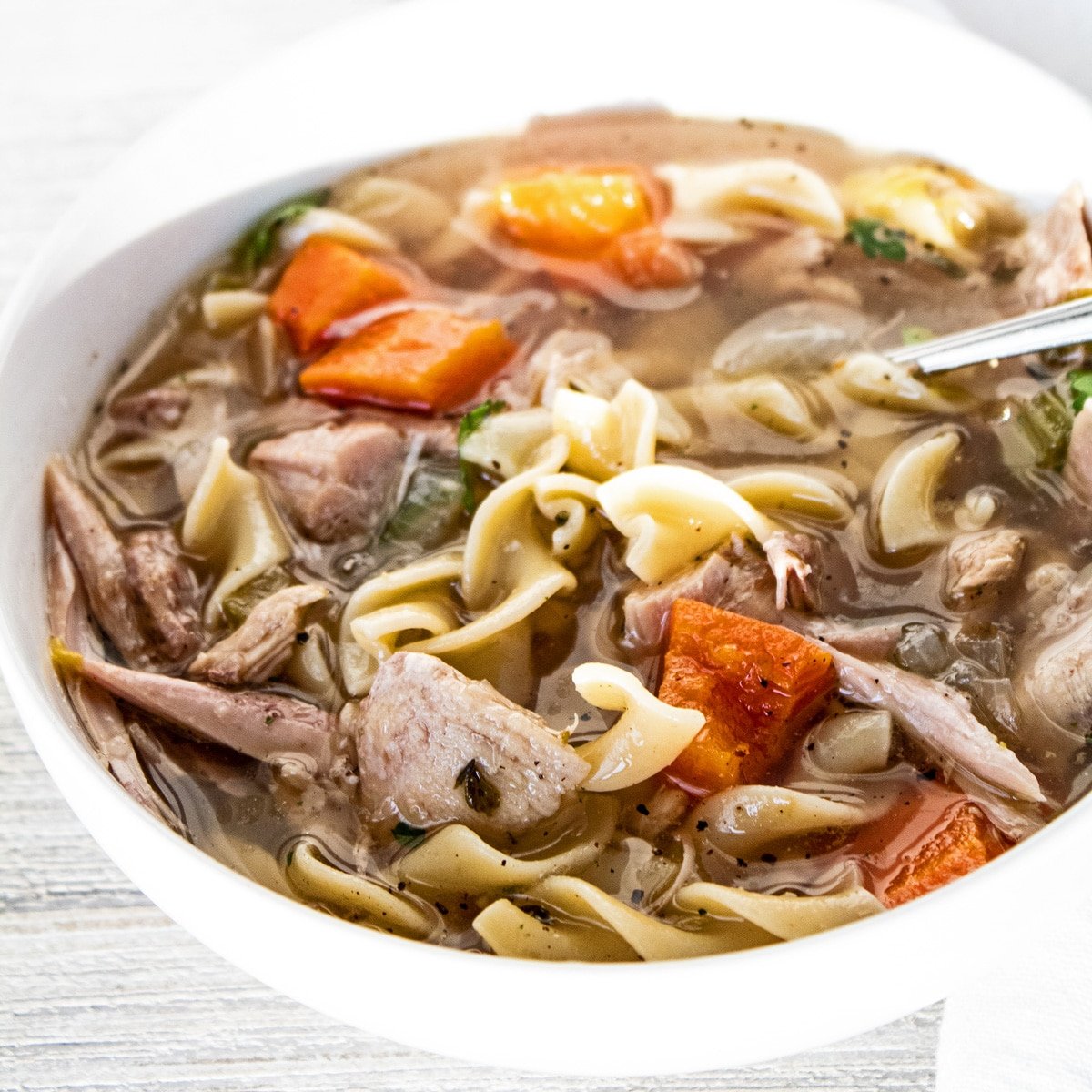 All the best noodles for homemade chicken noodle soup!
Nothing beats chicken noodle soup when you're looking for a warm and comforting meal. From the stock to the chicken to the noodles, all of the components work together to create a savory and delicious soup.
What makes this amazing soup so special is that no two people make it exactly alike.   Choose between using the leaner or fatter parts of the chicken, or using the whole thing!
Jump to:
Vegetables can be sparse or plentiful, depending on your preferences. And, of course, you are free to use any type of noodle you like.
You're probably wondering, what's the best noodle to use? We've gathered a selection of the best pasta on the market right now and they're all right at home in a steamy bowl of chicken noodle.
1. Bechtle Traditional German Egg Noodles
You're missing out if you haven't tried Bechtle's German egg pasta. Durum wheat semolina and eggs are used in the production of this pasta, ensuring its rich flavor.
We love how light and delicious they are because they are made with high-quality ingredients. Smooth and firm at the same time, the texture is to die for.
These noodles, however, are somewhat elusive. It's not easy to find them outside of Europe, where they've been popular for centuries.
So, the chances of finding them in your local supermarkets and specialty shops are slim, but there is a chance that you'll have better luck searching online.
2. Manischewitz Wide Egg Noodles
These noodles can be used in so many ways. They are so delicious and are used in many beloved family recipes, including chicken noodle soup.
These egg noodles cook quickly and have a more substantial firmness and texture than most on the market.
Furthermore, they are reasonably priced. The flavor is excellent, and it cooks without falling apart, making it ideal for cooking hot recipes.
3. Mrs. Weiss Kluski Egg Noodle
Mrs. Miller's Old Fashioned Kluski Noodles are high-quality noodles that are the closest to being homemade. They are cut thicker so that they can withstand the heat of soups and casseroles more effectively.
Because they are thicker than others, they are more filling. However, they require more time to cook than other noodles.
Nevertheless, they aren't commonly available in most grocery stores, so if you do manage to find some, stock up.
4. Riesa Thin Egg Noodles
These are ideal for those who love their noodles thin. The best durum wheat semolina and cracked eggs are used to make Riesa egg noodles.
Because of this, they're perfect for adding to clear soups and broths. If you have a hungry child who likes noodles, these can be cooked in a matter of minutes.
They're light and scrumptious, to say the least.
5. De Cecco Pasta Egg Pappardelle
We think these De Cecco Egg Pappardelle are some of the best noodles we've ever had. They taste great, have a great texture, and are a breeze to prepare.
These are a favorite in our family, and we use them in many dishes that call for noodles.
Before cooking, they're roughly 1.5" broad and a little thicker than typical spaghetti pasta. They have a deep, almost buttery flavor and are excellent with sauces, but they are also ideal for making chicken noodle soup.
6. Country Pasta Homemade Style Egg Pasta
Country Pasta is an excellent choice and can be utilized in various meals. You can use this adaptable pasta in soups, salads, casseroles, and as a base for your main course.
The fact that they include no additives is our favorite feature. They are made with simple ingredients; semolina flour and eggs. That's it.
They taste amazing and have a lovely, chewy texture. However, you'll need to boil them for a little longer to produce soft noodles.
7. Light 'n Fluffy Extra Wide Egg Noodles
These egg-based pasta strips are short and wide. They are available in three different widths, including extra-wide, wide, and medium.
We recommend using the extra-wide version for chicken noodle soup. They have a melt-in-your-mouth texture and flavor.
Because they're so cheap and readily available, they are a great option for everyone.
8. Essenhaus Amish Egg Noodles
Made from what they themselves refer to as "extra fancy" durum wheat, these Amish style egg noodles are made the good old fashioned way.
The hands-on method of producing these noodles gives them a "chew" and texture that you just cant find elsewhere.
These hearty noodles hold up well to moisture and have a rich, delicious flavor to them. Once you try Amish noodles, you won't look back.
9. No Yolks Extra Broad Egg Noodles
No Yolks Extra Broad Egg Noodles are wide noodles made with egg whites. They cook quickly, are light and fluffy, and are ideal for chicken noodle soup.
They are a healthier option, and for those who are concerned about cholesterol, these are a good choice. A one-and-a-half-cup serving contains 40 grams of carbohydrates and zero grams of sugar or added sugars.
Even though healthier options are typically regarded as inferior, these noodles are delicious and will not disappoint!
Are Egg Noodles the Only Option?
When making chicken noodle soup, you can use any type of pasta you like. The choice is entirely yours.
Your options for pasta are virtually limitless and include everything from minestrone to linguini to ditalini to even gluten-free pasta!
However, after experimenting with various kinds of pasta, we discovered that egg noodles produced the best results. They yielded better texture, flavor, and firmness.
Some types of pasta tended to become soggy and heavier. Others, on the other hand, become starchy and unpleasant.
The Best Way to Cook Egg Noodles
To get the absolute best results, one thing to keep in mind is to always make sure that you follow the cooking instructions. It is important not to overcook your noodles to avoid a soggy mess.
Try not to add the noodles to the soup too soon. It should be the final step before turning off the stove.
Simmer until they are about half-cooked, then remove from the heat. They will continue to cook thanks to the soup's residual heat. The result is a delicious, perfectly cooked noodle.
Cooking the noodles in a separate pot is another option. Controlling their firmness and texture will be easier this way.
When done this way, the broth and noodles can be kept separately in the fridge, which is ideal for both storing and freezing.
Making homemade chicken noodle soup is a simple process, but it's important to use high-quality ingredients. Do not restrict your choices to a single type of pasta.
Please tell us about your favorite noodles to use in chicken noodle soup in the comments section below!
📋 Recipe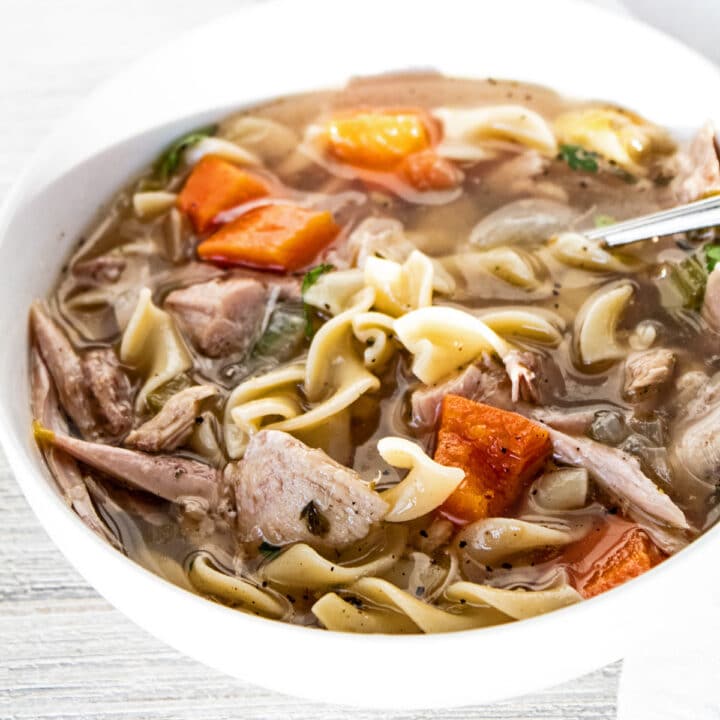 Print Recipe
Leave A Comment
Love This Recipe?
Click On A Star To Rate It!
Best Noodles For Chicken Noodle Soup
Make sure you're using the best noodles for chicken noodle soup if you plan on whipping up a warm bowl of chicken noodle from scratch! There are so many variations of chicken noodle soup, and so many different noodles to try!
Pin Recipe
Share on Facebook
Ingredients
3-4

lbs

whole chicken

(rinsed)

6

cups

chicken bone broth

(most containers are 32 ounces = 4 cups)

water

(enough to finish covering your whole chicken in your stock pot, if needed)

1

teaspoon

each, salt & pepper

(add more to taste when adding noodles)

½

cup

yellow onion

(or white onion, finely chopped)

1

teaspoon

garlic

(minced)

5-6

medium

carrots

(rough cut)

6

ribs

celery

(rough cut)

5-6

stalks

thyme

(pulled from stem, or use ½ tablespoon dried thyme)

2

cups

egg noodles

1

tablespoon

parsley

(optional - fresh, chopped)
Instructions
Place your whole chicken in a large stock pot, add broth, and water if needed to cover the chicken. Add salt, pepper, and bay leaves.

3-4 lbs whole chicken,

6 cups chicken bone broth,

water,

1 teaspoon each, salt & pepper,

4 bay leaves

Cover and bring the water to a boil. Reduce heat and simmer, covered, for about 90 minutes or until the meat begins to fall off the bone. (this step will take approximately 30-40 minutes if you are using chicken thighs only)

Remove chicken to a plate or large dish, use a slotted spoon to remove any pieces that may still be in the soup broth as well as the bay leaves.

Add chopped vegetables (onion, garlic, carrots, celery) and thyme to the broth in stock pot, cover and continue to simmer while removing the bones from chicken meat (allow your chicken meat to cool for a few minutes first). Discard bones and skin.

½ cup yellow onion,

1 teaspoon garlic,

5-6 medium carrots,

6 ribs celery,

5-6 stalks thyme

Broth will simmer for a total of approximately 30 minutes, at the half way point (15 minutes) return the chicken meat to soup, taste and adjust seasoning, then add pasta. Cover and simmer for the final 15 minutes.

Remove from heat, stir in the chopped parsley (if desired) and serve.
Nutrition
Calories:
192
kcal
(10%)
|
Carbohydrates:
10
g
(3%)
|
Protein:
14
g
(28%)
|
Fat:
10
g
(15%)
|
Saturated Fat:
3
g
(19%)
|
Cholesterol:
55
mg
(18%)
|
Sodium:
321
mg
(14%)
|
Potassium:
318
mg
(9%)
|
Fiber:
2
g
(8%)
|
Sugar:
3
g
(3%)
|
Vitamin A:
5352
IU
(107%)
|
Vitamin C:
6
mg
(7%)
|
Calcium:
35
mg
(4%)
|
Iron:
1
mg
(6%)
Bone Broth, Chicken Noodle Soup, Classic Recipe, Comfort Food, Homemade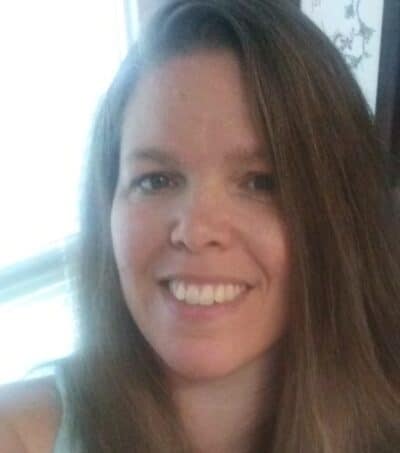 Angela is an at home chef that developed a passion for all things cooking and baking at a young age in her Grandma's kitchen. After many years in the food service industry, she now enjoys sharing all of her family favorite recipes and creating tasty dinner and amazing dessert recipes here at Bake It With Love!