These mirliton recipes are made with a versatile vegetable, also known as chayote squash, that is enjoyed in cuisines all around the world! With a mild flavor and a firm texture, it can be used in a variety of dishes, from salads and soups to casseroles and stews. If you're looking for some new and delicious ways to incorporate mirliton into your meals, you've come to the right place!
Best Mirliton (Chayote Squash) Recipes
Mirliton, also known as chayote squash, is a versatile vegetable that can be prepared in a variety of ways. With its mild, slightly sweet flavor and crunchy texture, mirliton is a popular ingredient in many dishes around the world!
From soups and stews to casseroles and salads, here are some of the best recipes for mirliton that are sure to please even the pickiest eaters. Whether you are a seasoned chef or a beginner cook, these recipes will help you make the most out of this nutritious and flavorful vegetable!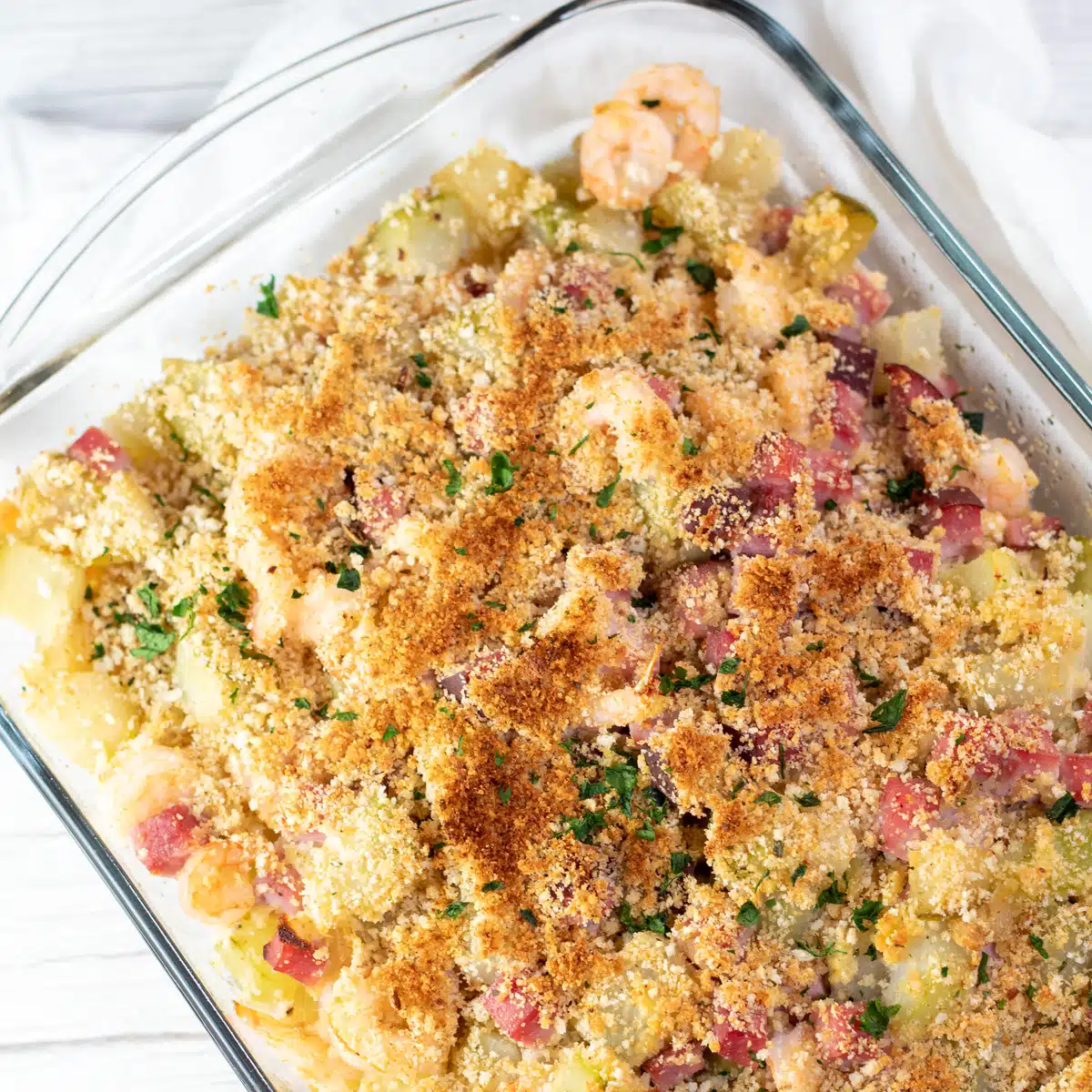 Jump to:
If you are looking for some recipes with classic Louisiana flavor, take a look at my full collection of Cajun dishes!
What Is Mirliton
A vegetable that goes by many names, 'mirliton' does not get all the recognition it deserves. The term 'mirliton' is almost exclusively used in Louisiana. You can also find it under the names chayote squash, custard marrow, and vegetable pear.
Mirliton is a member of the gourd family and is widely used in Latin American, Caribbean, and Asian cuisines. It has a mild taste and a texture similar to that of zucchini, making it a great addition to soups, stews, salads, and casseroles!
Mirliton Recipes To Try
1. Mirliton Dressing
This mirliton dressing recipe made with chayote squash, gulf shrimp, cubed ham, and breadcrumbs is a delicious take on a classic Louisiana dish. The chayote squash adds a unique flavor and texture to the dish, while the gulf shrimp and cubed ham bring a savory depth to the dressing.
The breadcrumbs add a nice crunch and help to bind everything together. This recipe is perfect as a side dish for any holiday meal or as a main dish for a weeknight dinner. It's easy to make and sure to please any crowd!
2. Crispy Chayote Wedges
Thick-sliced chayote wedges dredged in flour and eggs, then coated in Panko breadcrumbs and baked until crispy! This is a great recipe for kiddos because they are perfect for dipping and dunking in all your favorite sauces.
Try your crispy chayote wedges with some creamy avocado ranch sauce (my personal favorite) or Cajun dipping sauce!
3. Crab and Shrimp Stuffed Mirliton
The mirlitons are hollowed out in this recipe and filled with shrimp, crab, breadcrumbs, vegetables, and Parmesan cheese, then baked until golden brown. The shrimp stuffing is a rich and savory blend of flavors that perfectly complements the mirliton's mild, slightly sweet flavor.
Stuffed mirlitons are a great option for a special occasion or a family dinner and will impress your guests with their unique and delicious taste!
4. Chayote With Tomatoes & Green Chiles
Roasted chayote squash with tomatoes, green chiles, and cilantro is a delicious and nutritious dish perfect for a light lunch, dinner, or side dish! Chayote squash is a mild, versatile vegetable that takes on the flavors of other ingredients, making it the perfect canvas for the bold, spicy flavors of tomatoes and green chiles.
Roasting the chayote squash brings out its natural sweetness and gives it a slightly caramelized texture. At the same time, the tomatoes and green chiles add a tangy, slightly acidic flavor that balances out the sweetness of the squash.
5. Roasted Chayote Squash With Herbs
Roasted chayote squash with herbs is a simple yet flavorful side dish that will surely please your taste buds. The roasting process brings out the squash's natural sweetness while infusing it with the earthy aroma of thyme, rosemary, and garlic.
This roasted chayote squash is easy to make and pairs well with various main courses, making it a delicious addition to any meal!
6. Steamed Chayote
This steamed chayote is a super simple 25-minute recipe that only requires 5 ingredients. Serrano peppers and coriander are added to give the chayote squash a little kick but can be omitted if you prefer a milder dish.
Steamed chayote can be served as a side dish or a base for salads, soups, or stir-fries. It is a versatile and tasty ingredient that can add texture and flavor to any meal!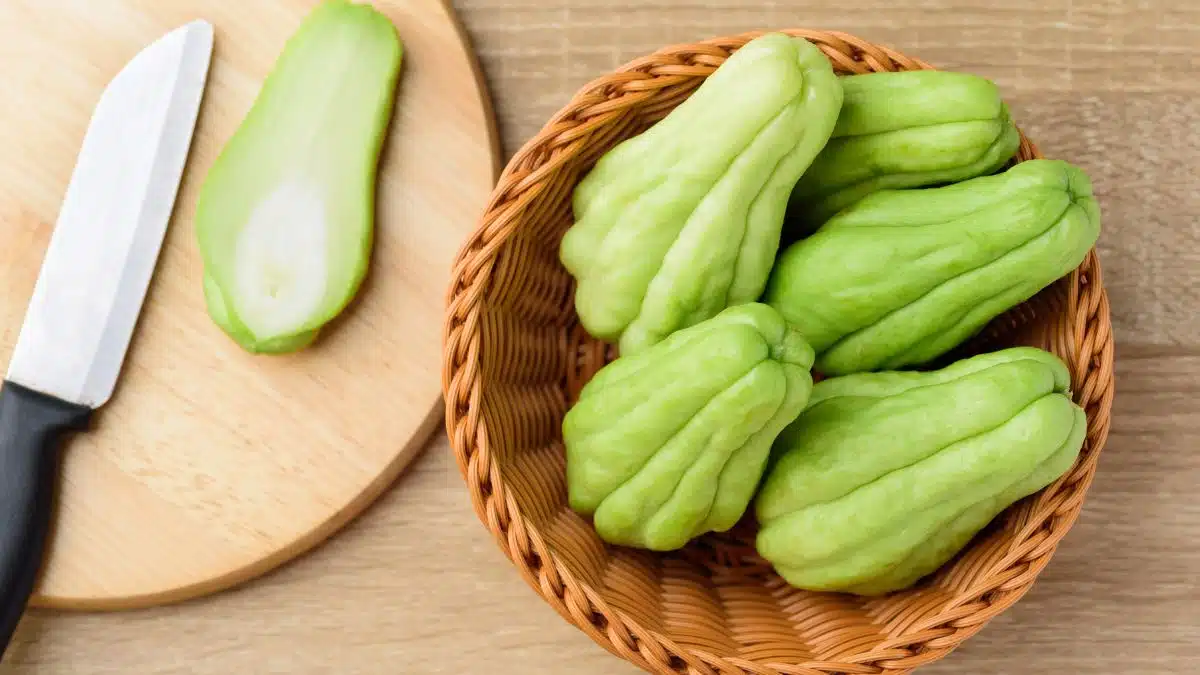 7. Mirliton and Shrimp Soup
This mirliton and shrimp soup is filled with Louisiana flavor! It's a comforting recipe loaded with tender mirliton, juicy shrimp, plenty of veggies, and a rich, creamy, chicken broth base.
Serve this soup as an appetizer to a delicious seafood dinner, or enjoy it as a full meal on its own. A few slices of crusty French bread for dunking into the soup are always appreciated.
>>>>See all of my recipes HERE<<<<
8. New Orleans Stuffed Mirlitons
Crawfish stuffed mirlitons are a flavorful and hearty dish that is popular in Cajun and Creole cuisine. In this recipe, the mirlitons are cut in half, then the flesh is scopped out to make them a tasty vessel for the stuffing.
The stuffing is made with a mixture of breadcrumbs, crawfish, shrimp, and crab meat, along with aromatics such as onions, celery, and bell peppers, and plenty of Cajun seasoning. Bake them in the oven until golden brown and delicious!
9. Creamy Chayote Gratin
Creamy chayote gratin is made by boiling and pureeing the chayote squash, then adding it to a baking dish with creamy, cheesy sauce and breadcrumbs. The dish is baked until golden and bubbly, resulting in a savory and satisfying side dish!
Chayote gratin pairs wonderfully with a wide variety of meals. From roasted meats to salads and seafood, you can't go wrong with this tasty gratin.
10. Pickled Chayote Salad
Pickled chayote salad with apples and radishes is a refreshing and tangy dish perfect for a light lunch or as a side dish! One of the best things about pickled chayote salad is its versatility. It can be served alone or as a topping for tacos or sandwiches.
The dish also pairs well with grilled meats and fish, making it a great addition to any summer meal. It is easy to make and can be prepared in advance, making it a great option for meal prep or entertaining guests.
11. Chayote Chile Soup
One of the best things about chayote chile soup is that it is easy to make. You can have it ready in under an hour, making it a great option for busy weeknights!
This flavorful vegan soup can be customized to your liking. If you prefer a spicier soup, you can add more chile peppers, and if you like a creamier soup, you can add a bit of cream or coconut milk!
12. Chayote Hash
This tasty chayote hash makes a great addition to any breakfast or brunch spread. It's made by quickly pan-frying diced chayote squash, chopped garlic, and sliced crimini mushrooms.
A simple blend of herbs and spices gives this hash a savory and satisfying flavor. You won't even miss the potatoes!
13. Deep Dish Chayote Apple Pie
Deep dish chayote apple pie is a unique and flavorful twist on a classic American dessert. There aren't any apples in this pie (there is apple juice) because the chayote takes on a similar texture when baked, plus they taste just as great with ice cream!
A homemade chayote pie is a great way to showcase the versatility of this delicious vegetable. Give it a try the next time you are looking for a creative dessert option that is sure to impress!
I hope you discovered some new and delicious mirliton recipes to make! If you try any of them, come back and let me know how they turned out in the comment section below!
😋More Cajun Recipes
📋 Recipe