With so many incredible salmon recipes out there, we thought it would be helpful to narrow down our top favorites! Salmon is one of the few proteins that can be enjoyed at breakfast, lunch, or dinner, and no matter how it's served, it's always delicious!
The best salmon recipes for any meal of the day!
Anyone who enjoys fish loves salmon. You'll be hard-pressed to find a sit-down restaurant that doesn't have salmon featured on the menu in one way or another.
Salmon is so versatile! You can eat it raw in sushi or sashimi, smoked salmon on a bagel at breakfast, on a salad, grilled as the main course, the list goes on and on.
Jump to:
If you're looking for the perfect way to serve up some fresh salmon, below are a few recipes that should make the cut!
1. Air Fryer Salmon
If you're looking for a quick, easy recipe that still delivers amazing flavor, this air fryer salmon is the way to go. It's great for busy weeknights when you're cooking for the family at home.
However, if you served it up at a dinner party, no one would know you weren't slaving in the kitchen. It's tender, flaky, and cooked to perfection!
Air Fryer Salmon
This incredibly flavorful air fryer salmon is a quick and easy dinner to have on the table to feed a hungry family in no time! Salmon is a family favorite seafood main in our household, and for great reason! This versatile fish packs a ton of flavor in the tender, flaky meat!
Check out this recipe
2. Salmon with Dill Sauce
Dill is one of the best herbs to pair with fish, its distinct flavor really lightens up the dish. This salmon with creamy dill sauce takes an easy pan-seared salmon and makes it extra special!
Salmon with Dill Sauce
My crispy, easy to make pan-seared salmon with dill sauce is so delicious, it's a dinner worth making tonight! My salmon is pan-seared until the skin is amazingly crispy and beautifully golden-brown, then I top it with a creamy, fresh dill and lemon sauce that makes it over-the-top delicious!
Check out this recipe
3. Baked Salmon in Foil
If you don't have an air fryer, this method is just as easy. Wrapping salmon in a foil packet and baking it keeps the fish flaky, and moist.
Best of all, there's no flipping or monitoring required. Just bake it and serve!
Baked Salmon In Foil
This incredibly quick and easy Baked Salmon in Foil combines bright notes of lemon, garlic, and sumptuous butter in a foil packet to create a dreamy dish that comes together right in your oven! This is the perfect light Sunday supper that you can have ready and on the table in no time!
Check out this recipe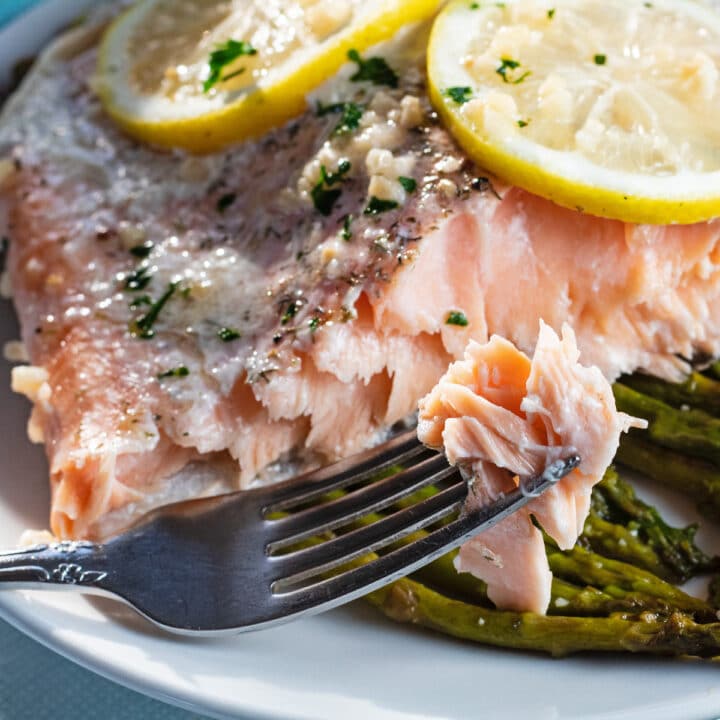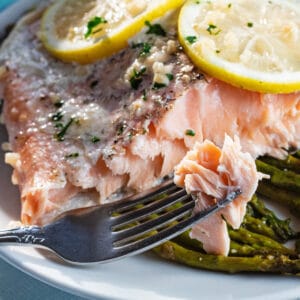 4. Crab Stuffed Salmon
If you're looking for something a bit more elegant, crab stuffed salmon is a special treat that is both filling and flavorful. If you know you're cooking for seafood lovers, this is the perfect dish.
The crunchy panko topping and creamy filling will have everyone savoring every last bite.
Crab Stuffed Salmon
Enjoy this elegant Crab Stuffed Salmon dinner that features tasty crab meat in a creamy filling, all stuffed into tender baked salmon fillets! The salmon turns out beautifully with a crunchy Panko topping and rich, flavorful stuffing like you'd expect at a fine seafood restaurant!
Check out this recipe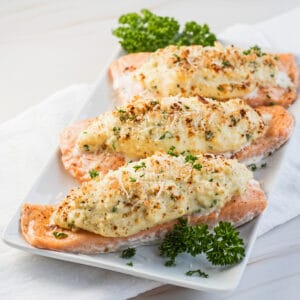 5. Pan Seared Salmon
There's nothing wrong with keeping it simple. Pan-seared salmon is full of good fats and micronutrients- making it the perfect choice for anyone eating keto, paleo, low calorie, or just because!
Pan Seared Salmon
Delicious and easy-to-make Pan Seared Salmon turns out perfectly every time in just minutes! Season with salt, pepper, and some dill weed then serve with lemon slices or wedges for the perfect salmon dinner any night of the week!
Check out this recipe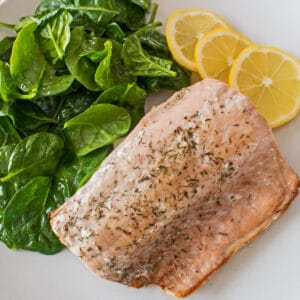 6. Salmon in White Wine Sauce
A dreamy, creamy, white wine sauce is the perfect pairing for pan-seared salmon. This recipe is deceptively simple, so you can show off your cooking skills on date night or any special occasion!
Salmon in White Wine Sauce
This quick and easy Salmon in White Wine Sauce is a family favorite recipe that combines perfectly pan-seared salmon with a delightfully tangy cream sauce! It's a wonderful date night dinner for two that's also easy enough for a family dinner any night of the week!
Check out this recipe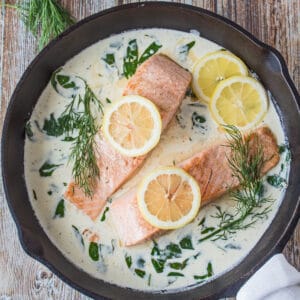 7. Smoked Salmon Fettuccini Alfredo
If you feel like indulging fettuccine alfredo is always a great choice. Add some flaky, smoked salmon and you have a satisfying comfort meal that is sure to be a new family favorite.
Smoked Salmon Fettuccine Alfredo
This richly flavorful Smoked Salmon Fettuccine Alfredo is a shining example of simple ingredients combining to make extraordinary dishes! All of the basics are here for an outstanding fettuccine alfredo, but the smoked salmon takes the depth of flavor to new levels! Truly the easiest of meals to take from a comfort food family favorite to a "Wow!" meal!
Check out this recipe
8. Seafood Chowder with Smoked Salmon
Seafood chowder not only includes smoked salmon, but also clams, scallops, and tender white fish! Chowder can be the main course, or if you are serving a multi-course meal a cup of seafood chowder makes a wonderful appetizer.
Seafood Chowder with Smoked Salmon
This easy-to-make Seafood Chowder with Smoked Salmon features tender pieces of white fish, bay scallops, clams, and rich smoked salmon in every bite! It's a hearty meal that the whole family will enjoy for an everyday weeknight dinner, or for special occasions, and holiday dinner alternatives!
Check out this recipe
9. Hibachi Salmon
Turn your kitchen into a Japanese steakhouse with this incredible hibachi salmon. This recipe is fuss-free and full of flavor.
Best of all, it will pair perfectly with all of your favorite Asian-inspired sides!
Hibachi Salmon
This tasty Hibachi Salmon is an easy-to-make dinner that is sure to please the entire family! This is a minimal-fuss meal that literally cooks in just minutes for a fast but incredible hibachi meal! Plus this homemade hibachi entree is so much better than the Japanese steakhouse salmon!
Check out this recipe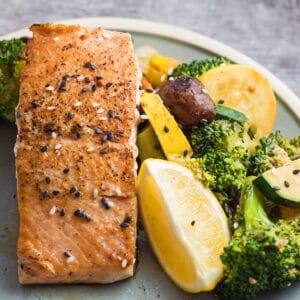 10. Salmon Patties
Salmon patties (also called salmon cakes or croquettes) are delightfully crispy on the outside, and full of tender salmon on the inside. They are great for dipping in tartar sauce and easy to eat with your hands, making them loved by kids and adults alike!
11. Salmon Sashimi
Salmon sashimi makes a wonderful fresh appetizer or light dinner. Offer it up with some ponzu sauce, soy sauce, or wasabi, and you have an easy starter everyone can sit around and enjoy together.
12. Cajun Salmon Pasta
For those that enjoy a little 'zing' in your food, Cajun flavor is the way to go. This creamy Cajun salmon pasta has all the flavor you could ever ask for!
Creamy Parmesan sauce balances the salty, spicy Cajun seasoning perfectly. It's a simple comfort food that can be thrown together in under 40 minutes.
13. Smoked Salmon Bagel
A smoked salmon bagel is a quick and easy meal perfect for breakfast or brunch. Cream cheese, lemon, a bit of dill, and your favorite kind of bagel are all you need!
14. Salmon Caesar Salad
Caesar dressing is tangy, creamy, and goes perfectly with fish (it's made with anchovies, in fact)! Tender flaked salmon is, dare I say, even better than chicken on top of a Caesar.
You may like it so much, you'll ditch the chicken for good!
15. Salmon Pinwheels
Salmon pinwheels are not only delicious, but have a wonderful presentation. Thin slices of smoked salmon are rolled up with cream cheese, a touch of horseradish, and some delicious herbs.
Serve them on a platter as a hearty appetizer, or on a plate as the main course.
We hope we've helped you find your new favorite way to enjoy salmon! If we failed to mention your favorite salmon recipe, let us know what it is in the comments below so we can check it out!
Do you love a recipe you tried? Please leave a 5-star 🌟rating in the recipe card below and/or a review in the comments section further down the page.

Stay in touch with me through social media @ Pinterest, Facebook, Instagram, or Twitter! Don't forget to tag me when you try one of my recipes!
📋 Recipe
Print Recipe
Leave A Comment
Love This Recipe?
Click On A Star To Rate It!
Best Salmon Recipes: Baked Salmon In Foil (+More Great Dinner Ideas!)
With so many incredible salmon recipes out there, we thought it would be helpful to narrow down our top favorites! Salmon is one of the few proteins that can be enjoyed at breakfast, lunch, or dinner, and no matter how it's served, it's always delicious!
Pin Recipe
Share on Facebook
Ingredients
2

lbs

salmon fillet

1

tablespoon

olive oil

(extra virgin)

1

lemon

(juiced or squeeze the first half - slice the other half)

3

tablespoon

butter

(unsalted)

2

tablespoon

garlic

(minced)

1

teaspoon

each, salt & pepper

(to taste)
Instructions
Preheat your oven to 400°F (205°C).

On a baking sheet unfurl a long piece of aluminum foil. Using the olive oil, lightly grease the area on the foil sheet where your salmon will sit (this will keep your fish from sticking).

Place the salmon fillet centered on the foil. Using the lemon juice pour over the salmon. Add slices of lemon and pats of butter down the fillet, sprinkle with garlic, then season with salt and pepper.

2 lbs salmon fillet,

1 lemon,

3 tablespoon butter,

2 tablespoon garlic,

1 teaspoon each, salt & pepper

Fold the end and edges of the foil up and over the salmon to make a "packet". Use more foil if it will not reach, you need to make sure that the "packet" is sealed.

Place the wrapped salmon in the oven on the baking sheet and bake at 400°F (205°C) for 14 to 16 minutes. (see notes on cooking times)

When your salmon is done remove from the oven and allow to rest for about 5 minutes, then serve and enjoy!
Equipment You May Need
Notes
Cooking times will vary based on the thickness of your salmon and personal preference on how you like your salmon temperature, I prefer mine a little on the rarer side,

125°F

(52°C) at most.

For rare to medium, salmon should be cooked to 120°F

(49°C)

to 130°F

(55°C)

.

For well done, salmon should be cooked to 145°F

(63°C)

.
Nutrition
Calories:
295
kcal
(15%)
|
Carbohydrates:
3
g
(1%)
|
Protein:
30
g
(60%)
|
Fat:
18
g
(28%)
|
Saturated Fat:
5
g
(31%)
|
Polyunsaturated Fat:
4
g
|
Monounsaturated Fat:
6
g
|
Trans Fat:
1
g
|
Cholesterol:
98
mg
(33%)
|
Sodium:
68
mg
(3%)
|
Potassium:
778
mg
(22%)
|
Fiber:
1
g
(4%)
|
Sugar:
1
g
(1%)
|
Vitamin A:
240
IU
(5%)
|
Vitamin C:
10
mg
(12%)
|
Calcium:
29
mg
(3%)
|
Iron:
1
mg
(6%)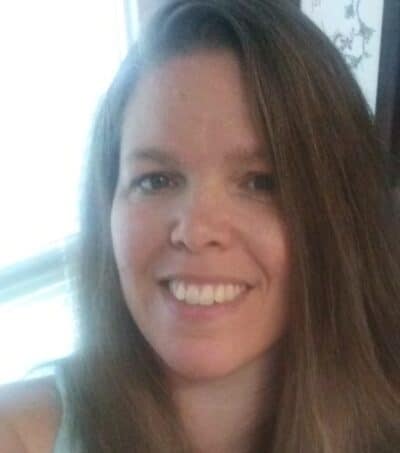 Angela is an at home chef that developed a passion for all things cooking and baking at a young age in her Grandma's kitchen. After many years in the food service industry, she now enjoys sharing all of her family favorite recipes and creating tasty dinner and amazing dessert recipes here at Bake It With Love!