Mirepoix vs Holy Trinity: A guide to the similarities and differences between these essential cooking bases! From ingredients to cooking methods, we are going to cover everything you need to know! These two mixtures are the secret to bold and flavorful dishes!
Comparing Mirepoix & The Holy Trinity
You may have come across the terms 'mirepoix' or 'holy trinity' before in different recipes and wondered what exactly that meant. While these two things are composed of a mixture of veggies, what exactly makes them different from one another?
When are they used and do they really make an impact in a recipe? In this guide, we are going to talk about the similarities and differences between mirepoix and the holy trinity!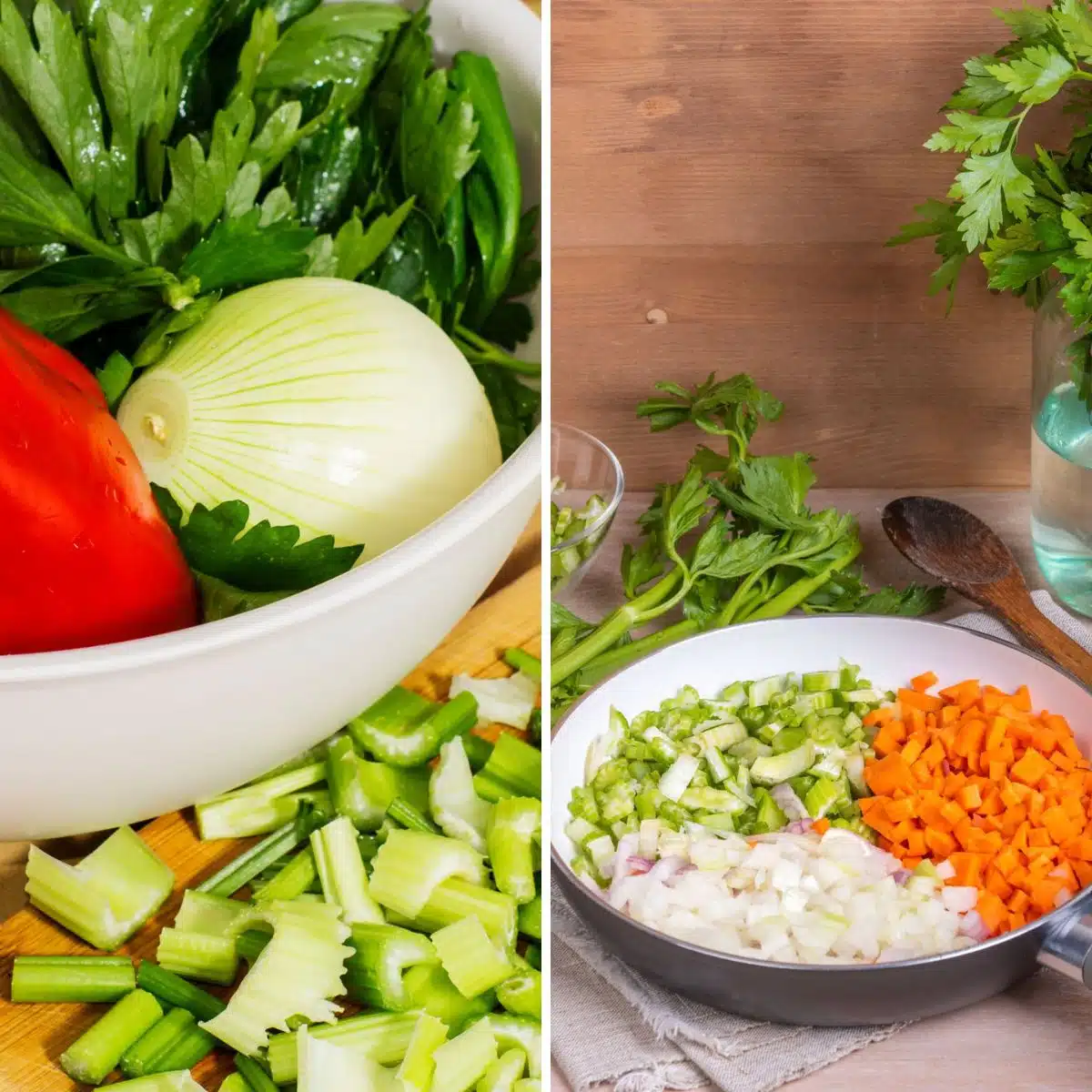 Jump to:
Want More Recipes? Enter your email below and we'll send them straight to your inbox!
What Is Mirepoix
Mirepoix is a French culinary term used to describe a mixture of diced vegetables that is used as a base for many dishes, including soups, stews, and sauces.
The classic mirepoix consists of onions, carrots, and celery, but other ingredients like leeks, garlic, and shallots can also be added depending on the desired flavor profile. The vegetables are typically diced into small, uniform pieces and sautéed in butter or oil until they are soft and fragrant.
Mirepoix is a crucial component in many classic French dishes, and it provides a depth of flavor that cannot be achieved with just one or two vegetables. Once you've made a batch of mirepoix, you can store it in the refrigerator for several days or freeze it for future use. It's a simple and versatile ingredient that can add a lot of complexity and richness to your cooking.
Take a look at my post entirely on mirepoix to learn more!
What Is The Holy Trinity
The holy trinity is a flavorful vegetable base that is the foundation of many dishes in Cajun and Creole cuisine.
A traditional holy trinity consists of three ingredients: onions, bell peppers, and celery. However, the trinity may vary slightly based on region as some opt to include garlic, carrots, tomatoes, parsley, or thyme.
These veggies are finely diced and then sauteed in drippings, butter, or oil to act as the starting point of many recipes.
Holy Trinity vs Mirepoix
It's easy to see the similarities between these two bases. One is the heart of French cuisine while the other is rooted in Cajun and Creole cuisines.
The ingredients vary slightly, as mirepoix is 2 parts onion, 1 part carrot, and 1 part celery whereas the holy trinity is equal parts of onion, green bell pepper, and celery.
However, these two things follow the same concept, but have a different flavor profiles and are ideal for preparing dishes in their respective cuisines.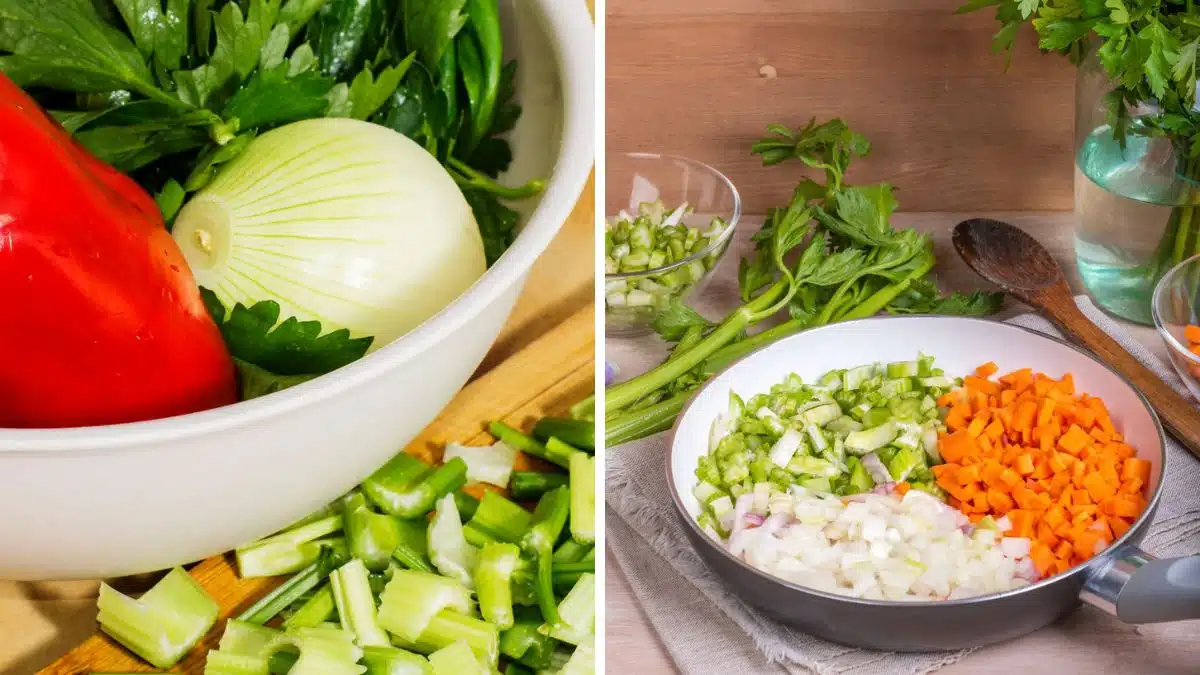 Cooking Mirepoix & The Holy Trinity
The method for preparing both of these bases is quite similar to one another.
Start by cleaning and peeling the vegetables. Cut the vegetables into small, uniform pieces. If desired, other ingredients like leeks or garlic can also be added in smaller quantities.
Once the vegetables are cut, heat a large sauté pan or Dutch oven over medium heat. Add a small amount of oil or butter to the pan, and then add the vegetables. Stir the vegetables occasionally and cook them until they start to soften and become translucent. This can take anywhere from 5 to 15 minutes, depending on the size of the dice and the number of vegetables being cooked.
Mirepoix and the trinity can also be made in larger quantities and stored for later use. To do this, simply cut the vegetables as described above and store them in an airtight container in the refrigerator for up to a week. When you are ready to use them, simply sauté them in a little oil or butter until it is fragrant and starting to soften.
>>>>See all of my recipes HERE<<<<
Mirepoix and the holy trinity are simple yet essential components of many dishes. By mastering the technique of cutting and cooking this mixture of vegetables, you can add depth and flavor to your favorite soups, stews, and sauces.
😋 Flavorful Recipes
📋 Recipe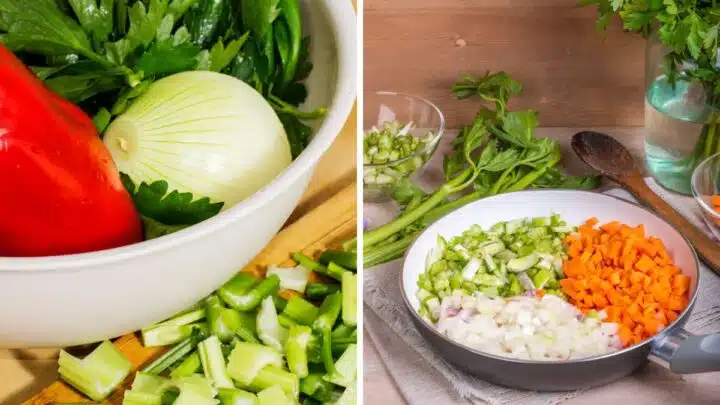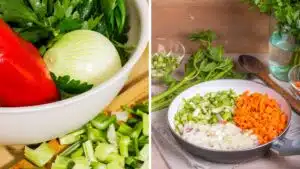 Print Recipe
Leave A Comment
Love This Recipe?
Click On A Star To Rate It!
Mirepoix vs Holy Trinity: Mirepoix (+More Recipes)
Mirepoix vs Holy Trinity: A guide to the similarities and differences between these essential cooking bases! From ingredients to cooking methods, we are going to cover everything you need to know! These two mixtures are the secret to bold and flavorful dishes!
Pin Recipe
Share on Facebook
Ingredients
Instructions
Start off by chopping your carrots, celery, and onion into chunks that are as large (or small) as you like.

1 cup carrots,

1 cup celery,

2 cups onion

Place your pot or pan over medium heat and add the butter (or extra virgin olive oil).

Once hot, add in the chopped vegetables.

Cook, stirring frequently, until fragrant and tender (but not mushy).

Once the onions are transparent and the carrots and celery are tender, use your mirepoix in your desired recipe.
Equipment You May Need
Notes
You can choose whether you want larger or smaller chunks of veggies. Smaller pieces will be less noticeable in your final dish while larger ones will be more prominent. They will still add tons of flavor either way!
If you want a Cajun feel, swap out the carrots for bell peppers!
Feel free to add in some tomato paste to the veggies while they cook (this is called a pincage). 
Nutrition
Calories:
295
kcal
(15%)
|
Carbohydrates:
45
g
(15%)
|
Protein:
6
g
(12%)
|
Fat:
12
g
(18%)
|
Saturated Fat:
7
g
(44%)
|
Polyunsaturated Fat:
1
g
|
Monounsaturated Fat:
3
g
|
Trans Fat:
0.5
g
|
Cholesterol:
30
mg
(10%)
|
Sodium:
272
mg
(12%)
|
Potassium:
1143
mg
(33%)
|
Fiber:
11
g
(46%)
|
Sugar:
21
g
(23%)
|
Vitamin A:
22193
IU
(444%)
|
Vitamin C:
34
mg
(41%)
|
Calcium:
160
mg
(16%)
|
Iron:
1
mg
(6%)
mirepoix, mirepoix vs holy trinity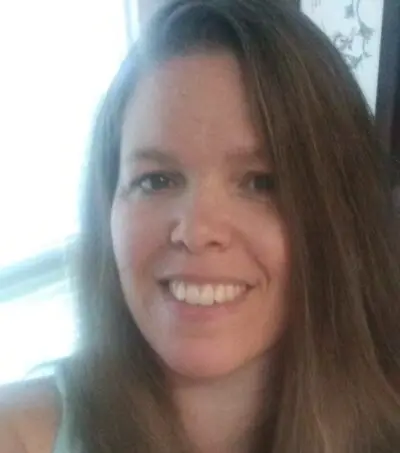 Angela is an at home chef that developed a passion for all things cooking and baking at a young age in her Grandma's kitchen. After many years in the food service industry, she now enjoys sharing all of her family favorite recipes and creating tasty dinner and amazing dessert recipes here at Bake It With Love!